Alexandria Cost of Living: Alexandria, VA Living Expenses Guide
Posted by David Rainey and Sallie McBrien on Friday, December 2, 2022 at 5:25 PM
By David Rainey and Sallie McBrien / December 2, 2022
Comment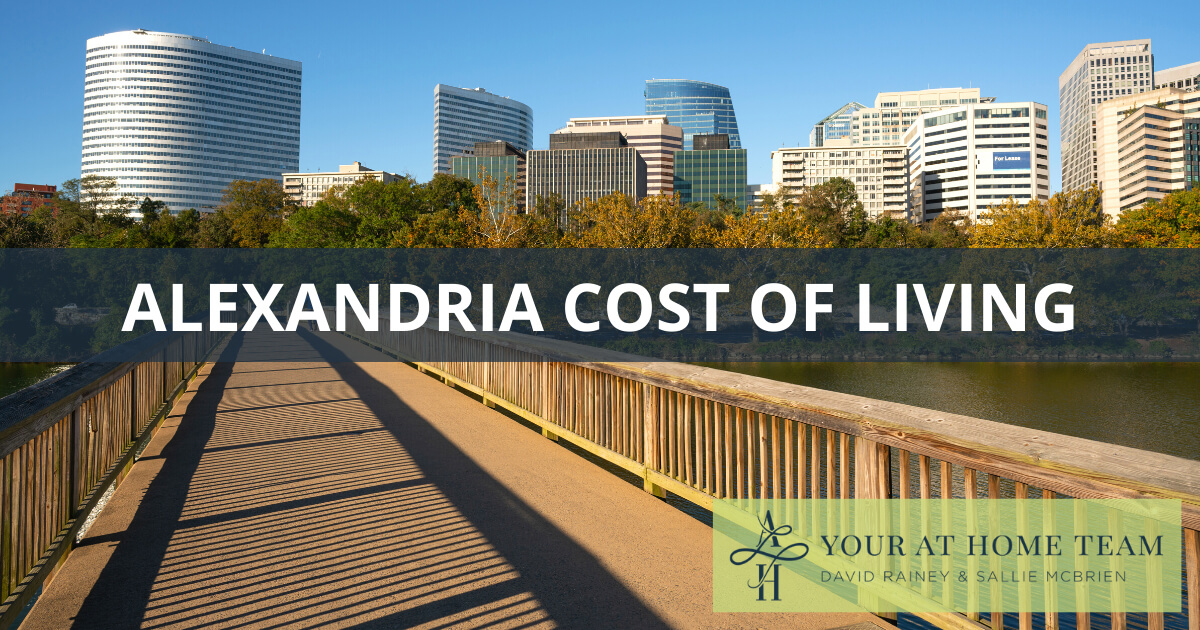 Although the city population is only about 160,000, Alexandria, Virginia, is a community steeped in history. Founded in 1759, the area has had an important role in many historical events. Today, the culture of the city is greatly influenced by its proximity to Washington, D.C. In fact, several of the national landmarks linked to D.C. are actually in Alexandria. Additionally, the National Science Foundation headquarters and the U.S. Patent and Trademark Office both moved to the area in the current century.
For the past decade, the community has experienced a steady population growth of about 1% each year. Without question, the largest employment influences on Alexandria's economy are related to the federal government. In particular, the U.S. Department of Defense and the Institute for Defense Analysis both significantly contribute to Alexandria's local economy in the form of paychecks. Nongovernmental groups like United Way and Volunteers of America have also established a headquarters in the city to be close to the nation's political center.
The overall cost of living in Alexandria is about 50% more expensive than the typical U.S. community. Unlike the D.C. area, the rest of Virginia is closer to the standard cost level. The state is only about 3.7% more expensive than average. For comparison purposes, Chicago is 28.7% more affordable than Alexandria, and San Francisco is 79.7% more expensive. Despite the reasonable population increase, costs in the community have experienced only modest growth. Over the last year, homes in the area have appreciated by about 3%.
Read on if you'd like to learn more about what goes into Alexandria's cost of living.
Table of Contents
Alexandria Housing Costs
Housing costs are a major expense in any budget. In Alexandria, new residents should expect to pay 234.5% more for rent or mortgages compared to the typical U.S. city. That means it will take about $235 to pay for the same amount of housing that $100 can purchase in other communities. The median home cost is $542,000, compared to the national average of $213,000.
Median Home Price
Homebuyers may be able to shop around and find a neighborhood with the right price point. For example, the median price for homes in the Braddock & Braddock Heights neighborhood is about $970,000. The Collingwood neighborhood median price is also close to $1 million. However, Riverside Estates offers homes in the $650-700,000 range, providing a small break in price.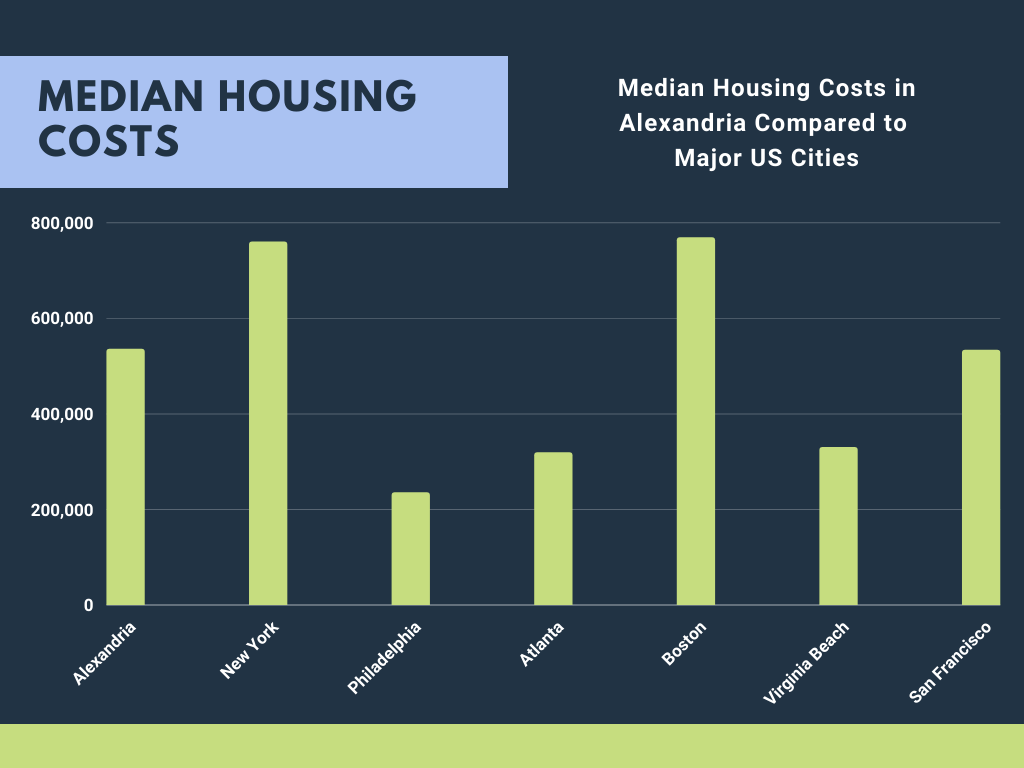 Those looking for luxury homes in Alexandria may want to start searching in the Chapel Hill & Chinquapin Village area, where the median price is above $1 million. Those looking for an Alexandria condo, on the other hand, can find properties listed for less than $300,000.
Median Rent
Rental costs in the region are slightly higher than the nation's average, but options exist for those looking to save money. For example, renting a studio apartment in the city can cost about $1,665, but living further out in the metro region could save $250 per month. Renting a single-bedroom apartment would cost about $1,700 a month, compared to the national average of $930.
Two-bedroom apartments generally cost about $1,960, but living in the suburbs is closer to $1,665. Three-bedroom apartments or houses average around $2,560, with the fourth bedroom adding around $590 to the monthly bill. Average costs for four bedrooms across the nation are about $1,800, and the average for the state of Virginia is $1,970.
Utilities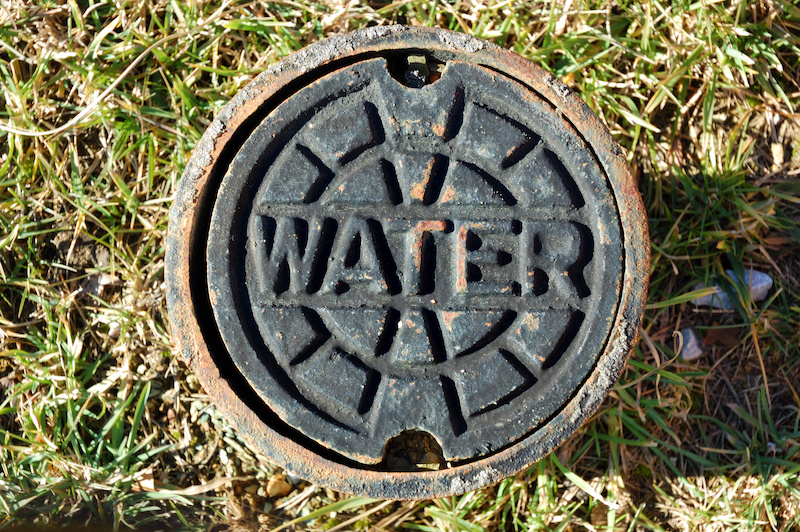 Utility costs are another important measure of the expected level of expenses in a community. New residents of Alexandria may save about 2.7% on utility costs, including electricity and natural gas. For example, those living in Alexandria can anticipate paying about $160 each month on electricity and about $180 for phone service. These costs can change based on factors like the size of the home and the amount of the data plan.
Across the state, residents paid an average of $75 for Internet access. With utility costs in the city being very similar to the national numbers, expect to pay about $100 for a cable package and $40 a month for water. As for home insurance, the average rate for the state is approximately $1,950 each year—significantly lower than the national average of about $2,300 and includes a $300,000 policy with a $1,000 deductible. The amount of the deductible, coverage limits, and other risk factors will change the expected premiums.
Food Prices in Alexandria
When moving to a new city, homebuyers often don't realize that food prices can change drastically due to how accessible meat and produce are. Those moving to Alexandria can expect to pay about 12.6% more for groceries than people in a typical city. However, the balance between cooking at home and dining out is likely the most important budget consideration.
Groceries
With grocery expenses being a little more than average in cost, a single resident should expect to pay about $200 each month. Of course, that number changes for larger households or those with more expensive tastes. The average household with multiple members may pay around $440 at the store. Visiting one of the local farmers' markets is probably the best way to get fresh fruits and vegetables at a good price.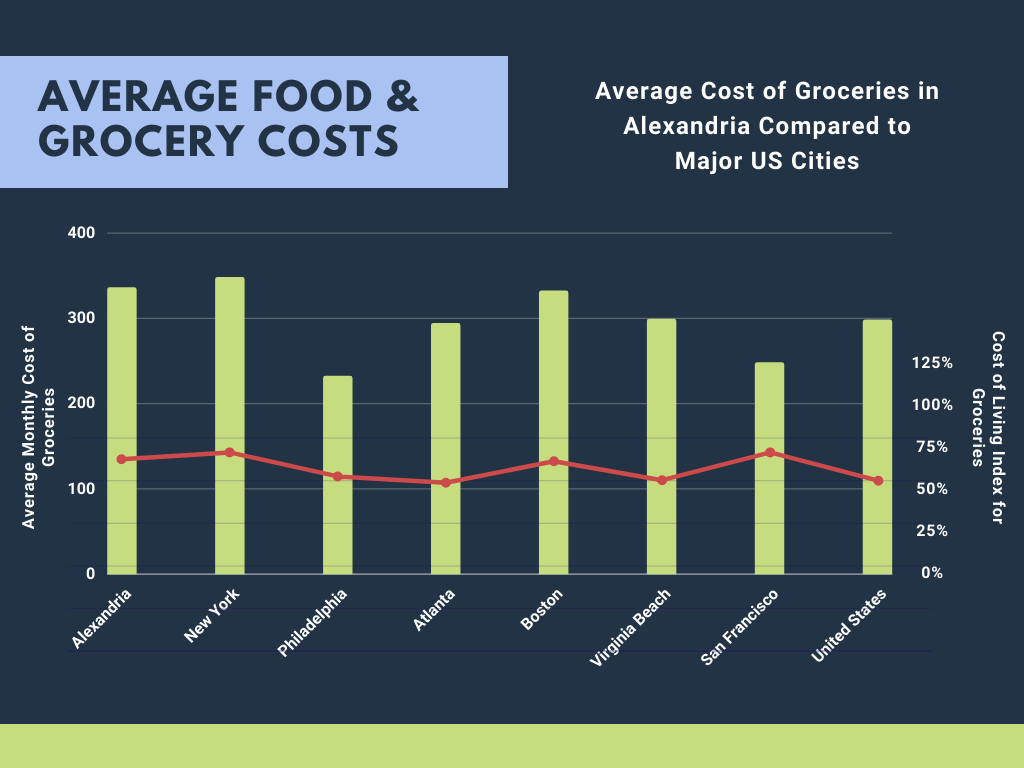 Ribeye steak goes for around $16 per pound. Make a meal with a package of four ears of corn for $5 and a five-pound bag of red potatoes for $5.49. Get a carton of eggs for $2.49 and 8 oz of cheese for $2.99.
Restaurants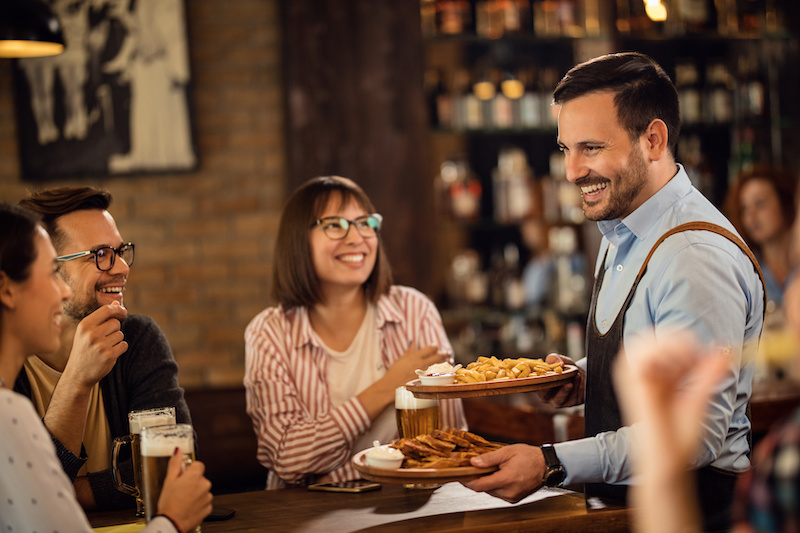 Going out to eat is a daily staple for some and an occasional treat for others. However, eateries come in a wide variety of price ranges and experiences. Grabbing a quick value meal from a fast-food restaurant might cost about $7 in Alexandria.
For something a little classier but still affordable, try Theismann's Restaurant and Bar. Start with the chicken fried pickles for just $8 or 10 lemon-pepper chicken wings for $15. For something more filling, try the blackened fish sandwich for $17.
The Majestic is another place for great food. Enjoy the pan-roasted Carolina trout for $27 and close with the cherry-almond bread pudding for $8.
Transportation Costs in Alexandria
Transportation costs are another area where new Alexandria residents can expect to pay more money than the typical U.S. city. This is generally because the community is part of the D.C. metro area, and many residents commute from and to Alexandria. In fact, the average one-way commute for the city is about 32 minutes. This is longer than the national standard of 26.4 minutes. Overall, expenses are approximately 29% greater than average.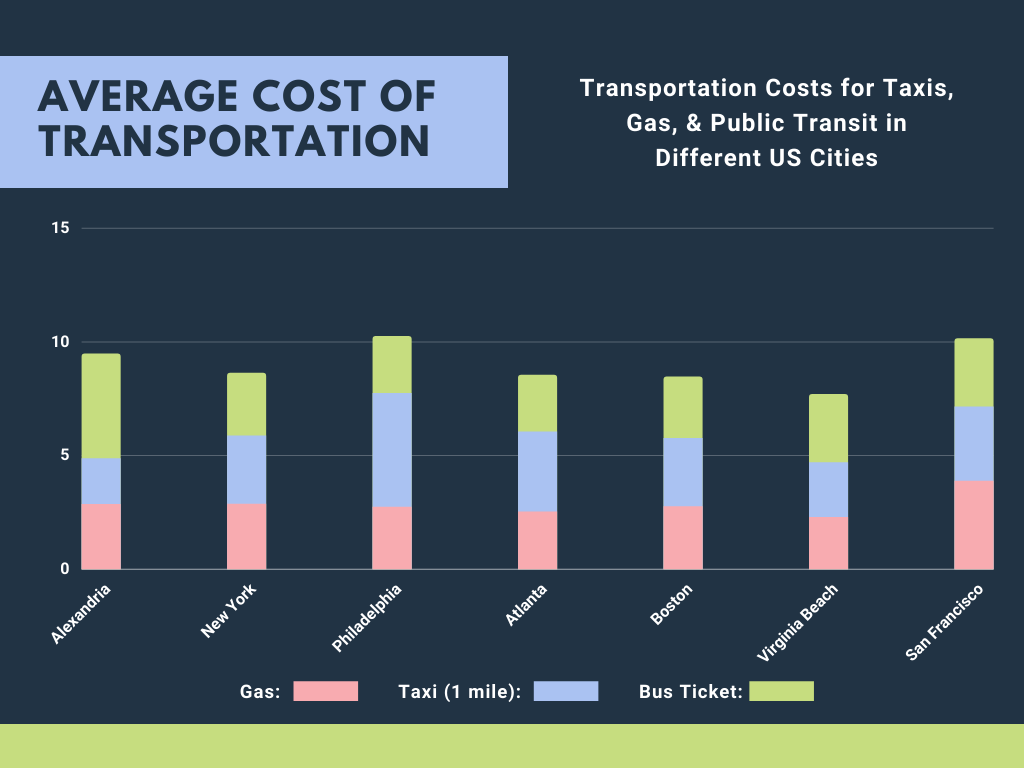 Drivers will find that current fuel prices in Alexandria range between about $2.87 and $2.99. Those living and working within the city might spend less money at the pump. On the other hand, car insurance is influenced more by driving records in Virginia and local statistics. Expect to pay as little as $470 for full coverage and as much as $700 each year.
The City of Alexandria provides a DASH system for public transportation. Several routes connect with regional rail systems or the Washington Metropolitan Area Transit Authority Metrobus for long-distance travel without a vehicle. Riders will pay about $2 per trip on DASH, but discounts are available for certain residents or those purchasing multi-trip passes.
Metrorail charges riders between $2.25 and $6.00 depending on travel time and distance. Metrobus routes are also $2, but express routes may cost between $4.25 and $7.50.
Health Care in Alexandria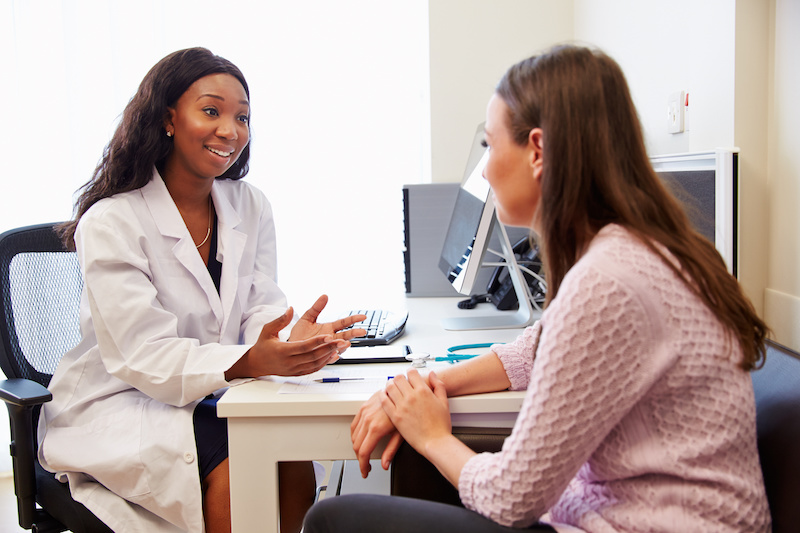 Health care is an important investment for most Americans. Generally speaking, Alexandria residents pay about 98.5% of the health care costs of people in the typical U.S. city. That can translate to approximately $120 for a visit to the doctor or $100 for a visit to the dentist. Both fees include only the basic exam, and any tests or further treatment will require more money.
Updating a prescription for glasses may require about $110 for the optometrist. Residents also pay about $470 for prescription drugs each year. Those with four-legged friends can expect to spend around $60 for a quick visit to the vet.
Health insurance is one great way to cut down on costs related to health care. Average costs for the state are between $400 and $600 per person each month.
Child Care in Alexandria
Parents of young children know that child care costs can be a major budget expense. Alexandria has an estimated 574 child care and preschool programs in the city. Parents with an infant can expect to pay about $18,500 annually for full-time care in a center. Home daycares can be a little cheaper for infant care, averaging $14,300 for the youngest child.
Those with children old enough for preschool may pay about $14,000 for care in a center and close to $12,000 for in-home daycare. Depending on where parents work or live, it may be more affordable to drive children to caregivers in other communities. Washington, D.C., daycare centers, for example, may be more expensive than those in Alexandria.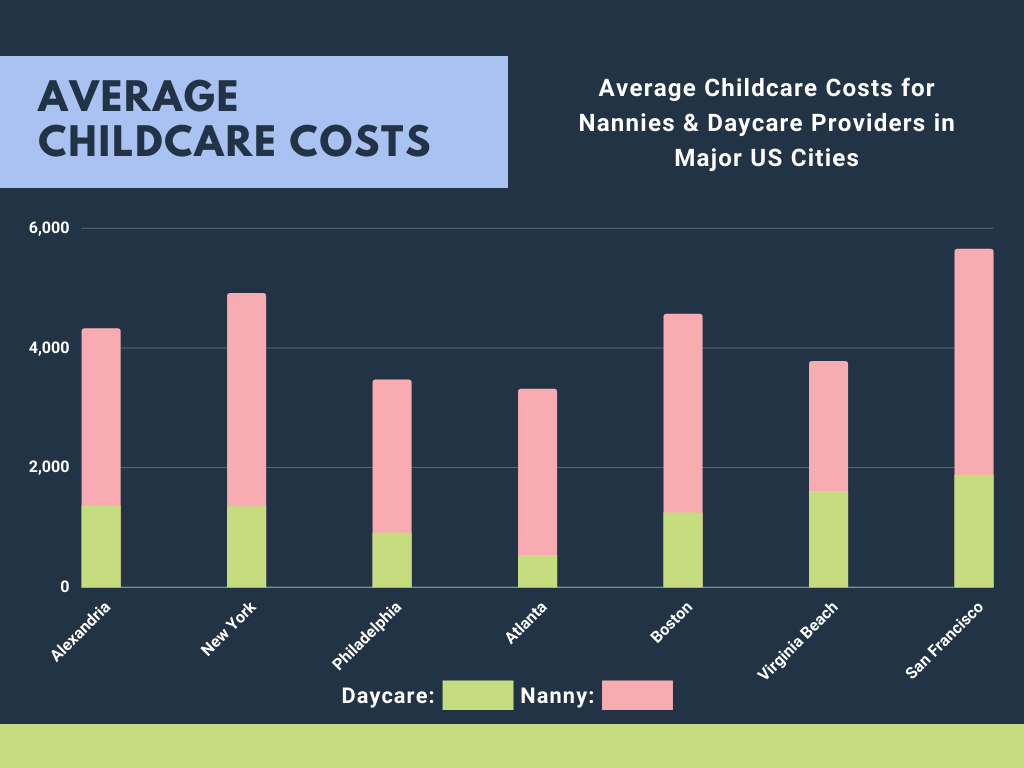 Many parents of young children prefer to hire a nanny instead of taking their kids to daycare. While this option is generally more expensive than a center for a single child, it may be comparable to or even more affordable than daycare for multiple children. For example, the average nanny in Alexandria charges approximately $18 per hour. At 2,080 hours a year for full-time work, that adds up to about $37K. Parents with multiple children in a child care center can easily pay about the same amount, especially when considering the time for travel each day.
Alexandria Entertainment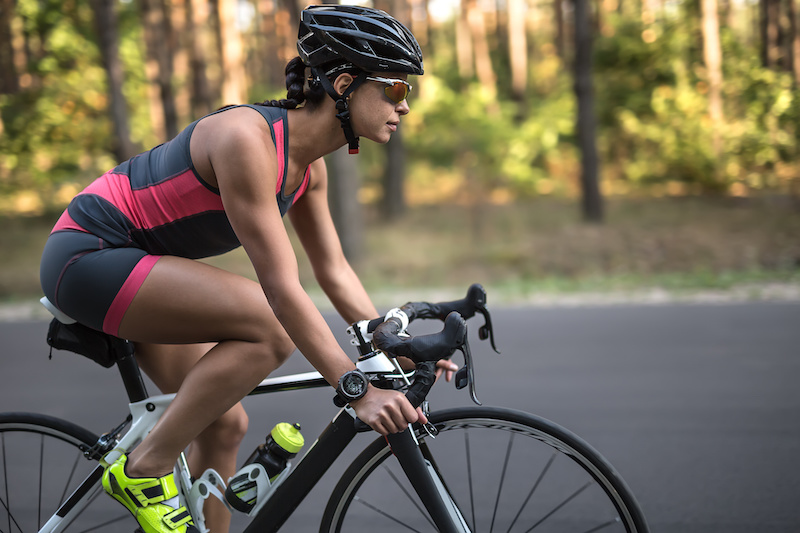 Fortunately, Alexandria has plenty of fun activities at all price ranges.
Because of the city's historical legacy, there are many interesting tours. For $149 per group, take an Old Town Alexandria walking tour covering the colonial and civil war history. Rent a bike for the day for $16 and tour the city. The cost also includes a bike lock, helmet, and a city map with all the important landmarks.
Outdoors lovers can also enjoy spending time hanging out in one of the area's many parks. Huntley Meadows Park is a great place to see wildlife in their natural habitat. Walking the trails is free, but donations are accepted. Fox Hunt Park is a much smaller facility designed more for human enjoyment. There are multiple walking trails, softball grounds, and areas for picnics. Visiting this park is also free.
Those who prefer to party with friends or listen to live music also have plenty of options. The Birchmere is a music venue in Alexandria with a regular rotation of acts. From national hits to local sensations, tickets start at about $30. The combined sales tax rate is 6%.
Alexandria Salary
At the end of the day, perhaps the most important cost of living elements relate to the expected salary. The per capita income for the community is $57,000, higher than the U.S. standard of $31,000.
The unemployment rate is lower than national, at 4.9% vs. 6%.
New residents may be glad to hear that projected future job growth is approximately 41%, greater than the U.S. average of 33.5%.
The average salary within the city is $87,000 because of the influence of federal government positions. On the other end, the minimum wage for the community is $7.25. The income tax rate for the community is 5.8%, which is higher than the national average of 4.6%.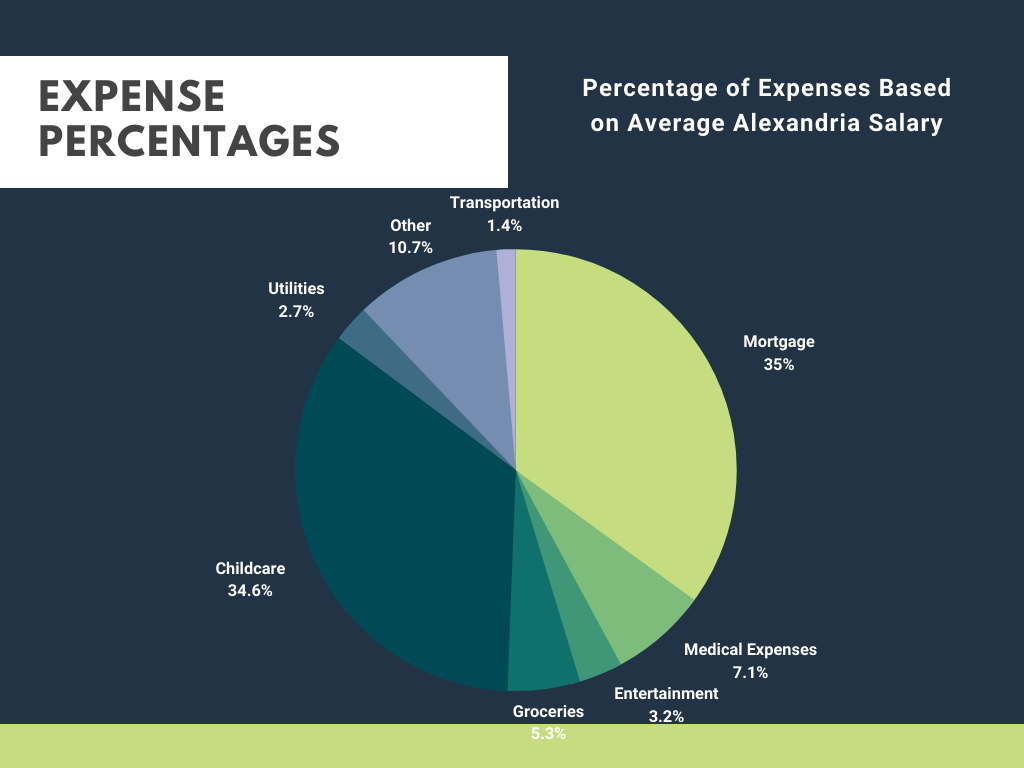 As expected for a government capital, the highest-paid positions in the community are in the legal field at about $130,000. This is much higher than the national average for the legal field at $74,000. Workers in management also do better in Alexandria compared to the national average. Managers in this city make about $95,000 each year, versus the approximate $65,000 received across the nation.
Given the proximity to D.C., it makes sense that around 18% of workers are from backgrounds in professional, scientific, and technical services. Another 16% of workers are in public administration. All other fields are below 10% of all workers.
Come Home to Alexandria
While the cost of living in Alexandria is higher than average, it's worth every dollar. With gorgeous architecture, green parks, and beautiful scenery, this city is eye-catching. It's full of exciting things to do, even for long-time residents. Combining historic charm with a strong economy, popular attractions, and fun entertainment options makes for an excellent place to call home.