Alexandria Economy: Top Industries, Biggest Employers, & Business Opportunities
Posted by David Rainey and Sallie McBrien on Wednesday, December 7, 2022 at 9:55 AM
By David Rainey and Sallie McBrien / December 7, 2022
Comment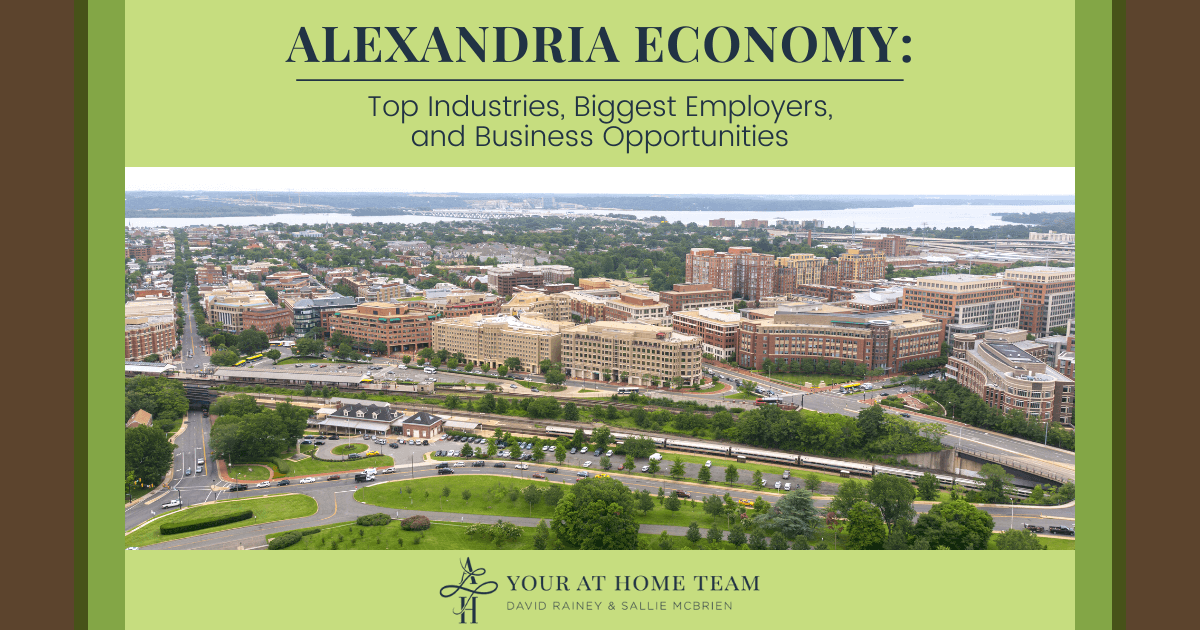 Alexandria, Virginia, is a city of about 160,000 people located about seven miles south of Washington, D.C., along the western bank of the Potomac River. Understanding what drives the Alexandria community's economy helps those thinking about moving to Alexandria understand its culture and lifestyle. Alexandria's proximity to the federal capital heavily influences its economy. The city's economy also is influenced by its easy access to Ronald Reagan Washington National Airport, which has nonstop flights to 90 destinations and serves about 24 million passengers a year. The Virginia Tech Innovation Campus, currently under construction, will help supply employees to the city and metro area's growing technology industry.
Alexandria's businesses, nonprofits, associations, and government agencies employ about 97,000 people. However, only about 13% of those who work in Alexandria also live there. People from nearby jurisdictions commute into Alexandria to work. Likewise, about 61,000 Alexandria residents commute to jobs in Washington D.C., nearby Fairfax County, or other localities within the Washington, D.C. metropolitan area. The average commuting time in Alexandria is about 30 minutes, slightly longer than the national average. About 60% of residents drive alone, about 20% take Alexandria's public transportation, and 8% carpool regularly. Jobs in Alexandria are heavily concentrated near the Metro stops within the city.
Alexandria has a strong economic base, but who are the major players in Alexandria's economy? Read on to learn more about Alexandria's industries, employers, and statistical data.
Top Industries in Alexandria
Because of its proximity to Washington, D.C., the federal government and the contractors that support it drive much of Alexandria's economy. Several government agencies and offices are located within Alexandria. The proximity to the national seat of power also contributes to the large number of national non-profits and associations located in the city, as well as the number of corporate and non-profit headquarters. These also are a major source of jobs and revenue.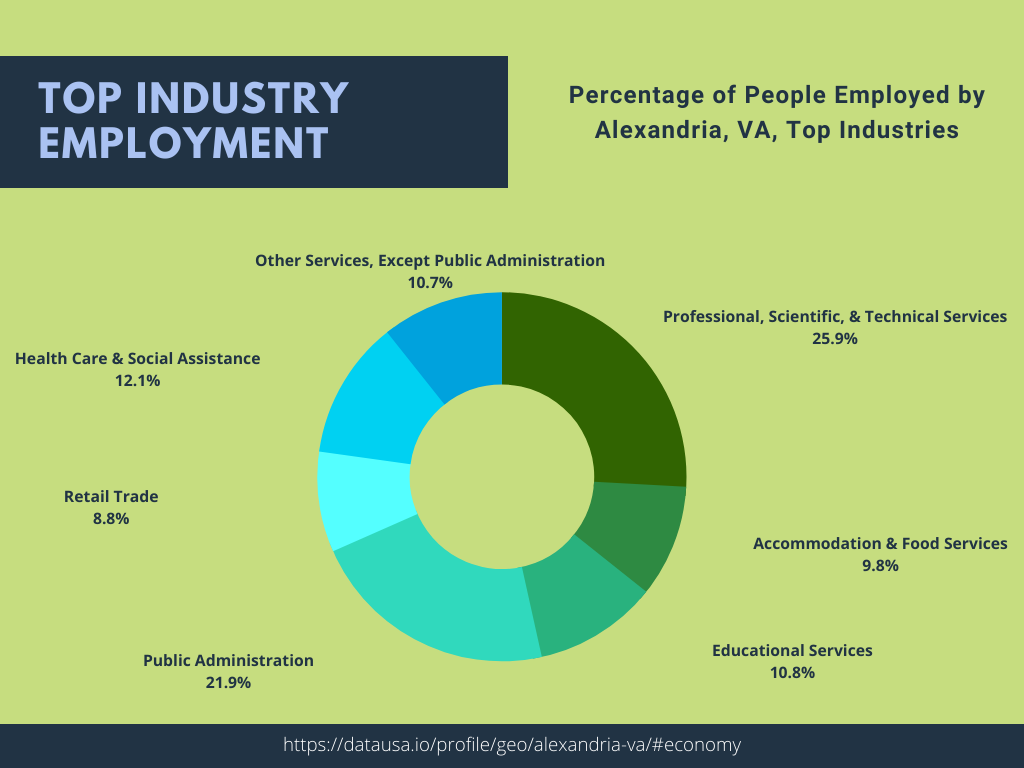 Another prominent industry in Alexandria is professional services, which includes lawyers, advertising and marketing agencies, engineering firms, architects, and accounting firms. While many of these professional services firms have government agencies among their client lists, the industry also is driven by Alexandria hosting the U.S. District Court for the Eastern District of Virginia and Washington, D.C.'s status as the nation's ninth-largest media market.
The information technology and cybersecurity industries also are prominent. Co-working facilities, which allow people to assemble in a fully-equipped space while working on projects for different companies, are also key in Alexandria.
Top Industries in Alexandria
Professional, Scientific, & Technical Services
Public Administration
Health Care & Social Assistance
Educational Services
Other Services, Except Public Administration
Accommodation & Food Services
Retail Trade
Major Employers in Alexandria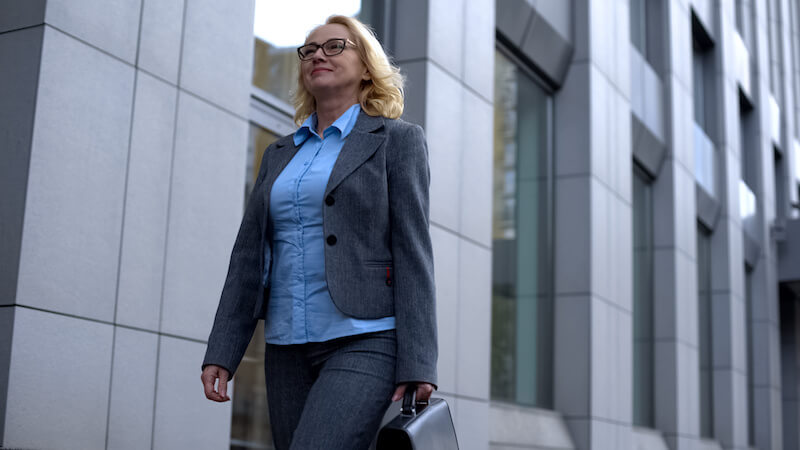 The largest two employers in Alexandria are federal agencies. The U.S. Department of Defense employs about 11,000 people, and the U.S. Patent and Trademark Office employs about 7,000.
Two large non-profit, non-governmental employers are The Salvation Army and The Society for Human Resource Management. The Salvation Army is headquartered in Alexandria and is one of the city's largest non-profit employers. The Society for Human Resource Management is a professional association that provides education for its members and lobbies Congress on labor relations issues. It employs about 2,000 people.
Among large private employers are VSE and ST Engineering North America. VSE is a technical services company with about 3,000 employees. It provides fleet solutions, federal and defense solutions, and aviation distribution and repair services. ST Engineering North America, formerly Vision Technologies Systems, provides engineering services to aerospace firms.
Additional Large Companies in Alexandria
City of Alexandria
STG International
Catholic Charities USA
Institute for Defense Analyses
The National Credit Union Administration
The National Science Foundation
Alexandria Economy Facts and Figures
Raw data provides insight to help potential residents determine if a particular city is a good fit for them.
Income levels and the number of jobs are both growing in Alexandria. The average household income is just above $100,000, which is considerably higher than the national average. It has been growing about 4% from year to year. Individual income averages about $55,000 per year. The job market is expected to increase by about 41% over the next 10 years, 7.5 percentage points more than the national average increase of 33.5%. Unemployment in Alexandria also is lower than average at 4.9%.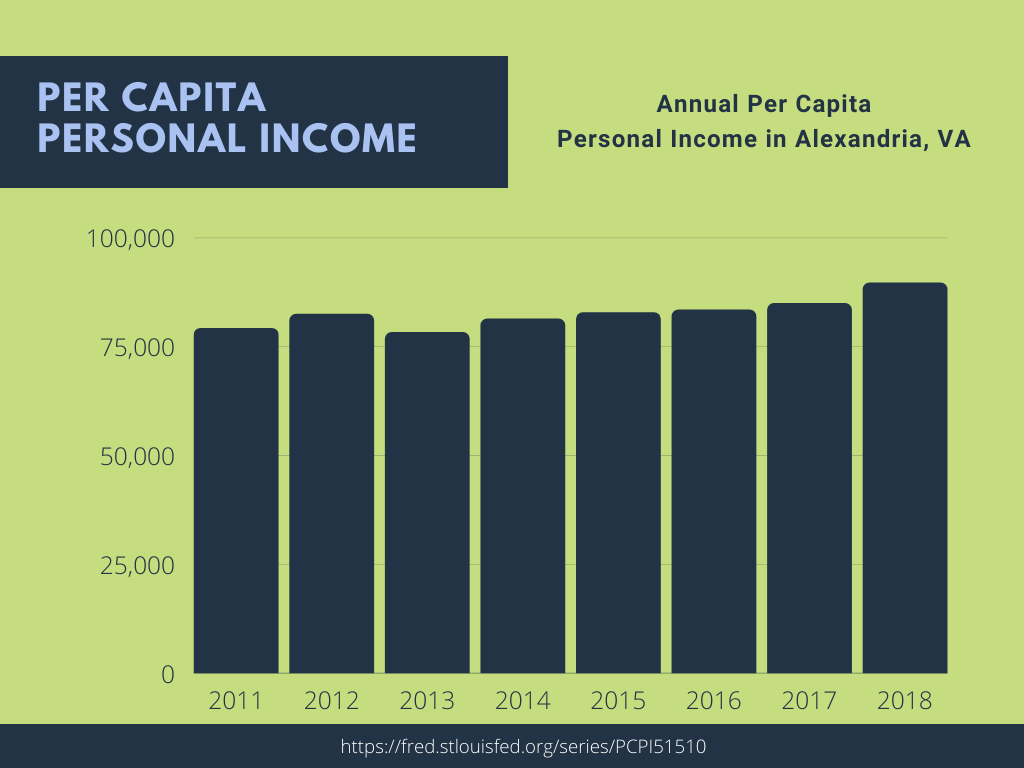 Alexandria's sales taxes, which affect Alexandria's cost of living, are lower than the national average at 6%. Income taxes, however, are slightly higher at 5.8% versus a national average of 4.6%.
More than 18% of Alexandria's workforce is in the professional, scientific, or technical services industries. The national average is 6.7%. A high percentage—over 15%—is in public administration. This represents more than three times the national average in this field. About 10% are in the health care and social assistance field; this number is lower than the national average of about 14%.
About 7.5% of the workforce is in the education field, which is less than the national average of about 9%. Accommodation and food services and retail trade, both categories at about 7%, also have large numbers of workers, driven by the proximity to the airport, the national capital city, and the city's tourism marketing of its Old Town neighborhood and harbor.
Ready to Live and Work in Alexandria?
Alexandria has a strong, growing economy and higher-than-average salaries. Unemployment rates are low. Jobs for professional, technical, and administrative workers are especially plentiful. The Alexandria Economic Development Partnership works to continue to promote the city nationally and internationally as a premier business location.
There are many things to do in Alexandria when its residents are off the clock and many places to visit and explore. Scope out Alexandria's best neighborhoods while you scope out the job market. You just might find the open house or new listing you've been waiting for.