Fun Things to Do in Alexandria, VA: Outdoor Adventures, Shopping, Nightlife, & More
Posted by David Rainey and Sallie McBrien on Tuesday, December 6, 2022 at 8:58 AM
By David Rainey and Sallie McBrien / December 6, 2022
Comment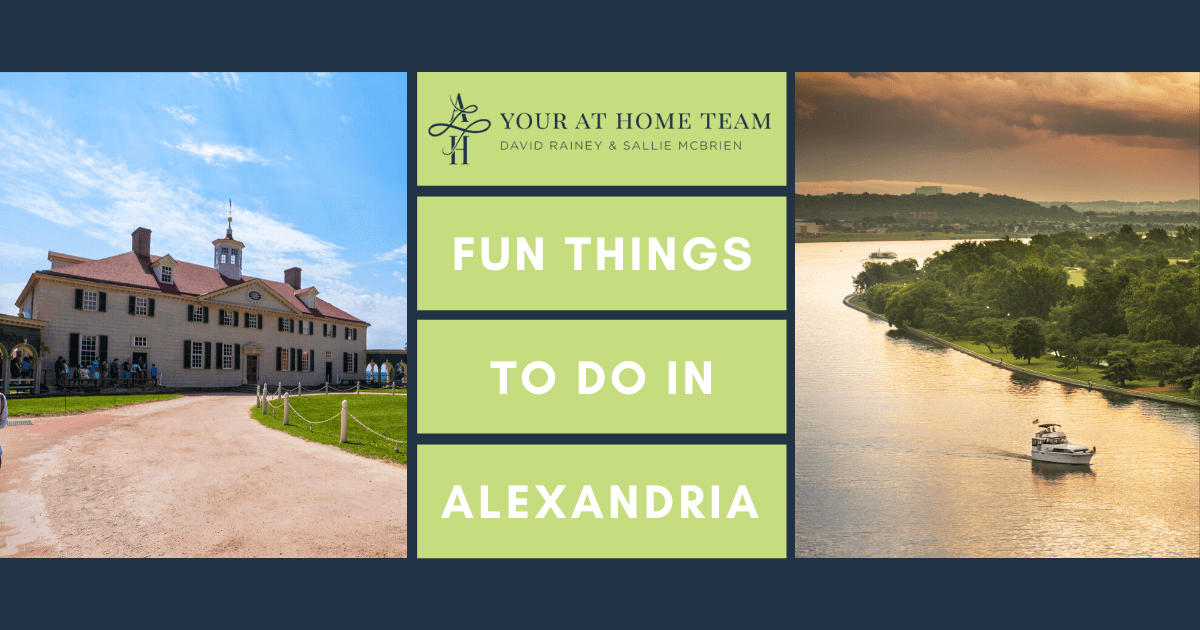 Whether looking for a long weekend, a vacation, or to set roots in Alexandria, there are many things to love about the city. A popular area in Northern Virginia, people are drawn here for the shopping, restaurants, museums, nightlife, art, historic landmarks, parks, and more. Residents of and visitors to Alexandria find there's certainly no shortage of things to see and do.
Situated just across the Potomac River from Washington, D.C., the Alexandria community is appealing to homebuyers. People find Alexandria offers the perfect blend of old-school charm mixed with modern trends. Those looking for things to do in Alexandria can keep reading to discover everything from outdoor adventures to the city's best nightlife locations.
Alexandria Outdoor Adventures
People who live or visit Alexandria often relish the many opportunities to enjoy its outdoor adventures. Take a leisurely day in a park or garden to indulge in incredible scenery and blooms. Need a place to take Fido? Alexandria is a very dog-friendly city with plenty of park options. People looking for recreational or exercise opportunities find many options there too.
Parks
Popular Alexandria Parks
Founders Park
Waterfront Park
Harborside Park
Jones Point Park
Oronoco Park
Rivergate Park
Tide Lock Park
The City of Alexandria offers over 900 acres of protected outdoor areas, which serve as park and public-use space. Discover one or more nature parks, gardens, dog-friendly parks, and recreational areas (some have pools). Play in dozens of athletic fields, playground areas, and volleyball, tennis, and basketball courts.
For those looking to enjoy the waterfront to relax, picnic, or take a stroll, visit one of Alexandria's parks, including Founders Park, Waterfront Park, Harborside Park, Jones Point Park, Oronoco Bay Park, Rivergate Park, and Tide Lock Park. Dangerfield Island, Dora Kelley Nature Park, and the Winkler Botanical Preserve offer nature lovers the opportunity to catch a glimpse of amazing wildlife. History enthusiasts should check out Fort Ward Park.
Water Recreation
Alexandria Water Recreation Destinations
Potomac River
Belle Haven Marina
Great Waves Waterpark
Water recreational activities in Alexandria are abundant. At its inception, this city was a busy seaport, and today, it possesses a rich connection to water. Due to Alexandria's prime location on the Potomac, getting to the river to boat, fish, kayak, paddleboard, or simply take in the views is only minutes away. Several river tour and cruise companies also offer opportunities for sightseeing, learning history, or just sitting back and relaxing. Residents and visitors enjoy getting close and personal with the nature and wildlife found at the Belle Haven Marina or spending a day full of sliding, swimming, and splashing at the Great Waves Waterpark.
Hiking & Biking Trails
Popular Alexandria Trails
Rock Creek
Four Mile Run
Potomac Heritage
Custis
Woodrow Wilson Bridge
More than 20 miles of trails can be found within Alexandria's boundaries, giving joggers, walkers, cyclists, and hikers plenty of options. Mount Vernon offers 18 miles of paved multi-use trails running from George Washington's Mount Vernon Estate to Theodore Roosevelt Island, providing stunning views of the D.C. skyline and the Potomac River. Within this stretch are connections to other regional trails, such as Rock Creek, Four Mile Run, Potomac Heritage, Custis, and the Woodrow Wilson Bridge trails.
Alexandria is also a cyclist-friendly city. With bike lanes on major thoroughfares, bikers can peddle around the city at their own pace. Several bike rental companies are right in town, including Capital Bikeshare, Pedego Electric Bikes, Unlimited Biking, and the Wheel and Nuts Bike Shop. Virginia is a beautiful state and is the perfect setting to enjoy Alexandria's numerous outdoor amenities.
Alexandria Shopping
Alexandria Shopping Destinations
King Street
Alexandria Commons
Farlington Centre
Hoffman Town Center
Seminary Plaza
Potomac Yard and Bradlee Shopping Centers
Van Dorn Plaza
Shops at Del Ray
One of the major attractions of Alexandria is its shopping. Within the Old Town community, dozens of boutiques, specialty shops, and chain retail stores are situated. Venturing out to other areas of Alexandria, many chain, grocery, and retail stores catering to every niche are easily accessible, along with malls and strip malls.
Looking for specialty or unique shopping? Venture up and down the stretch of King Street, a shopper's paradise, to explore numerous shops. Visitors will discover treasures like antiques, new and used books, clothing, shoes, jewelry and accessories, cosmetics, consignment, gifts, stationery, records, comics, artwork, home goods, and specialty-crafted niche items and collectibles.
Those seeking a more traditional shopping experience can look to one of the area malls or strip malls. Options include Alexandria Commons, Fairlington Centre, Hoffman Town Center, Seminary Plaza, Potomac Yard Center, Van Dorn Plaza, Bradlee Shopping Center, and the Shops at Del Ray.
Alexandria Restaurants
Popular Alexandria Restaurants
Old House Cosmopolitan
Brabo Brasserie
Mackie's Bar and Grill
Columbia Firehouse
Chart House
Myron Mixon Pitmaster Barbeque
Pop's Old-Fashioned Ice Cream
Some of the best eats around the D.C. Metro area are found in Alexandria. From casual to fine dining, there are plenty of options to suit every palate. Looking for a taste of Europe? Old House Cosmopolitan serves up Bosnian and German dishes, while Brabo Brasserie brings a taste of Paris to Old Town. For a good steak, try Mackie's Bar and Grill. Dine in a historic 1883-era building at the Columbia Firehouse to enjoy American cuisine with an elegant presentation.
Chart House is popular with its indoor and outdoor dining options for romantic nights out along the Potomac waterfront. Want to indulge in bonafide award-winning barbecue? If so, Myron Mixon Pitmaster Barbeque has you covered. The owner, who has won thousands of awards, was inducted into the Barbecue Hall of Fame in Kansas City in 2013. Looking for a sweet treat complete with a vibe of yesteryear? Stop at Pop's Old-Fashioned Ice Cream and immediately feel transported back in time.
Whether you're looking for an intimate meal or a big group outing, it's hard not to find great food in Alexandria. Quality dining spots are truly too many to count.
Arts & Culture in Alexandria
Those who live in or visit Alexandria will be pleased with its arts and cultural opportunities. From landmark buildings that house museums to modern art galleries to live dance and theatre performances, there are amazing experiences to be found.
Museums
Popular Alexandria Museums
Gadsby's Tavern
Mount Vernon
Alexandria Archeology Museum
Freedom House
Alexandria History Museum at the Lyceum
Alexandria has a rich history dating back to Colonial times, and it's a place many of America's Founding Fathers spent time, such as the now-museum Gadsby's Tavern. George and Martha Washington called Alexandria home. Their majestic estate, Mount Vernon, is found outside the downtown area, but the Washingtons also had a second home in Old Town.
Other Colonial-era buildings that now house museums are Carlyle House, Friendship Firehouse, and Lee-Fendall House, to name a few. The Stabler-Leadbeater Apothecary, a family-owned business that ran continuously from the 18th century until the Great Depression, simply locked its doors and left everything as is. It's a must-see—authenticity at its best. While in town, be sure to check out the Alexandria Archeology Museum, Freedom House, Alexandria History Museum at the Lyceum, and numerous other Alexandria museums found throughout the area.
Art Galleries
Popular Alexandria Art Galleries
Torpedo Factory Art Center
The Athenaeum
Del Ray Artisans
Art is an important part of Alexandria's community. The Torpedo Factory Art Center, located along the Potomac River, houses seven art galleries, over 80 artists' studios, and two workshops. Open to the public, visitors see the artists in person and visit them as they work or share their work. The Athenaeum, a historical piece of architecture that once housed the Bank of the Old Dominion in the 19th century, is an art gallery open to the public and home to the Northern Virginia Fine Arts Association. Over in the Del Ray community, the Del Ray Artisans is a community art organization featuring visual and functional arts and offering monthly exhibits. Every year, an expansive annual festival is held in Old Town during September.
Dance & Theatre
Alexandria Dance & Theatre Opportunities
Washington Metropolitan Philharmonic Association
Little Theatre of Alexandria
Brave Spirits Theatre
Professional dance, musical theatre, and other performing arts are central to Alexandria's community. The Washington Metropolitan Philharmonic Association is committed to making high-quality performances assessable to the community. The Little Theatre of Alexandria showcases full productions and is the oldest award-winning theatre in the D.C. Metro area. The Brave Spirits Theatre emphasizes Shakespearean productions, forgotten works, or rarely produced gems. Dance studios, camps, parties, and other events are also routinely showcased in town.
Alexandria is hailed as one of America's Top Art Places and is nationally recognized as a community rooted in creative culture. As a result, the city has produced vibrant neighborhoods.
Alexandria Nightlife
Alexandria Nightlife Destinations
Birchmere
Port City Brewing Company
Lost Boy Cider
Alexandria has many residential areas. While some housing comprises single-family and townhouse bedroom neighborhoods, other detached homes, rowhouses, and condos in Alexandria are right in the middle of the action. Alexandria is far from a dull town and, at night, some areas of the city come to life, offering the best in live music, the top dancing spots, clubs, and more.
Enjoy dinner al fresco along the waterfront or indoors with optimal river or city views. Take in the ambiance as street performers entertain and music fills the air. Attend a show at the Birchmere, a premier concert venue renowned for its nightly line-up of legendary—and soon to be discovered—acts. A second stage offers standing room only and dancing.
Pub life is active in Alexandria, with more than 35 pubs and bars, some with live music and dancing. With various nightlife settings and experiences to choose from, it's possible to visit favorite hangouts or try a new place every weekend. Enjoy a beer in a historic building, sip wine in an outdoor patio setting, or visit the Port City Brewing Company or Lost Boy Cider for the experience that comes with home-grown spirits.
Explore Alexandria Today
Living in Alexandria, there's never a dull moment when looking to spend quality leisure time doing things you love. Even for consistently available amenities, there is enough variety to experience different things in new places—or even at the same places. Museums and parks offer seasonal events, festivals, and fairs. The weekly Old Town Farmers' Market, the oldest in the U.S., has been held continuously at the same location since the days of George Washington, who sold his produce there. The Alexandria experience offers just about every possible amenity people seek. For amenities not found, it's an easy drive, water taxi, or Metro ride across the Potomac to nearby Washington, D.C.