9 Ways to Celebrate 4th of July in Alexandria, Virginia
Posted by David Rainey and Sallie McBrien on Friday, June 10, 2022 at 12:20 PM
By David Rainey and Sallie McBrien / June 10, 2022
Comment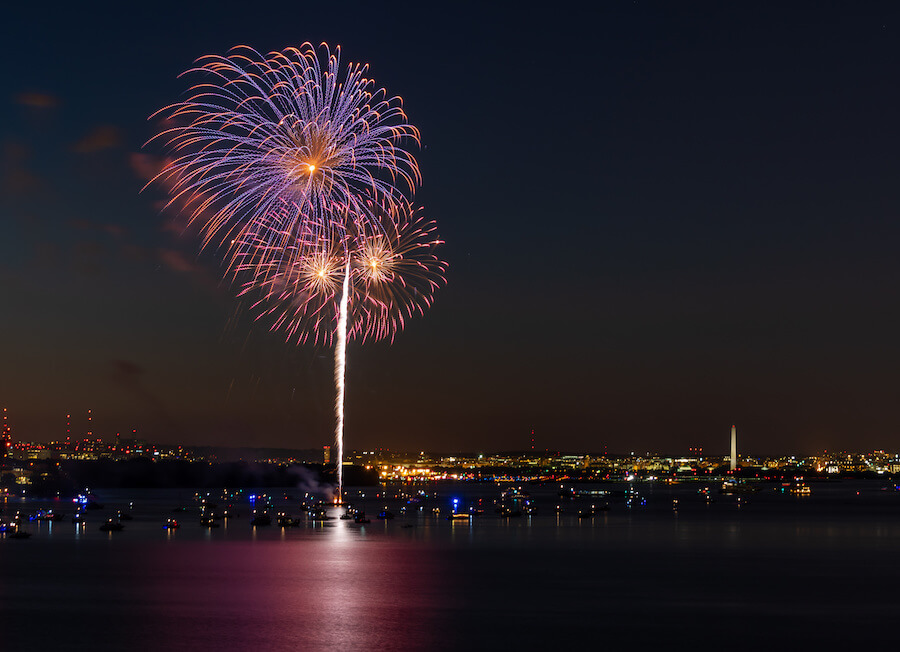 When it comes to Independence Day celebrations, few places are as lively as the city of Alexandria, Virginia. Located on the western bank of the Potomac River, just seven miles south of the nation's capital city, Alexandria does the 4th of July in a big way.
You may choose to observe America's birthday by firing up the grill, heading to local waterways, or inviting loved ones over to celebrate. Whatever your preference, you'll also find plenty of July 4th events to enjoy, many of them the weekend before the holiday. Here are some of the fun 4th of July events in Alexandria for locals and visitors alike to celebrate the birth of the USA.
July 4th Cruise Fireworks Watch Party
The July 4th Cruise Fireworks Watch Party is ideal for those who enjoy watching fireworks while sipping a tasty beverage. What better way to celebrate America than enjoying the show aboard a boat on the Potomac, one of the country's most historically significant bodies of water?
Open to everyone, attendees are treated to spectacular fireworks while enjoying snacks and beverages from an open bar featuring top-shelf drinks. Guests may purchase individual tickets or an entire table for up to six people, and ticket prices start at $4,000. This is a popular event that usually sells out in advance.
For the cruise, guests should dress to impress, combining creativity and style with patriotic pride. Attendees are also encouraged to arrange transportation by rideshare or the Metro rail. The nearest station is Foggy Bottom-GWU.
Date: July 4, 2022
Time: 7:30–10:30 p.m.
Location: Georgetown Harbor, 3050 K Street NW, Washington, DC 20007
Annual Fourth of July Bike Parade
The Annual Fourth of July Bike Parade is a fun activity held in Waycroft-Woodlawn, a neighborhood in the nearby Arlington community. Sponsored by the Waycroft-Woodlawn Civic Association, this annual event invites participants to gather to decorate their bikes, trikes, wagons, scooters, strollers, and other non-motorized wheeled forms of transportation before the parade, which kicks off at 10:30 a.m.
The bike parade awards prizes for the most creative costumes and decorations. Afterward, all participants are invited to enjoy local BBQ. Visitors are encouraged to RSVP online.
Date: July 4, 2022
Time: 10 a.m.
Location: 1200 N Abingdon Street, Arlington, VA 22207
Semper Fi & America's Fund 2022 Fireworks 5K/10K
Celebrate the country's birthday with fresh air, scenic views, and getting some exercise at the 2022 Fireworks 5K/10K run. Runners, walkers, and little ones in strollers are all invited to participate in either the 5K or the 10K run, both of which are held in picturesque Burke Lake Park.
Participants will receive a Finisher's Medal, a Technical (Dri-fit) Event Shirt, and a Chip Timed Event. This year's race will also feature a virtual option for those who cannot attend the event in person. Virtual participants will also receive a medal.
The Fireworks 5K/10K event supports the Semper Fi & America's Fund, which provides assistance and support to members of the U.S. Armed Forces (and their families) who have been wounded in combat, or are injured or critically ill.
Date: July 4, 2022
Time: 10K race - 7:45 a.m.; 5K race - 8 a.m.
Location: Burke Lake Park, 7315 Ox Road, Fairfax Station, VA 22039
Walking Tour of Jefferson's Wild Life & Times
History buffs are sure to enjoy the Walking Tour of Jefferson's Wild Life & Times. Starting at the George Mason Memorial, this tour provides an up-close-and-personal view of Thomas Jefferson's trials and triumphs as the nation's first two-term president.
The tour provides the opportunity to explore Jefferson's life during the American Revolution, his voyages to Europe, and his time in the White House. Led by an author and former speechwriter for President George H.W. Bush, the tour offers a rare level of insight.
During the tour, participants will also enjoy visits to various historic buildings and scenic views of the National Mall. Bring comfortable walking shoes, sunscreen, and plenty of water.
Date: July 4, 2022
Time: 11 a.m. – 1:20 p.m.
Location: George Mason Memorial, 900 Ohio Drive SW, Washington, DC 20024
An American Celebration at George Washington's Mount Vernon
A much-anticipated annual event at George Washington's Mount Vernon, An American Celebration offers a full day of patriotic activities on Independence Day. Mount Vernon was the home of the country's first president, a plantation situated along the Potomac River.
Scheduled events during An American Celebration include meeting George Washington and re-enactments of General Washington's military activities, such as him inspecting his troops. There's also a daytime fireworks show, a performance by the National Concert Band, and Revolutionary War music and military drills.
Attendees can also witness the making of fresh bread baked in a reproduction 18th-century oven (and enjoy it afterward!). Keeping true to the event's historical theme, the bread is even baked using grains from the time period. Another of the event's highlights is a real-life naturalization ceremony, where people from many countries become U.S. citizens.
Tickets are $28 for adults and $15 for children ages 6-15. Children 5 and under are free. Discounts are available for members of the military and first responders, and admission is free for Purple Heart recipients and members of Mount Vernon.
Date: July 4, 2022
Time: 9 a.m. – 5 p.m.
Location: 3200 Mount Vernon Memorial Highway, Mount Vernon, VA 22121
Alexandria Birthday Celebration
The Alexandria Birthday Celebration honors the birth of the nation, as well as the City of Alexandria. 2022's event honors the 246th and 273rd birthdays of the U.S. and Alexandria, respectively.
On July 9, the City will host a large birthday party featuring live music, local vendors, and cupcakes, a longtime local tradition. The Alexandria Symphony Orchestra will also perform, and a fireworks show always serves as the grand finale. Admission is free at this event and anyone can attend, but pets should be left at home.
Date: July 9, 2022
Time: 6–9:45 p.m.
Location: Oronoco Bay Park, 100 Madison Street, Alexandria, VA 22314
Smithsonian Folklife Festival
Celebrating its 55th year, the Smithsonian Folklife Festival is an annual two-week event that attracts visitors from all around the world to the National Mall in Washington DC. Hosted by the Smithsonian Center for Folklife and Cultural Heritage, this free event is an international exhibition of living cultural heritage that sees over 1 million visitors annually.
The festival features various immersive programs and workshops focused on a particular nation, culture, or theme. Examples include an Omani-style pit cooking demonstration and a workshop called "Become a Citizen Scientist!"
Outside the scheduled events, festival attendees can participate in musical and dance performances, cooking demonstrations, storytelling, arts and crafts, and discussions. This two-week event ends on the 4th of July with the iconic fireworks display over the National Mall.
Date: June 22–27, 2022 and June 30–July 4, 2022
Time: 11 a.m. – 6 p.m. daily, followed by nightly concerts
Location: The National Mall, Washington, DC
A Capitol Fourth
A Capitol Fourth is one of the most widely-known Independence Day concerts and celebrations, as PBS broadcasts it around the country and to U.S. troops. The concert is presented on the famous west lawn of the U.S. Capitol.
A combination of patriotism and pop music, the concert usually includes several performances by various recording artists, as well as the National Symphony Orchestra, the 3rd U.S. Infantry Regiment (The Old Guard), the United States Army Presidential Salute Guns Battery, the U.S. Army Band (Pershing's Own), and the Choral Arts Society of Washington.
Details for attending in person will be posted online soon, and for those who perhaps don't care for fireworks, the live dress rehearsal the night before is open to the public.
Date: July 4, 2022 (live and broadcast); dress rehearsal: July 3, 2022
Time: 8 p.m.
Location: The U.S. Capitol's West Lawn, Washington, DC
National Independence Day Parade
The National Independence Day Parade is held each year on July 4th in downtown Washington, DC, just minutes from Alexandria. It includes exclusively-invited bands and fife and drum corps from around the country, as well as military units, drill teams, floats, equestrian participants, celebrities, luminaries, and more.
The parade doesn't cost anything to watch from anywhere downtown. However, there's fierce competition for the limited seating on the steps of the National Archives Building along the parade route, which follows Constitution Avenue from 7th Street N.W. to 17th Street N.W. Spectators may find better viewpoints nearer to 17th Street N.W. Anyone unable to attend in person can also watch the live streams from the National Independence Day Parade's Facebook page and YouTube channel.
Date: July 4, 2022
Time: 11:45 a.m. (live and online via Facebook); 5 p.m. (online via YouTube)
Location: Downtown Washington, DC
A Fun-Filled 4th in Alexandria
Whether you're into traditional festivities such as parades and fireworks or if historical and cultural activities are more your speed, there are many ways to celebrate the 4th of July in Alexandria. The city's historical significance and proximity to Washington, DC, make it one of the best places to be for this patriotic holiday.