5 Best Suburbs of Alexandria: Where to Live Near Alexandria VA [2023]
Posted by David Rainey and Sallie McBrien on Thursday, October 13, 2022 at 4:19 PM
By David Rainey and Sallie McBrien / October 13, 2022
Comment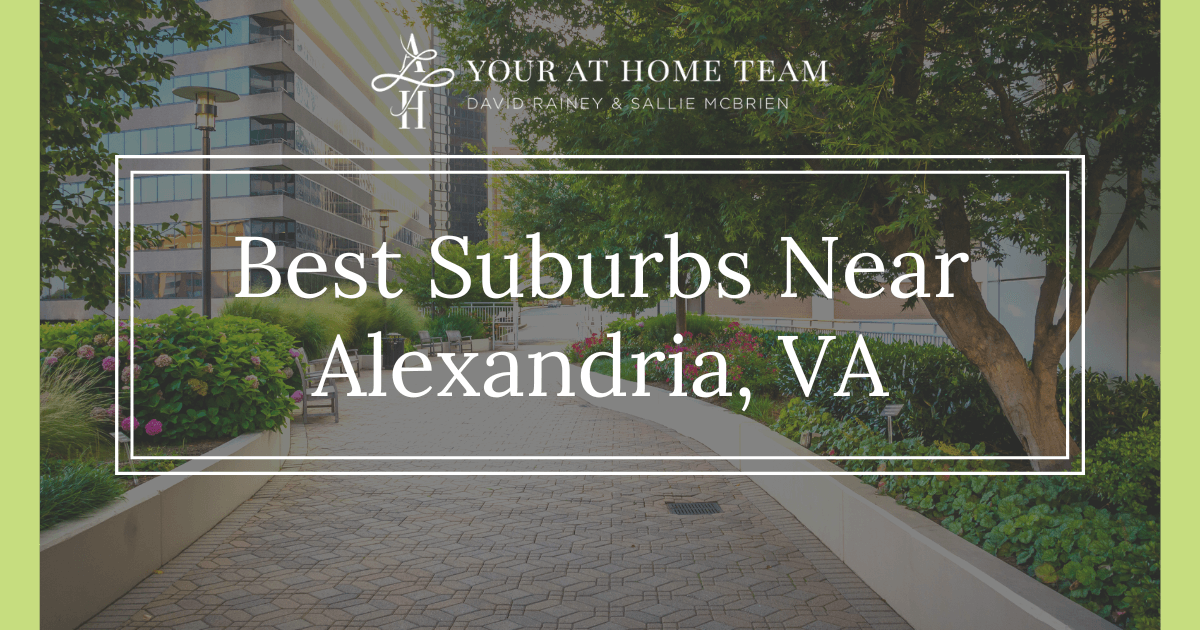 Alexandria, VA, is one of Washington, DC's oldest cities. In fact, it predates the national capital that it now neighbors! The city of Alexandria's beginnings as a critical Potomac River port gave way to its development as a DC bedroom community; today, it's a thriving, diverse city in its own right. It's easy to see why Alexandria's best neighborhoods are so popular, but one of the contributing factors to the city's popularity is the great group of suburbs near Alexandria.
Arlington
While many think of Arlington as a single community, it actually covers a sprawling 26-square-mile county across the Potomac River from DC, with diverse options in housing, jobs, entertainment, and more. Arlington is perhaps best known for Arlington National Cemetery, where US military veterans have been laid to rest for decades. Nearby is the US military's command center, the Pentagon.
But Arlington is a lot more than just government buildings and monuments. Arlington is the perfect city from which to access all the things to do in Alexandria and Washington, DC. Residents can also enjoy dinner and a night out along Wilson Boulevard or shop at the Fashion Centre at Pentagon City.
Arlington offers several stops on the Metrorail system, with six stations serving the Blue, Orange, and Yellow Lines that provide direct routes into DC or other suburbs. In addition, it's home to Ronald Reagan Washington National Airport, which provides residents with convenient access to flights all across the country.
Homes for sale in Arlington are as appealing as the community itself, with multifamily condo developments, townhouse communities, and neighborhoods of single-family detached homes. Studio condo units list from $100s and all the way beyond the $3 million mark. On the flip side, Arlington luxury homes for sale list from $1 million and regularly top $3 million.
Arlington Amenities
Multiple Metrorail stations and bus lines
Arlington National Cemetery
Ronald Reagan Washington National Airport
Marymount University
Pentagon City Mall
Falls Church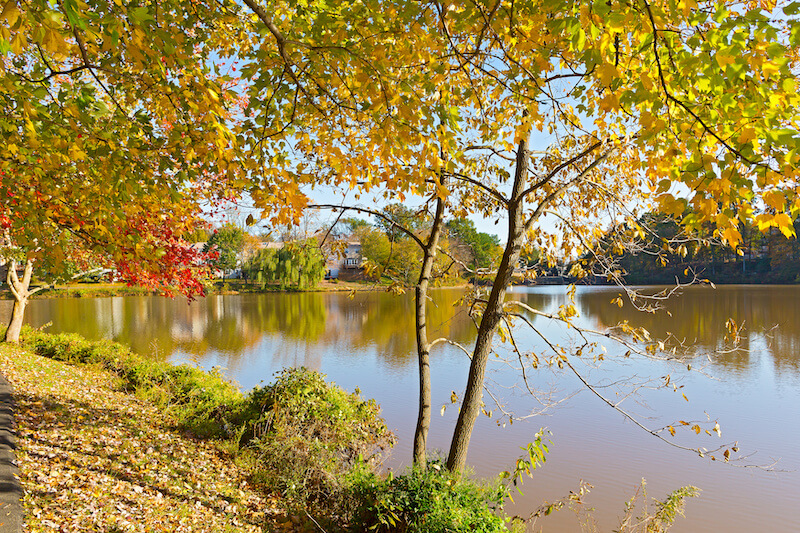 Falls Church has been called "the little city" due to its petite size. But this charming community just southwest of Interstate 66 punches way above its weight as a top suburb. One of Falls Church's most notable features is the Eden Center, which serves as the heart of the DC, Maryland, and Virginia region's Vietnamese culture with numerous restaurants, Asian food stores, and more. Further west down Broad Street, you'll find the town's other many shops, restaurants, and nightlife spots like Dogwood Tavern and Spacebar. This area is also the site of Cherry Hill Park, which offers green space, sports facilities, and a preserved 19th-century home.
Despite its small size, Falls Church offers housing of all types to potential buyers, whether they're looking for a modest condo or a historic single-family home. Falls Church homes for sale list from the high $100,000s to close to $2 million, with the majority selling from $500,000–$1 million. In addition, the community's compact size means just about everywhere is walkable, including grocery stores and other everyday errands. Still, two Metro stations offer transit options, and proximity to I-495 and I-66 makes getting around easy no matter how residents choose to do it.
Falls Church Amenities
Extremely walkable community
Convenient to Interstates 66 and 495
Two Metrorail stops and bus lines
Eden Center
The State Theater
Cherry Hill Farmhouse and Park
Vienna
Vienna is another charming city located north of Interstate 66 and west of the Capital Beltway. Maple Avenue is home to the town's primary commercial corridor, with everyday shops alongside a remarkably diverse group of restaurants serving Italian, Mexican, Greek, French, and much more. The town's remaining area is filled with homes and numerous parks, several of which connect to regional trail networks like the W&OD Trail that runs 45 miles from Purcellville in the west to Shirlington in the east.
Vienna offers the convenience of proximity to several of Northern Virginia's notable attractions and developments. George Mason University is located only a few miles south of the city and shares its Metrorail stop. The popular Tysons Corner shopping and dining district is even closer, home to several malls and retail centers. Wolf Trap National Park for the Performing Arts is located just outside Vienna city limits, providing some of the region's best concerts from all musical styles—even opera!
Vienna homes for sale list from the $300s, and on this end of the market homebuyers will find condos and small single-family homes. Vienna's most expensive properties (generally single-family detached homes) sell as high as $2.5 million but typically list in the high six figures to just over a million.
Vienna Amenities
Diverse dining and retail options
Numerous parks and trails
Metrorail station and bus lines
Close to Tysons shopping/dining, George Mason University
Fort Hunt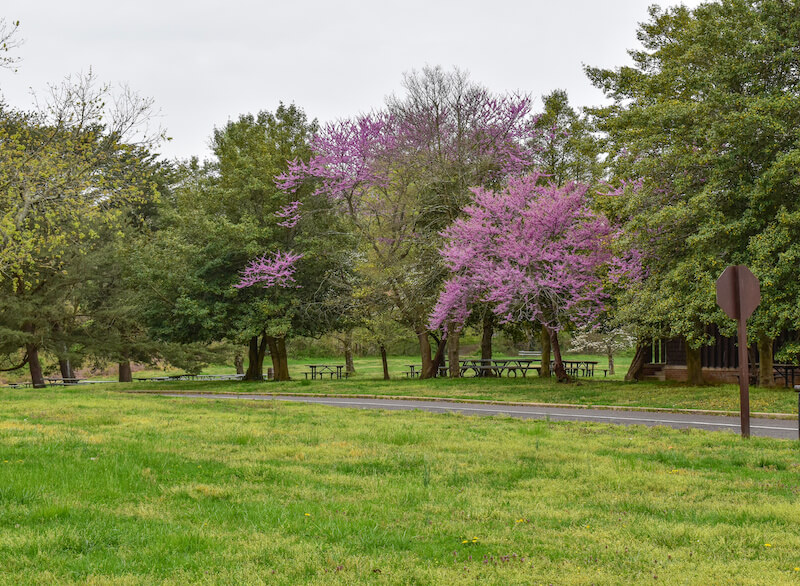 Just a few miles down the Potomac from Alexandria lies the charming riverfront community of Fort Hunt. Entering this leafy neighborhood can feel like stepping into small-town life, even though it's just a short trip from the heart of Washington, DC. The old-school charm even extends to Fort Hunt's quaint-feeling shopping center.
The community is almost entirely residential but has easy access to all of northern Virginia and DC's hottest spots through US Route 1 and the George Washington Memorial Parkway. Another top community feature is Fort Hunt Park, which combines history with the area's gorgeous Potomac River views. The park, which was once part of George Washington's Mount Vernon Estate, now offers a variety of trails and picnic/grill areas. Fort Hunt also has direct access to the 18-mile paved Mount Vernon Trail, a favorite of bikers and runners.
Unlike many top northern Virginia communities, Fort Hunt housing is almost entirely made up of single-family detached homes. Homes for sale in Fort Hunt span a wide range starting in the $600s. Larger, newer, or recently restored homes can reach over $2 million, though most sell from the $700s to $1 million.
Fort Hunt Amenities
Fort Hunt Park
Close to Fort Belvoir
Easy access to US Route 1 and George Washington Memorial Parkway
Metrobus service
Springfield
Springfield offers an excellent option for living just a few miles down the highway from Alexandria. The community dates back to the pre-Civil War days when it was an important railroad hub. Transportation remains important in Springfield, which now straddles several of the region's largest highways. With Interstates 95, 395, and 495 close by, it's easy to get anywhere you can imagine. The sprawling town is often lumped in with nearby North Springfield and West Springfield, giving it an even larger footprint. Residents will have no shortage of shopping options thanks to the massive cluster of retail near I-95 and Franconia Road, most notably the Springfield Town Center.
Springfield offers a mix of condos, townhouses, and single-family detached homes like nearby areas. Properties range from pre-World War II models to new construction. Condos and townhomes can be found from the mid-$300s to the mid-$700s. Single-family homes for sale in Springfield list from the $500s and regularly approach $2 million.
Springfield Amenities
Convenient to Interstates 95, 395, 495
VRE commuter rail and Metrobus service
Extensive shopping options
Lake Accotink Park
So Many Great Communities Near Alexandria, VA
Alexandria is, without a doubt, one of northern Virginia's top towns. But there are so many other communities nearby worth a closer look, too. Would-be buyers moving to Alexandria or the surrounding area can enjoy the hustle and bustle of Arlington, the small-town charm of Falls Church, or the leafy riverfront quiet of Fort Hunt. Whichever they choose, they can be sure they're joining one of the country's most exciting and fast-growing regions.