9 Places to Take Dogs in Alexandria VA: Best Dog-Friendly Parks, Restaurants, Shops & Hotels
Posted by David Rainey and Sallie McBrien on Tuesday, June 28, 2022 at 9:35 AM
By David Rainey and Sallie McBrien / June 28, 2022
Comment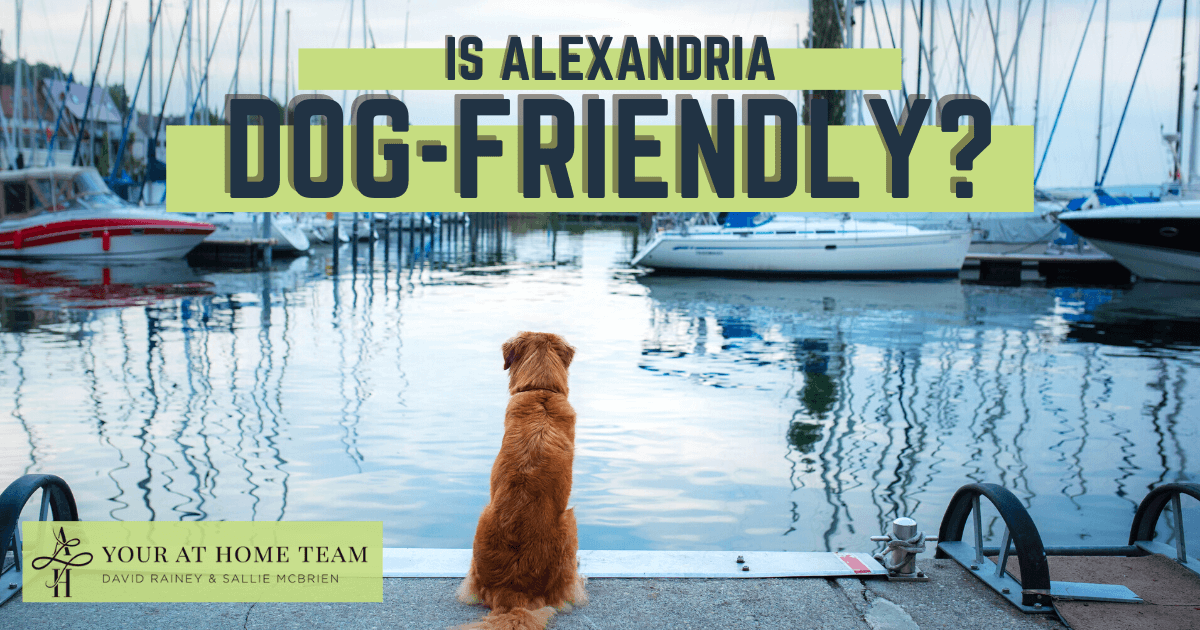 Noted for its rich history and the many 18th-century buildings that line the streets, the City of Alexandria is an extraordinary place to call home. People moving with pets will be excited to learn about the best dog parks and dog-friendly activities in the area. Fortunately, Alexandria is very pet friendly. Play off-leash at dog parks, explore Alexandria's best trails, and dine side-by-side at pet-friendly patios all in a day with your dog. Keep reading to find out what makes Alexandria so dog friendly.
Best Dog Parks in Alexandria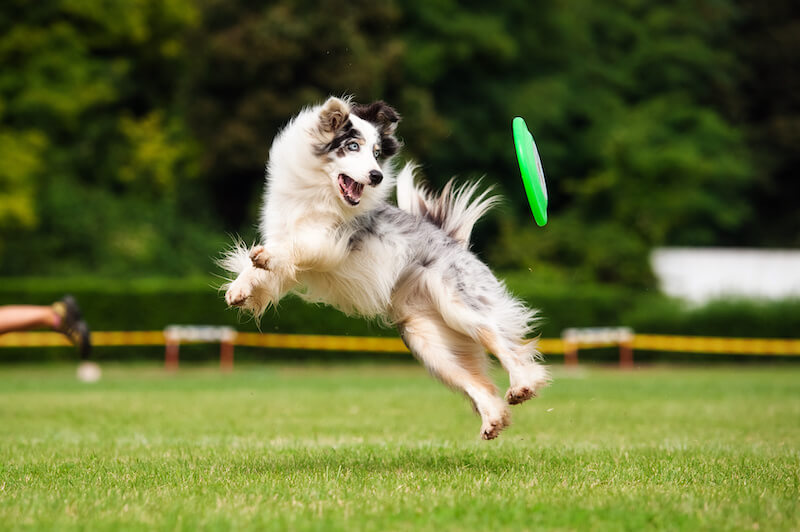 Many of the best parks in Alexandria include a wide range of off-leash and on-leash dog parks. For those who live in the area, it helps to know all the options and what to expect when visiting. Dog owners must supervise their pets in all parks.
While many communities across the country may have one or two dog parks, this city boasts six dog parks, as well as a dozen dog exercise areas.
The dog parks are fenced areas and are designed for dogs of various breeds and sizes. The dog exercise areas are not fenced and ideal for well-trained dogs off-leash. Local residents can often relax at these dog parks and exercise areas with their beloved pets.
Simpson Stadium Dog Park
Simpson Stadium Dog Park is a fenced-in area that allows dogs off-leash to run and play. The park is located on Monroe Avenue and is easy to get to from the nearby residential area. This park is lighted, making for a fantastic opportunity to explore the outdoors early in the morning or the evening.
It is a simple park that often offers a sandy, gravel surface rather than lots of green. There are some park benches and ample room for dogs to run and play. This is a popular city park, and it tends to be busy, specifically on the weekends. It is also off-leash, meaning dogs of all sizes can run and mingle with each other.
Simpson Stadium Dog Park Additional Information
Address: 426 E Monroe Ave, Alexandria, VA 22301
Hours: Dawn to dusk
Chambliss Street Dog Park
Chambliss Street Dog Park is a semi-wooded area with plenty of shade. This off-leash area provides plenty of room to explore; however, there is no separate area for smaller dogs.
As the dogs play, you can relax on one of the many benches. One of the excellent features of this park is that it is located near the Dora Kelly Nature Preserve. For those that plan to spend some time exploring this area, which is possible to do with a dog on a leash, it can be the perfect place to let them run a bit afterward. The park can get muddy, especially in the spring months, but there is ample drainage to help it to dry out quickly.
Chambliss Street Dog Park Additional Information
Address: 2505 N Chambliss St, Alexandria, VA 22311
Hours: Dawn to dusk
Duke Street Dog Park
Duke Street Dog Park is a fun place to visit for dogs that love the water. It is a large fenced-in area with lots of room to run and play. It also has a water area that dogs can get into and cool off on a hot day. The area is perfect for those with larger dogs enjoying the water but wanting to remain in shallow water.
As for the park itself, there is a grassy area for running in. In addition, there tend to be a few toys available to keep dogs moving. There are no drinking fountains in the area, so dog owners should bring water for their pets. One of the only drawbacks is the limited amount of available parking. There is also a bit of walking to get to the park.
Duke Street Dog Park Additional Information
Address: 5000 Duke St, Alexandria 22312
Hours: Dawn to dusk
Dog Run Park at Carlyle
For a laid-back local feel, check out Dog Run Park at Carlyle. This park is fun for pets who like to dig and explore as it has mostly gravel and dirt path. It is large enough for lots of running, frisbee throwing, and tennis balls. The varied terrain makes it a fantastic place to be for some dogs.
One of the excellent benefits of this park is that it offers a separate play area for smaller dogs. That helps keep all dogs safe and enjoy the amenities the park offers.
Dog Run Park at Carlyle Additional Information
Address: 450 Andrew's Ln, Alexandria, VA 22314
Hours: Dawn to dusk
Ben Brenman Dog Park
Ben Brenman Dog Park is an outstanding place to spend time with a dog. The surrounding woods cast plenty of shade on warm summer days. The park is off-leash to allow dogs to run and play, but it is a smaller park overall and can be busy on weekends.
The park has one enclosure for dogs of all sizes to be together. The mulch and grass areas can get muddy on some days, but it does drain well so that they can dry out quickly. The dog park is a part of the Brenman Park, which is more than 59 acres of wooded and open areas, walking trails, and bike paths to explore. Keep in mind there are no doggie stations here for clean-up; owners must bring their own bags for waste.
Ben Brenman Dog Park Additional Information
Address: 4800 Brenman Park Dr, Alexandria, VA 22304
Hours: 8 a.m. – 8 p.m.
Dog-Friendly Activities in Alexandria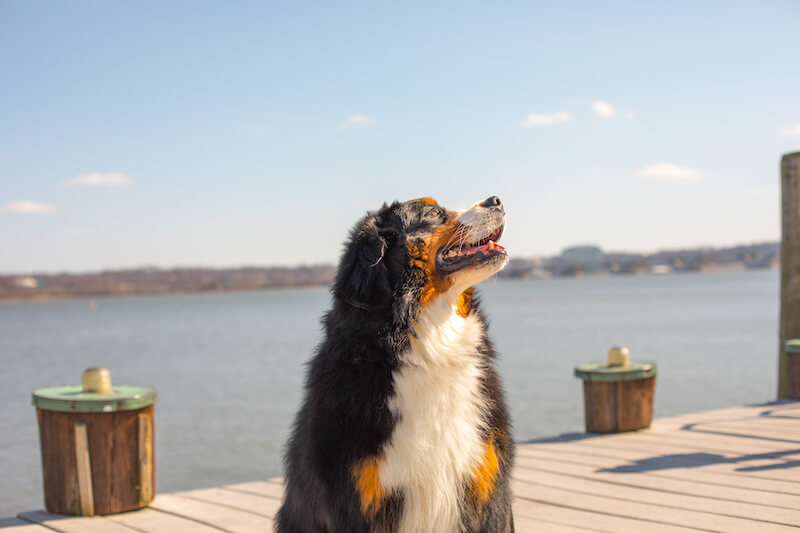 It is not uncommon to see dogs throughout Alexandria. Many people bring them to area parks on a leash, outdoor festivals, and much more. The key here is finding new ways to have fun with dogs. Here are some ideas.
Torpedo Factory Art Center
Torpedo Factory Art Center is a dog-friendly location to visit. It is an old munitions plant that has become a dog-friendly art study. It is also home to an extensive range of artists working on their own pieces. There's a lot to see and do, including getting involved in various activities, including creating paintings or photographs.
Historic Sites
Most of the area parks and historic sites welcome leashed dogs. That includes the Home of Franklin D. Roosevelt National Historic Site, where it is possible to keep a pet on a leash outdoors to explore the grounds. George Washington's Mount Vernon is also dog-friendly for the most part. It is possible to take the dogs out to explore the gardens, the tomb, and the views of the river itself. Other locations that welcome dogs include James Madison's Montpelier and Andry Jackson's Hermitage.
Potomac Riverboat Company Canine Cruises
Taking dogs out onto the waterfront on a rented boat or walking along the park and the riverfront is also possible. Check out the Potomac Riverboat Company Canine Cruises, too. This 45-minute boat ride around the Alexandria Seaport is fun for all involved. On these pet-friendly cruises, dogs are welcome aboard and allowed to see the sights of Alexandria from the river. This tour is popular among travelers and a favorite among residents who don't often see their city through the eyes of a tourist. Dogs get to enjoy the cruise for free. Be sure to book these experiences in advance to ensure there is room available.
Frolick Dogs Canine Sports Club
Frolick Dogs Canine Sports Club offers pet parents in Alexandria a unique take on a dog daycare. This is the area's first dog gym, where dogs who spend the day there enjoy fitness activities and behavioral training exercises. During their time at the gym, dogs work with trained professionals and have fun while doing it. The exercise is good for the dog's overall health and well-being, and pet parents love that their dog is burning energy while they work.
Dog-Friendly Restaurants in Alexandria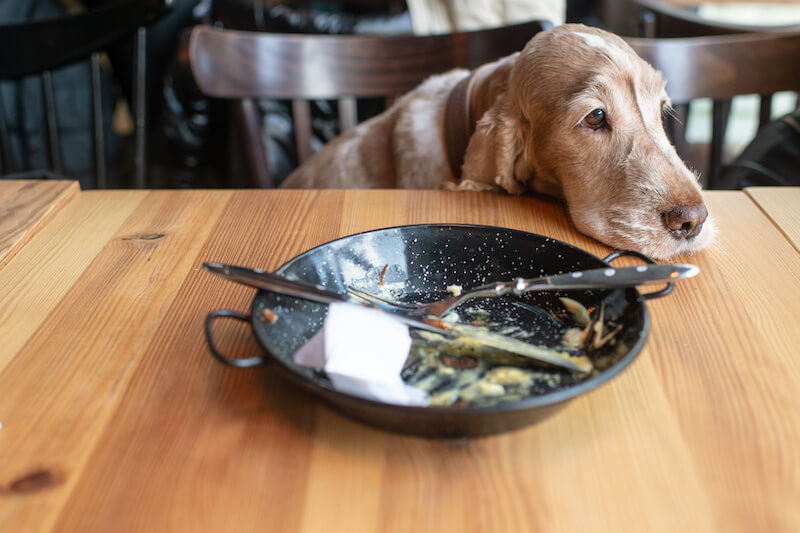 For those who are out on the town and want to stop for a meal, many restaurants welcome dogs on a leash. Keep in mind that most of these require outdoor dining, and limitations on the type of dog or amount of space may be likely.
Those looking for a place to get something to eat with their dog should start with Lost Dog Café. Its menu boasts gourmet pizzas, specialty sandwiches, and pasta meals. While its meals are delicious, what stands out to pet owners is the fact that this restaurant donates a portion of its proceeds to a local pet rescue organization. It's a fun place to enjoy a meal and good beer, with a pet enjoying a meal, too. It offers outdoor seating, but there is a lot of shade.
Another option is to visit Barkhaus, an off-leash indoor and outdoor dog park with a bar and restaurant with refreshments for people and pups alike. Owners sit and relax with a bite to eat and some drinks while the dogs get to play and mingle with others. There are limitations regarding how many dogs can be within the space, and complete vaccination records are required.
Other pubs and restaurants may welcome dogs, too. That includes Bastille in Old Town Alexandria, which features a French menu and a romantic interior. It has an outdoor patio that welcomes dogs. Le Refuge Restaurant is another fantastic French restaurant that offers classics and a patio that allows guests to bring dogs.
Also, check out Chadwicks on Strand Street. It has a beautiful view of the river and lots of barbeque to offer along with other options, especially known for its craft beers. The sidewalk tables are dog-friendly.
Dog-Friendly Shopping in City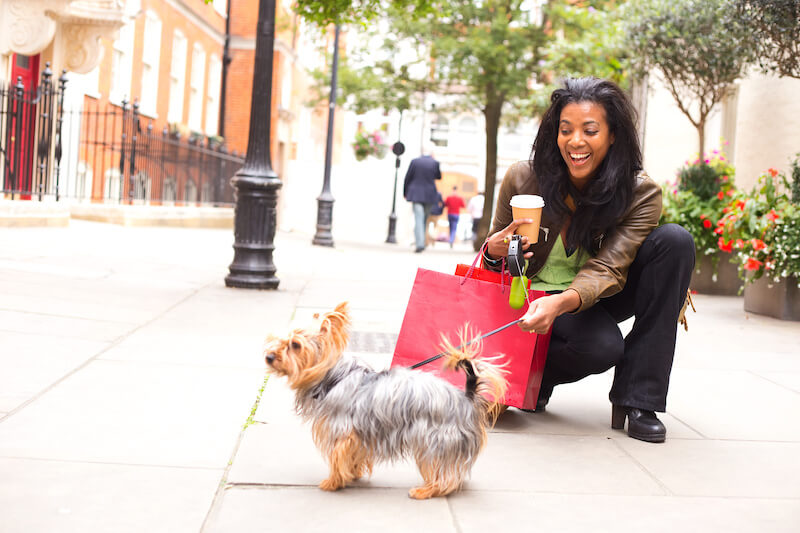 When it comes to finding everything necessary to care for a dog here, Alexandria offers a wide range of services. It is home to numerous larger chain shops, including Petco and PetSmart. However, some of the treasures here are the smaller shops that offer something special for dogs.
Nature's Nibbles
For example, Nature's Nibbles is an excellent location for those who want an all-around good pet store offering dogs many natural and organic foods. It also has a do-it-yourself-dog wash and hosts various pet seminars from time to time. It is a good choice for those who want an alternative to traditional dog foods.
Woof Gang Bakery & Grooming
For some fun treats, visit Woof Gang Bakery & Grooming. It is home to a wide range of food products, including options for grain-free diets and raw and frozen products. Aside from the foods, it is noted for its large bakery of dog treats. That includes a lot of freshly made items designed just for dog consumption. This location also offers a grooming service.
Olde Towne School for Dogs
Olde Towne School for Dogs is another fun place to visit. It is a noted training provider in the area, but it also has a large selection of dog toys, clothing items, leashes, and much more. It has been serving the area since 1975 with high-quality products.
Ally & Indy Pet Boutique
Also, check out Ally & Indy Pet Boutique. It is sure to be the place to go for those who are looking for fun gifts to give or special, personalized items. It has food and health products, fun toys, and decorative items to pick up.
The Dog Park
The Dog Park is a boutique store in Old Town Alexandria that specializes in unique items for both dogs and cats. The shop owners take pride in the fact that the products at their store are not easily found at large corporate chains. Some items that shoppers may find at this store include sweaters for pets, all-natural pet food, pet toys, and pet beds. Additionally, gift items are available for all the pet lovers. Of course, dogs are welcome in the store, and all four-legged customers receive a special treat upon arrival.
Pet-Friendly Lodging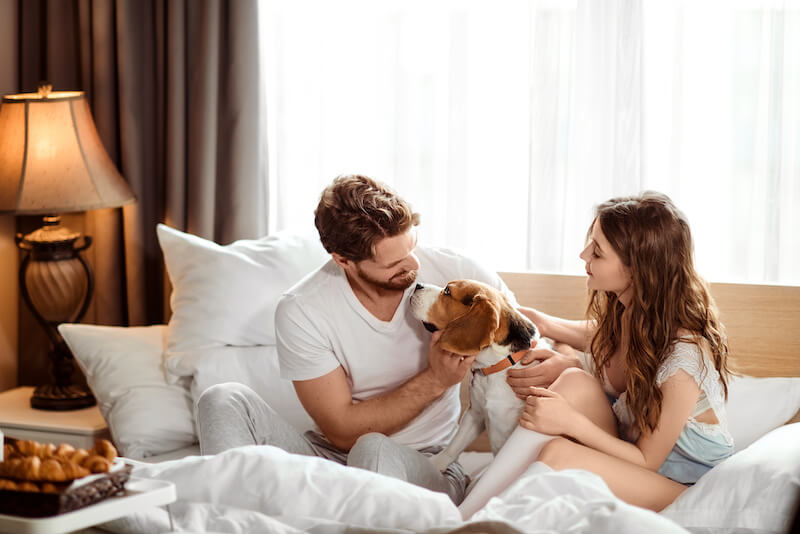 Many people visit Alexandria each year for tourism or business. Having appropriate accommodations for those traveling with a pet is not always easy. However, numerous hotels and other facilities in the area allow dogs (and sometimes other animals) to stay. Here is a look at a few of those options.
Lorien Hotel and Spa may be noted for its beautiful accommodations, but it also allows up to two pets per room for guests. That could be dogs or cats. Pets are not able to be left unattended in their room, though. There is a nearby dog park but no on-property options for pets.
The Alexandrian Autograph Collection is a charming place to stay. It offers accommodation for up to two pets at a time in any room. There is a fee of $25 per night, and both cats and dogs are welcome here. There is a grassy area nearby to use for dogs.
Hotel Indigo Old Town Alexandria is another option. It allows dogs up to 80 pounds, which is larger than some other locations. There is a fee of $25 for the total stay for the dog, and it's possible to bring up to two dogs and cats at a time. One key thing to note is that pets need to be crated when left unattended in a room.
Alexandria Loves Dogs, Dogs Love Alexandria
There are plenty of reasons to set out on a tour of Alexandria with a dog on a leash. With so many things to do in Alexandria, there is no doubt that the days can be action-packed. Many of the parks, including the national parks and state-run parks, in the area welcome dogs, too. Venturing out with your dog is one of the best ways to enjoy all Alexandria offers.