8 Best Golf Courses Near Alexandria [2023]
Posted by Sallie McBrien on Monday, January 3, 2022 at 1:45 PM
By Sallie McBrien / January 3, 2022
Comment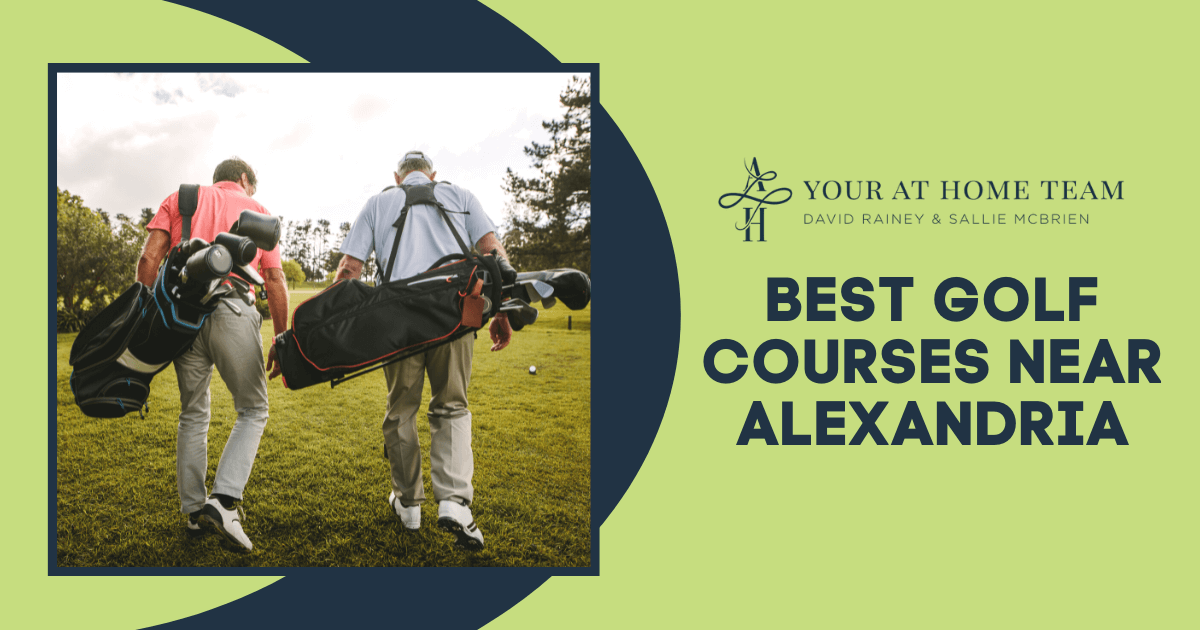 Located just south of Washington DC, there are so many fun things to do outdoors in Alexandria. From thrilling parks to rewarding hikes, people moving to Alexandria can always look forward to time in nature. But nothing beats a great game of golf for many people who live here. Fortunately, the city of Alexandria has many public and private courses for the locals to enjoy. Keep reading to learn about the best golf courses in Alexandria.
Greendale Golf Course
The Greendale golf course is located southwest of Alexandria, off Telegraph Road. It's an 18-hole, par-70 course with Bermuda-grass fairways and several water hazards. Greendale has a practice putting green and offers club rental and cart rentals at the clubhouse. Tee times can be reserved a week in advance.
The 17th hole at Greendale offers a spectacular view of the entire course for those playing a full 18 holes. It's a regulation course open year-round, although hours are limited from 9 a.m. to sunset from December through February. Private golf lessons are available, and frequent tournaments and social events are held at the clubhouse. Greendale Golf Course is maintained by the Fairfax County Park System.
Pinecrest Golf Course
Pinecrest is a narrow and challenging course that winds its way around a small residential neighborhood in southwest Alexandria. It's a nine-hole, par-35 course that stretches 2,462 yards from end to end. A standout feature of this public course is the state-of-the-art indoor training facility it offers. The Golf Learning Center has indoor practice bays with electronic swing analysis. This indoor golf simulator is an excellent way for kids and newcomers to learn the game.
The course itself is open year-round from dawn until dusk, weather permitting. Tee times can be reserved up to one week in advance at Pinecrest. The course clubhouse has a Pro Shop with limited gear and a cafe providing sandwiches and burgers. Pinecrest is also home to the only FootGolf facility in Fairfax County.
Mount Vernon Country Club
The Mount Vernon Country Club has an extensive history. Its golf course traces the original forest of the plantation owned by George Washington and has undergone complex course renovations. With practice golf facilities, golf programs, and pro shop services, Mount Vernon Country Club also offers its members amenities such as dining opportunities, social events, a competition pool, and a children's wading pool.
Mount Vernon Country Club's 18-hole, par-70 championship course aims to challenge golfers with its seven tee selections, ranging from 4,935 to 6,366 yards. Dogue Creek, a water hazard challenge in 14 holes, accompanies the golf course.
Membership categories range from adult and young professional full golf options to social golfing opportunities. With a Junior Program for Junior Golfers and Family Tees added to each hole, it's easy to see why Mount Vernon Country Club has "had pride in being the friendliest club in the metro area" for the past 60 years. It's also an Audubon Cooperative Sanctuary golf course, meaning that the club works hard to maintain wildlife habitats and reduce its impact on the environment.
Belle Haven Country Club
Belle Haven is an 18-hole private country club course located south of the Old Town Alexandria neighborhood, with a line of beautiful two-story brick townhomes bordering the southern end of the course. In addition to the golf course, this exclusive club offers members access to eight tennis courts (indoor and outdoor), a 2,500 square-foot fitness center, a seasonal swimming pool, and formal and casual dining.
Most of the course features stunning views of the Potomac River, which borders the east end of Belle Haven. The club enforces a strict dress code for golf and tennis players. Belle Haven is a challenging, par-72 professional-level course with numerous hazards. It was redesigned years ago by famed golf course architect, Arthur Hills.
East Potomac Golf Links
The East Potomac Golf Links is a unique and exciting public golf experience located just south of the Jefferson Memorial on Hains Point Island between DC and Alexandria. The Potomac River borders the course on the west side and the Washington Channel on the east, providing views of the Southwest Waterfront in Washington, DC. There are three courses available to play here: A 9 hole, par 27 courses (Red Course); a nine-hole, par 36 courses (White Course); and an 18 hole, par 72 courses (Blue Course).
East Potomac has a two-deck lighted and covered driving range to accommodate up to 100 players at a time. It also has three practice holes that can be reserved for up to an hour and 18,000 square feet of putting range space that is free to use.
Langston Golf Course
Langston is considered one of the best public golf courses in Alexandria-Washington, DC. It features hilly territory on an 18-hole, par 72 course. Langston is also the only public course in Washington, DC, with several water hazards. It has two extremely challenging par five holes that are over 500 yards in length. Langston also has a 30-stall driving range (first come, first serve) with its parking entrance.
It has a Pro Shop with all the apparel and accessories a golfer could want. The Langston Clubhouse Grille is a favored spot to eat in DC, with its all-day breakfast menu. The golf course and the driving range at Langston are open from 7 a.m. until dark. The course stays open year-round, weather permitting.
Fort Belvoir Golf Club
The Fort Belvoir Golf Club is on a US Army installation in the southwest part of Alexandria. It has two 18-hole professional courses, one of which was designed by Robert Trent Jones. It's a semi-private military club, but civilians can also purchase annual memberships to this club in the Fort Belvoir area. In addition to two championship courses, it has a spacious clubhouse that serves pub fare and beer. Private lessons and golf clinics are available regularly for members. The courses are open year-round, weather permitting.
Washington Golf & Country Club
This is one of the oldest courses in Arlington, also known as the "Club of the Presidents." Washington Golf & Country Club was incorporated in 1894 and may have existed earlier. Situated between Gulf Branch and Donaldson Run neighborhoods, the 18-hole course is surrounded by gorgeous golf course homes just west of the Potomac River.
The club has a members-only practice facility, a state-of-the-art fitness center, numerous indoor and outdoor tennis courts, and a swimming pool. Golf lessons are provided to members by Mid Atlantic PGA pro players. This is one of the most coveted private golf clubs in the entire area; it's not unusual for people to spend four years on the waitlist before being granted membership. The course was designed by the renowned trio of Tom Doak, William Flynn, and Donald Ross.
Alexandria Is a Haven for Seasoned Golfers
Alexandria has more golf courses than most similarly sized communities in America. This list only scratches the surface of the public and private courses available in the area. In addition to these great Alexandria golf courses, there are several other beautiful greens in neighboring cities. One of the best known is the Congressional Country Club in Bethesda, Maryland, which has hosted several major championships, including three U.S. Opens. This course is just about 35 minutes from Alexandria. Other highly recommended courses to try include Laurel Hill Golf Club, located in the Lorton community, and Westfields Golf Course in the city of Clifton.
Thanks to a relatively mild climate, many courses are open all year long, although with limited hours in the darker winter months. There are so many courses available that it's almost always possible to find a tee time somewhere in Alexandria, even on the busiest holiday weekends.