The Best Lakes in Alexandria, VA: Find Lakes Near Washington DC
Posted by David Rainey and Sallie McBrien on Thursday, March 3, 2022 at 8:20 AM
By David Rainey and Sallie McBrien / March 3, 2022
Comment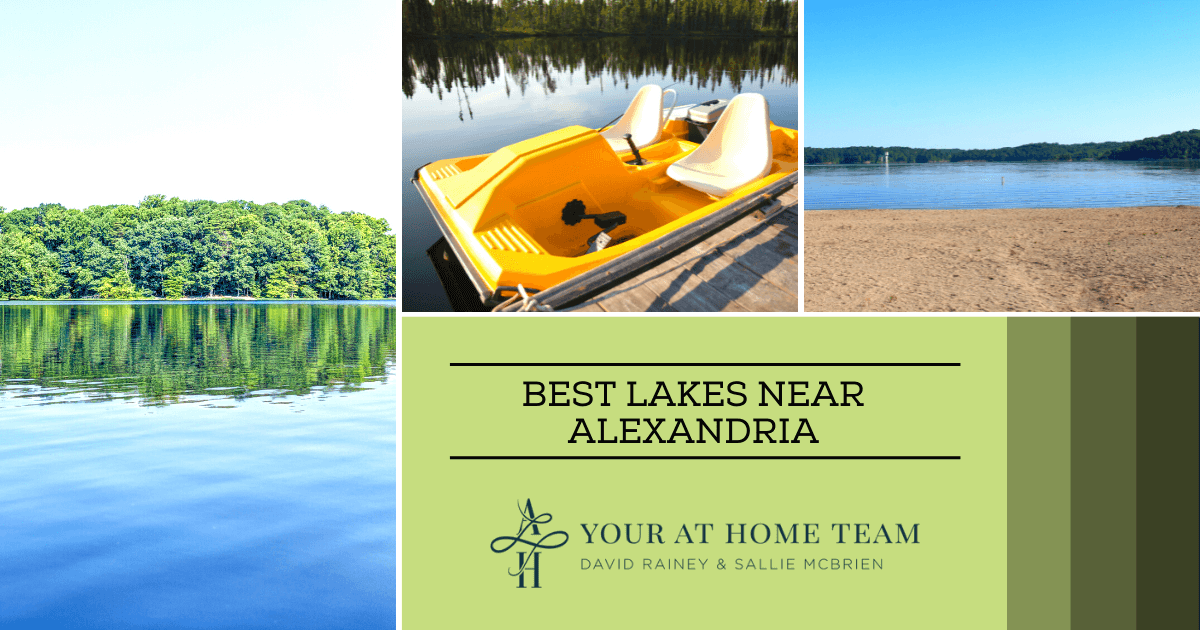 Buying or building a home in the city of Alexandria is a big decision. It is essential to consider the benefits of any potential housing environment, including the city and neighborhood. Prospective homebuyers will want to purchase in an area that suits their desired lifestyles. For example, living near a lake can encourage those who love swimming or boating to take time out to enjoy their free time. Sharing a scenic background can also inspire fresh air excursions for relaxation or recreation. Finally, neighborhoods around lakes are often near some of the best parks in Alexandria, meaning more significant potential for peace and quiet for those who enjoy the serenity.
Blissful lake days are waiting for you in Northern Virginia! Keep reading to learn about the best lakes near Alexandria.
Table of Contents
Lake Mercer
Lake Mercer Amenities
43 acres
Surrounded by woods
Hiking
Fishing
Paddle boating
Canoeing
View wildlife
Located about 15 miles southwest of Alexandria in the town of Springfield, Lake Mercer is part of a public park that is more than 150 acres. The lake itself is around 43 acres. Because thick woods surround the water, it is the perfect location for those that want to get back to nature without straying too far from civilization. To preserve the untouched natural beauty, there are no picnic spaces, playgrounds, or restrooms, and parking is minimal. No motors are allowed on the water, and there are no roads directly leading to the bank.
Instead of more urban activities, visitors are welcome to enjoy hiking and fishing by the water. Human-powered watercraft such as paddle boats or canoes are welcome as long as they are small enough to carry by hand or wheel. Anyone looking to find hiking near Alexandria will be pleased to find a paved 3.5-mile trail surrounding the lake. The Lake Mercer Lake Loop can be great exercise for biking or jogging as well.
Most importantly, the area is the place to view wildlife in a natural habitat. Sightings of deer, woodpeckers, heron, beaver, and more are frequently reported.
Burke Lake
Burke Lake Amenities
Boating
Fishing
Miniature train
Carousel
Disc golf and mini-golf
4.7-mile trail
Traveling west for about 21 miles to the town of Burke will reveal an area with a greater concentration of greenery. In the center of Burke Lake Park, Burke Lake is a playground for people who want outdoor adventures near the heart of town. The park itself is enormous, at more than 888 acres. The water at the center is a popular location for boating, including the favored boat-based tours. Of course, there are many areas for fishing from the water or the dry land.
Those who prefer to stay onshore will find plenty of fun activities. Ride the miniature train or carousel for beautiful views of the scenery. Challenge friends to disc or mini-golf courses. Enjoy the exercise and fresh air by taking the 4.7-mile trail or setting up camp and spending a few nights outdoors. Be sure to check the website before visiting since they often offer classes or special events.
Lake Accotink
Lake Accotink Amenities
Electric motor/small boats
Rent bikes
Carousel
Mini-golf
Picnic tables
Sports courts
Miles of trails
Just past Springfield, Lake Accotink can be found south of I-495 and North Springfield. Part of the 493-acre Lake Accotink Park is another local site for serenity and fun. While swimming, paddleboards, and gasoline-powered boats are not allowed, it is possible to launch electric motors, small sailboats, and rowboats from the marina. The facility also rents pedal boats and kayaks by the hour.
Those who prefer to stay onshore can also rent bicycles with helmets hourly. Accotink Park also boasts a carousel and 8-hole miniature golf course. Groups may want to consider reserving one of the area picnic tables, including grills. Shelters are also available for further protection from the elements. After enjoying the meal, consider challenging friends to volleyball or basketball courts games.
Finally, nature lovers will not want to miss the miles of trails available in the park. Some paths even accommodate mountain biking.
Lake Barcroft
Lake Barcroft Amenities
Waterfront homes
Five private beaches
Boating
Wildlife watching
Visiting a lake with a park can be a great way to pass the time on a lazy weekend. However, Lake Barcroft takes this experience to new plateaus by building a private community around the park. Located a little more than 22 miles away from Alexandria, this secluded lake offers a private paradise in the Falls Church community. More than a thousand Lake Barcroft homes share this densely wooded, largely natural land. Some of these luxury homes feature waterfront privileges that make everyday adventures a breeze. Others have private swimming pools and sprawling lots.
The lake itself includes five private beaches, each patrolled by lifeguards during the summer. Electric-powered boats, pontoons, and sailboats are allowed on the water, but the shore is often used for social gatherings and annual events. However, there are still areas where hikers can watch wildlife and take in nature.
Most importantly, the beaches and water are all private property and exclusively accessed and maintained by the residents of the Lake Barcroft community. That means the potential to avoid the more crowded public parks during vacation periods.
Lake Royal
Lake Royal Amenities
38 acres
Picnic tables and playground
Basketball court
All-purpose field
Miles of trails
Benches
Regular programs
Slightly more than 15 miles due west in the nearby city of Fairfax, Lake Royal is a 38-acre body of water adjacent to the 46-acre Royal Lake Park. The lake itself is known for its "J" shape, with public parking access at both ends. The park features all the favorite amenities of urban green spaces, including picnic tables and a playground for kids. Athletes can take advantage of the basketball court and all-purpose field. Lakeview Swim Club is a nearby membership-based pool with competitive swim and dive teams.
Those looking for a brisk walk can use the more than 2 miles of trails in the area, including the 1.75-mile path around the lake itself. Unfortunately, biking is prohibited due to the steep grades and occasional tree roots. However, several benches are available for visitors to either rest their legs or stop to enjoy the scenery. While much of the area is developed, regular nature watchers will identify several great wildlife nooks.
Those planning to visit should check the website, as they regularly schedule programs, including campfires and summer concerts.
Discover Alexandria Lakes Near Washington DC
Anyone looking for outdoor activities in Alexandria will be delighted to explore these lakes near DC. People looking for waterfront homes in Fairfax County should be sure to check the neighborhoods surrounding local lakes. There are dozens of public outdoor gathering spaces less than half an hour from Alexandria, making daily recreation accessible to everyone. Hiking, biking, boating, and fishing are just a few of the ways to enjoy a peaceful day at these lakes.