Best Neighborhoods in Alexandria: Alexandria, VA Community Living Guide
Posted by David Rainey and Sallie McBrien on Monday, December 5, 2022 at 7:29 AM
By David Rainey and Sallie McBrien / December 5, 2022
Comment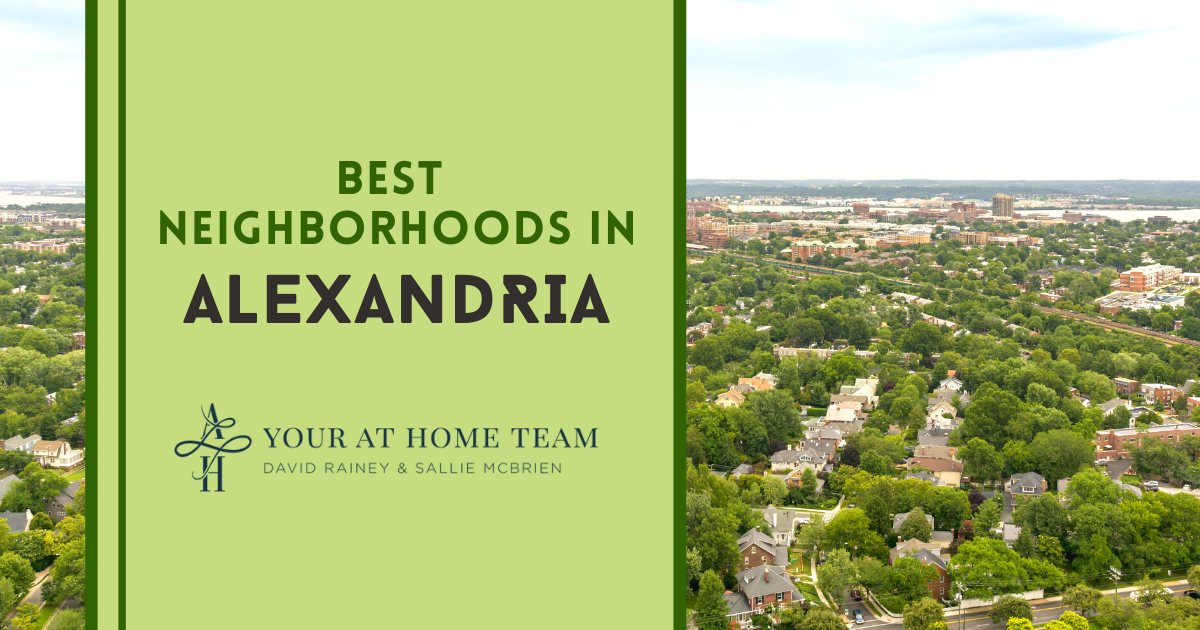 The Alexandria community offers residents both established and new a lifestyle not available in many U.S. cities. Close to the seat of the national government and home to several military bases, there's no doubt that Alexandria is entwined with the nation's heartbeat. At the same time, its well-maintained historic architecture and atmosphere keep it well-rooted. Perfectly blending modern conveniences with charmingly eclectic character, Alexandria is a wonderful place to call home.
Moving to Alexandria? Learn more below about some of Alexandria's most popular neighborhoods to keep in mind while house-hunting.
Old Town
For those interested in living in Alexandria condos and luxury homes with historical charm, the Old Town neighborhood provides the ideal ambiance. Walk along vintage cobblestone streets, visit centuries-old museums such as Gadsby's Tavern and the Stabler-Leadbeater Apothecary, admire the 18th- and 19th-century architecture, and shop at the farmers market that's been doing business for over 250 years all in one day. Take your time exploring the many gems of Old Town, such as the live music at Murphy's Grand Irish Pub and the local artisan products featured at The Old Town Shop. Stroll by the river and enjoy a bite to eat at one of the open-air cafes and restaurants, such as St. Elmo's Coffee Pub and The Wharf.
Del Ray
The Del Ray neighborhood began its history at the end of the 19th century. The neighborhood was served by the railroad, making it a commutable suburb with access to Washington, D.C. When walking or biking through Del Ray, interpretive signs provide information about the neighborhood's heritage.
A unique neighborhood with a funky vibe, Del Ray offers an array of things to do, see, and discover. From taking a look at creative and colorful Del Ray murals to enjoying a walking tour to see examples of classic architecture and Art Deco buildings, there is never a dull moment within the neighborhood. Residents and visitors will find an array of independent shops and boutiques, assorted restaurants and cafes such as Piece Out, The Garden, and Stomping Ground with regional and international fare to please every palate, and music at The Birchmere. The first Thursday of each month features exciting street festivals, and Art on the Avenue supports the area's artisans.
Hayfield Farm
Since the mid-1960s, the Hayfield Farm neighborhood has offered residents a choice in architecture from colonial and split-foyer to rambler and split-level home styles. To promote a quality lifestyle and support the neighborhood's ambiance, residents can show their interest in maintaining the community by joining the Hayfield Citizens Association. The well-preserved neighborhood of nearly 700 single-family Alexandria homes hosts beautiful landscaping and mature trees.
The community is convenient in many ways, with dining options such as Puzukan Korean BBQ and Burtons Grill & Bar of Alexandria, retail stores, grocery stores, a fitness center, a movie theater, and Kingstowne Towne Center nearby. Across from the neighborhood is Hayfield Shopping Center, with more retail and dining options. Old Town, with its historic buildings, is a short drive from home via Fairfax County Parkway and major roadways. Amtrak is also a short distance from the community. Hayfield Secondary and Hayfield Elementary are within walking distance.
Cameron Station
Construction of the Cameron Station neighborhood began in 1999, featuring Alexandria townhouses, condos, and detached homes that embraced the styling of homes built in the 1700s and 1800s. The community is well-maintained, with colonial streetlamps, parks, ample green space, and brick sidewalks that create a welcoming environment. The location of Cameron Station is a former U.S. Army post that served in many capacities from 1942 until its closing in 1988. Many of the streets in the neighborhood are named in honor of people who were part of the base.
Conveniently located with Old Town and Washington D.C. within a 10-mile radius of the neighborhood, Cameron Station offers a wide range of opportunities for places to go and things to do. The community provides the Cameron Club for residents to use, plus a fitness center with complimentary classes. The community also has an outdoor pool, and residents have access to a shuttle bus. Local dining caters to many tastes, ranging from the Alley Cat Restaurant and Van Dorn Diner to the Samurai Hibachi & Sushi Bar. Shoppes of Foxchase and several other retail centers serve local shopping needs.
Kingstowne
For potential residents interested in a community with a quick commute time to D.C., the Pentagon, Capital Beltway, and the Van Dorn Street Metro stations, the Kingstowne neighborhood is a good choice. The urban neighborhood features over 5,000 single-family homes and apartments with manicured lawns situated on tree-lined streets amid 1,200 well-preserved acres.
As part of the community amenities, residents have access to two outdoor swimming pools, two fitness centers, an aerobics studio, and courts for playing volleyball and tennis. Outdoor enthusiasts will enjoy several miles of scenic trails for walking and jogging. Located within Kingstowne, residents also have access to dining, shopping, and professional services at Kingstowne Towne Center. Enjoy a meal at the Bonefish Grill or La Madeleine French Bakery & Cafe, then unwind with friends at The Revolution Darts & Billiards.
Rosemont
Comfortable, convenient, and cozy describe the Rosemont neighborhood. Comfort is assured whether a bungalow, colonial-style home, or townhome is chosen for a home base. Options for getting around town are available every day via the Braddock Road Metro station and the King Street Metro station, both within walking distance of the neighborhood. Mt. Vernon Avenue, Braddock Road, and King Street are also easily accessible, along with the George Washington Parkway and I-495. Coziness comes in the form of the warm community atmosphere, tree-lined streets, well-maintained sidewalks, and relaxing front porch swings. Sip a new favorite wine or coffee blend from Grape + Bean, browse the wares at Imagine Artwear, or savor a meal at Joe Theismann's Restaurant or Foster's Grille.
Mount Vernon
The Mount Vernon neighborhood has roots in the past as the land was once part of George Washington's Mount Vernon estate. The neighborhood's atmosphere is a blend of history and modernity, producing an exceptional neighborhood. The age of homes is diverse, built anywhere from the 1940s to 1999. Residences in the neighborhood are mostly medium-sized single-family dwellings ranging from 3–5+ bedrooms.
Residents have easy access to Old Town and downtown D.C., plus numerous attractions, including the Mount Vernon Bike Trail, Fort Hunt Park, Belle Haven Marina, the Potomac River, and the Mount Vernon RECenter. The area also has access to country clubs and farmers markets. Shopping options naturally include Mount Vernon Plaza and the Shops at Mount Vernon, and hungry residents and visitors can dine at Las Carnitas Restaurant or Noodles & Company. Stop by Oraydes Cafe for a coffee, panini, or sweet treat.
Fort Hunt
The land where the Fort Hunt neighborhood resides was originally part of the River Farm plantation owned by George Washington. The name of the neighborhood comes from Fort Hunt, built in 1897, and the national park. The well-kept homes in Fort Hunt are vintage, having been built in the 1950s and 1960s. The close-knit community features only single-family homes.
Residents have plenty of things to do, such as hiking, biking, and picnicking at Fort Hunt Park, and scheduled concerts and festivities. Shopping, business services, dining, and river activities are readily available via U.S. Route 1. When travel plans are on the agenda, Reagan National Airport is a short drive from home. Take in fine waterfront dining at Cedar Knoll, savor Greek and Italian flavors at Mamma's Kitchen, or enjoy Mexican and Peruvian dishes at Tacos El Costalilla and Best Pollo Latino.
Make Alexandria Home
Along with thinking of Alexandria's cost of living, choosing a neighborhood to fit individual lifestyles can be challenging. However, this city has a little something for all tastes. Alexandria is one of those places steeped in history and culture, and neighborhoods complement the city's heritage while continuing to grow as a popular destination to call home. Whether someone moving to Alexandria wants easy access to the city's lovely parks, a view of the waterfront, or art centers they can peruse within walking distance, Alexandria's best neighborhoods can provide.