8 Best Northern Virginia Neighborhoods: What Are the Best Places to Live in Northern Virginia?
Posted by David Rainey and Sallie McBrien on Monday, January 9, 2023 at 3:09:13 PM
By David Rainey and Sallie McBrien / January 9, 2023
Comment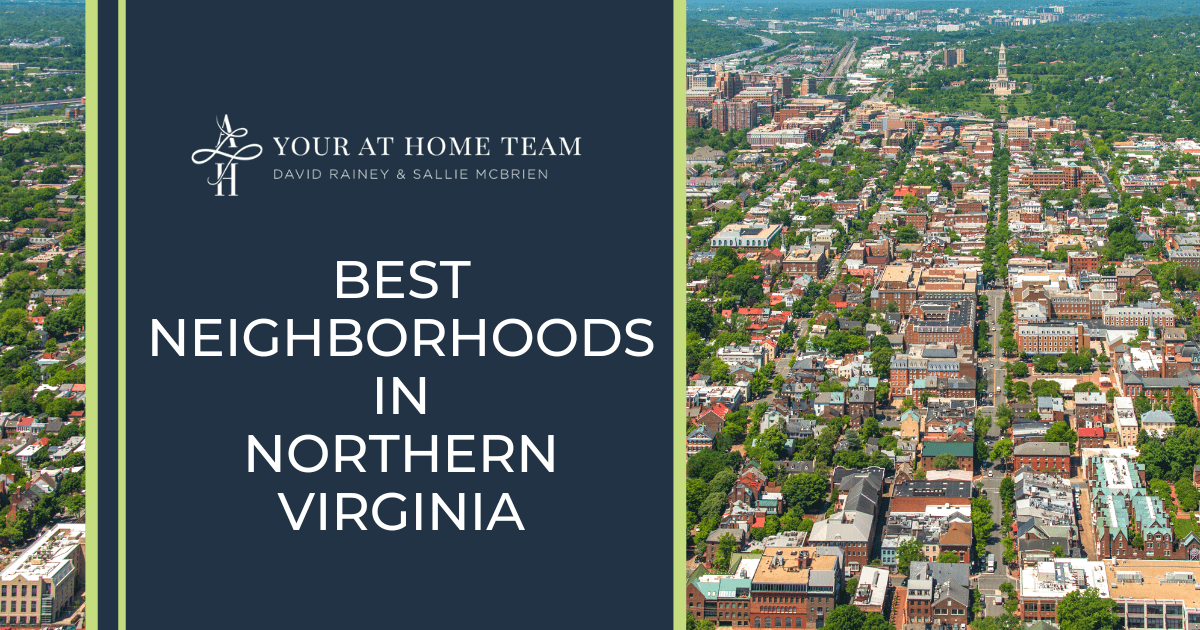 Northern Virginia is filled with historical sites, cultural attractions, outdoor adventures, shopping, dining, and much more. The region is conveniently close to Washington, DC, while also having access to I-95, I-270, I-495, and several other significant roadways for travel. The convenient location is just a few hours away from the Atlantic Coast in one direction and mountains in the other direction. With so many notable communities to choose from, anyone moving to Northern Virginia is sure to find a great neighborhood that suits their needs. Looking for the best of the best neighborhoods? Keep reading to learn about the eight best places to live in Northern Virginia.
Del Ray | Alexandria
Often considered one of the best neighborhoods in Alexandria, Del Ray has charming homes and an authentic Main Street-style commercial district. This neighborhood is known for being highly walkable, especially in and around Mount Vernon Avenue. Homes for sale in Del Ray are primarily single-family properties with architectural styles that range from Craftsman to Bungalow. Other real estate options in the Del Ray neighborhood range from existing townhomes and single-family houses to new construction homes. Many have at least two bedrooms, with some having up to five or six. Del Ray homes also tend to have at least two bathrooms.
Del Ray has a prime location close to the Potomac River. U.S. Route 1 runs along its eastern side, providing residents with a convenient way to travel. This Northern Virginia neighborhood has many amenities within walking distance of residents, including parks, grocery stores, and restaurants. Swing's Coffee Bar, which is inside the company's roasting facility, has a comfortable place to grab a cup of coffee or espresso. Residents can also enjoy rustic Italian meals in a casual setting at Elo's Italian Restaurant, including pasta dishes, focaccia flatbreads, and much more.
Del Ray Amenities
Stracci Pizza
Holy Cow restaurant
Stomping Ground restaurant
Giant Food grocery store
Mt. Jefferson Park
Nicholas A. Colasanto Park tennis court
Old Town Alexandria | Alexandria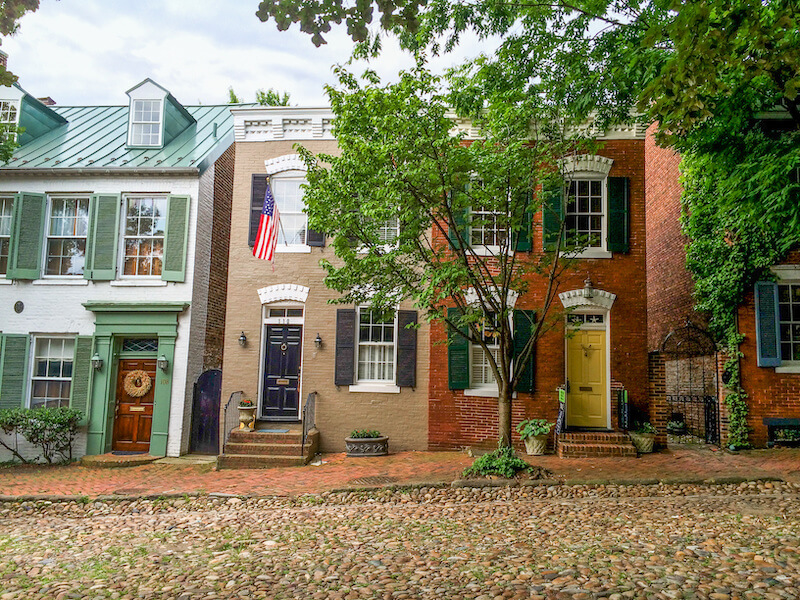 The Old Town neighborhood, which dates back to 1749, is filled with art galleries, boutiques, cafes, coffee shops, and many other amenities. Historical charm can be found throughout the neighborhood, such as cobblestone walkways and gas street lamps. Vividly colored row houses line the streets of this classic gem in the city of Alexandria. Old Town has many homes, including townhomes, condos, new construction homes, and existing single-family houses. Homes for sale in Old Town Alexandria often include one-bedroom, one-bath condos to single-family homes with four or five bedrooms and three or more baths.
Looking for waterfront living in Northern Virginia? You're sure to find it in Old Town. The Potomac River lies along the community's eastern side, giving residents picturesque water vistas.
I-495, I-295, and other main roads are nearby, providing convenient ways for Old Town residents to get around. Several amenities are within walking distance or a few minutes' ride or drive away, including cultural attractions, outdoor recreation, grocery stores, and restaurants. Residents can kayak, sail, or paddleboard at Old Town Alexandria Waterfront. Other activities and amenities at this scenic waterfront include dining options, public art, and more. Ada's on the River has wood-fired steaks, seafood dishes, and other entrees in a setting that provides beautiful views of the Potomac River.
Old Town Alexandria Amenities
Murphy's Grand Irish Pub
Alexandria History Museum
Old House Cosmopolitan restaurant
Jones Point Park
Windmill Hill Park
Safeway grocery store
Clarendon | Arlington
Clarendon, also known as the Clarendon-Courthouse neighborhood, is known for its mix of commercial properties, including a mall and tree-lined streets filled with residential properties. This area has many homes, including condos, luxury townhomes, Victorian houses, and bungalows, making it a stand-out choice in the Arlington real estate market. Homes in Clarendon typically have two or three bedrooms, although some larger houses have up to seven. Some Clarendon homes also have five or more baths, but most have two or three baths. New construction homes are also available in this neighborhood.
Clarendon's location puts residents close to I-66, I-395, and other major roadways for commuting or traveling. The Potomac River and several area attractions are just a short drive away. Within the neighborhood, those who live here have access to many stores, restaurants, parks, and other outdoor amenities. Most of these are within walking distance of Clarendon residents. Bar Bao serves Asian fusion cuisine, including sushi, bao buns, and other entrees, along with a brunch menu. For a sweet treat, residents can head to Nicecream, which has handcrafted ice cream in various flavors. Residents can also quickly get to grocery stores, parks, and other neighborhood amenities for shopping, outdoor recreation, dining, and more.
Clarendon Amenities
Whole Foods Market
Smokecraft Modern Barbecue
Rocky Run Park
Arlington Rooftop Bar and Grill
Trader Joe's
The Crossing Clarendon shopping mall
Tysons Corner | Fairfax County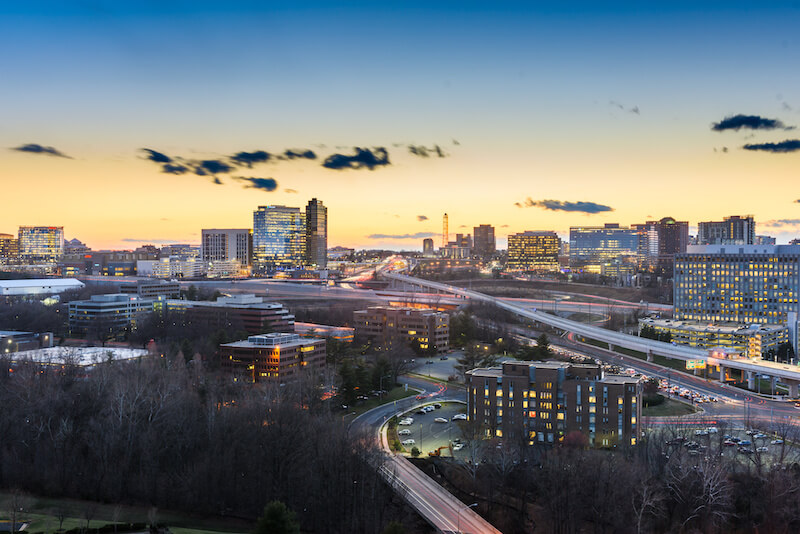 Tysons Corner is a notable commercial center in Fairfax County with shopping malls, supermarkets, restaurants, and other amenities available for residents. Real estate in Tyson's Corner includes an impressive variety of housing, including condos, townhouses, and single-family homes. Housing options range from one-bedroom condos with under 1,000 square feet of space to detached, single-family homes with five or more bedrooms and more than 5,000 square feet of space. Townhomes in the neighborhood typically have two or more bedrooms and two or more bathrooms. Existing and new construction homes can be found throughout Tysons Corner.
With I-495 winding through the eastern part of Tysons Corner, residents have easy access to major roads for traveling around the region. Some amenities in the neighborhood are within walking distance, while others are a quick drive or ride away. Residents can shop at Tysons Galleria, including Sak's Fifth Avenue, Neiman Marcus, and many other stores. The mall also has several places to grab a bite, such as Maggiano's Little Italy. Tysons Corner residents can also head to Patsy's American Restaurant for oysters, seafood, ribs, sandwiches, and other lunch and dinner entrees served in a casual environment.
Tysons Corner Amenities
The Shops at Fairfax Square
Silver Diner
Briarcliff Park
Wegmans
Founding Farmers Tyson restaurant
Tysons Corner Center shopping mall
Fairfax Station | Fairfax County
Fairfax Station has plenty of natural surroundings, outdoor recreation, restaurants, shops, and other local amenities. Homes in Fairfax Station are mainly detached single-family houses with two-car garages and spacious lots. However, a few townhomes can also be found in the neighborhood. Buyers will find both existing homes and new construction homes in Fairfax Station, with most properties typically having at least three bedrooms and at least two baths. Single-family homes in this neighborhood range from around 2,500 square feet to more than 6,000 square feet.
Fairfax Station is just minutes from I-66 and a few other main roads, which makes traveling or commuting convenient for residents. Burke Lake Park, Fountainhead Regional Park, and other outdoor areas are nearby for hiking, camping trips, and other outdoor activities. Within the neighborhood, Fairfax Station Railroad Museum gives residents an opportunity to learn more about the area's history as part of the railroad industry. The museum also explores other aspects of Fairfax Station's past. Residents also have several restaurants and other amenities, such as 29th Parallel Coffee. This locally owned coffee shop has a wide range of specialty coffees, bagels, and baked goods.
Fairfax Station Amenities
George's Steak' n Things
Lake Barton
CVS
Chloez Cafe
Safeway grocery store
Chesapeake Bagel Bakery
Parkway Veterinary Clinic
Brambleton | Ashburn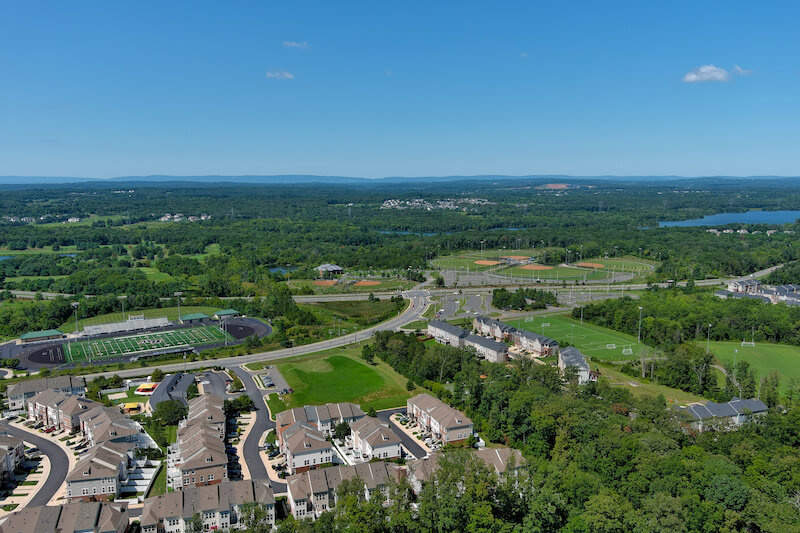 Located in the city of Ashburn, Brambleton has small-town charm and tons of amenities. The master-planned community in Loudoun County is filled with several housing options, including townhomes, condos, and detached single-family houses. Homes for sale in Brambleton tend to have three or more bedrooms and two or more baths. Spacious condos and townhomes with over 3,000 square feet of space can be found here, as well as single-family houses with over 4,000 square feet of space. The neighborhood has plenty of smaller homes as well.
Brambleton has convenient access to Loudon County's wine country region, with wineries just minutes away. The neighborhood has several parks and other outdoor recreational facilities, including pools, sand volleyball courts, tennis courts, and walking trails. Residents can play golf on a 6,800-yard course at Brambleton Regional Park and Golf Course. Many other amenities are within walking distance in and around the town center, including movie theaters, doctor's offices, stores, and restaurants. Nick's Taverna serves authentic Mediterranean cuisine, including kebabs, burgers, wraps, and other items served in a contemporary setting.
Brambleton Amenities
Brambleton Town Center shopping mall
Harris Teeter grocery store
Blue Ridge Grill
AhSo Restaurant
Legacy Park
Brambleton Community Center pool
Ashton Heights | Arlington
Ashton Heights, established in 1919, is a walkable community that has a lot of modern-day conveniences combined with vintage charm. This neighborhood has a mix of newly built and older homes, many of which have been restored. Homes for sale in Ashton Heights tend to be spacious, with 2,500 square feet or more living space. Many homes in the neighborhood have a minimum of three bedrooms and three baths, with some homes having as many as six bedrooms and six baths.
Ashton Heights is close to Clarendon, giving residents more options for shopping and dining. However, the neighborhood also has plenty of restaurants and stores for residents to enjoy. Arlington Boulevard runs along the southern part of Ashton Heights, while North Glebe Road runs along its western edge. This provides residents with easy access to the main roads in the area for getting around. Within the neighborhood, residents can walk to the Museum of Contemporary Art to see works of art from artists worldwide. Art classes and workshops are also available at the museum. The Salt Line serves a wide range of seafood dishes, including rockfish, halibut, yellowish, and sandwiches.
Ashton Heights Amenities
Maury Park tennis courts
Ballston Quarter shopping mall
Mosaic Park
Sidekick Bakery
CVS
Mario's Pizza House
Compass Coffee
Rosslyn | Arlington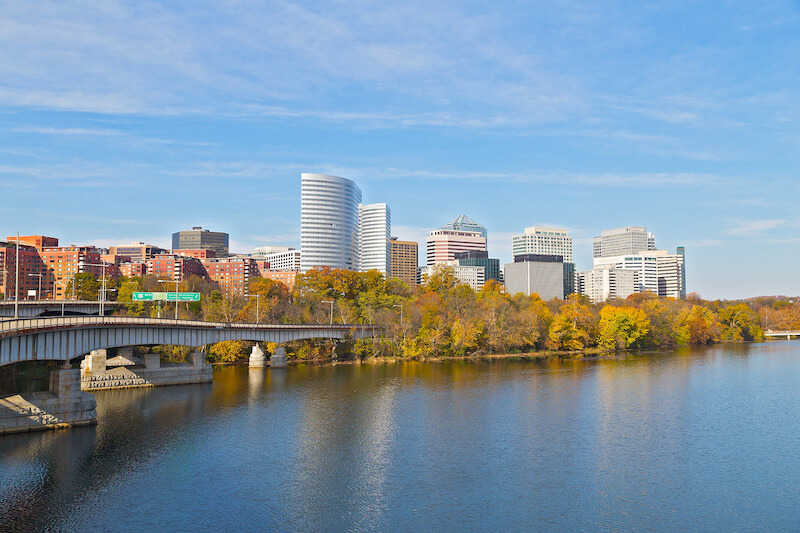 The Rosslyn neighborhood has impressive views of the National Mall, Georgetown, and other sites, convenient public transportation access, and a walkable community. Rosslyn real estate is comprised of luxurious high-rises and semi-detached properties. Condos and townhomes fill the streets of this neighborhood, many with spacious square footage that includes three or more bedrooms and bathrooms. These condos and townhomes give residents easy access to the surrounding amenities in Arlington County.
Rosslyn's location gives residents a quick way to get around via the Silver, Orange, and Blue Metro lines, which are nearby. Arlington Transit and Metrobus stops are also close by for public transportation around the area via bus. Major roads are within minutes of the neighborhood for those who travel via car. Residents have plenty of amenities to enjoy within Rosslyn, including Gateway Park. This park includes an amphitheater for live performances, an ornamental garden filled with beautiful flowers, paved walking trails, an ornamental fountain, and many other amenities. The Rosslyn Business Improvement District also provides many delightful events and amenities.
Rosslyn Amenities
Safeway grocery store
Bethesda Bagels
Open Road Grill Rosslyn restaurant
The View of D.C. observation deck
Compass Coffee
Ragtime restaurant
Where Do You Want to Live in Northern Virginia?
Northern Virginia is a diverse region filled with urban and commercial centers, the great outdoors, wine country, small-town environments, historical sites, and much more. Those who want to move to the area have many housing options, from high-end condos to unique mid-century modern homes. The best neighborhoods in Northern Virginia provide a wide range of living environments, plenty of local amenities, and convenient access to public transportation and major roads. Buying a home here involves focusing on desired amenities and locations to find the ideal place to call home.