Ft Belvoir Housing: 8 Best Cities Near Fort Belvoir
Posted by David Rainey and Sallie McBrien on Wednesday, February 15, 2023 at 12:17:37 PM
By David Rainey and Sallie McBrien / February 15, 2023
Comment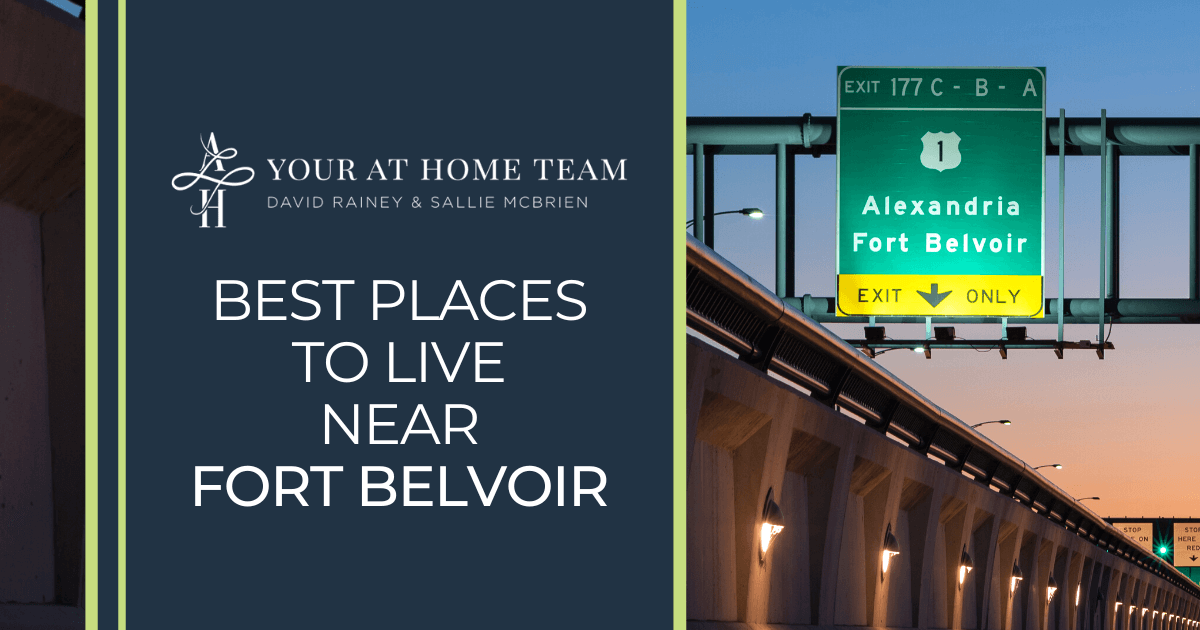 Fort Belvoir is a major U.S. Army installation located 45 minutes south of Washington, DC. The base runs along the Potomac River, sprawling across over 8,600 acres. The wondrous National Museum of the United States Army takes up about 80 acres, while the rest features housing, workspaces, parklands, a community hospital, restaurants, and even a few stores.
Over 130 federal agencies serve out of Fort Belvoir, Virginia, bringing new residents to the area all the time. More than twice as many people work here than at The Pentagon, making it one of the biggest employers in the region. While getting housing on base is possible, many new residents look to the nearby cities for homes. Thankfully, these cities are home to some of the best neighborhoods in Northern Virginia.
Not all areas are made equal, so it pays to know which ones offer the best living experience. For help finding those spots, use this guide to learn all about the most popular places to live near Fort Belvoir, VA.
Woodbridge
Once an agricultural hub, Woodbridge has since transformed into a primarily residential area featuring all the top amenities. Beautifully planned neighborhoods spiral across the landscape, allowing people to settle down right on the shores of the Potomac River.
Regarding homes in Woodbridge, listing prices for both condos and single-family homes start in the mid-$300s. Upon buying a home here, residents only have to drive about 10 miles to reach Fort Belvoir. In light traffic, that's just 15 minutes.
This city gives residents quick access to the beloved Potomac Mills shopping mall. This indoor outlet mall features over 200 top retailers, including Aerie, Build-a-Bear, Coach, Famous Footwear, Lacoste, Nordstrom Rack, and Pandora. While shopping the day away, patrons can stop at onsite eateries, like Kelly's Cajun Grill, Pokerea, GW Gyros & Wings, and Haagen-Dazs.
For outdoor adventures, residents can head over to Veterans Memorial Park. This beautiful park has an Olympic size swimming pool, skatepark, full-size basketball court, sand volleyball, pickleball courts, playground, and so much more. Hiking trails let visitors exercise while enjoying the view, and the picnic areas serve as inviting community gathering spaces.
Residents can hop on boats at the Belmont Bay Harbor Marina whenever riverside adventures beckon. Up to 150 slips are available to rent at any given time, ensuring everyone has a convenient place to store their watercraft. Beyond that, this marina has a spot to fuel up, do laundry, and shop at the store.
Woodbridge Amenities
Hylbrook Park
Neabsco Eagles Park
Occoquan Bay National Wildlife Refuge
The Ospreys at Belmont Bay
Hibachi Grill & Supreme Buffet
Alamo Drafthouse Cinema
The Harbour Grille
Chiyoshi
Arlington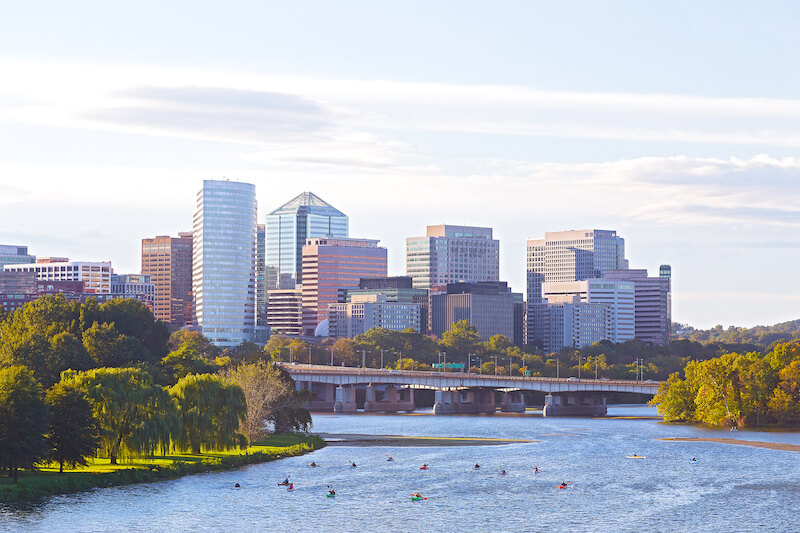 Arlington sits right across the Potomac River from the District of Columbia. Home to nearly 240,000 residents, this busy city has an astounding collection of national landmarks within its borders, including the Pentagon, Arlington National Cemetery, and Reagan National Airport. This area serves as an education and research hub, featuring many satellite campuses for law, government, and peace and conflict resolution programs.
Homebuyers can find single-family dwellings, townhouses, and condos in this area. Single-family homes in Arlington typically list from around $700,000, but the vast majority sell from the $900s and up. Condos in Arlington list from the $200s, while Arlington townhomes tend to list in the high $400s. At around 18 miles, the trip to Fort Belvoir usually takes about 24 minutes in regular traffic.
When shopping and dining opportunities beckon, there's perhaps no better place than the Fashion Centre at Pentagon City. This indoor shopping mall has over 140 specialty stores filled with apparel, jewelry, home goods, tech devices, collectibles, and so much more. Visitors can easily satisfy their cravings at over 20 eateries, ranging from Sarku Japan and Chipotle to Lindt Chocolate and Cinnabon.
Barcroft Park always comes through in a big way when residents want to spend time outdoors. This park allows residents to play all their favorite sports, like volleyball, and practice their swings in the batting cages. When hunger strikes, the sheltered picnic areas, complete with BBQ grills, make it a great place to enjoy lunch on the go.
Arlington Amenities
Shirlington Dog Park
Bon Air Park Rose Garden
Potomac Overlook Regional Park
Marymount University
Ruthie's All Day
Istanbul Grill
Uncle Julio's
Pollo Rico
Springfield
Although it once served as the site of the local saw and grist mill, Springfield has turned into a bustling commercial hub. At the center of it is the ever-popular shopping mall, Springfield Town Center, featuring over 1.7 million square feet of shops, eateries, and more. An industrial center to the north of the mall adds even more job opportunities and keeps local businesses running day in and day out.
Beyond those industrial and commercial centers, there are single- and multi-family homes in attractive neighborhoods. Homes in Springfield list from the $500s, though most single-family homes sell from the $600s to the high $800s. Living here gives residents quick access to Fort Belvoir, which is only 7.3 miles (or 12 minutes) away by car.
When residents want to shop their hearts out, they can go to the mall in the town center. At the Springfield Town Center, 150 retailers, like Aeropostale, Spencer's, and Zumiez, and tons of eateries exist. Patrons can also catch a movie at the Regal Theater, play arcade games at Dave & Buster's, or explore the LEGO Discovery Center.
For sports, fitness, and more, residents can set their sights on a visit to The St. James. This vast complex is built for all the best sports, including lacrosse, golf, and gymnastics. There's even a waterpark right on site, plus workout rooms, personal training, and group fitness classes.
Springfield Amenities
Trailside Park
Lee High Park
Hooes Road Park
Fairfax Sportsplex
Bowl America Shirley
Big Red Halal
TGI Friday's
Silver Diner
Kingstowne
One of the best suburbs of Alexandria, Kingstowne offers an outstanding balance of residential, commercial, and park spaces. Forested land separates many of the different sections of town, giving each neighborhood a somewhat secluded feel. The housing mix feels balanced, too, with subdivisions filled with condos, townhouses, and single-family homes.
Single-family homes in Kingstowne can usually be found listed from the $500s, although Kingstowne condos typically list from the mid-$300s. Townhomes in Kingstowne list from the high $400s, and residents can complete the 11-mile drive to Fort Belvoir from this suburb in about 17 minutes.
All the local neighborhoods encircle Kingstowne Center, which is the heart of the community. This sprawling shopping mall puts the leading shops, eateries, and professional service providers all in one place. In a single visit, patrons can shop at over 94 stores, eat global cuisine, and get all their errands done.
When residents want to get outdoors, Kingstowne Park is the place to go. This green space has many beautiful hiking trails meandering around three large ponds. Visitors love to come by and gaze in awe at the wildlife before settling down somewhere quiet to enjoy a picnic lunch. The bamboo forest is a beautiful backdrop for selfies, while the serene atmosphere always feels rejuvenating.
Kingstowne Amenities
Beulah Park
Wickford Park
Horgan Ct Playground
World Market
South Center
Grounded Coffee Shop
Rudy's Golf and Sports Bar
Wegman's
Lorton
In its earliest days, Lorton featured nothing more than a general store and post office. As people settled here soon after, the landscape evolved with the region's popularity. A quarry pit and waste management facility take up much of the city's southern section, while neighborhoods and commercial centers fill out the rest.
The well-planned neighborhoods mostly have single-family homes, but there are several townhouse communities as well. When buying a townhouse, homebuyers can expect to pay around $535,000, while single-family homes in Lorton list from the low $600s. When living here, residents can reach Fort Belvoir with a quick 6.4-mile drive, which usually takes about 10 minutes.
Residents often spend days practicing their golf games at Laurel Hill Golf Club, often mentioned among Alexandria's best golf courses. The 18-hole course sprawls across the landscape that was once used for the D.C. Department of Corrections facility. Challenges abound on the course, keeping golfers on their toes while helping them forge new bonds with their fellow players.
Residents can go to the Workhouse Arts Center whenever they're in the mood for a riveting show. Visitors can see live theatre acts, film screenings, and musical performances at this venue. Before leaving, they can also visit the onsite art gallery to see the latest works by talented artists like Joan Dreyer.
Lorton Amenities
Liberty Green
Laurel Hill Park
South Run Ballfield
Occoquan Regional Park
The River View at Occoquan
Hometown Grill and Bar
Glory Days Grill
Lasani Kabob
Burke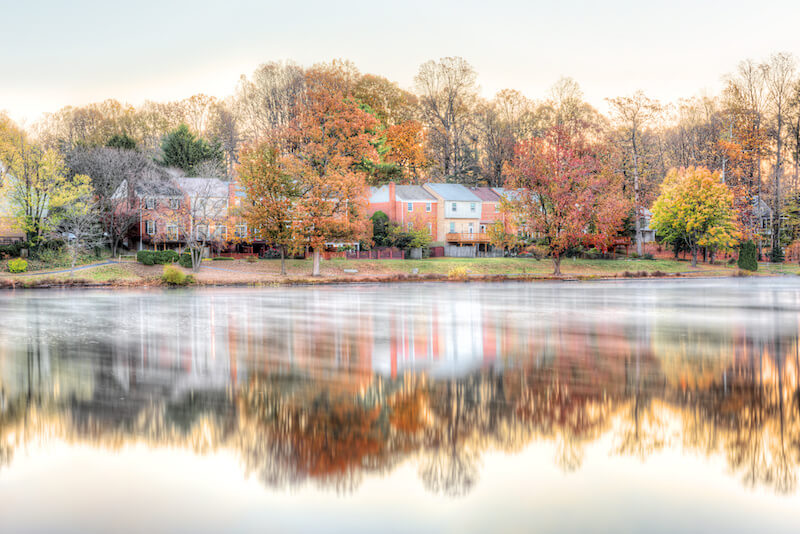 Initially, Burke was a tiny town set around the local railroad station. Although the original station still stands today, the community has grown and changed considerably through the years. Beautifully designed neighborhoods cover most of the city, while multiple commercial centers provide residents with convenient shopping and dining options.
Since there are no condos in town, homebuyers have to choose between townhouses and single-family dwellings. The median price for townhouses is about $520,000, while single-family homes in Burke list from the high $600s and up. No matter what type of home they pick, residents enjoy a quick commute to Fort Belvoir. It usually takes less than 20 minutes to drive the 11-mile route by car.
As one of several commercial sites around town, the Burke Village Center offers a handful of shops and eateries for residents to enjoy. This modest strip mall features H-Mart, Spartans, Taco Bell, and several other eateries. The post office, an auto parts store, a healthcare center, and a dance studio are also nearby.
Rolling Valley West Park offers residents a chance to stretch their legs outdoors. The open fields often attract people who want to play pickup soccer games, throw a frisbee, or just run free. There's also a basketball court, tennis courts, a playground, and paved walking trails.
Burke Amenities
Lake Barton
Burke Station Park
Colonel Silas Burke Park
Greentree Village Park
Commons Community Center
Burke Racquet and Swim Club
Café Rio Mexican Grill
CAVA
Newington
Newington has quiet, forested neighborhoods set near a huge commercial center. The retail area takes up the entire eastern section of the city, lying right between the highways that converge at the northeast corner. Service providers fill out most of the buildings, although there are also retail spaces and eateries.
The rest of the city has circular neighborhoods featuring single-family homes separated by big trees. Townhouse communities also dot the landscape, giving everyone even more housing options to consider. While weighing these options, it's common to see homes in Newington hovering around the high $400s. Fort Belvoir is just 3.5 miles away, which keeps residents' commute times in the eight-minute range.
Whenever it's time for residents to get their energy out, Flight Adventure Park comes through in a big way. Offering fun for all ages, this indoor park has trampolines, foam pits, bounce houses, battle beams, and more. With so much to do onsite, their party rooms come in handy for birthday bashes and other special occasions.
G34.3 Brewing Company started with a simple home brewing kit and quickly grew into a vast enterprise. This brewery regularly produces hits like Interstellar Ale, Xi Ursae Majoris double IPA, and a rich coffee chocolate stout dubbed Oceanus Procellarum. Visitors come from near and far for a taste of what they're serving, especially when the food trucks roll through with dishes designed to complement each brew.
Newington Amenities
Rollingwood Park
Fort Belvoir Golf Club
Middle Run Stream Valley Park
Sharpshooters Range
Desi Bethak
Costco Wholesale
Cervantes Coffee Roasters
Afghan Bistro
Mason Neck
Mason Neck, a small town in the area of Lorton, stretches across a stunning peninsula that juts into the Potomac River. Protective parklands cover most of the area, although plenty of single-family homes are on the north side of town. Upscale neighborhoods extend down the eastern shoreline as well. Even more parklands and outdoor recreation areas fill the remainder of the landscape.
When buying a home in this area, homebuyers typically see average prices in the $740,000 range. Homes in Mason Neck usually stay on the market for about a month before selling. Residents enjoy quick access to Fort Belvoir, only 11 miles or 17 minutes away.
When residents want to get away from it all, they travel to Mason Neck State Park. These parklands have miles of trails crisscrossing through the forested lands, picnic areas, a canoe launch, and a playground. Visitors who don't have their own canoes or other watercraft can rent them onsite.
Even more outdoor fun awaits at the Pohick Bay Golf Course. This beautiful 18-hole course has endless challenges that are a delight to conquer, including tons of trees and deep sand traps. Community events land here often as well, including occasions like wedding anniversary parties.
Mason Neck Amenities
Hallowing Point
Mason Neck West Park
Pohick Bay Regional Park
Meadowood Special Recreational Area
George Mason's Gunston Hall
Fairfax Yacht Club
Tamarack Stables
Peru Fiesta Restobar
Experience the Best Cities Near Fort Belvoir
If you're considering communities near Fort Belvoir or moving to Northern Virginia in general, visiting is the best way to see each city. Check out the local restaurants, parklands, and other attractions to experience the region's best. Then, take the time to admire the beautiful architecture all around, especially when the homes sit framed by the breathtaking landscape. By the end of the visit, it'll be clear why everyone's excited to get a chance to move to this region.