8 Best Places to Live Near Fort McNair Army Base: Off-Base Housing Guide
Posted by David Rainey and Sallie McBrien on Thursday, March 16, 2023 at 12:30:09 PM
By David Rainey and Sallie McBrien / March 16, 2023
Comment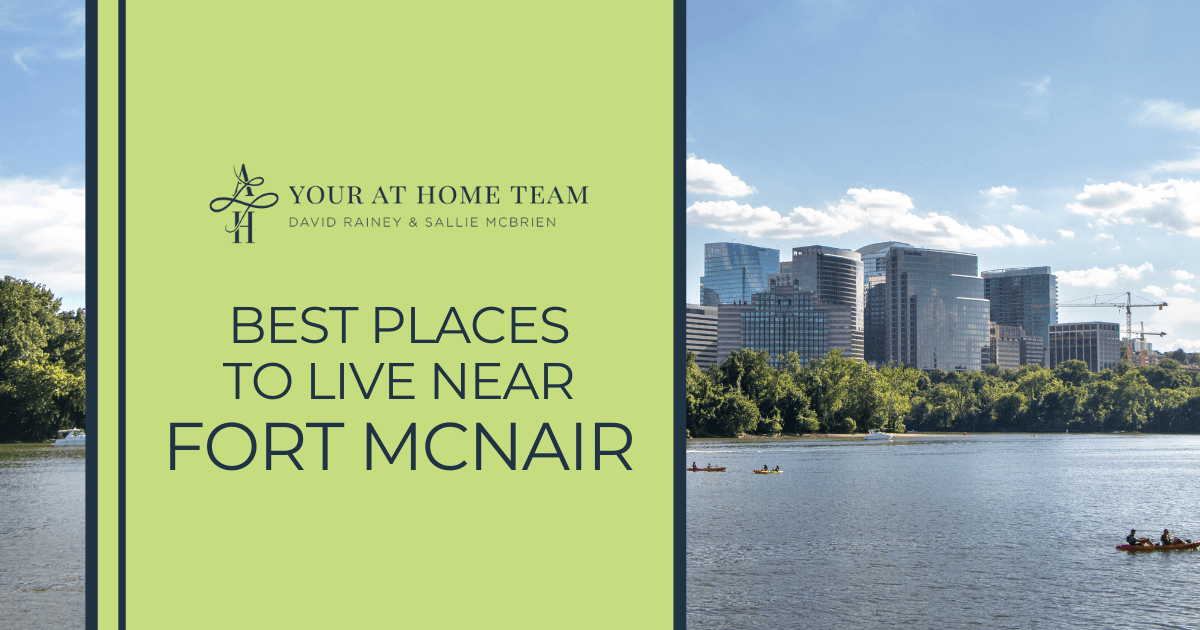 Fort Lesley J. McNair (known colloquially as Fort McNair) is one of the military's oldest and most prestigious posts, located on the peninsula of Greenleaf Point in Washington, DC, where the Potomac and Anacostia Rivers meet. Home to institutions like the National Defense University, Inter-American Defense College, and more, it also provides members of the base community with several excellent places to call home just across the river in nearby Virginia.
But with so many communities available to those moving to Northern Virginia, it can be confusing for new arrivals to the area to sort out the best choices. That's why we've rounded up the five best places to live in Virginia near Fort McNair for buyers of all budgets and tastes.
Arlington
Arlington is a large city just west of the Potomac River, located just 5 miles from Fort McNair at its closest point. It's home to the famous Arlington National Cemetery, The Pentagon complex, and Ronald Reagan Washington National Airport. The area is also well-served by WMATA public transit, with extensive bus service and Blue, Orange, and Silver Line Metrorail stopping in the country and providing quick trips to Fort McNair. Arlington residents also have easy access to public parks and green spaces, including Potomac Overlook Regional Park, which offers stunning river views, hiking trails, and more. Shopping is also easy at several malls and shopping centers, none more extensive than the Fashion Centre at Pentagon City.
Neighborhoods range from the dense, highly developed communities around Rosslyn and Virginia Square to quieter, primarily residential areas like Donaldson Run and Arlington Ridge. Homebuyers shopping in the former neighborhoods are more likely to find condos, while the latter areas have more single-family detached homes. Arlington townhomes are available in a variety of areas as well. Condos and other multifamily units can be found as low as under $100,000, though most sell from the high $200s into the high six figures. Detached homes in Arlington typically set buyers back at least $600,000 or as much as $3–4 million. Townhouses offer a middle ground, from the $300s to more than $1 million.
Arlington Amenities
Arlington National Cemetery
Mount Vernon Trail
Arlington Arts Center
Samuel Beckett's Irish Gastro Pub
Alexandria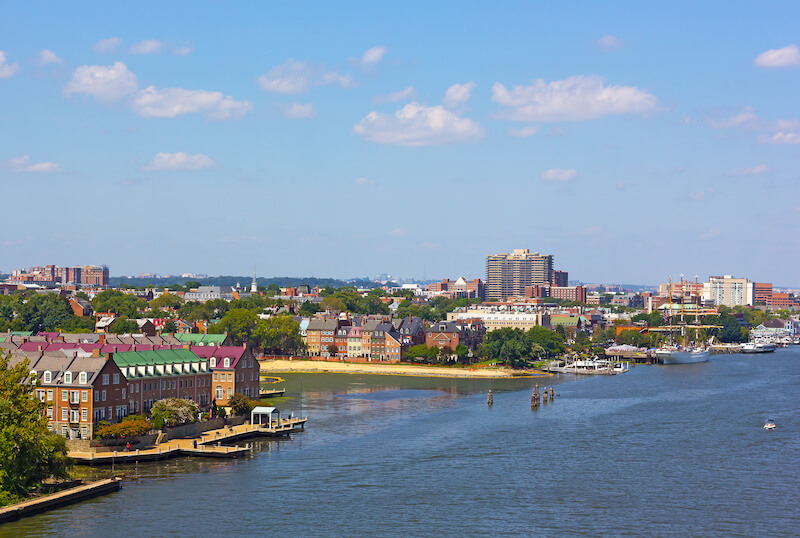 One of the first cities settled in the Washington metro region, Alexandria offers a mix of historic charm, diverse housing options, and proximity to DC. It's also set on the western shores of the Potomac, less than ten miles from Fort McNair. The city's heart lies in the Old Town neighborhood along the water, one of Alexandria's walkable neighborhoods with historical sites, restaurants, boutique shopping, and nightlife. Various park spaces are available both overlooking the Potomac and throughout town, particularly along Holmes Run. Meantime, the city's central location adjacent to the Capital Beltway/Interstate 495 makes travel throughout the region simple. Alexandria is also served by several Blue Line Metrorail stops and WMATA bus service.
Homes in Alexandria range from condos for all budgets to new construction and historic single-family homes, along with a varied selection of townhouses. Condos provide the most budget-friendly option to those moving to Alexandria, starting in the mid-$200s, while townhouses start in the mid-$300s and detached homes around half a million. However, luxury homes in Alexandria often sell in the $2–5 million range, particularly those close to the waterfront or Old Town amenities.
Alexandria Amenities
Old House Cosmopolitan Grill
Green Springs Gardens
Alexandria's Cherry Blossom Season
Old Town Historic District
Falls Church
Falls Church may be small in size, but it's big in style and amenities. This independent municipality is known as "The Little City," recognizing the compact nature of the two-square-mile town located between I-66 and the Capital Beltway. Approximately 11 miles from Fort McNair, residents can access a bustling strip of local shops, restaurants, and other businesses along Broad Street/Leesburg Pike, flanked by residential neighborhoods.
Falls Church is also home to the Eden Center, a unique, Vietnamese-focused shopping center with specialty stores. It's also the site of one of northern Virginia's most beloved music and performance venues, The State Theatre. While not within the city, Falls Church residents can access two Metrorail stops on the Orange and Silver Lines.
Like other nearby communities, Falls Church housing combines condos, townhouses, and detached homes. Condos are typically found on the more significant roads, listing from the low $200s to the high $800s. Townhouses and single-family homes in Falls Church are located on quieter back streets, starting in the high six figures and reaching nearly $2 million.
Falls Church Amenities
Eden Center
Washington & Old Dominion Trail
Mosaic District
Tysons Corner Center
McLean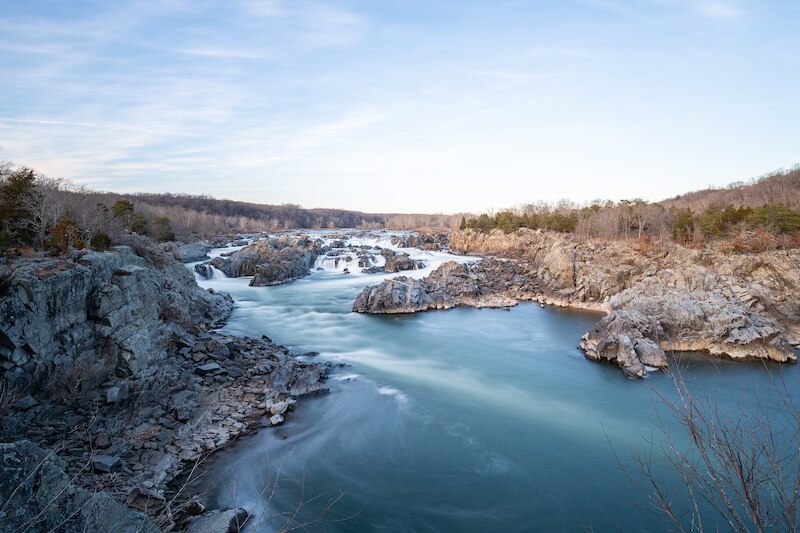 The northwesternmost of our top communities near Fort McNair, McLean is roughly 15 miles from the base, between the Dulles Toll Road and the Potomac River. With the Capital Beltway and George Washington Memorial Parkway slicing through the community, car travel to nearly anywhere in the DC area is simple. Within their community, McLean residents have access to a quaint but amenity-rich downtown along Chain Bridge Road, including favorite local restaurants like five-decade-old McLean Family Restaurant and the delicious Japanese cuisine of Tachibana.
Lovers of the outdoors can get their exercise at Scott's Run Nature Preserve and Great Falls Park, while some of the region's best shopping is just minutes away at the Tysons Corner Center. It's also Metrorail accessible, with a stop on WMATA's Silver Line.
Detached homes, townhomes, and condos are all available in McLean, in order of decreasing availability. Condos range from modest properties of less than $500,000 to gorgeous, newly built units for $1.5 million. Townhouses also top out around this range, though they typically start in the $600s. Single-family homes in McLean are the real stars of the show. While conventional homes can be found from $1 million and up, many properties (including new construction) sell in the high single-digit millions. Ultraluxury homes can even reach the $20–40 million range!
McLean Amenities
Great Falls Park
Scott's Run Nature Preserve
Potomac Heritage National Scenic Trail
Pimmit Run Stream Valley Park
Mount Vernon
The community of Mount Vernon takes its name from President George Washington's Mount Vernon estate, which once occupied much of the area and beyond. It occupies a stretch of Potomac River waterfront between Dogue Creek and Little Hunting Creek, approximately 15 miles southwest of Fort McNair. It is an easy trip along nearby US Route 1 and I-295. Residents and visitors can still enjoy events and educational experiences at the historic estate or take advantage of other superb outdoor recreation spots like Grist Mill Park and Mount Vernon Country Club. The sprawling Huntley Meadows Park is also just north of Mount Vernon, providing a mix of history and nature emblematic of the region.
Most Mount Vernon homes are single-family detached properties in diverse styles, from Cape Cod to split-level to Colonial. These generally start at just under half a million dollars, with most selling in the high six figures to just over a million. However, Mount Vernon's luxury homes can sometimes reach $2–3 million. Townhouses and condos are more commonly found on the north side of Route 1, selling from less than $200,000 to around $600,000.
Mount Vernon Amenities
George Washington's Mount Vernon
The Mount Vernon Inn Restaurant
El Paso Mexican Restaurant
Grist Mill Park
Mount Vernon Trail
Virginia Is Perfect for Fort McNair Homebuyers
While there are many choices for homes near Fort McNair, these five Virginia communities are the clear winners. Just minutes from base, they provide housing options for everyone, whether buyers are looking for a high-rise condo close to transit and amenities or a spacious country estate (maybe even with a Potomac River view.) They're also among some of Northern Virginia's best places to live. While it may be hard to pick just one, buyers can be sure they can't go wrong with any of these excellent areas.