8 Best Cities Near Joint Base Andrews: Where to Live for Great Homes & Short Commutes
Posted by David Rainey and Sallie McBrien on Wednesday, May 3, 2023 at 12:38:54 PM
By David Rainey and Sallie McBrien / May 3, 2023
Comment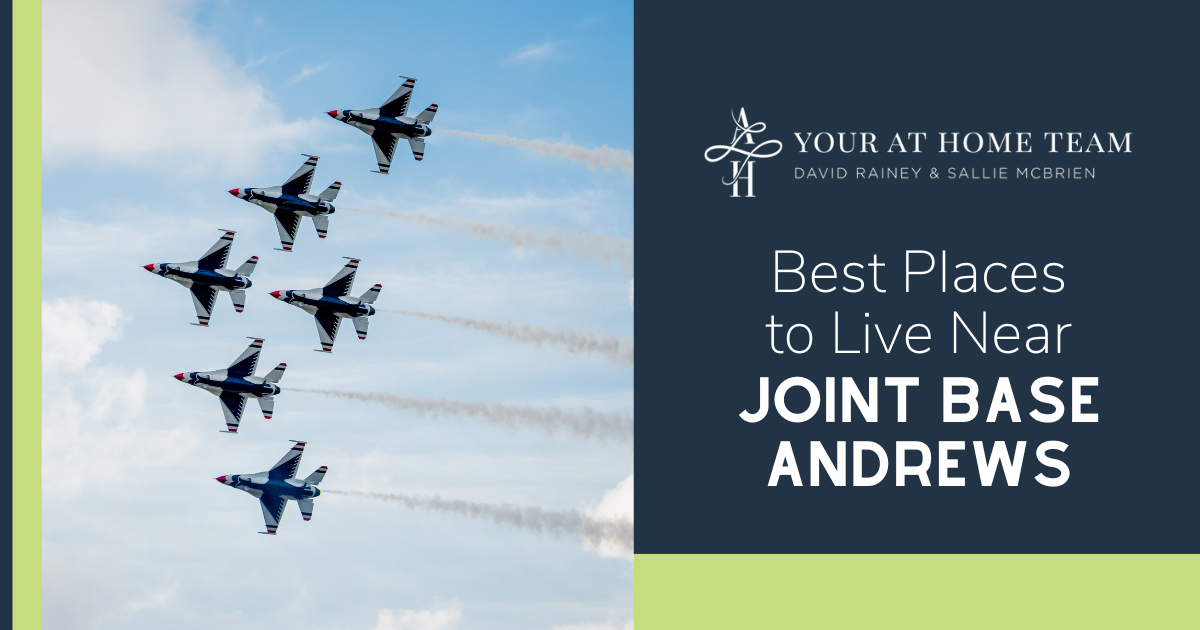 Joint Base Andrews, located in Maryland near the border with Virginia and Washington, D.C., is home to a large community of military personnel and their families. Choosing the right place to live near the base can be a challenge, as there are many factors to consider, including proximity to the base, housing affordability, and access to amenities. This article will explore some of the best places to live near Joint Base Andrews based on affordability, quality of life, and community features.
Fort Hunt, Virginia
Fort Hunt takes its name from the 19th-century fort that once occupied the area, part of the capital's defenses during the Civil War. This area is preserved by the National Park Service as Fort Hunt Park, which occupies the bottom of this teardrop-shaped community along the Potomac River south of D.C. It's less than 20 miles from Joint Base Andrews, but it can feel a world away with the extensive riverfront views and quiet residential streets.
Fort Hunt comprises mostly homes and park space, except for some convenient everyday services along Fort Hunt Road. Fine dining enthusiasts will enjoy several upscale restaurants like the waterfront Cedar Knoll. The community is also close to historic Mount Vernon, George Washington's former estate that's now a living history museum and event space.
Fort Hunt housing is made up exclusively of single-family detached homes built in a mix of one- and two-story styles. Homes in Fort Hunt range from two to five bedrooms, typically spread over 1,200 to more than 6,000 square feet on lots of a quarte-acre or more. Homes start in the mid-$600s and can reach more than $2 million, with the majority selling from $800,000–$1.5 million.
Fort Hunt Amenities
Fort Hunt Park
Convenient to George Washington Memorial Parkway
Dyke Marsh Wildlife Preserve
Colonel John R. Byers Park
Riverside Park
Inova Mount Vernon Hospital
Alexandria, Virginia
Alexandria, one of the area's most historic cities, traces its roots back to some of the first American settlements in the region in the late 17th century. Sitting along Virginia's Potomac Riverfront, it's roughly 15 miles from Joint Base Andrews, an easy drive on the adjacent Capital Beltway/Interstate 495. The heart of Alexandria lies in the city's Old Town neighborhood, a quaint, walkable area close to the river that preserves local historical heritage while offering extensive shopping, dining, and nightlife.
In addition, residents can enjoy Alexandria's best parks—many of which are waterfront—like Jones Point Park, Founders Park, and Four Mile Run Park, among other local green spaces. It's also highly convenient via road or public transit to some of the region's top destinations, from nearby Arlington and National Harbor to the many attractions of Washington, D.C. itself.
Homebuyers considering moving to Alexandria have a diverse selection of housing options to choose from, from modest condos to high-end luxury detached homes. The former group provides Alexandria's most affordable options, selling from the high $100s and up. Townhomes in Alexandria start in the low $300s, while detached homes can be found from half a million and up. Alexandria's luxury homes, historic homes, and luxury condos frequently list in the $2–$5 million range.
Alexandria Amenities
Old Town shopping and dining district
Numerous riverfront parks
Convenient to Capital Beltway, Interstate 395, U.S. Route 1
Blue/Yellow Line Metrorail access
Potomac Yard Center (mall)
Inova Alexandria Hospital
Hillcrest Heights, Maryland
If some of Northern Virginia's best neighborhoods and cities don't have what you're looking for, perhaps living in Maryland is the right move. Hillcrest Heights is a small suburban community in Prince George's County, about seven miles from Joint Base Andrews. Located just across D.C.'s southeastern border, residents are just a few minutes from popular District neighborhoods like Capitol Hill, The Wharf, and Navy Yard. There's also easy access to great restaurants and nightlife along with the MLB's Washington Nationals and the MLS's D.C. United.
Shopping is also accessible in Hillcrest Heights, from The Shops at Iverson to Marlow Heights shopping center, ensuring owners never need to go far, regardless of what they're buying. Despite the developed surroundings, residents can still enjoy local green spaces like Oxon Run Neighborhood Park, which includes sports facilities, walking paths, and the Hillcrest Heights Community Center.
Unlike many communities, townhouses are the most common style of housing in Hillcrest Heights, slightly outnumbering traditional detached single-family homes. These two- or three-bedroom properties can be among the region's most affordable housing choices, frequently starting for less than $150,000 and topping out in the mid-to-high $300s. Detached homes typically sell from the mid-$200s to around half a million dollars.
Hillcrest Heights Amenities
Oxon Run Neighborhood Park
Hillcrest Park
Hillcrest Heights Community Center
The Shops at Iverson
Green Line Metrorail access
Convenient to Suitland Parkway, Capital Beltway
Camp Springs, Maryland
It's hard to get closer to Joint Base Andrews than Camp Springs, which occupies a piece of Prince George's County on the western side of the base. This can cut the commute to just minutes, avoiding the sometimes significant delays on the D.C. area's highways. Camp Springs offers two commercial spaces, including the extensive development surrounding the Branch Avenue Metrorail station, which hosts restaurants, shops, and more. The other, located near the intersection of Allentown Road and Old Branch Avenue, offers more of the same, along with local Italian cuisine favorite Topolino.
Neighborhoods are peppered with small green spaces like Henson Creek Park and numerous schools and community centers. Plus, with major roads like the Capital Beltway, Branch Avenue, and Suitland Parkway converging in the area, travel to other parts of southern Maryland, DC, and Virginia is simple.
Single-family detached homes are Camp Springs' most commonly available housing option, supplemented by a few townhouse developments. Both start in the mid-$200s, with townhouses topping out in the low $400s and detached homes selling into the high $600s. Buyers looking to build their own homes will also find a small selection of vacant lots and homesites, selling from under $50,000 to the $100s.
Camp Springs Amenities
Allentown Splash, Tennis, and Fitness Park
Andrews Manor Shopping Center
Convenient to Capital Beltway, Suitland Parkway
Green Line Metrorail access
Arlington, Virginia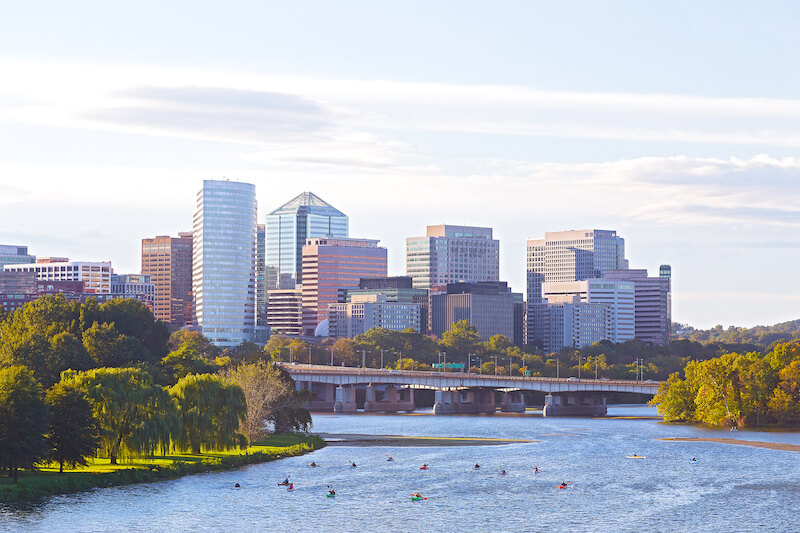 Many people moving to Northern Virginia find themselves comparing Arlington to Alexandria and wonder which is better for them. Arlington County is home to a widely varied group of communities across the Potomac River from D.C., approximately 20 miles from Joint Base Andrews. It's a place where any military member will feel right at home, as the location of The Pentagon, Arlington National Cemetery, Army Navy Country Club, and other perks and attractions for servicemembers.
Neighborhoods range from the Rosslyn area and its dense skyscrapers to Court House's bustling commerce to quieter residential escapes like Donaldson Run and Yorktown. Those who love to shop will also enjoy one of the region's best malls nearby at the sprawling Fashion Centre at Pentagon City. With numerous ways to access D.C., from multiple bridges to Metrorail and bus, it's also one of the best places to call home for those who make regular trips into the District.
Housing in Arlington is as varied as the county itself, with options for nearly all housing styles, sizes, and budgets. Prices range from under $100,000 for studios or one-bedrooms to more than $4 million for Arlington's new construction homes and luxurious mansions. However, homes in Arlington typically sell from around $400,000 to $2 million.
Arlington Amenities
Army Navy Country Club
Fashion Centre at Pentagon City
Potomac Overlook Regional Park
Marymount University
Ronald Reagan Washington National Airport
Blue/Yellow/Orange/Silver Line Metrorail access
Convenient to Interstates 66, 395
VHC Health Hospital
Clinton, Maryland
Another community adjacent to Joint Base Andrews, Clinton, borders the base's southern side. Homeowners are no more than five miles from the base, an easy drive that typically avoids any of the region's congested major roads. Clinton sits between the inner-ring suburbs of D.C. and the less developed parts of southern Maryland. Residents can get a taste of this rural heritage (literally) at Miller Farms, which offers a produce market of sustainable local items along with a bakery and opportunities to pick their own fruits and veggies.
Those who'd prefer a more traditional shopping experience won't have to go far, with numerous supermarkets, big box stores, and restaurants. Clinton is also home to the Louise F Cosca Regional Park, a 690-acre expanse including a lake, walking trails, sports fields, a campground, and more.
Homebuyers looking in Clinton will find a mix of townhouses and single-family detached homes. Townhouses, including many new construction homes, sell from the high $300s to the mid-$400s. Detached homes span a wider range, from as low as the mid-$200s to as high as the $800s. In addition, some undeveloped homesites and lots can be found for under $100,000.
Clinton Amenities
Louise F Cosca Regional Park
Woodyard Crossing Shopping Center
Tanglewood Community Park
MedStar Southern Maryland Hospital Center
Forestville, Maryland
Just north of Joint Base Andrews, Forestville is another popular suburban community inside the Beltway. Residents are less than seven miles at most from the heart of the installation, providing another ultraconvenient place to call home. It's also incredibly convenient for drivers, as the site where several major highways and roads come together, from Interstate 495/Capital Beltway to the Suitland Parkway, Pennsylvania Avenue, and more.
This area also has many malls, shopping centers, and other retail options like Penn Marr Shopping Center and Forestville Plaza. These ensure residents can almost always find what they need without leaving town. Forestville also contains a mix of small neighborhood parks, along with the amenities of the North Forestville Community Center, like a gym, community programs, and tennis courts.
Forestville housing consists of a mix of condos, townhouses, and single-family detached homes, many of which are very budget-friendly. Condos are the most affordable choice, with one- or two-bedroom units starting under $100,000 and rarely crossing $200,000. Townhouses sell from the $100s to the mid-$300s, while single-family homes start in the mid-$200s. They generally top out at under half a million dollars.
Forestville Amenities
Convenient to Capital Beltway, Suitland Parkway, Pennsylvania Avenue
Numerous shopping centers
North Forestville Community Center
South Forestville Park
Washington, D.C.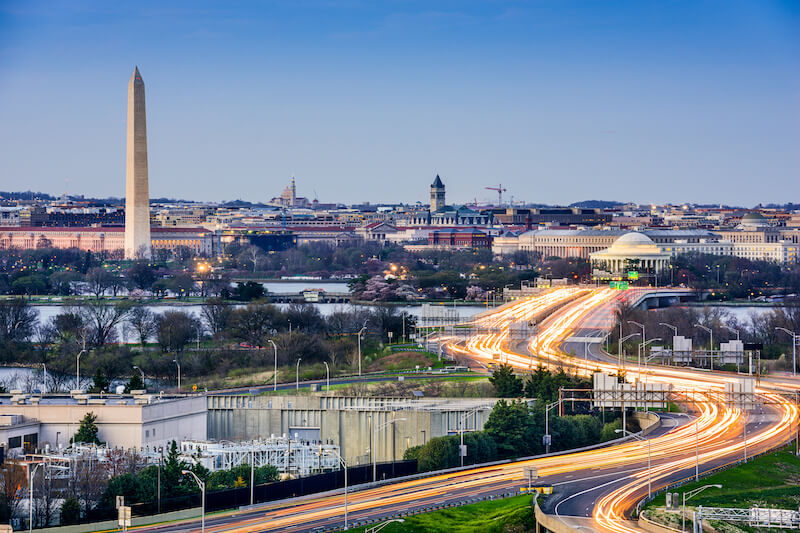 Those looking to live an exciting, fast-paced city life may find the home of their dreams in the nation's capital, Washington, D.C. Home to more than 700,000 residents, it's the unquestioned center of the region, home to not only the federal government and countless national monuments and museums but also an incredibly diverse selection of neighborhoods. These can range from sophisticated Georgetown and Capitol Hill to the dining and nightlife corridors of U Street and Adams Morgan.
D.C. also sets aside a large slice of the city for green space, including the famous National Mall and the wilder, less-developed Rock Creek Park. There are wonderful lakes near Washington, D.C., and the museums and nightlife right in the city attract people from all around the country. Joint Base Andrews community members are lucky enough to have all of this just 15–20 miles from the base.
Like other large, cosmopolitan cities, Washington, D.C.'s housing stock is an incredibly diverse mix of condos, townhouses, single-family homes, and other properties that run the gamut from ultra-affordable to some of the region and nation's most expensive and spacious homes. On the low end, these can sell for under $100,000, while top-tier properties can sell in the $10–$25 million range. District homes sell in the high six figures to around $1 million on average.
Washington, D.C. Amenities
Extensive shopping, dining, and nightlife scene
Access to monuments and museums
Potomac and Anacostia Riverfront
Rock Creek Park
Wide-ranging Metrorail and bus access
Living Well Near Joint Base Andrews
There are several great places to live near Joint Base Andrews, depending on the needs and preferences of military personnel and their families. Affordability, access to amenities, and many other factors are important considerations when choosing a location. Some top options include Alexandria and Arlington in Virginia and Clinton and Forestville in Maryland.
Northern Virginia's communities with the best waterfront views can be idyllic, and Maryland's lower cost of living is always appealing. Each location offers unique advantages and can be an excellent choice for those looking for a place to call home near the base. Ultimately, the decision will depend on individual circumstances and priorities. However, with some research and careful consideration, military personnel and their families can find a great place to live near Joint Base Andrews.