8 Best Places to Live Near Fort Myer-Henderson Hall: Ft Myer Off-Base Housing Guide
Posted by David Rainey and Sallie McBrien on Wednesday, April 5, 2023 at 12:26:52 PM
By David Rainey and Sallie McBrien / April 5, 2023
Comment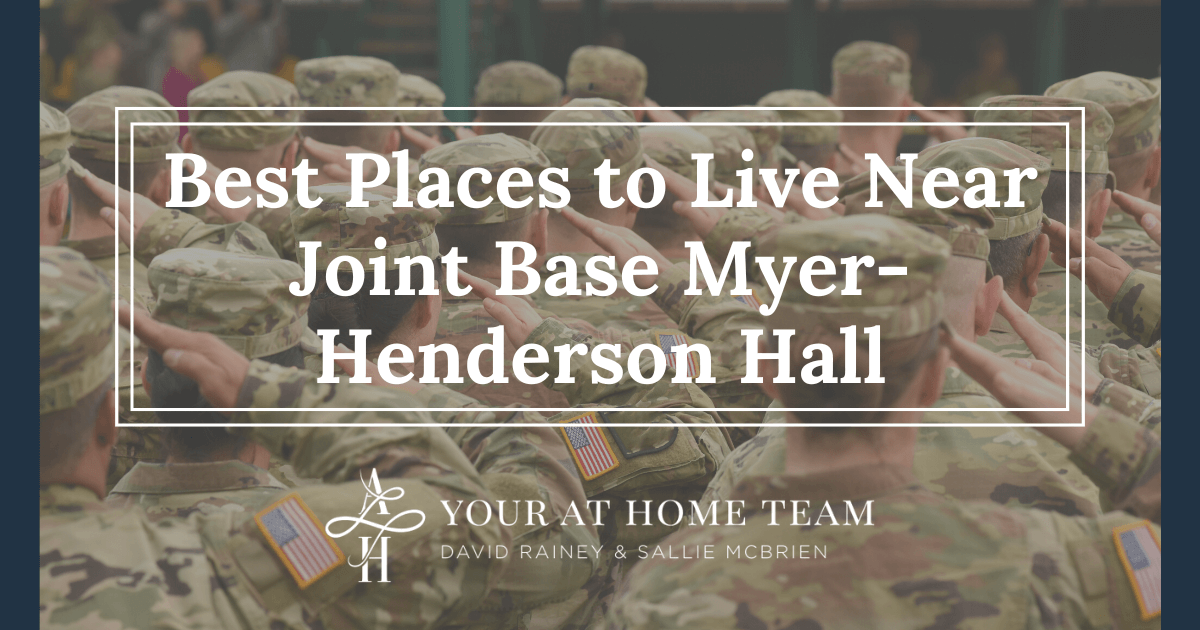 As headquarters for service personnel throughout the National Capital Region, Joint Base Myer-Henderson Hall is one of the most critical locations in the Washington, DC, metropolitan area. While the base offers little on-post housing, nearby neighborhoods in Northern Virginia provide excellent Fort Myer homes. The best places to live near Joint Base Myer-Henderson Hall offer charming colonial-style homes, walkable streets, and excellent amenities, from shops and restaurants to parks and recreation centers. If you're getting ready to relocate to Fort Myer, here are some of the best places to look for off-base housing.
Lyon Park, Arlington
Located just across Arlington Boulevard from Fort Myer, Lyon Park is an upscale neighborhood with historic homes, scenic parks, and excellent shopping and dining opportunities.
Lyon Park's name comes from Frank Lyon, the real estate developer who subdivided a 300-acre tract to create the neighborhood in 1919. Upon the neighborhood's opening, it was the largest real estate development in the city of Arlington, featuring modern infrastructure like paved roads, sidewalks, and water and sewer lines.
Lyon Park boasts numerous architectural styles spanning its long history. While Queen Anne, Craftsman bungalows, and American Four Squares dominated the neighborhood in its early days, Colonial Revival, Tudor Revival, and Cape Cod-style homes became quite popular in the following years. Lyon Park's proximity to the railroad also made it easy to ship the materials for pre-fabricated kit houses into the neighborhood.
Most homes in Lyon Park are sizable, boasting over 4,000 square feet of living space. These historic homes can sell for $2 to $4 million, while the neighborhood's spacious condos are typically priced in the mid $800s.
Lyon Park residents can enjoy quick access to Fort Myer, several community parks, and numerous local businesses. The Shops at Pershing, located on the neighborhood's eastern border, offers a grocery store, a daycare, and popular restaurants like Bonchon Arlington and El Fuego Peruvian Kitchen.
Lyon Park Amenities
Zitkala-Ša Park
Fillmore Park
Lyon Park Community Center
Rocky Run Park
The Crossing Clarendon
Ashton Heights, Arlington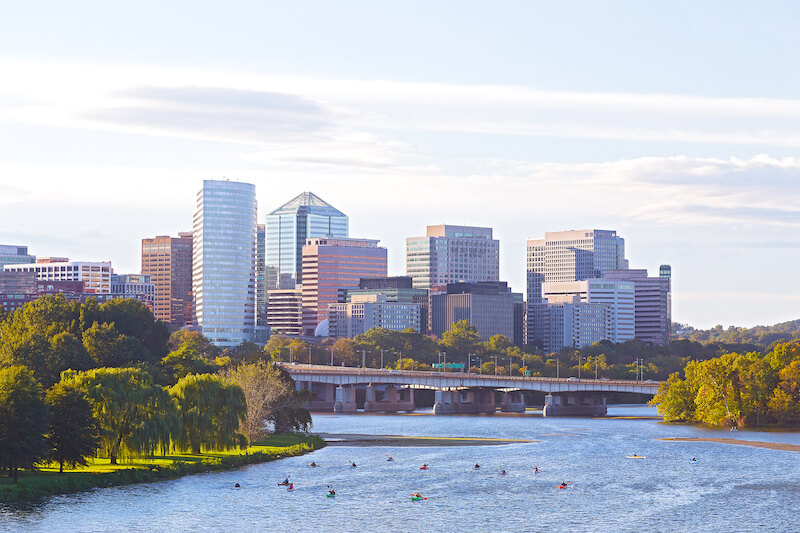 West of Lyon Park lies Ashton Heights, a historic district boasting sizable homes, walkable streets, and various cultural attractions.
Ashton Heights sits on land once owned by Confederate States Army Major Bushrod Hunter. The US government confiscated nearly 1,000 acres of land from Hunter in 1862 when he failed to pay taxes that would fund the Union's war effort. This land included Ashton Heights, Brookdale, and Abingdon Plantation, now the Ronald Reagan Washington National Airport.
The neighborhood was first platted and subdivided in 1921. Most homes were built before 1950, showcasing Craftsman bungalow and Colonial Revival architectural styles, although some of the area's oldest homes hail from the Queen Anne style. High demand and ample living spaces allow homes for sale in Ashton Heights to command prices between $1.5 and $4 million.
Ashton Heights is one of the most walkable neighborhoods in Arlington, boasting wide sidewalks shaded by numerous trees. Residents can easily walk to attractions like parks, museums, and shopping malls. The Museum of Contemporary Art Arlington operates nine exhibition galleries, twelve working studios, and three classrooms in the historic former Clarendon Elementary School building built in 1910. Meanwhile, the Ballston Quarter mall offers a movie theater, an ice skating rink, and dozens of shops and restaurants on the neighborhood's western border.
Ashton Heights Amenities
Mosaic Park
Maury Park
Herselle Milliken Park
Glebe & Randolph Park
Cameron Station, Alexandria
Built on the site of a former Army post, the Cameron Station neighborhood is a charming master-planned community less than 8 miles from Joint Base Myer-Henderson Hall.
The eponymous Army post operated on 164 acres from 1942 to 1995. After its closure, more than 60 acres became city parkland, while the rest was converted into private development. Cameron Station's first homes came up in 1999, followed by five more construction phases to create 2,000 homes artfully blending a small-town feel with modern convenience.
Home builders crafted over 20 styles of single-family homes, townhomes, and condos, drawing inspiration from 18th and 19th-century architecture. Many floorplans incorporate gas fireplaces and built-in garages. Meanwhile, brick sidewalks, colonial street lamps, and numerous shade trees allow residents to easily walk around the neighborhood and enjoy its elegant Georgian-inspired brickwork. Homes in Cameron Station are relatively affordable, ranging from the mid $400s to the low $800s.
City parks encircle much of the neighborhood, including the 59-acre Ben Brenman Park. The expansive park features a lake, trails, athletic fields, and a playground. It also hosts the West End Farmers Market. Several businesses and restaurants surround the park's entrance, including a dog wash, dry cleaners, and Cameron Cafe. Cameron Station amenities include shopping options at several shopping malls surrounding the neighborhood.
Cameron Station Amenities
Cameron Club
Cameron Pool
Cameron Run Regional Park
Armistead Boothe Park
Charles E. Beatley, Jr. Central Library
Free Shuttle to Van Dorn Metro Station
Aurora Highlands, Arlington
Just south of The Pentagon and Henderson Hall lies Aurora Highlands, a historic district featuring modest homes and excellent shopping opportunities.
Established in 1910, Aurora Highlands was formed by integrating three subdivisions built between 1896 and 1930. Its oldest dwelling is Sunnydale Farm, a Greek Revival-style building dating to around 1870. Aurora Highlands is also home to the first residential zoned parking in the US, created to combat spillover commuter parking from Crystal City in the early 1970s.
Colonial Revival is the dominant style in Aurora Highlands, although more contemporary designs appear throughout the neighborhood too. While most dwellings are modest single-family homes, the area also offers townhomes, condos, and larger luxury homes. Due to the wide range of homes for sale in Aurora Highlands, prices can range from $600,000 to $2.3 million.
Mature trees and sidewalks along nearly every road make walking to Aurora Highlands' numerous attractions a breeze. Restaurant Row between Eads and Fern on 23rd Street South features some of the neighborhood's most popular restaurants, including Bob & Edith's Diner, which has served the area for over five decades. Meanwhile, the Pentagon City area in the neighborhood's north offers hundreds of shops and restaurants at Pentagon Row and the Fashion Centre at Pentagon City.
Aurora Highlands Amenities
Virginia Highlands Park
Eads Park
Nina Park
Nelly Custis Park
Aurora Hills Branch Library
Aurora Highlands Civic Association
Lake Barcroft
Centered on a 135-acre lake in Falls Church, Lake Barcroft is a charming, active community less than 6 miles west of Henderson Hall.
The neighborhood takes its name from Dr. John W. Barcroft, who came to the town of Falls Church in 1849 and built a home and mill near where the lake's dam now sits. Construction of the dam began in 1913 to accommodate Alexandria's growing need for water, resulting in the formation of Lake Barcroft. After Alexandria adopted other water sources, developers Joseph V. Barger and Charles E. Dockster bought the lake and 680 acres of surrounding land in 1950. Construction of the neighborhood began later that year, and over 1,000 homes were built in the following decades.
Most homes in Lake Barcroft are sizable and hail from the Colonial Revival style, meaning that split-level floor plans are not uncommon. The heavily wooded neighborhood also offers many secluded properties. Lake Barcroft real estate typically sells for prices ranging from $1 to $1.4 million.
Living in Lake Barcroft grants residents access to the private lake, community events, and numerous clubs and organizations. Lifeguards staff the lake's five beaches in the summer, and the community even has a boat-sharing program to help residents get out on the lake. Musical performances, annual parades, and groups like book clubs offer regular opportunities for the community to get together and enjoy their various interests.
While Lake Barcroft is almost entirely residential, the neighborhood is close to several shopping centers. The Corner at Seven Corners has several big-box stores just north of the neighborhood, and Eden Center offers Vietnamese specialty stores and restaurants.
Lake Barcroft Amenities
Barcroft Knolls Park
Justice Park
Holmes Run Stream Valley Park
Bailey's Community Center
Sleepy Hollow Recreation Association
Sleepy Hollow Bath & Racquet Club
Woodrow Wilson Library
Del Ray, Alexandria
Less than five miles south of the joint base, Del Ray is known for its excellent shopping opportunities, lively restaurant scene, and vibrant culture. It's well-known as one of the best neighborhoods in Alexandria.
Del Ray is one of DC's first commuting suburbs, planned around a light railway that could take residents into the capital in minutes. The community began construction around the same time as St. Elmo, near the end of the 19th century. The opening of Potomac Yard in 1906 saw even more growth for the neighborhoods, leading to their incorporation as the Town of Potomac in 1908. Alexandria annexed the town in 1930, but residents continue celebrating the community's early history.
Mount Vernon Avenue cuts through the center of Del Ray and is known as the place "where Main Street still exists" due to its extensive selection of independent businesses and restaurants. The walkable street hosts local favorites like the Del Ray Cafe and Matt & Tony's All Day Kitchen + Bar and events like Art on the Avenue. Del Ray also boasts a well-known Wellness District teeming with holistic health businesses.
Most homes in Del Ray are Craftsman bungalows, but the neighborhood also has numerous brick townhomes and Colonial Revival-style homes. Prices from the high $500s to $2.1 million are typical in the community.
Del Ray Amenities
Del Ray Farmers Market
The Birchmere
James M. Duncan Branch Library
Eugene Simpson Stadium Park
Mount Jefferson Park and Greenway
Four Mile Run Park
Mount Vernon Recreation Center
YMCA Alexandria
Annandale
Located just 10 miles southwest of Henderson Hall, Annandale is a beautiful suburb known for having extensive outdoor recreation options and the best Korean food in the DC area.
Annandale sits on land that was once part of one of the largest tobacco plantations in Northern Virginia, spanning over 24,000 acres. Called Ravensworth, the Fitzhugh family farmed there for over six generations as they gradually sold off parcels of land.
In 1830, a settler named the community Annandale after the Scottish town of Annan. Annandale opened its post office in 1837. Its first postmaster, William Garges, was also the first to open a business in Annandale when his blacksmith shop and livery stable began serving customers at the intersection of Columbia Pike, Little River Turnpike, and Backlick Road. As more businesses came to the area, it became the center of town.
Today, Annandale's downtown area hosts numerous Korean restaurants and businesses. Popular restaurants like Kogiya, Yechon, and Breeze Bakery make Annandale a DC area favorite for barbecue, gimbap, and bingsu.
Annandale offers many Colonial Revival-style homes, as well as ranches, split-levels, and some modern-style homes. Homes for sale in Annandale can range from the high $100s to $2 million, with single-family homes typically going for higher prices than condos and townhomes.
Annandale Amenities
27 Parks
Hidden Oaks Nature Center
Audrey Moore RECenter
Camelot Community Club
George Mason Regional Library
Northern Virginia Community College
Annandale Farmers Market
Soricha Tea & Theater
Beverley Hills, Alexandria
Located just four miles south of Henderson Hall, Beverley Hills is a charming North Alexandria suburb boasting spacious homes, lush parks, and scenic views.
Beverley Hills was planned and developed in the 1930s, with a few homes built in the 1940s. The neighborhood features diverse architectural styles, including Cape Cod, Colonial, Tudor, bungalow, split-level, and ranch. Most homes in Beverly Hills are medium- to large-sized, resulting in prices ranging from the low $500s to $1.8 million.
As the neighborhood's name might suggest, Beverley Hills features rolling hills overlooking Del Ray and Rosemont. Residents can enjoy walking along tree-lined streets offering stunning views of the DC area, including the Washington Monument.
Known to neighborhood residents as "The Pit," Beverley Park is the primary meeting spot in Beverley Hills. After its renovation in 2017, the centrally located park now offers a large playground, a nature play area, grass, and numerous benches.
Beverley Hills is also just southwest of The Birchmere, a renowned concert hall hosting rock, blues, bluegrass, country, folk, jazz, and comedic performances.
Beverley Hills Amenities
North Ridge Citizen's Association
Charles Barrett Recreation Center
Monticello Park
George Mason Park
Living Near Joint Base Myer-Henderson Hall
The best places offering Fort Myer housing allow residents quick access to the joint base while enjoying scenic parks, delicious restaurants, and excellent shopping options. People moving to Northern Virginia for service at Joint Base Myer-Henderson Hall will enjoy a broad selection of homes for sale. Whether it's a historic city street in Alexandria or a quiet suburban neighborhood near Annadale, there's something for everyone near Fort Myer.