Pros & Cons of Townhomes, Condos & Single-Family Homes For First-Time Buyers
Posted by Sallie McBrien on Thursday, July 7, 2022 at 1:25 PM
By Sallie McBrien / July 7, 2022
Comment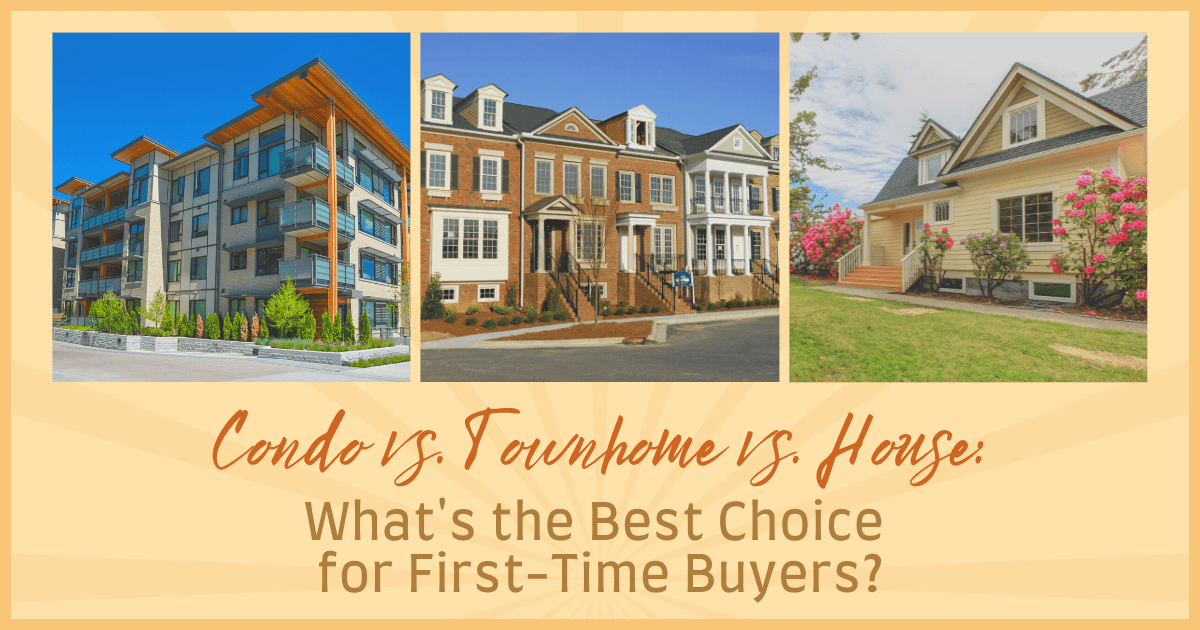 Buying your first home is a big decision. Condos, townhouses, and single-family homes are all great choices for your first home, but they come with unique pros and cons. Before making any financial commitments, buyers should consider each of these types of real estate to determine what style fits their life the best.
Each property has different advantages when it comes to ownership rights, community fees, amenities, and potential resale value. Keep reading to decide if you'd rather buy a townhouse, condo, or single-family house as your first real estate investment.
What Is a Townhouse?
Townhouses are single-family dwellings with multiple floors, attached or adjacent properties, and private entrances. They are similar to duplexes but generally are individually owned properties. Townhouses and row houses are somewhat the same. The biggest difference is that row houses line up in rows next to each other. Townhomes have different configuration options and are available in many cities, often closer to the downtown area. Their name comes from an old English term where royalty would have a home "in town" separate from their residence in the countryside.
They tend to be smaller than the traditional standalone home. A townhouse may be a good option for those who do not mind living close to others or want to be in more tightly knit communities or in downtown areas where larger homes are not as commonly found.
Benefits of Owning a Townhouse
Townhouses come with numerous benefits. They tend to be less expensive than a detached home and work well for those who don't like to do a lot of yard work since most have small yards. Generally, these homes have less overall maintenance because of the shared walls and limited space.
Additionally, being so close to neighbors may help create more of a sense of community. Many of these communities have a significant number of homes next to each other, creating opportunities for meeting new people. Townhouses work well for those who don't want or need a larger home.
Drawbacks of Owning a Townhouse
Townhouses are not ideal for some because they are typically smaller parcels of land and have a smaller overall footprint. That lack of space may be challenging for people with larger households or plan to be in the coming time. Because people are so close to each other, there's less overall privacy, meaning neighbors know what is going on a little more so than in detached homes with ample space between them.
It's also important for interested buyers to consider fees. Townhouses may be slightly harder to finance than detached homes with some lenders. Most townhouses have HOA fees, which help take care of common or shared elements.
What Is a Condo?
Condominiums are a popular option for many people. Condos are typically a building structure that's divided into several individual units, each of which is usually separately owned. There are also communal spaces of the building called common elements. These are owned jointly by those who own the condos themselves.
Condos are not always side-by-side structures. They can be individual units in a high-rise community or properties around each other. The biggest difference between a condo and an apartment is that most condos are owned rather than rented.
Condos are an option for people who do not need or want a lot of room. It may be a good option, for example, for those who are looking to downsize. They are also located throughout cities, not just in a downtown area, providing more versatility regarding where to live.
Benefits of Owning a Condo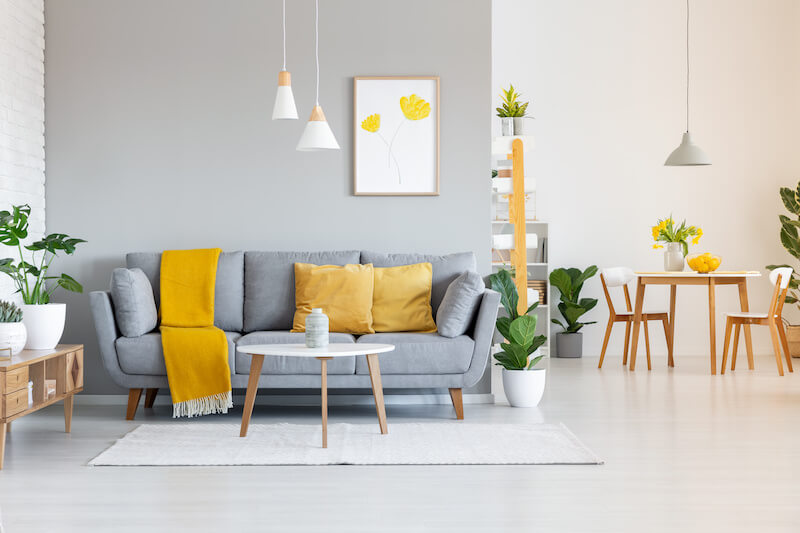 Condos offer several benefits, including typically being more affordable than a single-family home. However, location plays a role in this. Condos in high-demand areas can be lavish and demand a significantly higher value. However, costs are lower for most condos, translating into spending less on home insurance, maintenance, and repairs.
Often, condos are located in desirable areas, closer to the center of town or in a park-like setting. Their location may make them a better option in some areas where traditional detached homes are unavailable.
Drawbacks of Owning a Condo
Condos are smaller, generally providing far less interior and exterior space than detached homes. These dwellings may not be ideal for those who need more space, especially if they lack a garage, yard, or parking. Condos in mid and high-rise buildings may lack any outdoor space at all. That may make things like grilling or owning a pet a bit more challenging.
Condos may also be harder to finance than detached homes because they have shared space with other property owners. Additionally, their value relates to maintaining their amenities and desirability. They may not appreciate as quickly in some areas as detached homes.
What Are Single-Family Homes?
Single-family homes are often referred to as detached homes because they are not attached to other dwellings. These homes come in many styles and sizes and are in many areas, from the heart of downtowns to deep into the countryside. Some sit far closer to each other than others, but that depends on the neighborhood or subdivision layout.
These homes come in many architectural styles, such as Victorian and Colonial. Ranches typically are single-floor properties, sometimes with a basement. Bungalows and split-level homes have slightly different configurations as well.
Single-family homes traditionally are larger, making them a better fit for those who live with numerous other people. They may be a good option for those who plan to increase their household size, too.
Benefits of Owning a Single-Family Home
Numerous benefits exist when owning a single-family house. Perhaps the most notable is the freedom and privacy to live as desired. Detached property owners can typically decorate and remodel their property in any way they want to without getting approval from another person or party.
Single-family homes are also far more spacious. The amount of space depends on the property, but most have some outdoor areas for parking, including a garage.
Detached homes also typically appreciate over time. Though the amount depends on location and the market, most owners see their value increase as long as they maintain the property.
Drawbacks of Owning a Single-Family Home
There are a few drawbacks to these homes, especially for those who may not need a lot of space and don't want to maintain it. There are higher upfront costs to purchasing in most areas, plus there may be taxes on the property higher than other options. Maintenance and insurance costs are higher as well. Single-family homeowners are responsible for all related expenses, as they are not split with others.
Townhouse Vs House
Now that you understand the difference between townhouses and detached properties, it's time to evaluate your personal needs and decide what's better for your first home purchase.
There are a few key factors that you should consider when making your decision.
The first is location. If you're looking for an affordable property near the heart of the city, you might prioritize townhomes in your search. Urban areas have limited land, so detached homes are often out of the price range for first-time buyers.
Next, consider how much space you need. Townhouses are typically smaller than detached homes, so they're better suited for buyers who don't need a lot of extra room.
Finally, how much maintenance are you willing to take on? Generally speaking, townhomes require less time and money for maintenance than single-family houses, making them an ideal option for first-timers.
Condo Vs Townhouse
Condos and townhomes are popular for first-time buyers, but which is right for you?
Here are a few key factors to help you decide between buying a condo or a townhome.
Start by thinking about your budget. Condos are generally cheaper than townhouses, but they almost always come with expensive homeowners association fees that add up quickly.
Size is a factor, too. If you've been renting an apartment for a while, you might feel ready to move to a larger space. If you're not ready for the financial investment of a single-family home and want something bigger than a condo, townhome communities are the perfect option.
Consider potential resale value before deciding between a condo and a townhouse. Townhouse owners generally have the freedom to update the exteriors of their property, while condos are beholden to association rules. Owners who want complete control of their resale value might prefer townhomes.
Which Property Type Is Best for Your First Home?
Deciding which type of property to select means considering lifestyle choices, budgets, and the community itself. In some areas, buying a condo may be vital because it lets the buyer live close to the downtown amenities. Other times, those seeking out larger homes may need the benefits of a detached house. Consider all factors before making a buying decision.