Driving in Alexandria: How to Shorten Your Alexandria Commute and Navigate the City
Posted by Sallie McBrien on Tuesday, September 14, 2021 at 12:48 PM
By Sallie McBrien / September 14, 2021
Comment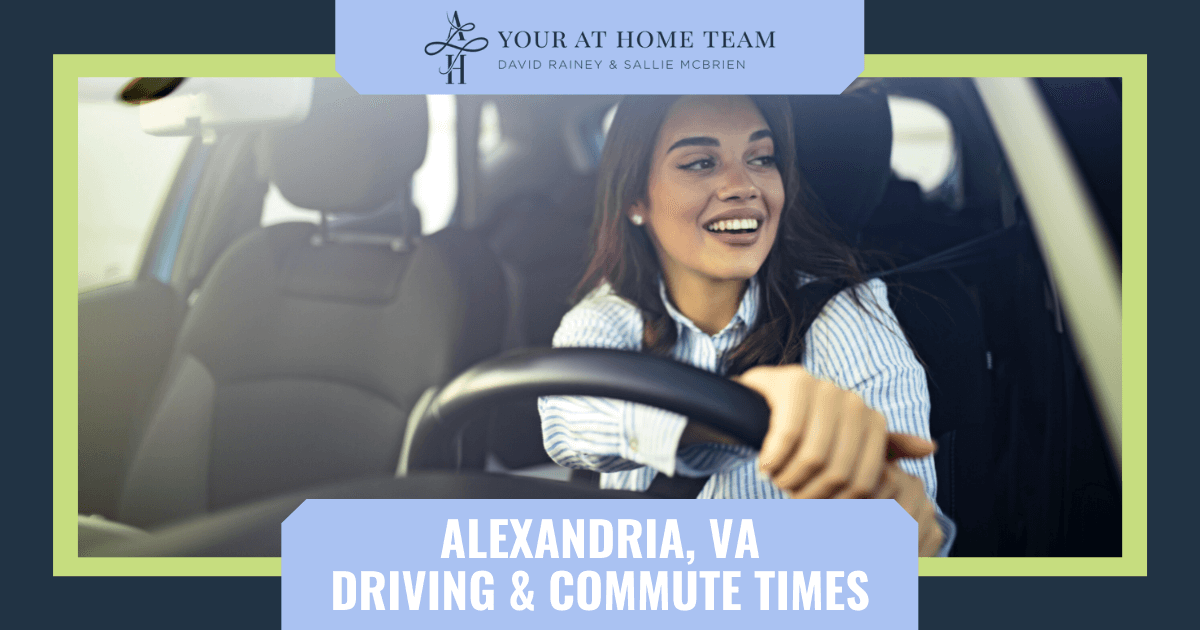 Settled on the banks of the Potomac River just south of Washington D.C., the city of Alexandria is a bustling, historical city in Virginia. With major roads leading to the capital city, the Ronald Reagan Washington National Airport, and across the Potomac into Maryland, Alexandria provides a wide array that makes daily travel to adapt to.
As with any major city, people moving to Alexandria will need some time to get used to driving here. Knowing the region's major roads, parking options, and unique driving quirks can help cut down on time spent behind the wheel. Keep reading to become an expert at driving in Alexandria.
Get to Know Your Major Roads in Alexandria
Alexandria offers several major roads for traversing the city or visiting the greater D.C. area, including:
King Street (SR 7): Stretches from the banks of the Potomac River through the heart of the Old Town Alexandria neighborhood and northwest towards I-395.
Capital Beltway (I-95/495): Circles Washington, D.C., and follows the southern boundary of Alexandria, allowing drivers to reach the capital's surrounding cities.
I-395: Passes through Alexandria West and provides a direct route into the heart of D.C.
US 1: Runs north-south through Old Town Alexandria and eventually joins I-395 to cross the Potomac.
George Washington Parkway: Broken into two segments in Alexandria, with the northern route providing access to the Ronald Reagan Washington National Airport and the southern segment leading to the Mount Vernon area.
Washington Street (SR 400): Connects George Washington Parkway's two stretches at Alexandria's southern city limit and 1st Street.
Duke Street (SR 236): Starts at the Potomac and cuts through southern Alexandria, providing access to the town of Annandale and Fairfax City limits.
Eisenhower Avenue: Runs parallel to I-495 along Alexandria's southern border.
What to Expect During Rush Hour in Alexandria
Due to its proximity to D.C., Alexandria experiences increased traffic congestion during peak travel times. Luckily, Alexandria is still one of the better cities for traffic in the D.C. region. Additionally, drivers can take advantage of several resources that might make driving easier during rush hour.
On weekdays, traffic in Alexandria peaks in the mornings from 6 am to 10 am and from 3 pm to 7 pm in the evenings. During these times, some major roads in and around Alexandria have high occupancy vehicle (HOV) lanes to help cut down traffic in the region. Cars driving in these lanes need to have at least two occupants, thus encouraging carpooling.
Most morning commutes in Alexandria take less than 25 minutes, but some workers find themselves behind the wheel for 30 minutes or more on their way to work in the morning.
To try to cut down commute times, drivers can use HOV and toll lanes when possible. It also helps to keep up with the D.C. news station, 103.5 WTOP, for traffic updates and use traffic apps like Waze, Google Maps, and INTRIX to help anticipate major backups and find alternative routes around them.
Parking in Alexandria
Most of Alexandria's available parking is in Old Town and Del Ray, the city's two primary cultural and shopping districts. With over 20 parking garages and lots in Old Town alone and metered street parking on and around King Street, Alexandria offers plenty of parking options near its main attractions.
Garage Parking
Alexandria features over 15 parking garages open to the public, all scattered throughout Old Town. Many of these garages have daily max charges of $10 or less and offer discounted rates after 5 pm and on weekends.
Street Parking
Drivers in Alexandria can find metered parking spaces throughout Old Town with two- to three-hour limits. These meters and the ones in Carlyle are free after 9 pm, on Sundays, and during state holidays. Additionally, drivers can usually find free parking spots in the Del Ray neighborhood, which offers free street parking 24/7.
Different parking meters in Alexandria accept various payment types: credit cards, coins, or in-app payments. Some meters are app-only, requiring drivers to download the ParkMobile app to pay for parking. Using the app, drivers can start and stop their parking session, so they only pay for how long they use the spot.
Residential Parking
A few condo complexes and townhomes in Alexandria do not have driveways or free on-site parking. Instead, the city of Alexandria sells parking permits to residents based on their permit parking districts.
Other Helpful Things to Know About Driving in Alexandria
What else makes driving in Alexandria unique? The city's proximity to D.C. provides access to several U.S .military bases and promotes slug lines and bicycles for transportation.
Visiting Military Bases
Whether visiting Fort Belvoir or The Pentagon, knowing when their gates open and close is crucial. A well-timed departure can help cut down on time spent waiting in line to get into the bases.
As with other U.S. military bases, a guard checks the IDs of everyone who enters at the gate. Calling ahead to determine what form of identification each location requires can help ensure a quick and painless entry, but most expect to see a Department of Defense ID.
Slug Lines
Although they are more frequent in other cities throughout the greater D.C. region, slug lines still occur in Alexandria occasionally too. For slug lines, strangers carpool together on a commute to use HOV lanes and help reduce the number of vehicles on the road.
Bicyclists
Because traffic in and around Alexandria can get so heavy, bicycles are a frequent sight on roads in the city. Many of Alexandria's main routes, including US 1 and George Washington Parkway, have off-street bike paths or traditional bike lanes, but some have shared bike lanes with motorists.
Ready to Get on the Road in Alexandria?
Commuting in any big city can take time to get used to, but Alexandria is one of the better cities in the greater D.C. area for traffic. With its convenient location just south of Washington, D.C, Alexandria offers drivers quick access to the capital city, several U.S. military bases, and the state of Maryland.