4 Luxury Condo Interior Design Ideas: How to Define Your Space
Posted by Sallie McBrien on Thursday, May 5, 2022 at 8:49 AM
By Sallie McBrien / May 5, 2022
Comment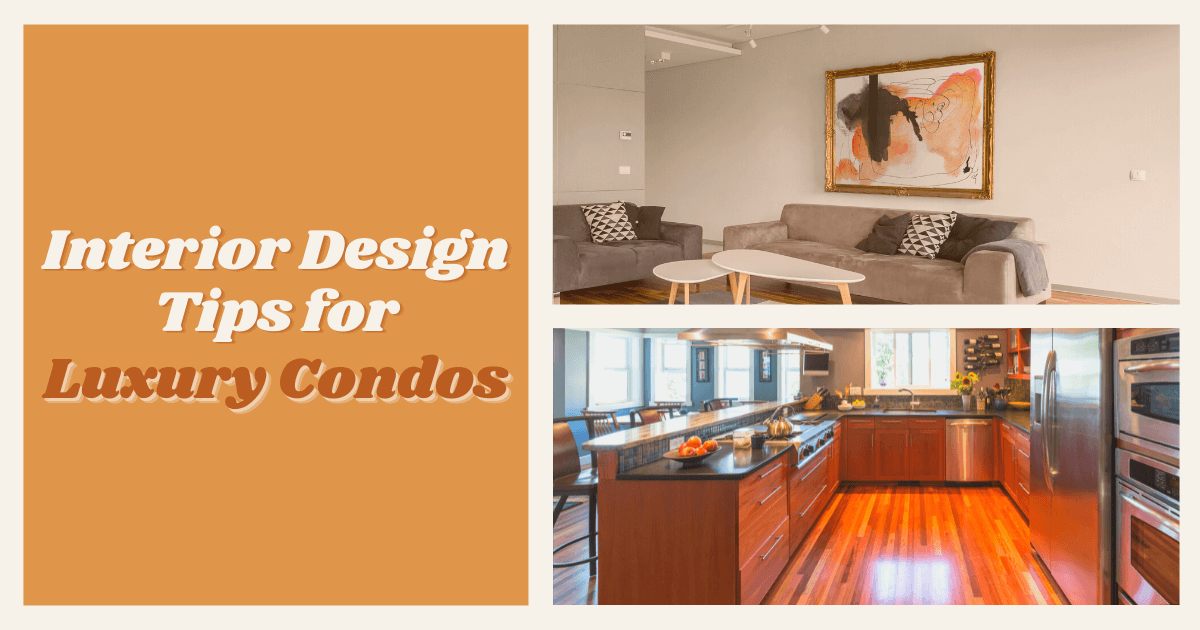 Condos can be excellent investments. One of the best ways to boost a condo's value and overall appeal is to enhance details that give the home a modern and luxurious feel. Depending on the size of the unit, one may need to get creative to maximize the space in their condo, but there's no need to spend a fortune to achieve this goal. Read on to discover a few interior design tips and tricks to begin the transformation within a luxury condo.
Use High-End Materials
When going for modern luxury in a condo, there are quite a few ways to reach the goal without the need for expensive furnishings or high-dollar art. Using natural elements like ceramic, stone, quartz, and hardwood installations is a perfect way to enhance the home without taking up a lot of space.
Consider hardwood flooring for the home, an addition that will never go out of style and makes the space feel more warm and welcoming. Choose a wood color that will complement the decor overall. Those looking for a rustic look might opt for charred wood furniture or built-in cabinetry.
Wood additions can greatly complement other high-end materials such as quartz or granite countertops. Marble is another fantastic choice that is always in fashion. This material is one of the most desirable choices in bathrooms, kitchens, and living rooms.
Don't skip fixtures like faucets, doorknobs, and accessories when it comes to elegance. Shiny materials like gold overlay, silver, or rose will stand out and impress guests. Choose a few beautiful additions that transmit luxury wherever a bit of sparkle is needed.
Play with Shapes & Lines
To maximize interest in individual rooms, try experimenting with geometric patterns, lines, and curves with furniture, art, fixtures, and prints. As a perk, contemporary shapes never go out of style, and certain images and patterns can bring about subtle points of interest throughout the home.
Use caution when employing geometric features, as they can become overwhelming quickly if not used in moderation. Try to choose one element to use as a statement piece, such as a rug, artwork, or an eye-catching sofa that melds seamlessly with other classic pieces.
Another trend seeing a whole new fan base is the curvy decor and furnishings once popular in the 60s and 70s. Adding a few curvy pieces like rounded chairs, mirrors, or a large sectional can nicely contrast with the sleek, straight lines standard in modern interior design. Unexpected curves in luxury condos can make the home feel more playful and warm.
Enhance the Space with Color & Lighting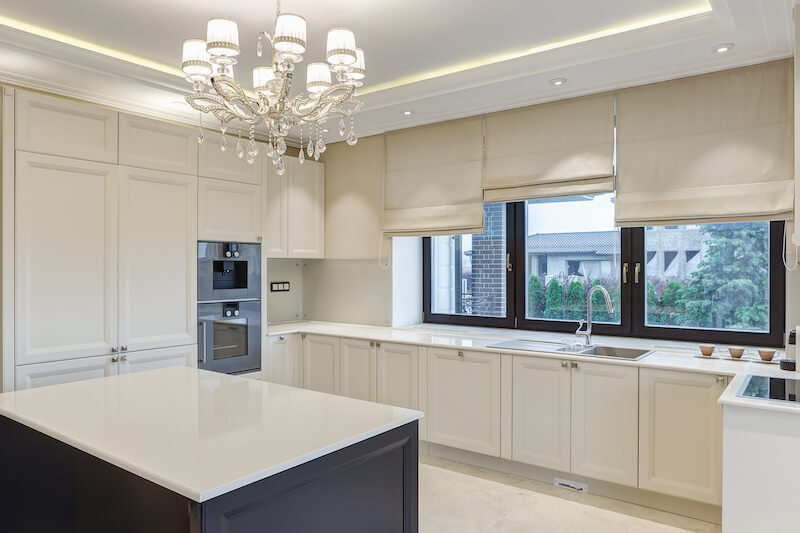 Even larger luxury condos can appear smaller than they are, so it's essential to use a few visual tricks to make them feel roomier. Some of the most basic tips to enhance visual space are choosing the right color palette for walls, furniture, drapes, and lighting.
Whites, neutrals, and lighter shades of paint make smaller rooms look and feel larger, and using pops of color for nooks, trim, and smaller walls makes the space feel more inviting. Hues of gray or silver are popular for luxury condos and add a sense of elegance to the unit. Be mindful that color can affect mood, so when painting bedrooms, many owners want to choose calming colors like greens or blues.
Interior designers always recommend using lighting to give rooms a grander feel. Natural and artificial lighting are secret weapons to controlling how one feels about a room. When using lamps, sconces, and overhead lighting, keep quality in mind by choosing elegant options like chandeliers, unique pendants, and directional lamps.
Placing lighting near mirrors can create a visual sense of space and add interest to a room's vertical design. Mirrors also work well when reflecting natural light from full-wall windows and sliding glass doors. Choose curtains that are sheer or light in color to gain access to ample sunlight.
Make Sure to Have Statement Pieces
Avoid going overboard with art, tapestries, and other wall decorations that make a home look cluttered. Instead, consider making a statement with a single large piece rather than several. This is essential when choosing artwork, a must-have in a luxury condo that livens up the home.
It's not necessary to spend a fortune on a decent art collection. One can find fantastic art within a broad price range, and even inexpensive art can look rather luxurious. Check out local artists and art galleries to find oversized prints, paintings, and metalwork that add character to a condo.
Interior designers often recommend having at least one large statement piece of furniture in each room. This could be a marvelous custom table, overstuffed sofa, or an ornate headboard. Another approach is to focus on accent pieces that round out the design details. Make a statement with:
End tables
Extra seating
Rugs
Entertainment centers
Bookends
Statues
Plants
Glass accent pieces
Create Your Own Special Space in a Luxury Condo
It's hard to deny the appeal of living in the lap of luxury, even if there isn't a ton of money in the budget. Maximize the available space with a few elegant furnishings and the right color to make the most of any interior and natural lighting. Use these tips to transform a condo into the well-designed home you deserve!
Alexandria Luxury Condo Resources
Tips for Investing in Luxury Condos - Coming Soon!