4 Flooring Options to Consider for Your Kitchen Upgrade
Posted by David Rainey and Sallie McBrien on Thursday, January 28, 2021 at 8:10 AM
By David Rainey and Sallie McBrien / January 28, 2021
Comment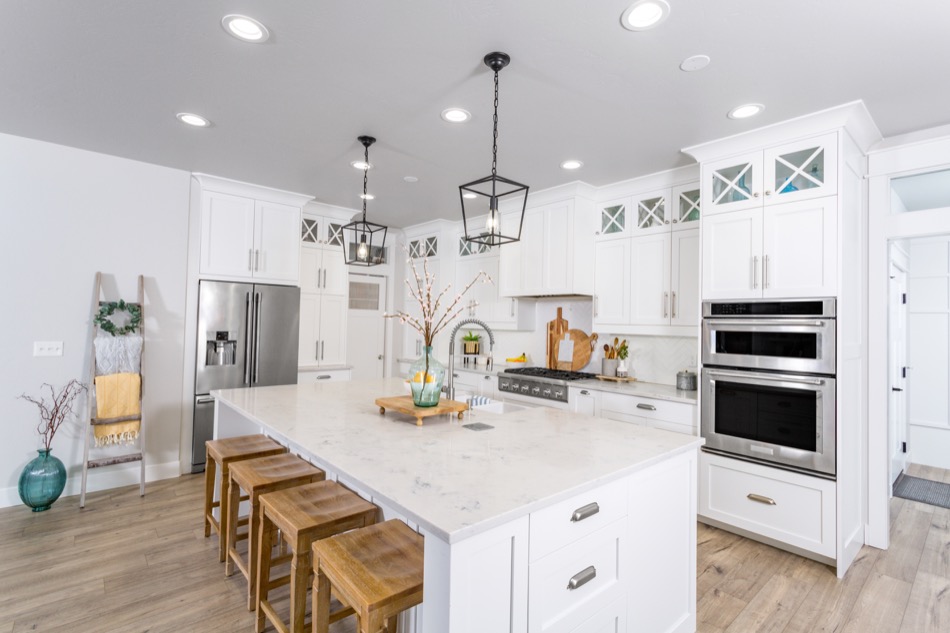 As one of the most frequented rooms in the home besides the bathroom, kitchens require flooring that can withstand spills, foot traffic, and stains. Beyond being resilient and practical, flooring in the kitchen can complement the style and design felt throughout the home. The following kitchen flooring options are popular choices among homeowners.
Factors to Consider When Choosing Kitchen Flooring
Before choosing kitchen flooring materials, buyers need to keep in mind a few factors and acknowledge a few realities. One consideration involves establishing a budget, which may narrow down material options, as they are all priced differently.
Once a budget is set, contemplate the lifestyle of the occupants. Choose a resilient flooring if there are pets, children, or frequent houseguests trekking through the kitchen. Keep cleaning and maintenance in mind when choosing the best flooring for kitchens, and don't forget to choose an option that complements your sense of style.
Bamboo Flooring
Bamboo is considered a green flooring choice because it grows and regenerates quickly and is wholly recyclable when removed. While bamboo flooring feels and looks like hardwood flooring, it is in reality a harder and more durable material that has the same natural appeal.
Bamboo is gaining popularity in kitchens because it's water-resistant and requires little maintenance. However, bamboo flooring is more costly than hardwood options, and refinishing may not be possible with an experienced home renovation professional.
Linoleum Flooring
The go-to flooring decades ago, linoleum is making a big splash with homeowners looking for the top kitchen flooring. Not only is it a green flooring option made from biodegradable, renewable sources, but linoleum is resilient, low-maintenance, and can retain its usefulness and beauty for up to 40 years with proper care.
The drawback of choosing linoleum is that it lacks the moisture resistance of other floorings, as long-term pooling can leave mildew behind. Linoleum also easily stains, unless a protective coating is added and reapplied periodically.
Vinyl Flooring
Vinyl flooring is ideal for buyers on a budget who don't want to sacrifice their options concerning colors, patterns, and style. This flooring for kitchens is available in sheets or tiles that offer traditional looks. Modern luxury vinyl flooring can even mimic stone or wood in a highly realistic way.
Many homeowners prefer vinyl flooring in kitchens due to its ease of cleaning and stain-proof qualities. It is very forgiving to dish drops and the feet, as it's much softer than other options.
Classic Hardwood Flooring
Available in both natural solid wood and engineered wood planks, hardwood flooring makes any kitchen stand out. There are numerous wood types, hues, and grain patterns to select from amid this category, so there are options to fit most budgets.
Hardwood flooring is low-maintenance, durable, and semi-water-resistant, so spills need to be handled immediately. Homes already outfitted with wood floors might choose to continue this look into the kitchen with confidence that it will last for years to come while streamlining the interior's decor.
Cork Flooring
Waterproof, slip-resistant, and resilient cork flooring boasts interesting grain patterns. Cork is also soft under the feet and often saves glassware from succumbing to drops. This material is made from bark that restores itself, so it's an ecologically friendly choice for those transitioning into a greener lifestyle. Cork is easy to clean and maintain, but it does require resealing every three to four years.
Don't risk installment mistakes with a DIY job that could void your flooring's warranty. Call a local home remodeling professional to handle installing new kitchen flooring for the best results.