Kitchen or Bathroom? Which is More Important for a Home Remodel?
Posted by David Rainey and Sallie McBrien on Friday, July 13, 2018 at 10:22 AM
By David Rainey and Sallie McBrien / July 13, 2018
Comment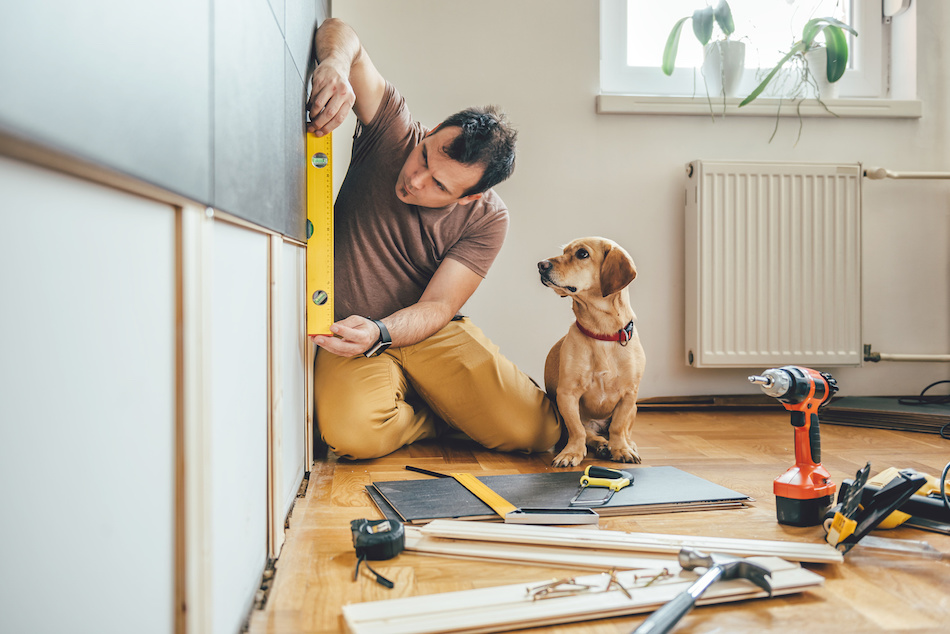 Home improvement projects can be a massive undertaking, but when they're completed, they often leave a big smile on the owner's face. No matter what kind of remodel you choose, it's sure to provide enjoyment for the length of time you live there—and boost your home's value when it comes to sale time.
Kitchen and bathroom remodeling are some of the most common home improvement projects to pick from in the home, but how does a homeowner choose which project will pay off the most? Both types have their benefits and provide a plethora of options. Here is what homeowners need to know about kitchen and bathroom remodels and the impact they have on a home.
How To Remodel a Kitchen
Remodeling a kitchen can look a number of different ways, and depending on the final goal, can require a minimal cost or a huge investment. If the kitchen is already pretty updated, all it might need is a coat of paint and some elbow grease on the cabinets. Other plans might be a little more extensive and depend on a number of factors.
Other than simple cleaning and paint, kitchen remodels can still be fairly inexpensive. Some homeowners choose to replace certain appliances or might refinish the floor or counter tops. Prices will vary, but this type of work could be only a few thousand dollars.
When you want to do a full blown remodel, whether it's for personal enjoyment or to boost your home's value, the amount of work and total cost can rise quickly. Completely gutting a kitchen and starting from scratch with high-quality fixtures, finishes, and appliances can easily top $20,000. For those who love to cook gourmet meals, it could even run close to $50,000 with top-of-the-line items. No matter what level of renovation you want to undertake, it's important to think strategically about planned renovations.
How To Remodel a Bathroom
Maybe a home already has an amazing kitchen but the bathrooms need some work. Or, you just might not cook that much but enjoy taking luxurious baths. No matter what the case might be, choosing to remodel a bathroom brings about the potential for just as much cost and payoff as other home improvement projects.
Similar to a kitchen remodel, a bathroom project can be as basic or as extensive as a homeowner chooses it to be. Less expensive options can include a simple sink or toilet upgrade, which might only run a few hundred dollars.
Moderate projects might add new paint, mirrors, lighting, or even flooring. Depending on the size of the space, this could run into the $5,000 to $10,000 range. Just like with a kitchen, deciding to do a complete tear-down and create a new space can move well into the $15,000 range or more depending on the quality of the fixtures Just like with kitchen renovations, you should plan thoroughly before starting a renovation in the bathroom.
Remodeling Return on Investment
When choosing to remodel a kitchen or bathroom, homeowners are also concerned about a project's return on investment (ROI). ROI is a measure of how much money a homeowner gains or loses by doing a project. The higher a ROI, the more lucrative the project is, and the lower the ROI, the less it's worth the effort. Here are some examples of bathroom remodel ROI and kitchen remodel ROI for common projects:
Return on Kitchen Remodel
Refacing cabinets: 80%
Adding an island: 83%
Installing granite countertops: 70%
New Appliances: 75%
Overall: 65-80%
Return on Bathroom Remodel
New cabinets: 80%
Multiple sinks: 80%
New floors: 60%
New countertops: 52%
Overall: 65%
A home improvement's return on investment can greatly influence the price a home is sold for, but there are other factors to take into account, and it's important to recognize that these percentages are just estimates. Homeowners likely won't know the exact ROI of a renovation in their home until it is sold, so sellers should take these with a grain of salt.
Neither One Is Right Or Wrong
As a homeowner, you get to choose where your priorities are. Even if you're doing a remodel just to boost your home's sale price, you get to decide which plan is the best way to go based on your budget and home sales in your area.
When the home improvement is for one's own enjoyment, feel free to do as much or as little work as you please. Either way you choose, you'll love living in your upgraded space.