Low Maintenance Landscaping Tips
Posted by David Rainey and Sallie McBrien on Tuesday, July 25, 2017 at 8:37 PM
By David Rainey and Sallie McBrien / July 25, 2017
Comment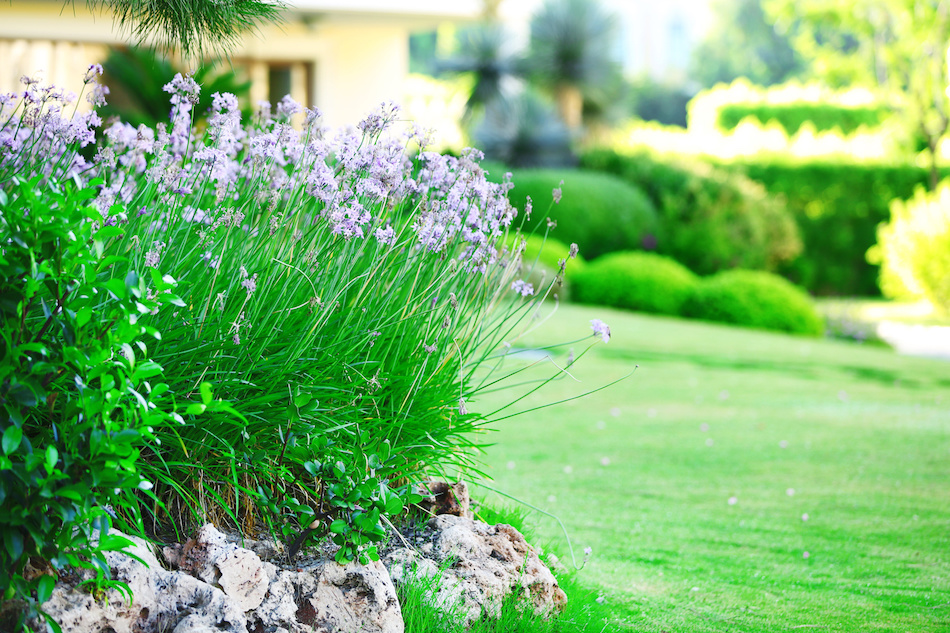 Everyone likes green in the yard, but that doesn't have to mean water-guzzling plants spent every weekend working in the yard. The key to guaranteeing a beautiful yard will grow without a lot of tending is to choose plants well-suited to your locale, add appropriate hardscape like gravel walkways, stepping stones, and low walls, and then plan drip irrigation to keep your yard healthy, beautiful, and able to stand out in the Alexandria real estate market. Spend less time toiling and more time enjoying. Here are some ways to do it right:
Plan in Advance
Develop a plan that includes more than lawn and perimeter shrubbery. Minimize the grass to decrease maintenance hours, but maximize your enjoyment with a lush garden. Plan for tall green shrubbery, mid-height perennials—some that bloom and others with interesting colors—and a lower border that includes creeping ground cover or bright annuals. Plan seasonal color accents, either in the ground or in pots. Hot desert gardens can be as uniquely appealing as those in sub-tropical zones. Don't let winter cold deter you. Plant bulbs that will poke through the snow in early spring; and look for shrubs that love the cold. Just be sure to pick plants that will be happy in your growing zone and that thrive under your particular soil and light conditions.
Take Advantage of Hardscaping and Accessories
Gardens with hardscaping and decoration beyond the plants themselves can also be appealing: If you have a pool, that can be a natural focal point. But you can also add a garden arbor, install a remote sitting area with a fire pit or feature a piece of sculpture, build a gazebo or a playhouse, or use a rustic garden shed as a yard destination. Chances are, your patio will be a natural gathering spot, so make an interesting pathway to a back corner of the yard or create a fanciful walkway to the pool or playhouse with a "yellow brick road."
If you want to grow a food garden, use white picket fencing to cordon off a section of the yard for a "kitchen garden." Install a little gate and plant a tiny vegetable garden or fill raised beds with herbs and edible flowers. Study up on square foot gardening and the kinds of produce that will grow easily in your area. If you love tomatoes, cucumbers, squash and pumpkins, the vines will provide vertical greenery in your yard as well as produce an edible harvest.
Throw Shade With Native Trees
Site native trees that will grow to shade your house or your patio. Pick species native to your area and, once established, they'll seldom require additional water. If you want to attract native wildlife, birds, and pollinators, scatter some wildflower seeds in a corner of the yard. Plant hollyhocks or sunflowers along a fence line for a dramatic display during the growing season; use native grasses, clusters of blooming sage or lavender, or showy lilies and hardy primrose just for fun. Choose blooming plants as much for their scent as for their good looks.
Install Sprinkler Systems to Ease the Maintenance Burden
Run inexpensive drip irrigation lines to your planting areas. It's a relatively simple DIY project, or call a professional installer if you prefer. Run supplementary lines to planters and moveable pots; install gravity-fed irrigation to water vegetable gardens. You'll have a landscape that is all but maintenance-free. Programmable controls make drip irrigation environmentally friendly as well, and they can be turned off completely in rainy seasons and during the winter.
Even if you don't love the act of gardening, you can't help but enjoy the results!