What Is Mid-Century Modern Architecture? 4 Traits of Mid-Century Modern Homes
Posted by Sallie McBrien on Monday, December 19, 2022 at 11:19:09 AM
By Sallie McBrien / December 19, 2022
Comment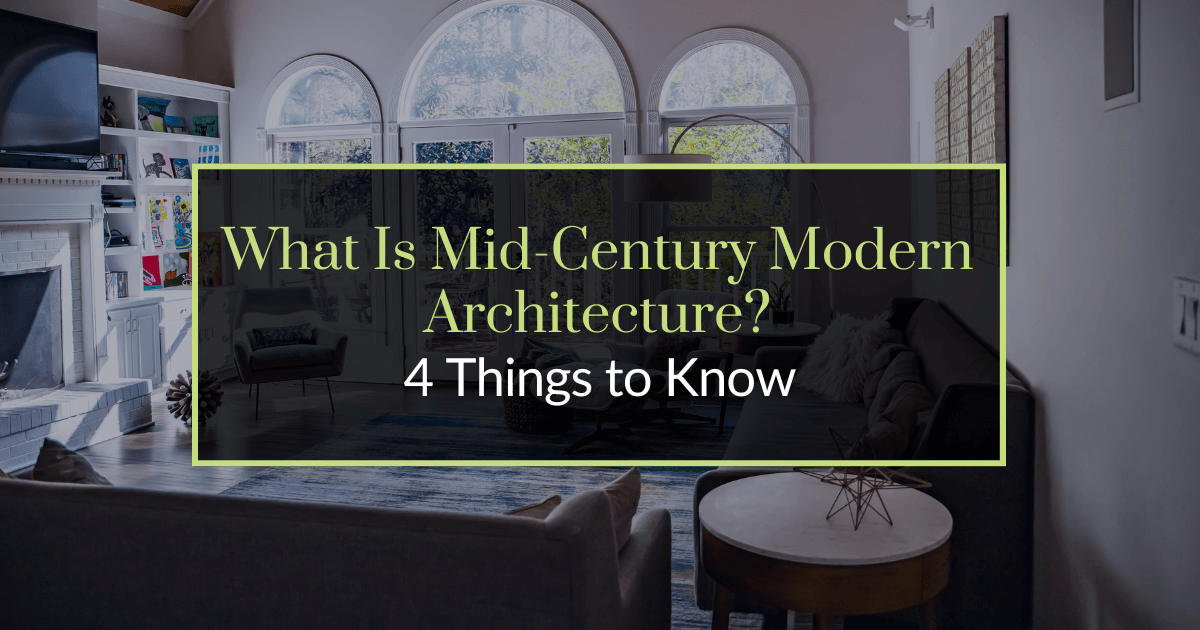 Although many architectural styles exist worldwide, the unique and easily recognizable mid-century modern is a favorite among homeowners and designers alike. But what exactly makes mid-century modern architecture so stunning and desirable? With the following information, you'll be able to recognize mid-century modern homes and discover the benefits of living in one.
What Is Mid-Century Modern Architecture?
Mid-century modern architecture is largely defined by its:
Clean lines
Gentle curves
Multiple levels of living
Geometric planes
Distinct angles
Large windows
Open living spaces
Mid-century homes were designed between 1945 and the 1980s and usually included integration with nature and clean, simple layouts. The style came into being with the rise of consumer goods and graphic design, which helped create an integrated living experience with connections to the natural world and modern advancements.
Mid-century modern homes were often built in neighborhood units, many of which still exist today. The Hollin Hills community near Washington D.C. is characterized by this architectural style and was created as part of a planned cooperative community. The neighborhood is tucked away from other areas of D.C. and utilizes exposed structures and local materials to stand out. Other major mid-century modern neighborhoods include Parkwyn Village in Kalamazoo, Michigan, Crestwood Hills in Los Angeles, California, and Snake Hill in Belmont, Massachusetts.
Complementary to Nature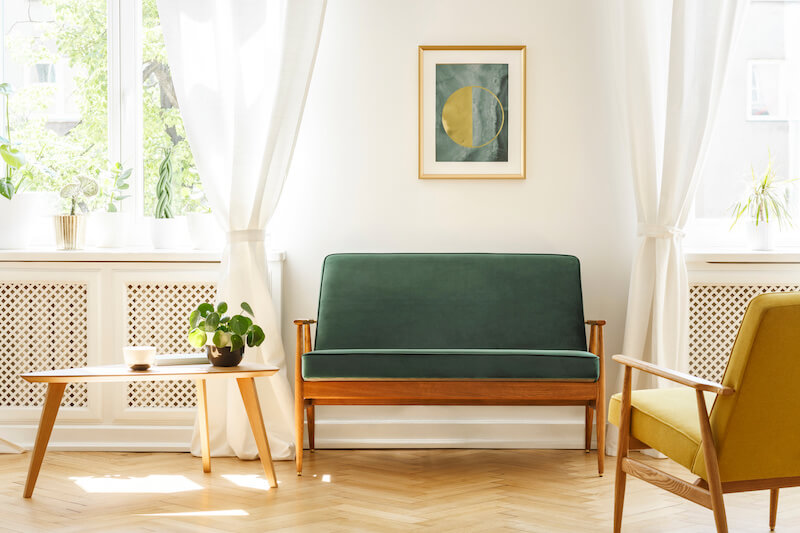 One of the key characteristics of a mid-century modern home is its connection to nature. Many mid-century modern homes feature large floor-to-ceiling windows to let in natural light, often facing exterior features like backyards and greenery. Some original properties were almost completely made of glass or had entire glass walls in living and dining rooms.
Nature is also used in other ways when designing mid-century modern homes. Common building materials include local wood and stonework, which help create a cohesive atmosphere between design and nature. The homes also often have multiple access points to the outdoors or indoor garden spaces to further develop this important connection.
Open, Functional Spaces
Mid-century modern homes prioritize functionality above all else, so rooms are large and open rather than closed, as found in older architectural styles. Open floor plans create space in homes with smaller footprints while maximizing their functionality.
Mid-century modern homes also play around with levels. Many homes will have steps up into kitchens or dining rooms, sunken living rooms and floors, and different layers of elevation to add depth. The interior design utilizes gentle curves and distinct angles to create furniture and finishes that highlight the space's simplicity while creating a well-rounded atmosphere.
Exterior Features of Mid-Century Modern Homes
The exterior of mid-century modern homes also emphasizes minimalism and distinct angles. The houses often appear boxy and don't always reflect the interior. For example, large, scenic windows might not be visible from the street, and the open floor plan and layered floors likewise aren't discernible from the exterior. However, the homes will often have clear natural integration, particularly in some of the standout homes of the time.
One of the most famous mid-century modern homes is The Glass House by Philip Johnson in New Canaan, Connecticut. The walls are entirely made of glass and showcase the structure and geometry of the home's design.
Another famous mid-century modern home is The Miller House and Garden by Eero Saarinen in Columbus, Indiana. This home has an open floor plan with built-in furniture features like a sunken conversation pit and utilizes bold textiles and a distinct color palette of reds, greens, and yellows.
Discover Unique Living in Mid-Century Modern Architecture
Mid-century modern architecture is one of the most distinctive and unique styles of architecture in the 20th century. Although mid-century design is no longer in its heyday, it still strongly impacts modern home architecture and interior design. Many people use this style as inspiration, and classic mid-century modern homes are still highly desirable, especially when they are a part of a larger mid-century community.