Mid-Century Modern Interior Design: How to Decorate Your Home With Mid-Century Style
Posted by David Rainey and Sallie McBrien on Tuesday, December 27, 2022 at 10:29:59 AM
By David Rainey and Sallie McBrien / December 27, 2022
Comment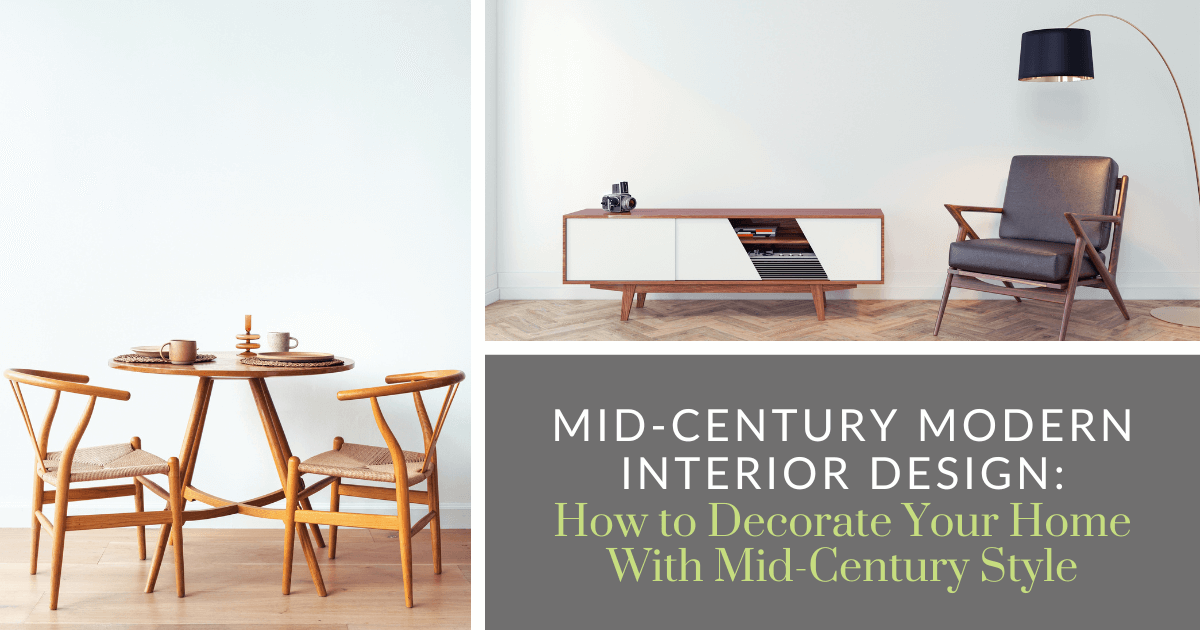 Mid-century modern is a timeless style that provides homeowners with a lot of inspiration and ideas for designing the inside of their properties. While the design process may seem challenging, especially for home decorating beginners trying to turn a blank space into something stunning, mid-century modern is an excellent option to consider. Here are some tips to incorporate mid-century modern interior design into your home.
What is Mid-Century Modern Decor?
Mid-century modern architecture was a design style that rose to prominence in the mid-20th century, as the name suggests. The peak years of mid-century design took place between 1933 and 1965. Famous designers and architects like George Nelson and Charles Eames turned the design into an art style, with plenty of signatures that created a timeless aesthetic that has lasted for nearly 100 years.
Some of the signature features of mid-century modern interior design include sleek lines, open floor plans, organic and natural influences, simple shapes, and a priority on functionality over form. Overall, mid-century modern design emphasizes simplicity and craftsmanship, which allows beauty to be found in minimalist design rather than in complicated patterns and crowded rooms.
Mid-Century Modern Kitchen Ideas
The kitchen was often an important room in mid-century modern designs, and many people incorporate them during kitchen remodeling today. As mid-century modern design rose to prominence after World War II and during the rise of home products and appliances, many mid-century modern kitchens work to incorporate those products and appliances directly into the space. That might include things like built-in microwaves, prominent ovens and fridges in bold colors, and open cabinets to display cookware items.
Other features of a mid-century modern kitchen might include paneling on the walls or terrazzo-styled countertops. Mid-century modern uses a lot of natural influences to create a cohesive space and indoor/outdoor living. The wood paneling in the kitchen helped pull in natural influences, and different tiles and countertops use materials like marble, quartz, granite, and glass for customization and a unique appeal.
Mid-Century Modern Living Room Ideas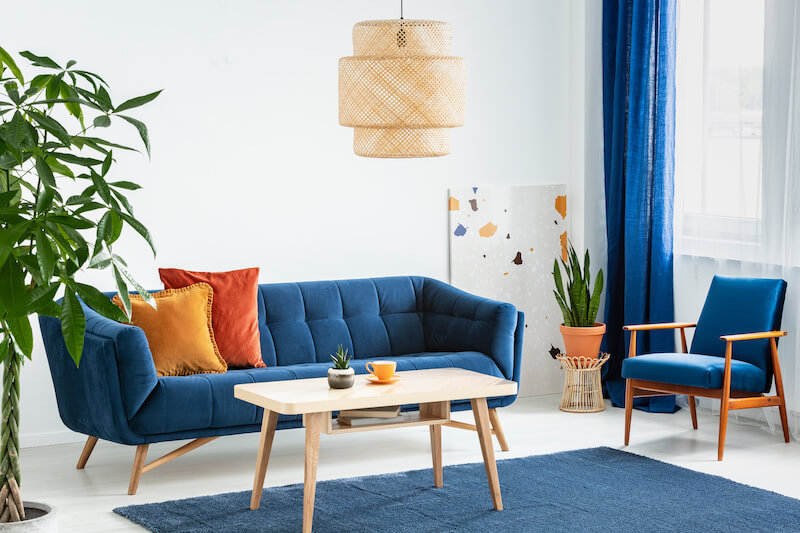 The types of furniture in the space often defined a mid-century modern living room. Mid-century modern interior design depends heavily on the furniture items in a room, as the walls and living space are typically fairly empty and open. Mid-century modern furniture has clean, curved lines rather than sharp corners. The legs of the furniture are tapered, and the furniture use natural and man-made materials with a focus on cool colors like teal, gray, olive, mustard, and blue.
Furniture in a mid-century modern living room might have some patterns, but they'd be understated and not distract from the shape and form of the furniture. You could add a gray mid-century style couch to your living room paired with an armchair with a slight pattern to add some contrast between furniture pieces. You can also leave your walls white and add macrame, greenery, or mirrors to help create more warmth.
Mid-Century Modern Bedroom Ideas
Just as with most modern home designs, bedrooms in the mid-century modern style were designed to be warm, cozy, and inviting. Many mid-century modern bedrooms utilize the function-over-form mindset that influence other parts of the home. The bedroom in a mid-century modern home is uncluttered, with the bed, dresser, wardrobe, and seating copying the organic and sleek lines found in other rooms.
The bed would have tapered legs like other furniture pieces in the home and should have a simple wooden headboard to help incorporate natural elements into the room. In addition, the colors of the room would feature finishes like walnut and birch, with some woven elements in rugs or wall decor. Nightstands and dressers might be in lacquer to add more modern details to the natural designs.
Embrace Your Home Design Project with a Clean Aesthetic
Mid-century modern interior design has lasted for decades because it provides a clean aesthetic that appeals to many homeowners. Homebuyers spend considerable time deciding between different home styles, so it's helpful to know that mid-century modern design can be incorporated into any of them. Even a few mid-century modern elements or furniture pieces in a home can add a sense of serenity and craftsmanship that appeals to many different people. If you want a design direction, consider using the clean lines and sleek designs of a mid-century modern aesthetic to help you embrace your home.