Kitchen Remodeling: How to Achieve a Sophisticated and Modern Look
Posted by David Rainey and Sallie McBrien on Wednesday, January 19, 2022 at 11:56 AM
By David Rainey and Sallie McBrien / January 19, 2022
Comment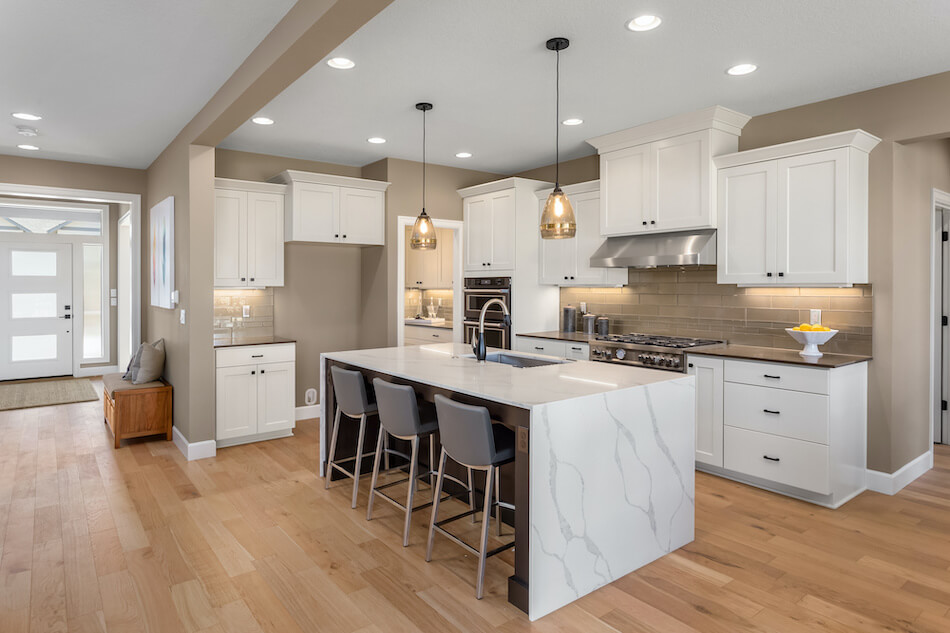 Focusing on the kitchen is a wise decision when remodeling your home to improve its value. In addition to improving your home's appeal to potential buyers, enhancing this high-traffic area will also improve your quality of life.
When it comes to kitchen renovations with high returns, modernization and sophistication are key. Keep reading to get inspired for your sleek kitchen makeover.
Use Light Colors
While dark cabinets can look rich and elegant, they can also make the space feel cluttered and overwhelming. This look works well in large, luxury kitchens and open floor plans but quickly becomes too much in the average kitchen.
When choosing your paint and cabinet colors, opt for light shades. This choice will make the room feel more spacious and reflect natural light to make the entire room feel roomier. Choosing the right color is one of the best low-cost kitchen cabinet improvements.
Choose Neutral Designs
Kitchen design trends are moving towards simplicity. You can probably imagine an overwhelming oak and natural wood stain with dark iron fixtures. Perhaps some faux granite with numerous inexplicable patterns that didn't go well together. Oh, and don't forget the ornate Cathedral-style cabinet doors. These features have their place, but relying on them too heavily makes a kitchen feel busy.
When remodeling your kitchen, you want it to be timeless rather than flashy. Avoid some of the bold, semi-permanent trends. In other words, if you can't afford to change it again in a couple of years, stick with the neutrals.
Opt for a simple Malibu white shaker cabinet, versatile countertop, and subtle backsplash. Choose consistency when implementing lasting changes; save the design trends for art and accessories that are easier to swap out. Speaking of which:
Decorate with Bold Art
When it comes to sophistication in design, it's all about the accessories and decor pieces. Until recently, kitchens have been a place for predictable prints and basic knick-knacks. Now, designers use this space to display bold art, breathing new life into the kitchen.
Choose eye-catching art that suits the space and your style. Think beyond cafe signs and cute quotes for something more edgy and eye-catching. If art doesn't appeal, choose one of your favorite photos and have it blown up to create a powerful, personal statement piece.
Choosing simple, neutral cabinets will provide an excellent backdrop that doesn't distract from the artistic flair, helping the artwork stand out all the more.
Use Lighting as a Focal Point
Lighting is another design feature that often gets overlooked—especially in the kitchen. Rather than finding a simple fixture that fits the space, consider your kitchen lighting as a design focal point. Opt for a bold chandelier or structural light fixture over your table or island. Choose an art deco pendant or an assortment of Edison bulbs inspired by your favorite coffee shop.
It's also worth considering functional lighting in food preparation areas. While dim artistic bulbs have a nice atmospheric effect, it's also beneficial to have the option for bright lighting if needed.
Consider Functionality and Storage
When remodeling the kitchen, consider your common complaints about the existing layout. Rather than repeating the previous layout out of convenience, consider refreshing the space with functionality and storage in mind.
How does storage factor into sophistication? By creating functionality in the kitchen, you're less likely to have visible clutter. Consider using the kitchen triangle theory to create a functional kitchen design that will improve your cooking experience and add resale value to your home.
Are You Ready to Design a Modern Kitchen?
Give careful consideration to your designs and layout when remodeling the kitchen. With some strategic planning and an eye for design, you can create a modern, sophisticated living space that becomes the heart of your home.