8 Affordable Alexandria Neighborhoods: Get the Best Bang for Your Buck
Posted by David Rainey and Sallie McBrien on Monday, October 25, 2021 at 9:52 AM
By David Rainey and Sallie McBrien / October 25, 2021
Comment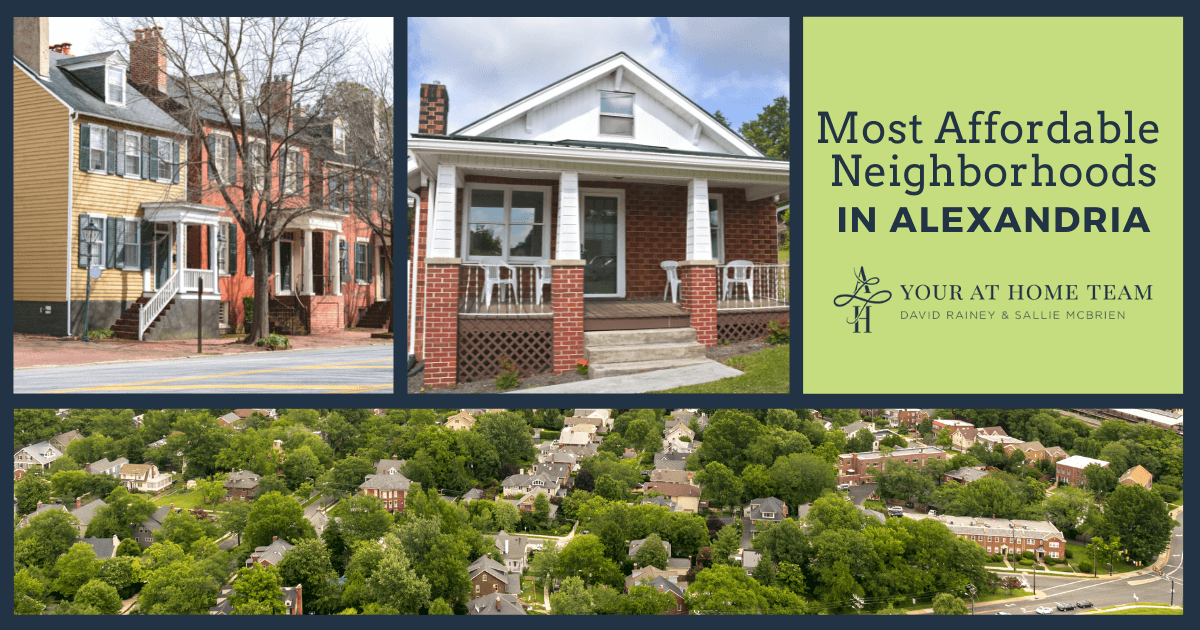 Recognized for its location on the Potomac River and near Washington, DC, Alexandria is the type of community that accommodates many people's needs. It is an old city, having been founded in the 18th century. Many homes for sale in Alexandria date back to that time, with historic mansions and beautiful estates dotting the landscape in Alexandria's upscale neighborhoods. Alexandria is also home to more modern communities, and, in some areas, affordable homes are available as well, though much of the area has seen a significant increase in demand.
From the waterfront homes along the river to the Alexandria townhomes that feel like historic colonial times, there are many popular neighborhoods in Alexandria to explore. House-hunters looking for the most affordable neighborhoods in Alexandria should keep reading for the best places to start searching.
Landmark
Landmark Amenities
Van Dorn Diner
Los Tios Grill
Paisano's
The White House (nearby)
All Veterans Park
Mason at Van Dorn
The community of Landmark is located near Springfield, Franconia, and Lincolnia, situated directly between I-495 and I-395, which provides good access to the entire region. Landmark, sometimes called Landmark-Van Dorn, is a community with everything from garden apartments to large single-family homes. Home prices here range from $210,000 to $670,000, with location and age being primary factors in their value. Newer developments are priced higher and are typically colonial-style homes. Older homes, including ranches and bungalows, are generally priced lower.
The Landmark Mall is one of the most prominent components of the community with its numerous restaurants and shops. In addition, eateries outside the mall include LA Mart International Food and Hashtag Restaurant and Lounge. Several larger stores are located in the heart of the Landmark neighborhood as well. For those looking for outdoor activities, the area is also home to Armistead Boothe Park, Sportrock Climbing Center, and Duke Street Dog Park.
Alexandria West
Alexandria West Amenities
Mark Center
The Goddard School of Alexandria
William Ramsay Elementary School
Clyde's at Mark Center
Teddy Bear Day Care & Preschool
Alexandria West is a set of streets and neighborhoods along the west of I-395. It runs from King Street to Little River Turnpike and Beauregard Street. This area has a wide range of developments, from high-rise areas and 55+ communities to garden apartments, condos, and single-family homes. This range in home styles has helped to make the location a bit more affordable. Home prices here range from $550,000 up to $650,000, though it is possible to find more affordable options at various times of the year.
It's relatively easy to get to the District from Alexandria West, making it an attractive location for those driving in Alexandria. Alexandria West amenities include Green Spring Garden Park, which is an 18th-century manor home and greenhouse. The Winkler Botanical Preserve is located here and offers trails and wooded areas. There's also a mountain lodge in this area and a beautiful waterfall that's well worth exploring. Chambliss Park is another option to the north. The Dora Kelley Nature Park is also in this area towards the western portion of the neighborhood.
Fairlington
Fairlington Amenities
The Fresh Market
Michaels
The Utah Dog Park
Minnie Howard Field (nearby sports complex)
Fairlington is a well-established community located near the border between Alexandria and Arlington. Home prices here are typically lower, ranging from $350,000 up to around $550,000. Many of the homes range from 1,000 to 1,500 square feet of living space. However, larger homes are available, as are Fairlington Towne condos and townhomes. Garden apartments are another common option here. The neighborhood is located right off I-395 near Route 7, making it a good choice for those who need quick access to the District. The newer homes and developments attract many homebuyers to this area.
Fairlington is primarily residential, with plenty of amenities located in nearby neighborhoods. There are a few apartment complexes and service businesses located in the area. Fort Ward Park is located nearby and is the largest park system in the area, with walking trails, a playground, and bike trails. The Fairlington Community Center offers ample amenities, including programs for kids through seniors, onsite fitness areas, and green space. Ramparts Tavern & Grill is one of the restaurants in the area, and there are plenty more options just to the south and west of the community.
Hollin Hall Village
Hollin Hall Village Amenities
Waynewood Elementary School
Carl Sandburg Middle School
West Potomac High School
Harris Teeter
Yunnan by Potomac Noodle House
Trader Joe's
Hollin Hall Village is between Paul Spring Parkway and Fairfax Road and is bordered by Fort Hunt Road to the east and Karl Road to the west. This tree-lined community is known for its small size and fun homes, many of which were built in the late 1940s and 1050s. It is one of the older neighborhoods in the county, named for an 18th-century plantation home built by George Mason. Today, there are about 700 homes in Hollin Hall real estate with Cape Cod-style red brick facades. Many of these homes are single-story properties, though some split levels also exist. There's a bit of new construction in the area. Home prices range from $400,000 up to $700,000 in this area.
The Hollin Hall Village Citizens Association manages the neighborhood and plans community activities, from events in the parks to festivals throughout the holidays. Parks in the area include Kirk Park, Fort Hunt Park, and Collingwood Park, each offering hiking trails, green spaces, and some bike trails. Mount Vernon Park is a 13-acre park in the area with a pool, and there's also a lake for fishing. The Hollin Hall Senior Center provides programming options for locals and visitors, too.
Groveton Heights
Groveton Heights Amenities
Walmart Supercenter
Skrimp Shack
Beacon Center shopping
West Potomac High School
Groveton Heights is located towards the south of Alexandria. Many homes here are mid-size and range from those built in the 1930s to updated new construction homes. The area developed slowly, which means there's a range of home styles here, including condos, townhomes, and single-family properties with colonial, Cape Cod, and ranch styles. These homes range from 2 to 6 bedrooms at 1,900 to 2,200 square feet of space, with some range. Home prices here range from $450,000 up to $790,000.
There are a lot of reasons to live in this area. One is Groveton Heights Park, which has a playground, picnic area, basketball courts, and a little league field. It's also home to several biking and hiking trails. Huntley Meadows Park is also here, which provides even more options for exploring the area. Though primarily residential, Groveton Heights real estate offers tree-lined streets and moderately sized lots for homes. Fun restaurants are nearby, such as Ruby's Jamaican Kitchen. The Beacon Center offers shopping options such as Giant Food and a nearby Target. Small family-run shops and a few bistros also populate the area, making it a great location to explore.
Kingstowne
Kingstowne Amenities
Osaka Japanese Steakhouse & Seafood
World Market
Safeway
Walmart
Kohl's
Regal Kingstowne Screen X & RPX
HomeGoods Department Store
Kingstowne is a master-planned community with about 5,500 homes in it. It's located outside of the Capital Beltway in the western portion of Alexandria. This large area spans from Franconia Road to Telegraph Road. It also spans from Beulah Street on the west and South Van Dorn Street on the east. It's quite close to the Pentagon and Capitol buildings, making it a good option for some commuters. Home prices range from $430,00 up to $800,000, though some homes for sale in Kingstowne sell for over $1 million.
Nearby amenities also help make Kingstowne a desirable place to live. There are several community centers here with tennis courts, pools, and a community center. The Hilltop Golf Course is located in this area, and the first Top Golf in the U.S. was opened here. There are a number of different shops and restaurants here, especially along Kingstowne Blvd and in the center of town, called the Kingstowne Towne Center. Several residential areas surround this area. The Kingstowne Lake is towards the north of the neighborhood and offers walking paths and some water fun for residents, including fishing. Dogue Creek runs through the community, too.
Franconia
Franconia Amenities
Wegmans
Humphrey's Engineer Center (located nearby)
Metropolitan Elite Gymnastics
Hayfield Secondary School
Aerospace Data Facility East
Franconia real estate continues to flourish. It was once part of Kingstowne but has split off. It was named for the railroads that were developed here and used to help the area grow. Today, it is a vibrant community that sits just to the north of Fort Belvoir and is home to several subdivisions, including Manchester Lakes and Windsor Estates. The homes here often differ in style, but it is common to find 3- and 4-bedroom homes, including large townhomes. Many are owner-occupied, but there are a large number of rentals here as well. For the most part, houses in Franconia were built between 1970 and 2000. Home prices range from $350,000 up to $800,000, with some exceptions.
The Springfield Mall and the Franconia-Springfield Washington Metro Station are located in Franconia. The U.S. Coast Guard is stationed just outside of the boundaries here. Huntley Meadows Park and the Fort Belvoir Golf Club are also located nearby. Loisdale Park is one of the largest parks in the area.
Huntington
Huntington Amenities
Huntington Club
The Parker
Belle Haven Country Club (nearby)
ALS Transportation
Huntington is yet another affordable community located in Alexandria. This area, in particular, has numerous duplex homes, though the rest of Huntington real estate offers a wide range of home styles, including Cape Cod and ranches. Many of the homes are older, though some new construction has developed here. Home prices range from $350,000 up to $700,000, with some unique residences throughout the area outside of this range.
Huntington may be most well-known for the Woodrow Wilson Bridge, but it also offers much more. First, it is right off I-495, providing good access to the region. It has a few parks, including Huntington Park towards the north. It is also located right off Hunting Creek, which runs along the northern border of the neighborhood. While Huntington is mostly residential, many attractions are nearby, including Mt. Eagle Park, Tanger Kabob House Café, and Pizza Boli's.
Find Your Perfect Neighborhood in Alexandria
Whether looking to buy one of the townhomes in the more historical portions of the city or investing in the new construction or waterfront homes near the Capitol, Alexandria offers something for everyone, no matter their style preferences or budget. Come see what this beautiful city has in store for its residents.