Luxury Awaits: 8 Most Expensive Alexandria VA Neighborhoods
Posted by Sallie McBrien on Friday, October 8, 2021 at 9:05 AM
By Sallie McBrien / October 8, 2021
Comment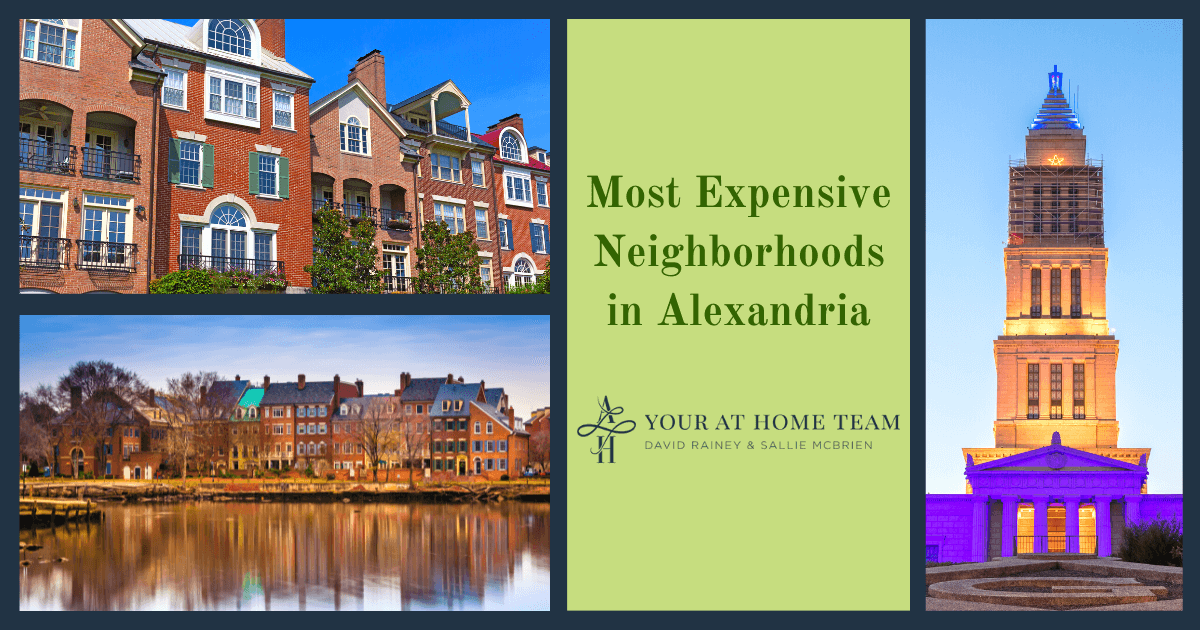 The city of Alexandria sits right on the Potomac River, just to the south of Washington, DC. This Virginian gem is both a vibrant, modern community and one with a strong historical value. Its location makes it a desirable place to buy luxury homes or even homes on Alexandria's waterfront. Those who wish to be close to the country's capital for any reason often seek out available homes in Alexandria. It's one of the most prominent locations for luxury homes as a result. Read on to discover some of the most expensive neighborhoods in Alexandria.
Rosemont
Rosemont Amenities
George Washington Masonic National Memorial
Maury Elementary School
George Washington Middle School
TC Williams High School
Rosemont sits between King Street and E. Braddock Rd. along Route 7. Homes in Rosemont maintain an urban touch, with a range of home styles available and prices from $450,000 to $5 million and sometimes more. Most are three- to four-bedroom homes, and single-family homes and townhomes are some of the most common here. The oldest homes were built in the 1930s, though there are newer residences in the area as well.
Alexandria is a treasure of a city, and Rosemont is one of the most convenient areas to live for those that want good access to the region. It's the type of location where it's easy to find tree-lined streets, swings on front porches, and sidewalks around the neighborhood. It's close to the King Street Metro and Braddock Road Metro Stations for those planning to take Alexandria's public transportation into the city. Beach Park is the largest park in the area.
Hollin Hills
Hollin Hills Amenities
Biking distance from Mount Vernon
Hollin Elementary School
West Potomac High School
Carl Sandburg Middle School
Hollin Hills is a densely wooded neighborhood located between Fort Hunt and Belle Haven. Primarily residential, Hollin Hills real estate is recognized for its contemporary architecture throughout. Many of the homes here were built by Charles M. Goodman in the 1940s. However, some newer homes dot the area as well. Hollin Hills is about 10 minutes from the District itself. Many of these homes have ample privacy due to the wooded areas. Home prices range from $560,000 up to $1.5 million or more, depending on the property itself—many of these homes are unique and valued based on those features.
As the community enjoys a park-like setting, each Hollin Hills home benefits from green space. These mid-century modern homes typically have geometric designs and strong angles, and they often sit on a wooded hillside. In 2013, the community was listed on the National Register of Historic Places due to its unique architecture and historical importance. The Hollin Hills Civic Association provides one of the best resources for residents. There are 30 acres of parks, numerous festivals planned throughout the year, and a pool and tennis club available for residents, all managed through this organization. Hollin Meadows Park is another green space for residents.
Old Town
Old Town Amenities
Potomac River
Reagan National Airport (nearby)
Carlyle House Historic Park
Gadsby's Tavern Museum
Jones Point Park
Old Town, widely regarded as one of the best neighborhoods in Alexandria, blends historic charm into an outstanding location near the District. Many of the homes in Old Town Alexandria maintain their Colonial-era charm, especially the townhomes that line the main streets, some of which are cobblestone. A few waterfront condos have gone up in recent years as well, as Old Town sits directly on the Potomac River. There are four quadrants of the community, each with its own flair. The neighborhood is accessible by the King Street Metro. Home values here range from $1.5 to $6.7 million and up.
Old Town provides excellent access to the city's amenities via I-495 and the Washington Beltway. The community itself is home to numerous coffee shops, art galleries, and small boutiques on the Old Town Alexandria Waterfront, mostly locally owned. The Torpedo Factory Art Center is one of the treasures here. Outdoor dining, water taxis, river cruises, and fun shops make this area a fun destination. It is one of the most common areas for Alexandria's festivals and events throughout the year.
Del Ray
Del Ray Amenities
Los Trios Grill
Warwick Village Citizens Association
Swing's Coffee
Goat Hill Park
Mt. Vernon Community School
Mt. Jefferson Park
Located just to the northwest of Old Town, Del Ray is an older, vibrant community. It includes the areas of Saint Elmo, Warwick Village, and Mt. Ida. This neighborhood is a more rural area of the Alexandria community, though it has been developed significantly over the years. It was set out as one of Alexandria's planned communities in 1894 and grew to be a popular streetcar community with electric rail lines. Today, most of the area is home to modest single-family homes and a few of Alexandria's townhomes. Numerous local merchants and small restaurants are present here. Most of the homes in Del Ray have a Cape Cod-style to them, though bungalows are also present here. Home prices range from $795,000 up to $1.5 million.
The Braddock Metro Station allows residents to get into the District in about 10 minutes from Del Ray. Del Ray is also located across from the National Landing, which has become the Amazon HQ2 location. Four Mile Run Park is present, which connects the city to the Old Dominion Trail. Fun coffee shops and a few electric boutiques are present throughout this community. Many events happen here throughout the year, including a Turkey Trot, Holiday Tree Lighting, and the Del Ray Farmers' Market.
Beverly Hills
Beverly Hills Amenities
The Pit at Beverly Park
Monticello Park
Charles Barrett Elementary School
Potomac Yard Center
George Mason Park
Beverly Hills is a quaint neighborhood located in Alexandria between Del Ray and Rosemont. It's mostly home to established streets and midsize homes valued from $800,000 up to $1.5 or more, depending on the property itself. The community has boundaries of West Glebe and Beverly Drive and between Russell Road and Park Fairfax. It's about a 10-minute drive to the National Airport and the Pentagon from Beverly Hills along the metro. There are numerous home styles present, including Colonials, ranches, bungalows, and split-level homes. Many homes in Beverly Hills were built in the mid-1900s and have a moderate amount of land surrounding them.
Much of this community has rolling hills perfect for long walks and sledding, welcoming residents with tree-lined streets and sidewalks in most areas. This neighborhood is nearly fully residential, though shops and restaurants are close by in neighboring communities. Some nearby locations include MOM's Organic Market and the Hops N Shine diner.
Hollindale
Hollindale Amenities
Hollins Meadows Elementary
Hollin Hall Pastry Shop
Village Hardware
Mount Vernon Park Association
Hollindale real estate consists mainly of older, larger homes. Often some of the most stately in the area, these homes were commonly built in the 1950s and earlier. Some areas of Hollindale have been developed since that time, with modern larger homes. It's quite a valuable area, with home prices ranging from $1.5 to $4 million, and sometimes more. Hollindale is close to the George Washington Memorial Parkway. The homes in Hollindale are typically Tudor style, though some colonials and custom estates are also present here. The community has three large subdivisions called Hollin Brook Park, Kirkside, and Hollindale, where most homes are located. The entire region is set on the woodlands that are located just across from the Potomac River. This area used to be Sherwood Dairy Farm before it was purchased and built into a thriving community.
Among Alexandria's luxury homes and historic homes in the area are many parks and other amenities. Paul Springs Stream Valley Park is one of the most prominent here, along with Kirk Park. Many of the shops and amenities here are up and down Route 629. The Civic Association is one of the most important resources in the community, assisting with planning events and working to support the needs of residents in this area.
Seminary Hill
Seminary Hill Amenities
Innova Alexandria Hospital
Francis C. Hammond Middle School
James K. Polk Elementary School
Saint Stephens and Saint Agnes Upper School
The Butterfly House
A larger neighborhood in Alexandria, Seminary Hill has much to offer those who live here. Many people living in this area rent their homes, due in part to the area's proximity to the District. Home prices are a bit more moderate here than in some of the other areas of Alexandria, typically ranging between $450,000 up to $950,000. This neighborhood is just off I-395, which provides good access to the surrounding region. Many of the homes in Seminary Hill are newer, having been built since 2000. There are several older subdivisions and areas as well, as this community has long been in place as a vital part of Alexandria.
Seminary Hill has a range of amenities to offer, including Brookvalley Park and Holmes Run Trail, which are a part of the waterway that runs through the community. Residents can shop at one of several shopping centers and strips in the area, including the Shoppes at Foxchase and Seminary Plaza. Harris Teeter is also located in the area. Being about 10 minutes from downtown DC helps residents gain access to entertainment, history, and so much more.
Fort Hunt
Fort Hunt Amenities
Mt. Vernon Park Association
Waynewood Recreation Association Playground
Village Hardware
River Bend Bistro & Wine Bar
Roseina's Cafe & Wine Shop
Fort Hunt sits on the banks of the Potomac River. Its name comes from the actual fort built in 1897 to help defend Washington DC from naval attacks. Today, the community is far more residential and laid back, the kind of place that it is common to see people spending time outdoors on their porch or walking their dog. The area was also one of the first suburbs in Fairfax County. Homes in the Fort Hunt neighborhood are impressive enough to have home values that range from $675,000 up to $2 million. Most homes here were built between 1970 to 1990 and range from 1,100–7,400 square feet in size.
The George Washington Memorial Parkway runs along the middle of the community, surrounded on either side with green parks and open spaces. Collingwood Park is one of the largest in this area, second only to Fort Hunt Park. There are many hiking paths, picnic areas, and open spaces here. The Paul Spring Branch flows through the westernmost portion of the community.
Finding Just the Right Neighborhood in Alexandria
Any of the communities in Alexandria can be well worth a closer look for those who wish to live close to Washington, DC, and the surrounding area. From waterfront homes to homes with historic charm, those who move to Alexandria have ample opportunity to find their dream home.