Alexandria Walkable Neighborhoods: Steps to Shops & Metro Stations in Alexandria, VA
Posted by David Rainey and Sallie McBrien on Tuesday, November 9, 2021 at 9:54 AM
By David Rainey and Sallie McBrien / November 9, 2021
Comment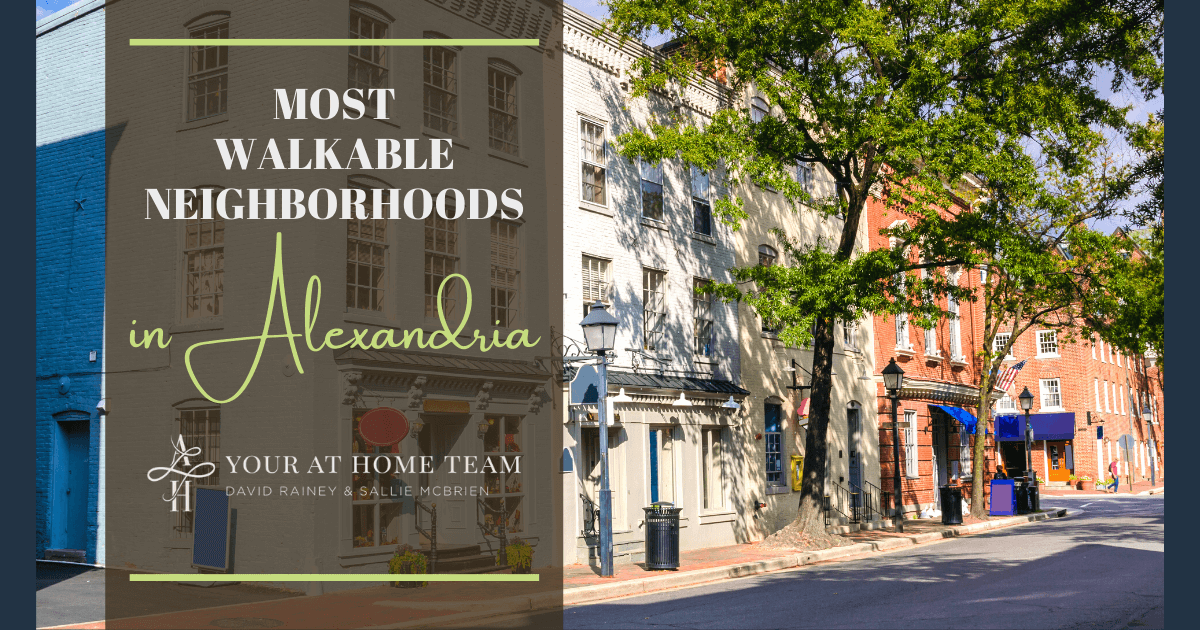 Walk Friendly Communities has recognized Alexandria, Virginia, as a silver-level walk-friendly city because of the amount of city staff time devoted to improving conditions for pedestrians and bicyclists. Walk Score ranks it as a highly walkable city. Alexandria also has sidewalk policies and multi-modal transportation options. It has a Safe Routes to School program that promotes walking to school and several other programs that encourage a citywide walking culture. What more could one want in a walk-friendly city?
If you're looking for the perfect Alexandria real estate, keep reading for a guide to some of the most walkable neighborhoods in Alexandria.
Southwest Quadrant
Southwest Quadrant Amenities
Within walking distance of subway, bus, and trolley
Recreational opportunities, including the Nannie J. Lee Memorial Recreation Center
Bikable as well as walkable
Proximity to the city's most vibrant street with bars, restaurants, and shops
The Mount Vernon trail runs along the neighborhood's edge
The Southwest Quadrant is a small neighborhood to the south and west of historic Old Town. It is two blocks from King Street, the city's main street. On King Street, residents can find various boutiques and eateries. One is the Majestic, offering a bistro-style menu in a refurbished storefront. Another is the Light Horse, which also offers live music on its second floor. Various boutiques sell home goods, clothing, do-it-yourself supplies, books, and antiques, and just off King on Union, Old Town Books engages the community through book clubs and special events. Pacer's Running, also on King, is a longstanding favorite store for athletic shoes and accessories.
The neighborhood is also about a 20-minute walk from the Potomac River waterfront and Jones Point Park, featuring playgrounds, fishing, basketball courts, and multi-use fields. It is a 10-minute walk to the King Street Metro, which provides access to downtown Washington, D.C.
Housing types are primarily historic and modern row homes, townhomes, and condos. A typical size is about 1,900 square feet, although homes of all sizes are available. Prices range from about $500,000 to more than $2 million.
Old Town
Old Town Amenities
Multi-modal public transportation, including bus, subway, and trolley.
Variety of summer festivals and activities, especially along the waterfront
Several waterfront parks, many with boat docks
A portion of the Mount Vernon Trail in the neighborhood
A plethora of restaurants, shops, and recreational options within the neighborhood
A longstanding member of Alexandria's most popular neighborhoods, Old Town was founded in 1749 and was a port city under Colonial and U.S. rule. Historic landmarks include Christ Church, where George Washington worshipped, the Lee-Fendall house, the childhood home of Confederate General Robert E. Lee, and the Torpedo Factory Art Studio. Homes for sale in Old Town Alexandria are along the Potomac River in the eastern and southeastern part of the city. Market Square, located in the center of Old Town and founded in 1753, is considered one of the oldest operating marketplaces in the United States.
The neighborhood is laid out on a grid plan with sidewalks throughout the community. It is known for its colorful row houses, some on streets with cobblestone walks. The neighborhood also has newer condos and townhomes, as well. Some homes are along the river. The average price is about $1 million.
Old Town is the heart of the city, and quaint shops, pubs, and eateries are plentiful. Blackwall Hitch is a waterfront restaurant that uses locally sourced ingredients. The Union Street Public House is a neighborhood staple, offering a whiskey bar with 20 selections, an extensive collection of beers and wines, and a varied Southern American menu. Grocery shoppers can choose from various stores ranging from specialty stores such as Balducci's Gourmet Market to The Spice and Tea Exchange to national favorites such as Whole Foods Market and Trader Joe's.
Del Ray
Del Ray Amenities
Vibrant main street retail district
Accessible to multi-modal public transportation
Several parks with recreational facilities and a local dog park
Colorful murals on buildings
Recreation centers, including the Mount Vernon Recreation Center and the YMCA
Homes for sale in Del Ray are northwest of Old Town and comprise several communities, including Warwick Village, Saint Elmo, Hume, and Mount Ida. It was founded in 1894 as a planned community and is known for its early 20th-century architecture. Mount Vernon Avenue is the neighborhood's main street and features an eclectic collection of boutiques and restaurants. St. Elmo's Coffee Pub is a neighborhood staple, as is the Evening Star Café, which features Southern cooking served diner-style on the first floor and live music on the second floor. The Avenue, as Mount Vernon Avenue is called, is also the home of a popular year-round Farmer's Market and several annual community festivals such as Arts on the Avenue.
Del Ray is laid out on a grid and has a small-town feel despite being only a few miles from Washington, D.C. It consists mainly of single-family homes in various styles, from bungalow to Cape Cod to Sears Roebuck kit homes. A few new condos and townhomes are available. The average price in the neighborhood is about $800,000.
Braddock Road Metro
Braddock Road Metro Amenities
Access to the subway and other public transportation
Open space, including picnic tables, a Bocce court, and a bike-share dock
Within walking distance to Old Town shops and restaurants
Within walking distance to waterfront parks
The Braddock Road Metro or simply Braddock neighborhood gets its name from the Metro station within its borders. It is a densely populated area situated between Old Town and Old Town North. The road dates back to the days of Native American footpaths; colonists made it a wagon route in the 1700s. Walk Score crowns it the most walkable neighborhood in Alexandria, with an astounding score of 90.
Prospective residents can find homes of various styles, including those built in the early 1800s, Victorian-age homes, Craftsmen-style homes, Colonial Revivals, Cape Cods, and contemporary styles. Housing types are single-family homes, townhomes, lofts, and flats. Prices range from the $300,000s for condos to more than $1 million for upscale larger homes.
The area has an urban feel and urban energy. Neighborhood restaurants include Lena's Wood Fired Pizza and Tap, Bastille Brasserie and Bar, and Dos Amigos, which provides burgers and Tex-Mex fare. It is within walking distance of Trader Joe's.
Rosemont
Rosemont Amenities
Within walking distance of a subway stop and with walking access to other public transportation
Parks including Hoofs Run Park within the neighborhood and within walking distance
A showcase of early 20th-century architectural style
Bike-friendly, as well as walk-friendly
The community of Rosemont is located west of Old Town, dates back to 1918. This upscale Alexandria neighborhood was the city's first planned residential expansion, named in honor of the Philadelphia, PA, community of the same name. It extends from the George Washington Masonic National Memorial to Del Ray and was intended to be a streetcar suburb. Its historic district is on the National Register of Historic Places.
Most homes for sale in Rosemont are mid-sized homes, including townhomes, bungalows, and Colonials. The average price is about $950,000. The Rosemont community features tree-lined streets and is away from the hustle and bustle of other areas of the city but still close to services.
Although the neighborhood is primarily residential, it is adjacent to upper King Street, the city's main thoroughfare. The Grape and Bean, an independently owned store that sells wine, beer, and coffee, is within the neighborhood. Restaurants, bars, and grocery stores are all within walking distance of this neighborhood. Theismann's is an upscale pub that has been in business since 1975. Another is Caprese, a Mediterranean grill that is inside an Embassy Suites hotel. Whole Foods Market also is within walking distance.
Arlandria
Arlandria Amenities
Four Mile Run Park
Access to the Washington Old Dominion Trail
Access to bus line; subway stop under construction within walking distance
A Latin festival held annually in Four Mile Run Park
Arlandria is in the northeast section of the city along its border with Arlington County on the north and the Del Ray neighborhood on the south. Its name is a portmanteau of Alexandria and Arlington. This community developed in the mid-20th century to meet the housing demands of federal workers. The Birchmere, billed as America's Legendary Music Hall, is in the neighborhood.
The neighborhood primarily features condos, co-ops, and townhomes with some single-family homes. The average price is about $600,000.
Shopping is available at the Arlandria Shopping Center, including a MOM's Organic Market and several other shops. The Four Mile Run Farmer's Market offers fresh produce and an artisan's market in the summer. Restaurants such as Hops N Shine and Silpancho's House are in the neighborhood along Mount Vernon Avenue, the neighborhood's main street.
Cameron Station
Cameron Station Amenities
Parks and Backlick Run, which borders the neighborhood
Cameron Club, which includes a fitness center and outdoor pool
Bike paths bordering the community
Public bus transportation within the neighborhood
Cameron Station is a master-planned community in West Alexandria. Borders are Duke Street on the north and city parks on the other borders. The community dates back to 1999, and construction was completed in 2007. It was built on the top of a former Army installation, and many streets in the neighborhood carry the names of people associated with the military structure.
Cameron Station real estate features Colonial-style single-family homes, townhomes, and condos primarily along streets with brick sidewalks and Colonial-style lamps. The prices range from about $340,000 to about $1.2 million.
The neighborhood contains a small retail and commercial area, including shops and services and restaurants such as IndoChen and the Cameron Café. The West End Farmer's Market takes place April through November in bordering Ben Brenman Park.
Eisenhower East
Eisenhower East
Parks, including Cameron Run Park
Subway stop and bus access within the neighborhood; another subway stop within walking distance
Adjacent to Old Town, but with a modern feel
The Eisenhower Valley East is the contemporary counterpart of the city's Old Town, featuring various modern businesses and organizations, including the U.S. Patent and Trademark Office. The area was initially called Cameron Valley, but it is now named for Eisenhower Avenue, which runs through it. Eisenhower East also includes the neighborhood of Carlyle.
The rapidly growing neighborhood includes the African American Heritage Memorial Park, which contains sculptures by Savannah artist Jerome Meadows and the National Inventors Hall of Fame. Most of the retail revolves around Carlyle and the Hoffmann Town Center, which includes grocery stores, restaurants, and a multiplex cinema. Lost Boy Cider in Carlyle is Northern Virginia's first urban cidery. Live jazz is played nightly at Laporta's Restaurant in Carlyle. Outdoor movies, holiday markets, and other events take place in Carlyle's Dulany Gardens. The Whole Foods Market is also within walking distance.
Housing types are mostly townhomes and condos, many with modern amenities. They range from about $500,000 to $1.1 million.
Exploring Alexandria By Foot
Those who like to complete most of their errands without a car will find Alexandria to be a paradise. They can choose to live in neighborhoods with modern townhomes and condos or in those with historic houses. Wherever they choose to live, they'll find shopping, eating, and entertainment nearby, and those who want to use public transportation will find easy access to Washington DC via Metrorail or bus.