6 Things to Know Before Relocating to Fort McNair Army Base: BAH, Cost of Living & Housing
Posted by David Rainey and Sallie McBrien on Monday, March 20, 2023 at 12:53:09 PM
By David Rainey and Sallie McBrien / March 20, 2023
Comment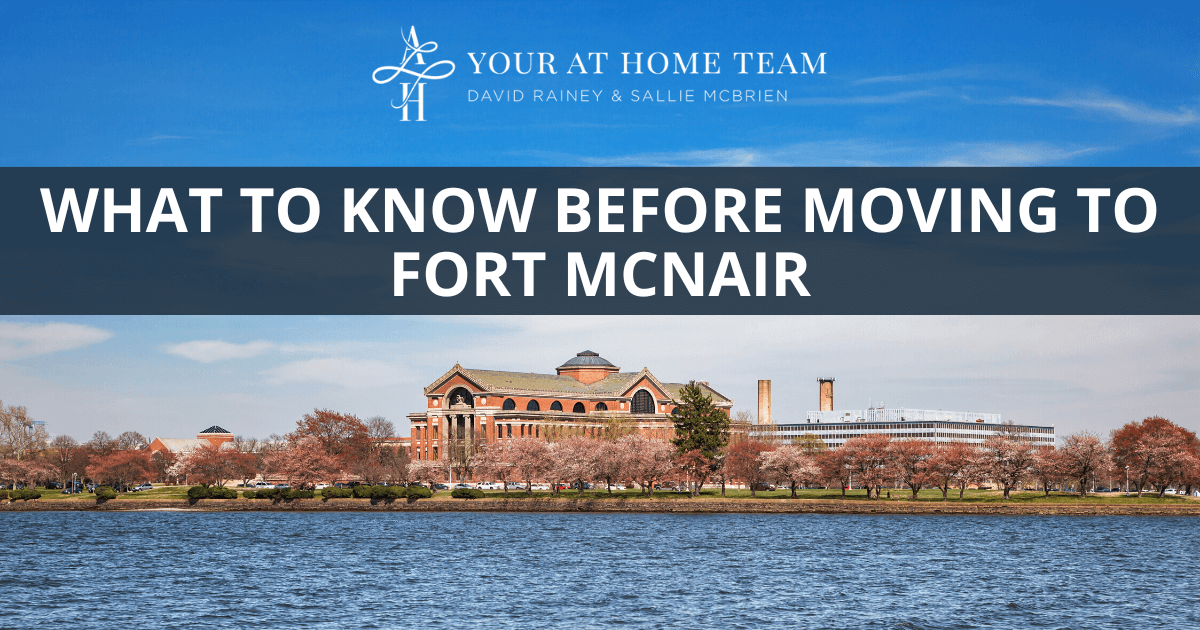 Are you preparing to relocate to Fort McNair? Perched at the end of Greenleaf Point, the installation is just across the river from the city of Arlington. This army base has been active since 1791, making it the third-oldest of its kind in the U.S. It has much to offer service members who are either beginning or advancing their careers in the military, with plenty of on-base amenities and things to do in the area. But what is a move Fort McNair really like? Learn about the cost of living, housing availability (including BAH rates), and local school information so that you can enjoy a smooth transition to your new post.
Fort McNair BAH (2023)
When setting BAH rates, the Department of Defense (DOD) considers local housing costs, average utility expenses, and other location-based factors. BAH rates are then adjusted per the service member's geographic duty location, rank, and whether they're PCSing with or without dependents. Service members living in Northern Virginia enjoy some of the highest housing allowances in the country.
All data is provided by the Department of Defense as of January 2023. Rates are subject to change.
| | | |
| --- | --- | --- |
| Pay Grade | With Dependents | W/O Dependents |
| E1 | $2655.00 | $2124.00 |
| E2 | $2655.00 | $2124.00 |
| E3 | $2655.00 | $2124.00 |
| E4 | $2655.00 | $2124.00 |
| E5 | $2658.00 | $2469.00 |
| E6 | $3075.00 | $2655.00 |
| E7 | $3162.00 | $2676.00 |
| E8 | $3255.00 | $2739.00 |
| E9 | $3408.00 | $2862.00 |
| W01 | $3096.00 | $2673.00 |
| W02 | $3204.00 | $2736.00 |
| W03 | $3315.00 | $2874.00 |
| W04 | $3447.00 | $3096.00 |
| W05 | $3600.00 | $3183.00 |
| O01E | $3177.00 | $2682.00 |
| O02E | $3297.00 | $2835.00 |
| O03E | $3465.00 | $3069.00 |
| O01 | $2706.00 | $2652.00 |
| O02 | $3072.00 | $2679.00 |
| O03 | $3312.00 | $2922.00 |
| O04 | $3654.00 | $3159.00 |
| O05 | $3897.00 | $3216.00 |
| O06 | $3933.00 | $3300.00 |
| O07 | $3963.00 | $3354.00 |
The DOD may adjust these rates each December for the upcoming year. While raises are usually in the cards for troops (given inflation and the rising cost of living), there's a slight probability that service members could experience a decrease in allowance. However, members are typically "grandfathered" in at the initial rate they received when PCSing to the base, so they can expect the new rate to be no lower than the amount they were initially given.
Fort McNair Cost of Living
The cost of living in the Fort McNair area is slightly higher than the national average. Among the most significant contributors to this difference are housing, goods, and services costs. Rental prices in the vicinity range from $1,500 to $4,000 per month, depending on size, amenities, and location. The real estate market outside the base is also competitive, with prices that start around $400,000 and span upwards of $4 million. The median home price in Northern Virginia usually stays above national averages. Still, there are opportunities to save money by moving to towns with the lowest property taxes and most affordable houses.
Other cost-of-living considerations include the area's groceries, transportation, and entertainment prices, which are similar to many of Alexandria's living expenses. Each is typically higher in Fort McNair than the national average. Prices tend to be 15% higher than the national average for groceries, 24% higher for transportation, and 48% higher for shopping, dining, and access to nearby attractions.
Fort McNair Housing: On-Base Options, Off-Base Neighborhoods & Nearby Cities
Fort McNair doesn't provide on-base housing, but PCSing members and their families can look for homes on-site at Joint Base Anacostia-Bolling. The base is about three miles southeast of Fort McNair and offers a range of floor plans. Hunt Military Communities is the housing provider for the Anacostia-Bolling installation, helping service members and their families find suitable on-base townhomes and single-family residences.
Off-base housing options can be found in many of the best neighborhoods in Northern Virginia. Home prices here command between $500,000 to upwards of $1 million, with condos and row homes making up the majority of listings in these areas.
PCSing members looking for more affordable homes near Fort McNair should consider nearby communities like the city of Alexandria, the city of Arlington, and Mount Vernon. Detached single-family properties and townhomes in these locations may be listed on the market between $400,000 and $800,000. Alexandria and Arlington are about 10 miles southwest of the base and typically take fewer than 25 minutes to arrive by car. Mount Vernon is slightly further out, coming in at about 40 minutes in moderate traffic.
Schools Near Fort McNair
There are no on-base schools at Fort McNair, but several nearby districts offer ample schools in convenient locations. Off-base students generally attend public schools zoned for their homes. The two most accessible districts are the Arlington County and District of Columbia public school systems, enrolling approximately 28,000 and 50,000 students, respectively.
A few schools in the Arlington district include Nottingham Elementary, Williamsburg Middle School, and Yorktown High School. The D.C. district offers Janney Elementary, Jefferson Middle School Academy, and Benjamin Banneker High School, among other options. Both districts provide STEM and magnet programs with specialized visual and performing arts instruction. Nearby schools in Alexandria offer everything from public grade schools to higher learning institutions.
Dependents living on base at Joint Base Anacostia-Bolling may attend schools in the D.C. district. These include nearby Patterson and Malcolm X elementary schools. The only on-base option is LEARN D.C. School, part of the LEARN Charter School Network headquartered in Chicago, IL.
Other public school districts in the Washington D.C. metro area include Montgomery County (M.D.) and Fairfax County (V.A.). Private school options near Fort McNair include Capitol Hill Day School, St. Albans School, and Waterfront Academy. These institutions serve students from pre-kindergarten through 12th grade, with tuition typically ranging from $15,000 to $35,000 per school year.
The School Liaison Officer based near Fort Myer provides school support services for installations at Fort McNair. For additional information, PCSing members may contact the Fort Myer SLO at (703) 696-3817.
On-Base Amenities
Fort McNair features a variety of on-base amenities and services, including medical facilities, dental care, dry cleaning, and a commissary. The on-base fitness center is open 24 hours a day, seven days a week, and offers personal training, racquetball courts, weights, and cardio equipment. It also has two saunas, lockers, and showers.
Service members may also take advantage of leisure activities such as bowling and community events throughout the year. A beauty and barber shop are also located within the gates.
Additional services, programs, and on-base amenities include:
Library
Chapels
Exchanges
Youth Programs
Legal Services
Veterinary Services
Loan Closet
Family Center
Military Clothing Sales
Automotive Services
Spouse Education, Careers, and Training
Additionally, military personnel and their families can utilize Fort McNair's 24-hour helpline, family advocacy programs, and financial counseling services.
Nearby Attractions and Things to Do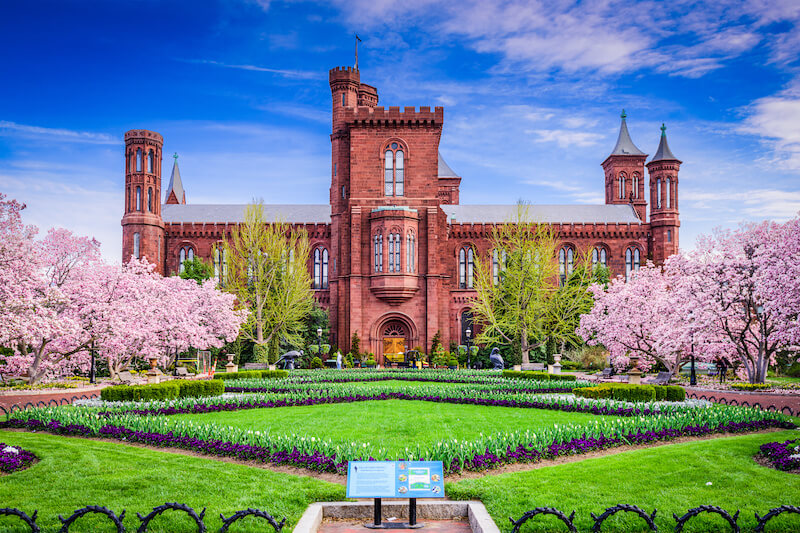 The Fort McNair area has no shortage of world-class attractions and entertainment, from the Smithsonian Museums to the Cherry Blossom Festival that takes place every spring. Nature enthusiasts will appreciate Prince William Forest Park and Great Falls Park, where visitors can camp, hike, and picnic across acres of wilderness. The metro area is also home to several Par 3 (9-hole) golf courses, plus Army Navy Country Club championship layouts. Other notable green spaces include the U.S. Botanic Garden, the National Arboretum, and East Potomac Golf Links. Additionally, George Washington's estate, Mount Vernon, is a short drive away.
Popular venues near the White House include the National Gallery of Art and Capital One Arena, where concerts, sports, and other mainstream events occur throughout the year. D.C.'s cultural scene also includes world-renowned performing arts venues such as the Kennedy Center and 9:30 Club. Other activities can be found at The National Mall, including visits to the Lincoln Memorial, Washington Monument, and Constitution Gardens. The mall also hosts several festivals and events throughout the year.
For nightlife, PCSing members of the Fort Mcnair area can access craft breweries, nightclubs, music venues, movie theaters, and more. The historic Georgetown district is home to popular local shops, restaurants, and bars, and the nearby Adams Morgan district also offers a mix of late-night hotspots and entertainment.
The most popular things to do closest to Fort McNair include kayak rentals at Ballpark Boathouse, meals at Ambar Capitol Hill, ball games at Nationals Park, and recreational activities at King Greenleaf Center. With Arlington attractions and access to all the fun things to do in Alexandria, it's hard to find a dull moment when you live near Fort McNair.
Are You Ready to Relocate to Fort McNair?
PCSing to the nation's capital is exciting for military personnel and their families. By understanding Fort McNair BAH rates, housing options, nearby schools, and the overall cost of living, PCSing members can budget accordingly and begin to make arrangements ahead of time.
Fortunately, the installation provides abundant on-site amenities and services to make life more comfortable, while the Washington D.C. area will keep everyone entertained. With the proper preparation, service members can look forward to a successful transition to Fort McNair.