Moving to Andrews Air Force Base: Learn About BAH & Housing Before a PCS Move
Posted by David Rainey and Sallie McBrien on Wednesday, May 24, 2023 at 12:06:32 PM
By David Rainey and Sallie McBrien / May 24, 2023
Comment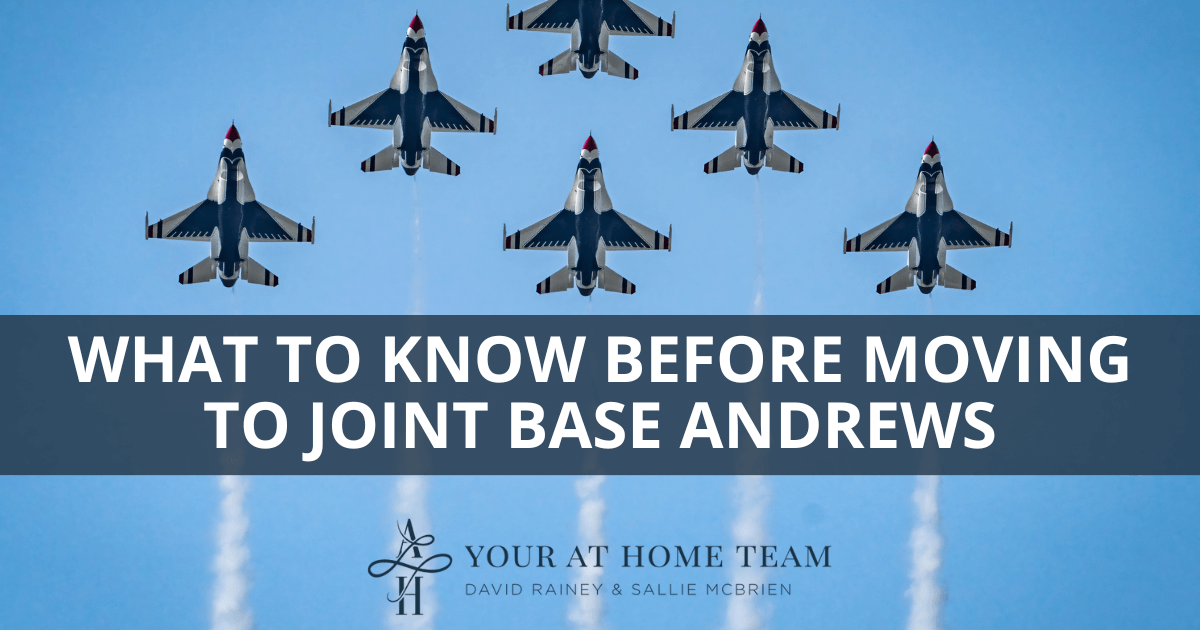 Joint Base Andrews is a military installation located in Maryland, just a short drive from Washington, D.C. For military personnel and their families relocating to the area, it's essential to know what to expect before moving. There are many points to consider, from the local housing market and school options for children to healthcare facilities and recreational activities. Researching all of this is critical to avoiding the biggest mistakes military and veteran homebuyers make.
By understanding the unique characteristics of the Joint Base Andrews area and what to expect upon arrival, military personnel and their families can better prepare for their transition and make informed decisions about their new home.
Andrews AFB BAH (2023)
The BAH rates at Joint Base Andrews range from $2,100 to $4,000 depending on rank and whether the service member is PCSing with dependents. Enlisted personnel generally receive a lower rate than officers who have served longer.
The Department of Defense updates Joint Base Andrews' BAH annually, with adjustments based on the local rental market for that area. These changes occur in mid-December each year and are effective on January 1st of the following year.
| | | |
| --- | --- | --- |
| Pay Grade | With Dependents | W/O Dependents |
| E1 | $2655.00 | $2124.00 |
| E2 | $2655.00 | $2124.00 |
| E3 | $2655.00 | $2124.00 |
| E4 | $2655.00 | $2124.00 |
| E5 | $2658.00 | $2469.00 |
| E6 | $3075.00 | $2655.00 |
| E7 | $3162.00 | $2676.00 |
| E8 | $3255.00 | $2739.00 |
| E9 | $3408.00 | $2862.00 |
| W01 | $3096.00 | $2673.00 |
| W02 | $3204.00 | $2736.00 |
| W03 | $3315.00 | $2874.00 |
| W04 | $3447.00 | $3096.00 |
| W05 | $3600.00 | $3183.00 |
| O01E | $3177.00 | $2682.00 |
| O02E | $3297.00 | $2835.00 |
| O03E | $3465.00 | $3069.00 |
| O01 | $2706.00 | $2652.00 |
| O02 | $3072.00 | $2679.00 |
| O03 | $3312.00 | $2922.00 |
| O04 | $3654.00 | $3159.00 |
| O05 | $3897.00 | $3216.00 |
| O06 | $3933.00 | $3300.00 |
| O07 | $3963.00 | $3354.00 |
Andrews AFB Cost of Living
Based on a cost of living index of 100, the general cost of living in Andrews Air Force Base is about 115. This means that prices for goods and services are roughly 15% higher than the national average.
Regarding housing, the median home price in Prince George's County is approximately $397,000, which is also slightly higher than the national average. However, condos and townhomes within a one-mile radius of the base may be listed on the market starting at around $200,000 for a three-bedroom unit. Many military members relocating to the Andrews AFB end up moving to Northern Virginia; the cost of housing there is typically a bit higher, but studio condos for sale in Alexandria list from just under $200,000.
A typical price range for homes for sale near Andrews AFB is between $400,000 and $900,000 for four bedrooms or more, with stately properties closer to the $1 million mark. For four-plus bedroom homes in Arlington, expect to pay from the mid-$600s and up.
Rental prices near Andrews AFB range widely depending on the unit type, location, and amenities. Two-bedroom apartments and townhomes in nearby Maryland communities like Waldorf, Bowie, and Fort Washington may be listed for around $2,000 monthly. Detached, single-family homes for rent near the base are typically priced between $2,500 and $5,500 per month. These homes offer large indoor and outdoor living spaces, sprawling yards, and multiple garages.
After housing, the most expensive costs include transportation, groceries, and utilities. Gas prices in Maryland fluctuate but generally fall between $3 and $4 per gallon. Groceries will also vary depending on dietary needs and brand preferences, but a typical grocery bill for a family of four averages around $175 per week. Electricity prices in Maryland are estimated at $0.14 per kWh, with the average monthly bill costing about $125.
Andrews AFB Housing: On-Base Options, Off-Base Neighborhoods & Nearby Cities
On-base housing at Joint Base Andrews is privatized through Liberty Park Communities, which offers accommodation based on availability, rank, and family size. Liberty Park at Andrews comprises several complexes, including single-family homes, and provides a variety of two-, three-, and four-bedroom floor plans. Service members normally sign a one-year lease agreement and allocate a portion of their BAH to cover rent and utilities.
Off-base housing options near Andrews AFB range from moderately priced townhouses and apartments to luxurious single-family homes. Popular neighborhoods near the base include Hillcrest Heights, Temple Hills, and Oxon Hill by the Potomac River. Situated roughly 15 minutes away by car, these communities offer easy access to the base and the convenience of being close to neighborhood amenities like grocery stores, shopping malls, restaurants, parks, and schools.
Additionally, homebuyers can find sizable single-family homes for sale near Joint Base Andrews with large yards and plenty of living space in communities like Fairwood, Cheverly, and Brock Hall. These neighborhoods are known for their green spaces and proximity to major roadways such as I-495, Suitland Parkway, and Pennsylvania Avenue. Service members living off-base in neighborhoods north of Andrews AFB, such as Capitol Heights and Suitland-Silver Hill, can access the Washington Metro. The metro system offers connections to downtown D.C. and several other destinations in the National Capital Region.
Schools Near Andrews AFB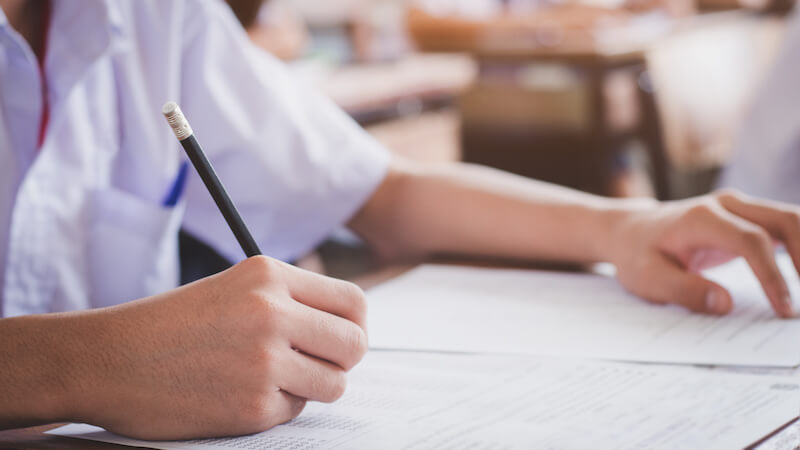 Military families have several educational options, with three public schools near Joint Base Andrews, plus Imagine Andrews Public Charter School. The public schools zoned for students residing on base are Francis T. Evans Elementary School, Stephen Decatur Middle School, and Dr. Henry A. Wise Jr. High School. All three are part of the Prince George's County Public School System. The system offers Advanced Placement, Dual Enrollment, and International Baccalaureate courses for college-bound students. It also provides Career Technical Education programs such as Health and Bio Sciences, Graphic Arts, and Information Technology.
Military service members moving to the area around Joint Base Andrews frequently choose among the best places to live in Northern Virginia. For those with families, the schools in Alexandria or Arlington can be a major factor in the decision-making process.
Most private schools near Andrews AFB are denominational, with yearly tuition ranging from $8,000 to $15,000 per student. These include Excellence Christian School, Rock Creek Christian Academy, and St. Mary of the Assumption School. Private non-sectarian schools in the area include The Beddow School in Fort Washington, which is a Montessori Pre-K–Grade 6 school, and Discover Lane, serving grades Pre-K–2 in Waldorf.
The School Liaison Officer at Andrews AFB can provide more information, resources, and assistance with school-related issues for military families.
On-Base Amenities
Joint Base Andrews is home to the JB Andrews Exchange, an on-base shopping center with several retail stores, services, and a food court. The exchange is open from 9:00 a.m. to 7:00 p.m. Monday through Saturday and 9:00 a.m. to 6:00 p.m. on Sundays. In addition to a barber shop and a salon, it also offers a nutrition center and optometry services.
South of the exchange, the Joint Base Andrews Commissary is open from 9:00 a.m. to 9:00 p.m. Monday–Saturday and 8:00 a.m. to 7:00 p.m. on Sundays. Service members and their dependents can shop for reasonably priced fresh produce, meats, and other groceries.
Other on-base amenities include two fitness centers, a childcare center, a library, and a swimming pool. Service members can also access the on-site Malcolm Grow Medical Clinics, which includes a surgery center and a pharmacy. Return-to-fly clearance is also available at the clinic on a walk-in basis.
Apart from the facilities within the base, family campgrounds, equipment rentals, bike paths, walking trails, and playgrounds are also available. Service members can arrange outdoor activities such as team sports and adventure trips through the Andrews AFB Outdoor Recreation program. Golf enthusiasts, meanwhile, can tee off at the Courses at Andrews, which offers two championship 18-hole layouts. If golfers want to venture off-base, the best golf courses near Alexandria and those in Maryland are enough to stay busy all season long.
Nearby Attractions & Things to Do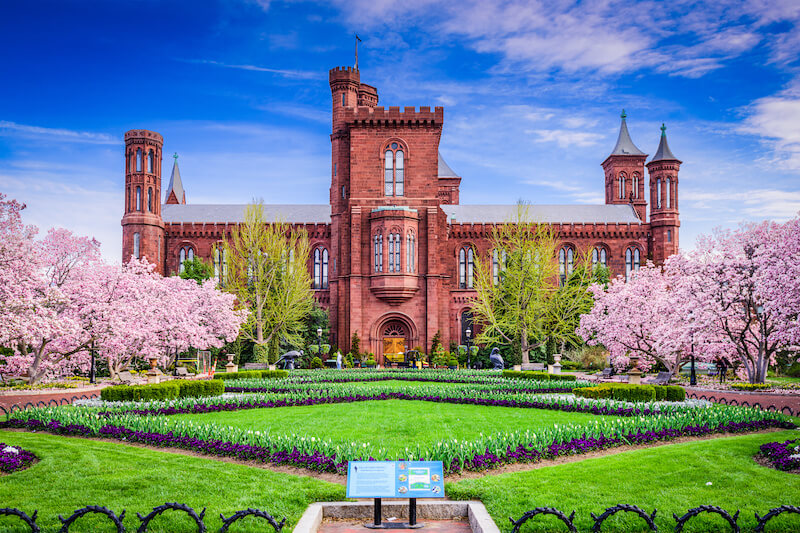 Andrews AFB is close to Washington, D.C., and its many attractions. The National Mall, the Smithsonian Institution, and monuments like the Lincoln Memorial are all within a 30-minute drive from the base. Other highlights in the nation's capital include the National Air and Space Museum, the National Arboretum, and the abundance of fun things to do in Alexandria.
Service members can also take advantage of nearby attractions like Six Flags America in Bowie, Maryland, and National Harbor on the Potomac River. The harbor is home to various restaurants, shops, and the famous Capital Wheel, a 180-foot Ferris wheel offering views of the Potomac.
Closer to the base, service members and their families can attend baseball games at the Bowie Baysox Stadium or watch a movie at the AMC Magic Johnson Capital Center. There's also a wide selection of restaurants and bars, including Hideaway Clinton, Topolino, and Infuse Restaurant. The most popular nearby attractions include MGM Grand Casino, Oxon Cove Park, Marlow Heights Shopping Center, and Henson Creek Golf Course.
Moving to Andrews AFB: The D.C. Metro Awaits
Moving to Joint Base Andrews can be an exciting and rewarding experience for military personnel and their families. By researching and preparing ahead of time, they can ensure a smooth transition to their new home, whether in Northern Virginia's towns with low property taxes or communities in Maryland with affordable housing options. It's essential to take advantage of the resources and support services available and explore the surrounding area. By remembering these tips, military families can make the most of their time at Joint Base Andrews.