Pentagon Relocation Guide: BAH Rates, Nearby Amenities & More
Posted by David Rainey and Sallie McBrien on Wednesday, June 28, 2023 at 10:23:16 AM
By David Rainey and Sallie McBrien / June 28, 2023
Comment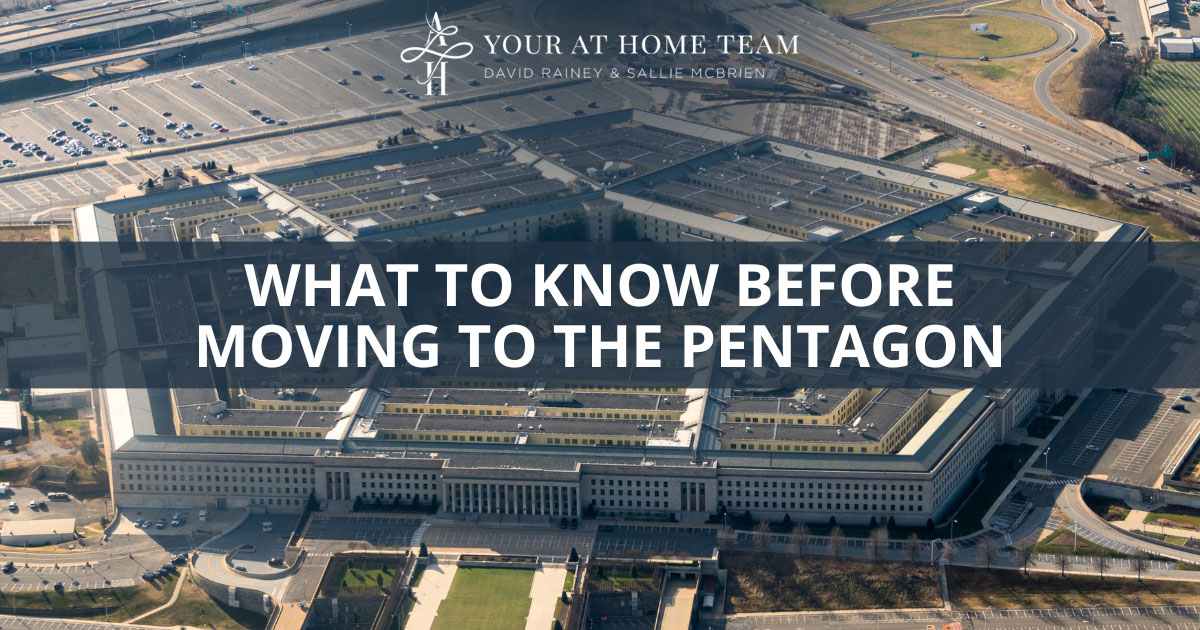 Located just across the Potomac River from Washington, D.C., the Pentagon's strategic location and historical significance make it a magnet for those seeking proximity to government and defense-related opportunities. However, before moving near the Pentagon, there are important factors to consider. From housing options and commute times to nearby military bases and monthly BAHs, it's important to have valuable insights and guidance when relocating to this bustling area.
Pentagon BAH 2023
Monthly BAHs for the Pentagon range from $2,100 to $4,000, depending on the service member's rank and whether they're moving with dependents. Officers typically receive higher BAHs than enlisted personnel, and those with dependents receive more than single service members. For example, a newly enlisted member at the "E1" rank without dependents may receive a monthly BAH of $2,124, while a high-ranking "O7" officer moving with dependents may receive $3,963 monthly.
When setting BAH rates for PCSing personnel, the Department of Defense (DOD) considers local housing costs, average utility expenses, and other location-based factors. The DOD updates the BAHs in December, and the new rates go into effect on January 1st of the following year, so service members should plan and consider their budget accordingly.
| | | |
| --- | --- | --- |
| Pay Grade | With Dependents | W/O Dependents |
| E1 | $2655.00 | $2124.00 |
| E2 | $2655.00 | $2124.00 |
| E3 | $2655.00 | $2124.00 |
| E4 | $2655.00 | $2124.00 |
| E5 | $2658.00 | $2469.00 |
| E6 | $3075.00 | $2655.00 |
| E7 | $3162.00 | $2676.00 |
| E8 | $3255.00 | $2739.00 |
| E9 | $3408.00 | $2862.00 |
| W01 | $3096.00 | $2673.00 |
| W02 | $3204.00 | $2736.00 |
| W03 | $3315.00 | $2874.00 |
| W04 | $3447.00 | $3096.00 |
| W05 | $3600.00 | $3183.00 |
| O01E | $3177.00 | $2682.00 |
| O02E | $3297.00 | $2835.00 |
| O03E | $3465.00 | $3069.00 |
| O01 | $2706.00 | $2652.00 |
| O02 | $3072.00 | $2679.00 |
| O03 | $3312.00 | $2922.00 |
| O04 | $3654.00 | $3159.00 |
| O05 | $3897.00 | $3216.00 |
| O06 | $3933.00 | $3300.00 |
| O07 | $3963.00 | $3354.00 |
Pentagon Cost of Living
The Pentagon is located in Arlington County, in Northern Virginia, commonly known as "NoVa." The cost of living in this region is roughly 48% higher than the national average.
Housing is the most significant contributor to the cost of living in the Pentagon area. Here, prices for most detached single-family homes range from the $500s to $3 million. In contrast, condos and townhomes are more affordably priced, typically starting from the $200s for a one-bedroom unit to $1.5 million for three bedrooms. Those looking to rent an apartment or single-family home should expect to pay between $1,500 and $4,000 per month, depending on the unit's size, amenities, and location.
Transportation, groceries, and dining out also play a significant role in the increased cost of living in the Pentagon. Gas prices in the region hover around $3.50 per gallon, while car insurance rates average around $1,600 per year. Dining out at a mid-range restaurant typically costs between $30 to $40 per meal, excluding drinks and gratuity. Grocery prices and medical fees are also higher by 10% compared to the national average.
Utility costs, however, are 8% lower than the national average. Though the cost of housing, goods, and services in NoVa exceeds the average, the Pentagon area is generally more affordable than other major metros such as Boston, New York, and San Diego.
Pentagon Housing: On-Base Options, Off-Base Neighborhoods & Nearby Cities
There isn't on-base housing at the Pentagon, but service members have several off-base options, such as condos and townhomes near the area's main installations. These include Joint Base Anacostia-Bolling in Washington D.C., Joint Base Myers-Henderson Hall in the Arlington community, and Joint Base Andrews in Prince George's County.
Off-base neighborhoods and places to live near the Pentagon are part of the larger NoVa region. These include Ballston, Clarendon, and Rosslyn in Arlington; Del Ray, Rosemont, and Seminary Hill in the city of Alexandria; and Mantua, Greenbriar, and Vienna in nearby Fairfax County. Regarding commute time, Arlington and Alexandria's neighborhoods are the fastest routes to the Pentagon when traveling by car. It takes approximately 10 and 15 minutes, respectively, in light-to-moderate traffic conditions. On the other hand, the city of Fairfax is about 30 minutes away.
Those who don't mind a longer commute may consider cities like Bethesda, North Potomac, and Silver Spring in Maryland. Depending on the route, these are located 40 to 50 minutes from the Pentagon. Popular among military personnel, they offer many schools, quiet suburban environments, and various housing options. Home prices typically range from the $600s to $1 million, with many properties offering two-car garages and sizable yards.
Schools Near The Pentagon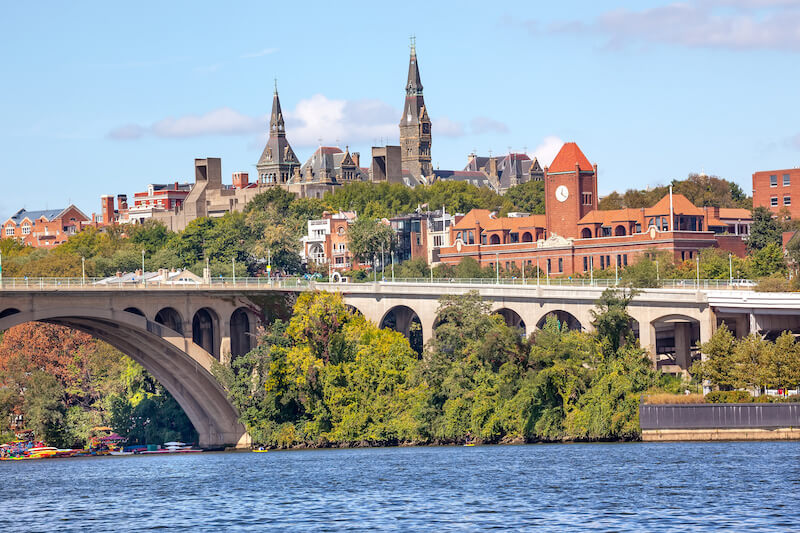 Arlington Public Schools and District of Columbia Public Schools are the largest local districts nearby, enrolling approximately 28,000 and 50,000 students across 41 and 115 schools, respectively. Both districts offer STEM programs, advanced placement courses, and college readiness initiatives.
Schools in Arlington include Nottingham Elementary, Williamsburg Middle School, and Yorktown High School. The D.C. district offers Janney Elementary, Jefferson Middle School Academy, and Benjamin Banneker High School, among other options. Service members can contact the School Liaison Officer at Joint Base Anacostia-Bolling for more information about local schools.
Private options near the Pentagon include Georgetown Day School in D.C.; Congressional School in the city of Falls Church, VA; and Barrie School in Silver Spring, MD. Tuition ranges widely from $15,000 to more than $50,000 per year.
For college students and adults looking to pursue higher education, NoVa is home to renowned institutions like Georgetown University in D.C., George Mason University in Fairfax, and Marymount University in Arlington.
On-Base Amenities
The Pentagon is not a typical military installation, as it has fewer amenities on-site. That said, service members assigned to the office can access the on-site amenities of Joint Base Anacostia-Bolling, Joint Base Myer-Henderson Hall, Andrews AFB, and Fort Belvoir.
The bases mentioned above offer various services, including commissaries and exchange stores, fitness facilities and equipment, swimming pools, bowling alleys, child care centers, and more. JB Anacostia-Bolling, for instance, has all of the above, plus athletic courts and dog parks. Service members can drive 17 minutes east via I-395 from the Pentagon.
Andrews AFB is a little further out, at a 35-minute drive, but it's home to numerous recreation and leisure activities. These include two fitness centers, a library, a pool, and two golf courses. Each course offers 18 holes for a challenging game. Service members can also arrange outdoor activities like team sports and adventure trips through the Andrews AFB Outdoor Recreation program.
Fort Myer-Henderson Hall is the closest base to the Pentagon, just seven minutes away by car. Military personnel and their families can access two exchanges, a commissary, a bowling alley, and a fitness center. There's also a swimming pool, several community rooms, and a few casual restaurants on-site.
Finally, Fort Belvoir is about 30 minutes south of the Pentagon via I-395. It offers an extensive selection of amenities, including an 18-hole golf course, a marina, a gym, a pool, a bowling center, and a skate park. It's also home to Fort Belvoir Community Hospital, providing quality medical care for service members and their families.
Nearby Attractions & Things to Do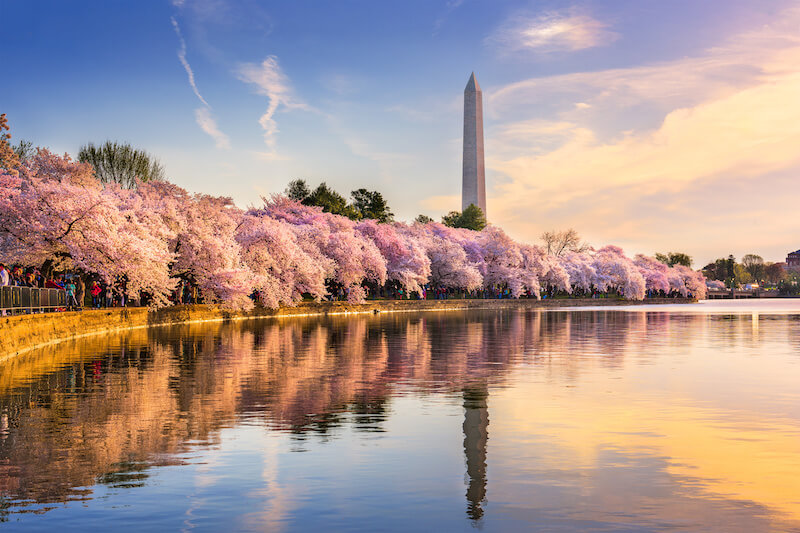 Arlington has no shortage of things to do, from cultural attractions and outdoor activities to nightlife and shopping. Service members can enjoy Northern Virginia's vast green spaces, including Prince William Forest Park and George Washington Memorial Parkway. Avid golfers, meanwhile, can hit the links at Army Navy Country Club, just two miles away from the Pentagon. Other nearby attractions include the Arlington Farmers Market, Ocean Dunes Water Park, and the 17-mile Mount Vernon Trail, offering a scenic route along the Potomac River.
Washington, D.C., just three miles from the Pentagon, has historical sites and world-class attractions. The city is home to the Smithsonian Museums, the National Mall, and the Cherry Blossom Festival, which takes place every spring. Other notable spaces include the U.S. Botanic Garden, the National Arboretum, and East Potomac Golf Links. Additionally, George Washington's estate, Mount Vernon, is a short drive away.
Alexandria is another excellent spot to explore, just six miles south of the Pentagon and offering a vibrant waterfront, plus famous landmarks like the George Washington Masonic National Memorial and Gadsby's Tavern. King Street in Old Town Alexandria is an excellent place to shop, dine, or stroll amid 18th-century architecture. Other highlights include the Torpedo Factory Art Center, 71 working artists' studios, and the Potomac Yard Shopping Center.
Final Considerations for Moving Near the Pentagon
Relocating to the Pentagon requires careful consideration of housing, monthly BAHs, commuting, and the abundant opportunities offered by the Washington, D.C., area. By conducting thorough research about moving to Northern Virginia or D.C., individuals can make an informed decision and embark on a fulfilling experience.