7 Best Northern Virginia Neighborhoods For Mid-Century Modern Homes
Posted by David Rainey and Sallie McBrien on Wednesday, December 21, 2022 at 10:06:37 AM
By David Rainey and Sallie McBrien / December 21, 2022
Comment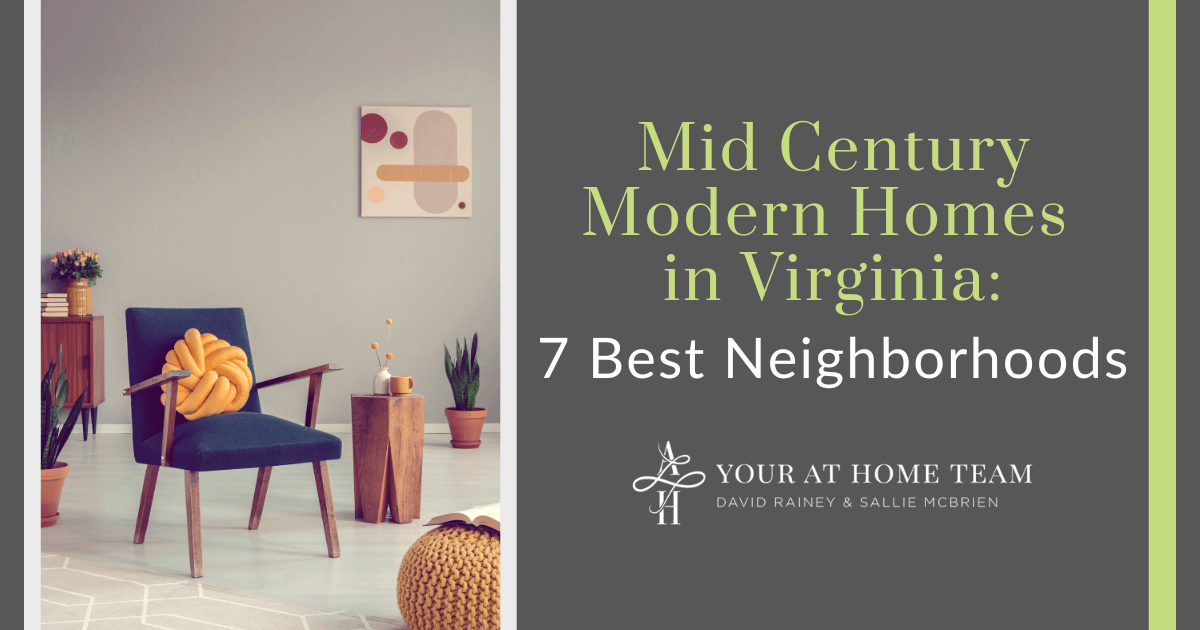 For those moving to Northern Virginia in search of a new home that speaks to their individuality and creativity, a mid-century modern home may be a perfect choice. Influenced by renowned architects like Frank Lloyd Wright and Charles Goodman, the characteristics of mid-century modern architecture are hallmarked by their departure from the traditional stylings of the 1940s. Today, these stunning homes remain a testament to the progressive and futuristic ideals of the late 50s and 60s. It's easy to find mid-century modern homes for sale in Virginia if you know where to look. Here are seven Northern Virginia neighborhoods famous for their mid-century modern homes.
Hollin Hills
The Hollin Hills community stands out in the city of Alexandria because of the contemporary styling and the way the homes meld seamlessly with the landscape. Designed by architect Charles Goodman, whose vision, along with developer Robert Davenport, created a modern community that reflected a natural vibe. The homes were also designed to complement their surroundings, adding a layer of beauty without infringing on the natural environment of the park-like setting the pair envisioned. Instead of sticking out from the canopy of trees, the home seems to float among the trees, enhancing without competing with the wooded hillsides.
Sleek and unassuming exteriors with geometric aesthetics, sloping roofs, and walls of glass windows make a visual statement between single and multi-level homes with a square footage of around 1,100 square feet to 4,400 square feet. Homes vary in size from two to five bedrooms. Some of the homes feature a garage, a flagstone patio, a fire pit, a deck, and a fireplace. The neighborhood has multiple parks and hiking trails, a community swimming pool, and easy access to nearby shopping and dining venues, Old Town Alexandria, Washington, D.C., and the National Harbor convention and entertainment center. Homes for sale in Hollin Hills typically cost between $425,000 to $1,580,000.
Wessynton
Mid-century modern homes for sale in Wessynton are not only beautifully designed but also sitting on a piece of history. The 65 acres where the community resides were previously part of the Mount Vernon estate owned by George Washington. The 156-home community was built in the 1970s, inspired by architect Nicholas A. Pappas. His vision focused on designing homes that fit naturally into the wooded landscape for a feeling of seclusion and privacy. He used subtle earth-tone colors for the exterior to enhance each home's presence while blending in naturally with the landscape.
There are five home designs with open floor plans averaging three to five bedrooms and features like slate flooring, oversized windows, and redwood ceilings. The price range ranges from $500,000 to $1.25 million.
The Mount Vernon community has a variety of amenities maintained by the fees paid annually to the homeowner's association. Residents can access a clubhouse, pool, boat deck, basketball and tennis courts, hiking trails, playground, and a boat launch to Little Hunting Creek for leisurely water activities. The community is less than 20 minutes from the airport and near Mount Vernon, markets, and shopping centers.
Hickory Cluster
Located in the city of Reston, in the Lake Anne region, the Hickory Cluster community features mid-century modern architecture. The townhouse community was designed by architect Charles Goodman and was one of the first neighborhoods of its kind to be built in Reston. The community consists of 90 homes built in 1964. Goodman designed the homes to feature unique vertical and horizontal elements enhanced by the extensive use of windows, specifically designed to afford residents access to more natural light and views of the natural greenspace.
Tall ceilings inside the spacious homes enhance openness, while hardwood floors add a touch of natural beauty. Size-wise, the homes are generally three bedrooms with 3.5 baths and range from 1,680 square feet to 2,560 square feet. The community has policies and procedures regarding parking, the common area, and requests for exterior changes, which the Hickory Cluster Board must approve. The estimated HOA fees are $165 per month. Real estate in Hickory Cluster typically costs between $900,000 and $1,100,000.
Community amenities include an indoor and an outdoor pool, tennis courts, playground, volleyball courts, picnic area, bike rail, jogging, walking path, and lake privileges.
Holmes Run Acres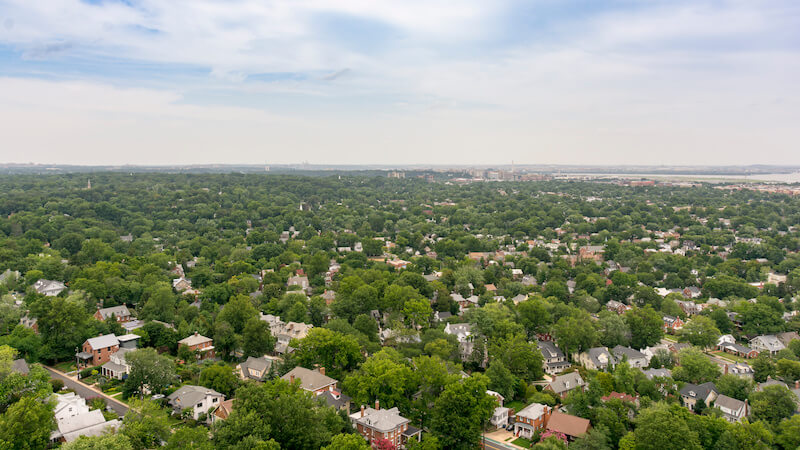 The Holmes Run neighborhood began in 1945 on 122 acres owned by Herman Schmidt. Three builders were involved in the creation, with the architectural team of Francis Donald Lethbridge and Nicholas Satterlee leading the way. The community's mid-century modern homes are one of the largest, with 365 homes, and one of the first to be built in the area.
The home designs are diverse, with open floor plans, exposed wood, and glass windows. There are single, split-level, and tri-level floor plans, some with carports, screened porches, cathedral ceilings, and glazed fireplaces, with homes built with square footage ranging from 864 square feet to over 2,400 square feet. The location of each home is designed to fit in with the hilly and woody terrain. Estimated selling prices range from $650,000 to $2,600,000.
The Holmes Run Recreation Association provides several opportunities for entertainment with the center's three swimming pools, picnic areas with grills, scheduled activities, and hiking trails in a park-like setting. Nearby residents can enjoy Holmes Run Valley Park, Hidden Oaks Nature Center, restaurants, a movie theater, and shopping venues throughout the town of Annandale.
Lake Barcroft
The Lake Barcroft community exudes simplistic elegance combined with a serene atmosphere in the city of Falls Church. Established in the 1950s, the 750-acre parcel was divided into 1,020 lots, now home to more than 1,000 residences. At that time, Colonel Joseph V. Barger and associates purchased Lake Barcroft from Alexandria Water Works. The community was named after Dr. John W. Barcroft and became the first for significant real estate development in the county. While there are Cape Cod, Ramblers, Colonial, and new custom homes in the neighborhood, those interested in mid-century modern will find those, too.
The community consists of detached single-family residences only. Some of the homes offer private boat docks, which makes it convenient to explore the waterways. Lake Barcroft offers a close-knit environment in a lakefront community that has created an oasis away from the hustle and bustle of the big city. Residents have access to the 135-acre lake and its five beaches. Residents can also bring sailboats, pontoons, and electrically powered and self-propelled boats to the lake.
Homes in Lake Barcroft cost between $600,000 and $2 million for three-and four-bedroom estates with square footage ranging from 2,080 to 3,500 square feet. Access to the lake and beaches is for residents' use only and requires payment of dues.
Pine Spring
Falls Church is home to another diverse community of mid-century modern homes in Pine Spring. Several architects influenced the design, starting with one of the first female designers, Chloethiel Woodard Smith, Nicholas Satterlee, Donald Lethbridge, and Arthur Keyes. Lethbridge and Satterlee also worked on developing the Holmes Run Acres community, which also features mid-century modern homes.
Pine Spring features 121 homes, most of which were built in the early 1950s. The neighborhood was established during the post-war progressive period and was one of the earliest in the region. The community continued its growth, adding to its diverse collection of architectural styles in the mid-1960s.
Real estate in Pine Spring includes single-and two-story homes, some with butterfly roofs, cubist styling, creative window patterns, and large expanses of glass walls. During the development period, ranch-style floor plans were introduced along with Craftsman cottage types, non-traditional brick homes, and two-story box-style residences. An example of the price for a three-bedroom home with one bath and 1,066 square feet is $600,000.
Truro
Trurois an exciting community on many levels. Not only for its modern homes but also for the sheer beauty of the community. It is named after Truro Parish, created in 1732 by the Virginia General Assembly. Truro Parish got its name from Cornwall, England's mining district. Many of the street names in Truro reflect historical people and places.
Developed by Miller & Smith, there are 377 homes in Truro. Most are mid-century modern with a smattering of contemporary-style brick Colonial residences. Several mid-century modern homes were designed by the architectural firm Deigert & Yerkes. There are also pod-style houses that architect Hugh Newell Jacobsen designed. Most of the original mid-century modern homes are around 3,800 square feet.
Truro has its own homeowner's association made up of dedicated volunteers. Residents have access to the clubhouse, tennis courts, and swimming pool. Annual dues for homeowners are $210. To use the amenities is an additional $560. Along with events and activities, the community is an outdoor enthusiast's dream come true, with 36 acres of parkland and over a mile of scenic trails.
Timeless, Modern Homes Await in Northern Virginia
Northern Virginia offers a variety of visually appealing neighborhoods that cater to those who prefer creativity and styling that set homes apart from the traditional crowd. Anyone dreaming of living in a piece of history will love shopping for mid-century modern homes in Northern Virginia's best cities. Find your mid-century modern masterpiece today.