Where Are the Lowest Property Taxes in Northern Virginia? 8 Counties & Towns With Low Rates
Posted by David Rainey and Sallie McBrien on Thursday, January 19, 2023 at 2:39:05 PM
By David Rainey and Sallie McBrien / January 19, 2023
Comment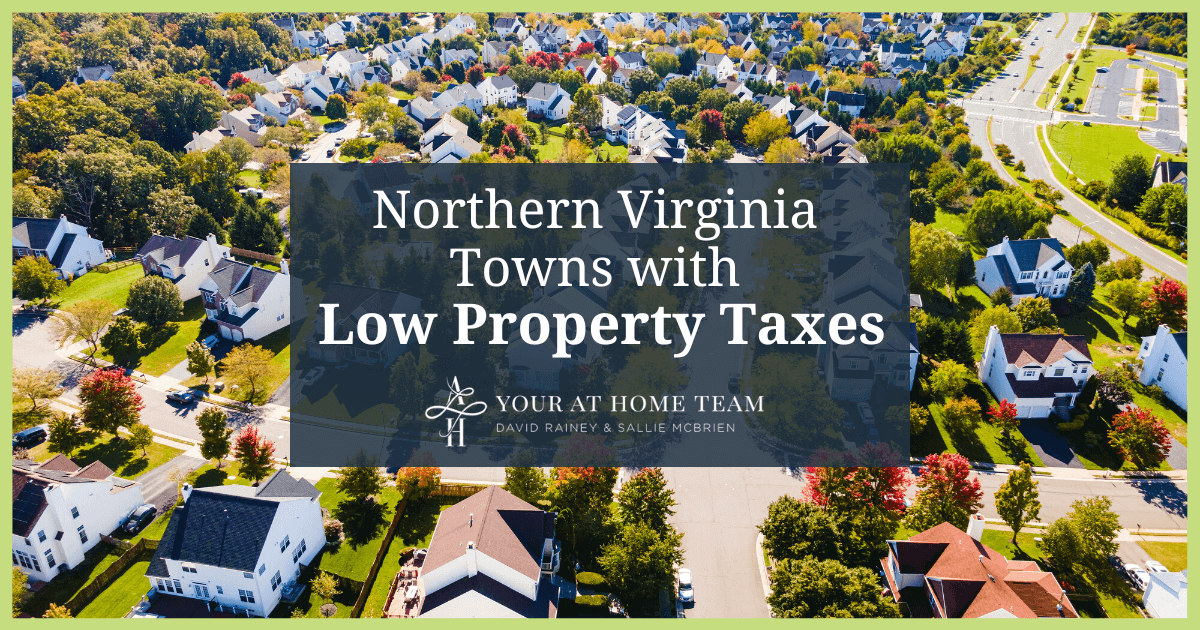 Northern Virginia homebuyers can reap the benefits of knowing where to find the lowest property taxes in the state. This helps homebuyers create accurate budgets, but it also lets them keep more money in their pockets for years after closing on a new home. Lenders consider these tax rates when deciding loan eligibility, so getting savvy about the real estate tax rate in Northern Virginia is an essential part of the home-buying process.
Anyone moving to Northern Virginia can take advantage of this guide on how state and local municipalities levy property taxes; then, we'll delve into the communities with the lowest property taxes in the area!
What to Know About Virginia Personal Property Tax
There are some basics first-time homeowners should know about property taxes, and they can save homebuyers thousands in the long run. The state's Department of Taxation requires local governments to levy taxes on the fair market value of a home. These tax rates vary depending on the county or city where the property is located and are assessed yearly starting on January 1st. The fair market value of residential properties is determined using comparable sales data. Through this procedure, appraisers analyze the sale prices of recently sold homes and adjust these to estimate the market values of unsold homes.
Once a property's assessed value is determined, the average property taxes are calculated by dividing the assessed value by 100 and multiplying it by the applicable rate. For example, if a property's assessed value is $500,000 and that county's average property tax rate is 1.11%, then the property tax due for that year would be $5,550.
Now let's look at the counties and cities in Northern Virginia with the lowest property taxes while also exploring home prices, neighborhood amenities, and more.
Loudoun County: $0.98 Per $100 Assessed Value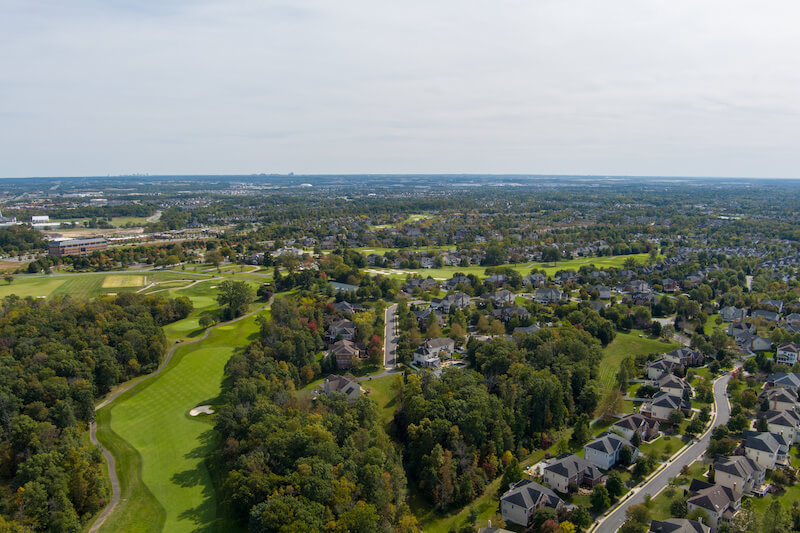 At $0.98 of assessed value in Loudoun County, properties worth $500,000 would see a yearly property tax of $4,900. Housing options range from single-family homes in suburban communities to sprawling farms and estates in more rural areas. Loudoun County condos list from $200,000 for a one-bedroom layout to $800,000 for a new construction residence. In comparison, starter homes in the area average around $400,000, while luxury homes for sale in Loudoun County list for as much as $4 million.
Loudoun is Virginia's third-most populous county, with approximately 420,000 residents. Established in 1757, it was named after John Campbell, Fourth Earl of Loudoun, and was initially settled by Quakers. Today, it includes the cities of Leesburg, which serves as the county seat, and Sterling, where the Washington Dulles International Airport opened in 1962. Residents have access to major roadways, including the Dulles Greenway, connecting I-66 to the airport and Washington D.C. They're also near a bevy of attractions: Wolf Trap National Park for the Performing Arts, Oatlands Historic House and Garden, Village at Leesburg, and Morven Park's historic mansion and equestrian center are all nearby.
Loudoun County Amenities
Belmont Country Club
Stone Tower Winery
Brambleton Sportsplex
Edgar Tillet Memorial Park
Dulles Town Center
Capital One Arena
Loudoun County Transit
Arlington County: $1.013 Per $100 Assessed Value
The property tax rate in Arlington County is $1.013 per $100 assessed value, meaning a home worth $500,000 would pay an annual tax of $5,065. Home prices in the county vary widely depending on the neighborhood, property type, and size. Condos in developed communities like Rosslyn, Court House, and Lyon Park typically list from the $200s to the $900s. Homebuyers in the detached single-family market can expect to pay anywhere from $500,000 to over $2 million in neighborhoods like Crescent Hills, Berkshire Oakwood, and Fairlington.
Arlington County sits on the southern banks of the Potomac River, just across from D.C. It was named after Henry Bennet, Earl of Arlington, who settled in the area in the early 17th century and is now home to more than 230,000 residents. The Washington Metropolitan Area Transit Authority (WMATA) provides commuters with two rail lines, the Orange and Silver lines, connecting commuters to the nation's capital by train. The county is also home to iconic attractions like the U.S. Marine Corps War Memorial and Arlington National Cemetery and significant federal agencies like the Pentagon and the U.S. Armed Forces.
Arlington County Amenities
Army Navy Country Club
Virginia Highlands Park
Fort C.F. Smith
Ronald Reagan National Airport
Arlington Mill Community Center
WMATA Orange, Silver, Blue, and Yellow lines
City of Fairfax: $1.075 Per $100 Assessed Value
The City of Fairfax levies a property tax of $1.075 per $100 assessed value, so a home worth $500,000 would pay an annual tax of $5,375. The city's housing stock is broad and varied, showcasing a mix of single-family homes, townhouses, and condos. Freestanding homes for sale in Fairfax list from $500,000 to $2 million, and condos and townhomes typically fall in the same range. Architectural styles also exhibit a wide variety, from historic colonials with a curb-facing colonnade to contemporary brick-and-mortar townhouses.
Fairfax City, as it's also called, is home to approximately 24,000 residents and serves as the county seat of Fairfax County. Located 20 miles southwest of Washington, D.C., its name comes from Thomas Fairfax, 6th Lord Fairfax of Cameron, whose vast estates were once spread across the area in the early 1700s. The city is served by I-66 and the Fairfax Connector, whose 91 bus routes transport approximately 30,000 passengers daily. Students typically attend Providence Elementary, Lanier Middle School, and Fairfax High School as part of the Fairfax County Public Schools system. For shopping, dining, and entertainment, locals head to Fairfax Corner and Fair Oaks Mall, two of the largest shopping centers in Northern Virginia.
Fairfax Amenities
Van Dyck Park
Amazon Fresh Grocery Store
Trader Joe's
Fairfax Museum
Old Fairfax County Courthouse
Spotlight of the Arts Festival
EagleBank Arena
City of Alexandria: $1.11 Per $100 Assessed Value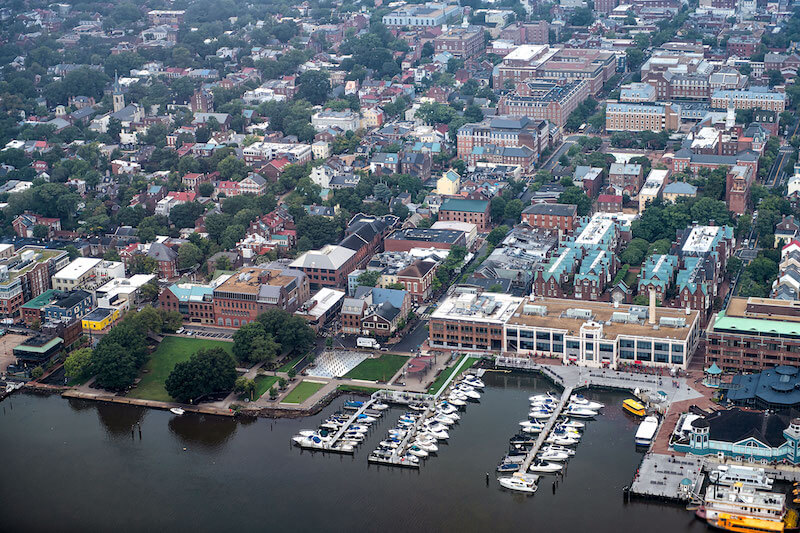 Alexandria's average property tax rate is $1.11 for every $100 assessed value, with a home worth $500,000 paying an annual property tax of $5,550. Homes in Alexandria list from $300,000 to $3 million depending on the neighborhood, property type, and size. Detached single-family homes can be found in the Del Ray, Rosemont, and Seminary Hill neighborhoods, all located west of WMATA's Blue and Yellow lines. East of here, the city's historic district, Old Town, is full of colorful rowhomes and new construction condos, with access to popular attractions like King Street's cobblestoned roads and boutique stores.
There are plenty of things to do in Alexandria, a vibrant waterfront community located just 7 miles south of the nation's capital. Founded in 1749, the city is well known as George Washington's hometown, with many of its historical attractions related to the nation's first president. These include landmarks like the George Washington Masonic National Memorial, Gadsby's Tavern, and Christ Church.
Because of its proximity to Washington, D.C., Alexandria's largest employers are federal agencies like the U.S. Department of Defense, the National Science Foundation, and the Department of Agriculture (USDA). Many Alexandrians take the city's fare-free transit system, DASH, which offers 12 bus routes throughout the city, connecting to the WMATA metro system at four stations. Those who prefer driving in Alexandria must get used to the D.C.-area traffic.
Alexandria Amenities
Old Town Farmer's Market
Founder's Park
Carlyle House Historic Park
Potomac Yard Shopping Center
Torpedo Factory Art Center
The Birchmere Concert Hall
Prince William County: $1.115 Per $100 Assessed Value
In Prince William County, taxes are assessed at a rate of $1.115 for every $100 assessed value, resulting in a property tax bill of $5,575 for a home worth $500,000. Home prices range from $300,000 for a spacious cottage or Craftsman-style home to upwards of $2 million for a luxurious estate. Due to its expansive rural areas, vacant land and lots in Prince William County are also relatively abundant and can be found in Bristow, Westchester, and Buckhall. On the other hand, condos and townhomes in Prince William County are prevalent in communities like Manassas, Dale City, and Gainesville, with prices ranging from $200,000 to $600,000.
Located about 35 miles southwest of Washington, D.C., Prince William County is Virginia's second-largest county by population, with roughly 500,000 residents. Part of the Washington metropolitan area, the county is known for its numerous parks and recreational areas, including Prince William Forest Park, which is the largest protected green space in Northern Virginia. Other attractions include Manassas National Battlefield Park and the historic town of Occoquan, where visitors can explore the town's waterfront and Colonial-era homes. Major employers include the Department of Defense, Sentara Healthcare, and Prince William County Public Schools.
Prince William County Amenities
Marine Corps Base Quantico
Potomac Mills
Leesylvania State Park
Old Town Manassas
Effingham Manor Winery
Stonewall Golf Club
Occoquan Bay National Wildlife Refuge
City of Falls Church: $1.32 Per $100 Assessed Value
At $1.32 per $100 assessed value, the property tax rate for homes in Falls Church is slightly higher than in comparable communities in Northern Virginia. According to the data, a property valued at $500,000 would pay a property tax of $6,600. Property in Falls Church ranges from starter homes to larger luxury residences, with prices ranging from $400,000 to north of $2 million. Affordable options include condos and townhomes in suburban areas like Mosby and Pimmit Hills. Depending on size and location, these typically range in price from $150,000 to $400,000. Architectural styles vary widely, from classic colonials to new construction properties.
Tucked away between Fairfax City and Arlington, the vibrant city of Falls Church is home to over 14,000 residents. It was established around an Episcopalian parish with the same name in the early 1700s, then incorporated as an independent city in the Commonwealth of Virginia in 1948. Its small-town feel and proximity to Washington, D.C., make it a great place to live for commuters who want to escape the hustle and bustle of city life. But that doesn't mean there isn't plenty to do in Falls Church. Residents enjoy a variety of shops, restaurants, parks, and cultural events throughout the year. These include the Falls Church Farmer's Market, State Theatre, Cherry Hill Park, and Dogwood Tavern.
Falls Church Amenities
Tysons Corner Center
Mary Riley Styles Public Library
WMATA Orange and Silver lines
Cherry Hill Farmhouse
Audacious Aleworks Brewery
Town of Herndon: $1.34 Per $100 Assessed Value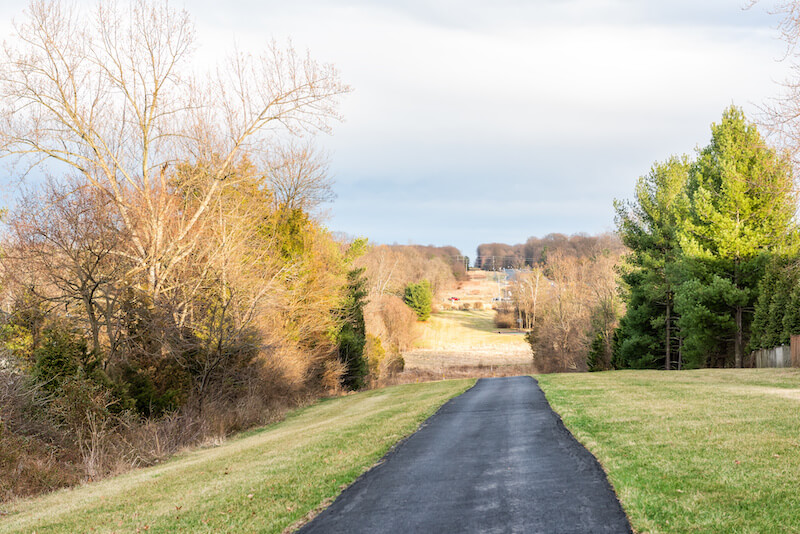 The town of Herndon has a property tax rate of $1.34 per $100 assessed value, coming from the town's $0.265 rate plus the one for Fairfax County. This means a property valued at $500,000 would pay $6,700 in property taxes. Many single-family homes are two-storied and feature cross-gable roofing, front porches, and brick on the front façade. Homes in Herndon list from $600,000 to $1.3 million. Condos and townhomes are also popular, with prices ranging from $300,000 for a two-bedroom floor plan to $600,000 for a four-bedroom layout.
A former hub for dairy farmers, Herndon is now a thriving community of 25,000 residents located just five miles east of Dulles International Airport. Proximity to the airport has made Herndon a prime choice for frequent flyers, with the Dulles Toll Road and U.S. Route 28 also providing quick access to other parts of Northern Virginia. Within the town, residents enjoy a variety of entertainment options, such as Herndon Centennial Golf Course, Trailside Park, and a downtown area with shops and restaurants surrounding Elden Street. The town is also part of the Dulles Technology Corridor, with several tech companies like ePlus, Deltek, and Iron Bow making Herndon their home.
Herndon Amenities
Sprouts Farmers Market
Free summer concert series
Herndon Carnival
Bready Park
Elden Street Marketplace
Worldgate Shopping Center
MOM's Organic Market
Town of Vienna: $1.2975 Per $100 Assessed Value
The property tax rate in Vienna is $1.2975 per $100 assessed value, so properties valued at $500,000 would pay $6,500 in property taxes. Single-family homes in Vienna are the most abundant and typically list from $700,000 to $3 million. There are many new construction properties, with Craftsman-style, contemporary, and Colonial-style homes available. Home features include gourmet kitchens, fireplaces, two-car garages, private patios, swimming pools, and more.
The town of Vienna is a charming community located about 30 minutes west of D.C. When the Civil War broke out, it quickly became a battleground for both opposing forces. After the war, it quickly grew as a suburban getaway for those looking to escape the hustle and bustle of city life. Today, the town is home to approximately 17,000 people who enjoy great amenities like the Westwood Country Club, Caboose Brewery, Meadow Lane Park, and plenty of shopping and dining options along Maple Avenue. Popular restaurants include Vienna Inn, Taco Bamba, and Clarity. Retailers are available at the Vienna Shopping Center, Danor Plaza, and Jade Shopping Mall.
Vienna Amenities
Whole Foods Market
Nottoway Park
Vienna Theatre Company
Freeman Store & Museum
Magnolia Dessert Bar & Coffee
Vienna Farmers Market
Jammin Java live music venue
Enjoy Northern Virginia With Low Property Taxes
Property tax rates in Northern Virginia's best neighborhoods may only vary by a few cents, but when assessed at $100 of the home's value, buying a home in one community versus another can save homebuyers thousands of dollars in property taxes per year. They can then put that money toward mortgage payments or the many amenities Northern Virginia offers. No matter the choice, researching the average property tax in Virginia can help buyers make an informed decision before they sign on the dotted line.