28 Best Outdoor Activities in Alexandria, Virginia
Posted by David Rainey and Sallie McBrien on Friday, December 9, 2022 at 8:50 AM
By David Rainey and Sallie McBrien / December 9, 2022
Comment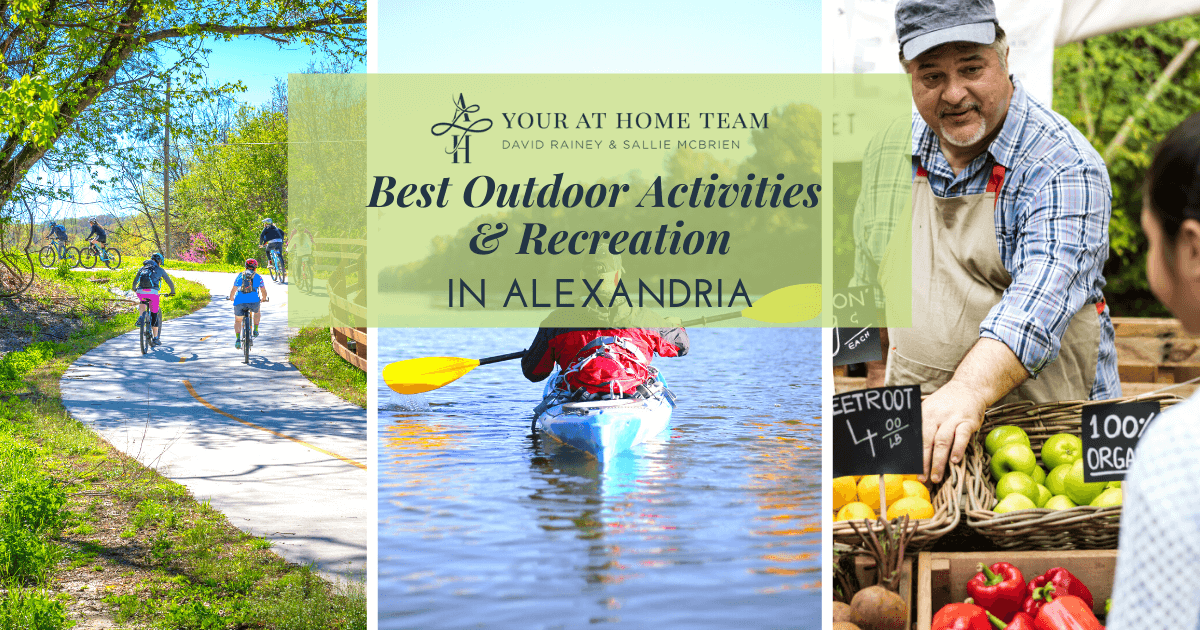 Alexandria is an exciting area to live or visit in the Northern Virginia area. Situated next door to Washington, D.C., and alongside the Potomac River, the opportunities for outdoor activities in and around the city of Alexandria are almost limitless.
Residents and visitors alike enjoy Alexandria's water recreation, hiking and biking trails, parks, golf courses, and other activities that take place outdoors, such as the farmer's market, gardens, and street festivals. Keep reading to learn about the many outdoor activities enjoyed in and around Alexandria.
Water Recreation In and Around Alexandria
Alexandria Water Recreation Options
Potomac River
Great Waves Waterpark
Nearby Northern Virginia Parks Authority waterparks
At the time of its inception, Alexandria was a port city and, as a result, has a rich historical link to water. Early settlers in the mid-18th century chose this location due to its prime location along the Potomac River. Back then, their desire was for practical purposes, such as importing and exporting. Fast-forward to the 21st century, and the Potomac River is still a huge draw to this city.
Most of the year, people can be seen spending time on the river sailing, kayaking, paddleboard, fishing, or simply strolling the river's shore to enjoy the spectacular views on the other side of the Potomac. Additionally, people often choose to indulge in a river tour that gives the views of the U.S. capital city from a different perspective. Dinner cruises are also popular. Both offer the opportunity for sightseeing, relaxation, or a narrated history. Outdoor restaurants along the water are also very prevalent.
There are many boat tours available, including afternoon river tours on historic tall ships and canine boat tours for pet parents who like to include their four-legged friends in dog-friendly activities. There is even a Monuments Tour that leaves from Alexandria and winds its way past many of the most famous monuments in Washington, D.C.
If looking for a different type of experience, visit one of the best swimming spots in Alexandria or spend the day sliding and splashing at the Great Waves Waterpark. Venturing outside Alexandria, the Northern Virginia Parks Authority has several waterparks throughout the region, including the Pirate's Cove in nearby Lorton. In Prince William County, people love to visit the Splashdown Waterpark, which offers numerous slides of multiple sizes, along with a large swimming pool, a log bridge, a lily pad crossing, and a lazy river that empties into a lagoon.
Alexandria City Hiking & Biking Trails
Popular Alexandria Trails
Mount Vernon Trail
Four Mile Run Trail
Potomac Heritage Trail
Rock Creek Trail
Custis Trail
Woodrow Wilson Bridge Trail
Within Alexandria's boundaries, there are many miles of trails to be explored. People who want to go jogging, walking, hiking, or cycling, find these trails are some of the best around. The Mount Vernon Trail offers an amazing 18 miles of paved multi-use trail and provides stunning views of Washington D.C.'s skyline and other areas along the Potomac.
This trail, part of the National Park Service (NPS), runs from George Washington's Mount Vernon Estate to Theodore Roosevelt Island (and each of these two landmarks has remarkable trails on their properties for different ability levels). Within the Mount Vernon Trail 18-mile stretch, people can enjoy connections to other regional trails, including Four Mile Run, Potomac Heritage, Rock Creek, Custis, and the Woodrow Wilson Bridge trails.
Other regional hiking trails include Occoquan Regional Park, Scott's Run Nature Preserve, Great Falls, Bull Run Occoquan Trail, Mason Neck State Park, Seneca Creek State Park, and Sugarloaf Mountain. Head down to Prince William County and hike in Prince William Forest Park, Laurel Loop Trail, Manassas Battlefield Park, Silver Lake Regional Park, and James Long Park.
The biking opportunities are plentiful in and around Alexandria. The Eisenhower Avenue Trail is a favorite among cycling enthusiasts because it is a paved trail that connects the regional park with the Eisenhower Metro Station. Touring D.C. on a bike is always a unique experience, and individuals can easily map out other biking options as well. Walkers can always map out a self-guided tour of the Old Town Alexandria neighborhood. With all the historical properties, architecture, landmarks, and events found throughout Alexandria, the possibilities of touring on two wheels are practically limitless.
Alexandria City Parks
Popular Alexandria Parks
Founders Park
Oronoco Bay Park
Waterfront Park
Jones Point Park
Harborside Park
Rivergate Park
Tide Lock Park
Alexandria boasts more than 900 acres of protected outdoor spaces and parks. People who want to enjoy the waterfront but do not necessarily partake in water activities can visit one of Alexandria's parks, including Founders Park, Oronoco Bay Park, Waterfront Park, Harborside Park, Rivergate Park, and Tide Lock Park.
Jones Point Park is a national park located south of Old Town Alexandria. This waterfront park has long played an integral role in the community. When Alexandria was first settled, this portion of the Potomac River was used for shipping and transportation, making it one of the busiest hubs in the new nation.
Visitors often love to check out the Jones Point lighthouse, which was built in 1855 and is the last remaining river lighthouse in the state. Local residents and travelers alike enjoy picnicking, hiking, and biking in this park.
Wonderful areas to explore and see beautiful flora, fauna, and wildlife include the Winkler Botanical Preserve, Dora Kelley Nature Park, Green Spring Gardens, and Dangerfield Island. Venture into the town of Vienna to visit the popular Meadowlark Botanical Gardens. Adventurers will find Oatlands, an early 19th-century plantation restored and serves as a museum in the Leesburg area. Fort Ward Park provides visitors the opportunity to learn a bit of history as they enjoy the outdoor environment along the Potomac River. For birdwatching opportunities, check out Dyke March and Huntley Meadows Park. Out in western Fairfax County, Bull Run Regional Park has great walking trails, a pool, picnic areas, and much more.
Alexandria has dozens of athletic fields, playground areas, and basketball, volleyball, and tennis courts. Of course, there are countless outdoor spaces on the National Mall in D.C. for people to enjoy a stroll or play ball in one of the open areas.
Golf Courses in Alexandria
Popular Alexandria Golf Courses
Greendale Golf Course
Pinecrest Golf Course
Belle Haven Country Club
Mount Vernon Country Club
Greendale Golf Course
Northern Virginia is full of golf courses where everyone from avid golf players to those looking to explore the sport can enjoy a day out on the fairways.
Greendale Golf Course, an 18-hole regulation course, features 148 acres with a challenging design with water hazards. Pinecrest Golf Course offers 18 holes and a 9-hole executive course suited for novice golfers of all ages. Belle Haven Country Club, a course spanning 150 acres along the Potomac River, is beautifully constructed and is highly rated for its teaching programs. The Mount Vernon Country Club and Greendale Golf Course are also located within Alexandria city limits.
Outside Alexandria, other local golf course action can be found at the Fort Belvoir Golf Club, Springfield Golf and Country Club, National Golf Club, Pohick Bay Golf Course, Army Navy County Club, and the Laurel Hill Golf Course. Those who want to venture out a little further into Virginia for a change of scenery and a great game will find plenty of courses throughout nearby Fairfax County. Check out the Country Club of Fairfax, Twin Lakes Golf Course, Burke Lake Golf Center, Reston National Golf Course, and Chantilly National Golf & Country Club.
Other Alexandria Outdoor Activities
Other Alexandria Outdoor Activities
King Street mile
Old Town Farmers' Market
Annual street and park festivals
Aside from the above, Alexandria offers a host of other types of outdoor activities. People often walk the "King Street" mile to enjoy outdoor patios at restaurants and bars or visit shops. It's a pleasant walk that gives a feel of the quaintness of yesterday but with modern amenities. For instance, every Saturday, there is the weekly Old Town Farmers' Market. The oldest farmers' market in the U.S. has continuously been held at the same location since the 18th century when George Washington sold his produce there. Today, people gather to enjoy the produce, specialty foods, and other handmade goods sold here. Walking tours are very popular and come in guided tours, self-guided tours, and even ghost tours.
Street and park festivals are a popular Alexandria tradition. For instance, every September is the Halfway to St. Patrick's Day Celebration and the Alexandria Old Town Art Festival. In December, the Scottish Christmas Walk Parade brings other local activities as other organizations participate in the weekend with their own outdoor events. First Night Alexandria is a special New Years' event held every year by the waterfront. The event comes with fireworks and numerous other fun things to do as everyone rings in the New Year.
Discover the Great Outdoors in Alexandria
Present and future residents of Alexandria will be delighted to spend plenty of time outdoors. Alexandria offers just about every type of outdoor activity people might seek in all four seasons. Anyone can quickly discover countless opportunities to enjoy or play in the great outdoors.