Alexandria, Virginia's Most Popular Attractions
Posted by David Rainey and Sallie McBrien on Tuesday, September 7, 2021 at 9:24 AM
By David Rainey and Sallie McBrien / September 7, 2021
Comment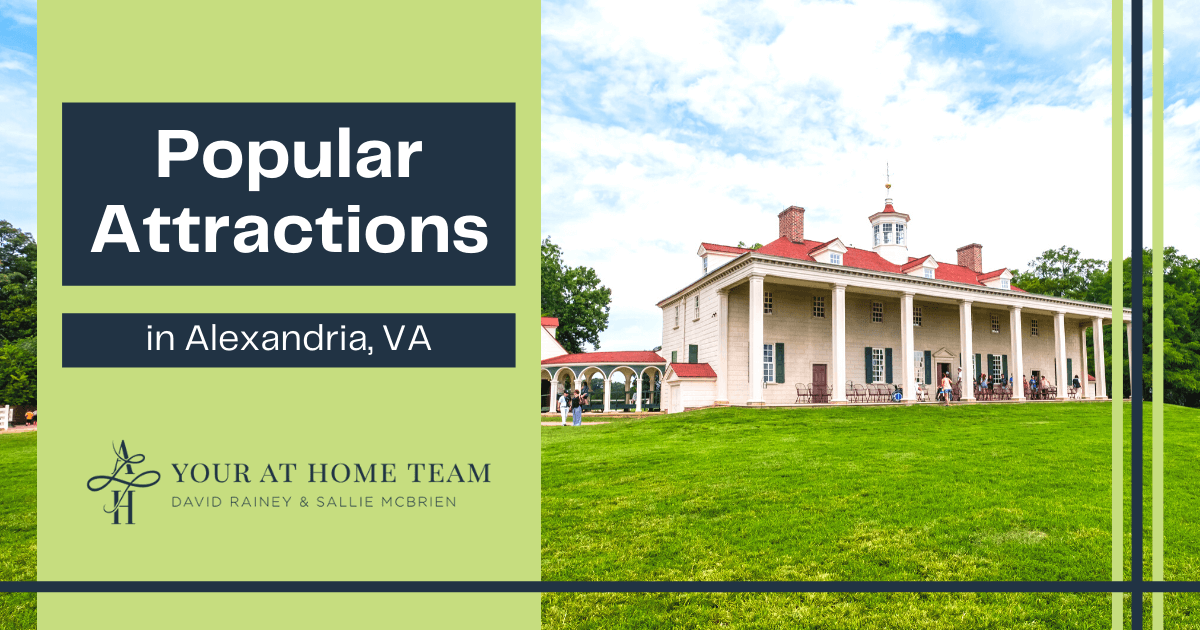 People love visiting the city of Alexandria to explore its rich history, shop and dine, and enjoy the many things to do. Because the local attractions are always evolving and changing, even locals venture out to take in all that the city has to offer. When it comes to the most popular attractions, these are among some of the best in the area. Keep reading to learn about a few of the most popular attractions in and around Alexandria.
History Buffs Love George Washington's Mount Vernon
The Mount Vernon community is home to George Washington's historical plantation. So many events and activities are available at Mount Vernon, making it ideal for a day trip in the Alexandria area. In addition to tours of the mansion, guests can explore the museum documenting the Washington family's history.
Also on the grounds are several outer structures that include a blacksmith shop, distillery, and gristmill. George's tomb is on-site, and on special occasions, guests can sign up to be a part of a reenactment of Washington's battles. There is also a photo cruise from the wharf.
Other outdoor areas include the farm with petting zoo animals, forest trails, meticulous gardens, and a huge hill where patrons sit during special events. The hosts and staff all don period dress to add to the authenticity of the Mount Vernon experience.
Shoppers Flock to The King Street Mile
In the Old Town area, King Street Mile is an Alexandria shopper's dream with countless options on both sides of the street. Many rather unique storefronts are found on King Street in addition to mainstream stores like Crate & Barrel, Warby Parker, Banana Republic, Anthropologie, and others. Gift shops include the Red Barn Mercantile and The Old Town Shop, which offer goods by original artisans and crafters.
Music aficionados can't miss Crooked Beat Records. In addition to DIY zones and specialty shops, there are several places to find treasured antiques at A Galerie and The Antique Guild. King Street has a handful of specialty storefronts.
Designer fashions can be found at Donna Lewis, The Lucky Knot, Bloomers, and many boutiques. Want to look stylish without breaking the bank? Plenty of high-end consignment stores offer new or like-new fashions that are trending. More than a shopper's paradise, visitors will find restaurants, spas for pampering, snapshot-ready murals, and refined cocktail lounges.
Torpedo Factory Art Center is Perfect For Art Lovers
The Torpedo Factory Art Center is a rarity in and of itself, and for 40 years, the center has been a highlight of the Potomac Riverfront. Since its founding in 1974 within an old munitions facility, it has grown to notoriety and attracts 500,000 visitors each year. So, what is all the excitement about?
For starters, the Torpedo Art Center boasts the largest art collection from living and working artists in the nation. Artisans using various mediums are present, including sculpture, painting, ceramics, fiber, jewelry, stained glass, and many others. Visitors can watch artists at work, ask questions and purchase original works to add to their collection.
Stop by the Target Gallery, where a regular rotation of artists shows off their skills. In addition to the Target Gallery, there are seven more distinctive galleries and workshops, including Art League Gallery, Enamelists Gallery, Multiple Exposures Gallery, Potomac Fiber Arts Gallery, Printmakers, Inc., Scope Gallery, and Van Landingham Gallery.
Find Fresh Air and Fun at Jones Point Park
Located south of Old Town Alexandria along the Potomac River, Jones Point Park played a phenomenal role in the city's history. It once served as one of the biggest centers for manufacturing, transportation, and shipping in the 1800s. The lighthouse was constructed in 1855 and is one of Virginia's last remaining lighthouses on a river.
There are two piers over the water for anglers to chase after rock bass, catfish, and American eels. Kayakers and canoe enthusiasts can launch off a boat dock with ease. The park rangers regularly offer kid-friendly programs, including Lighthouse Life and Learn to Ride.
Visitors can explore the interpretive trail that explains the park's history and the marsh habitats. Lovely gardens are throughout the park, along with spaces for recreation for families and large groups.
In addition to exploring the lighthouse, several multi-use fields, two basketball courts, and two playgrounds are available for guests to enjoy. Spend a day here to learn about the Potomac's history, explore the surrounding landscapes, drop a line, and play the day away.
Honor U.S. Service Members at The Tomb of the Unknown Soldier
The Tomb of the Unknown Soldier is located within Arlington National Cemetery and serves as the resting place's most iconic memorial. Its purpose hails from the consequences of war and those that died serving who are unidentified. This 1921 monument is a white marble sarcophagus surrounded by a platform where soldiers stand guard 24/7 year-round.
The Tomb provided a final resting place for one unidentified service member from World War I. Unknown soldiers from later wars were entombed there in 1958 and 1984. More than just a place for unidentified soldiers, the site serves as a site for reflection on military service and a location for mourning.
The changing of the guards is a sight to behold in and of itself. Every movement, action, timing, and regimen is strictly honored and precise as the Tomb Sentinel on duty marches around the tomb. Timed by a Swiss watch and overseen by a commanding officer, The Tomb of the Unknown Soldier is carefully guarded at all times and is a treasure in the city of Arlington.
Enjoy These Attractions and More Year-Round in Arlington, VA
Arlington, Virginia, is a remarkable place to call home and is a haven for people looking for fun things to do. Filled with attractions indoors and plenty of outdoor recreation areas, there's always something to keep locals and tourists entertained.
With ample public transit and the fact that Arlington is bike-friendly, getting around to explore is a breeze. Plan a trip today to see all this historical city near Washington DC has to offer.