What Public Transit Options Are Available in Alexandria, VA?
Posted by David Rainey and Sallie McBrien on Wednesday, November 2, 2022 at 9:22 AM
By David Rainey and Sallie McBrien / November 2, 2022
Comment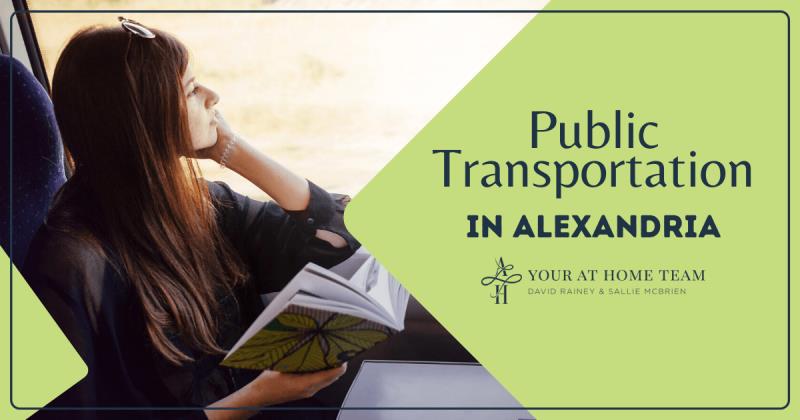 Alexandria was first settled in the 17th century, and it is a city rich with American history. Located just a few miles south of Washington, D.C., Alexandria real estate is popular among people who commute to the U.S. capital for work. While most residents prefer driving in Alexandria, the city offers a robust public transportation system that's continually growing. Under a recent initiative called GO Alex, the city of Alexandria has committed to expanding the public transportation options for residents to reduce traffic congestion and vehicle emissions. Keep reading to become an expert on public transportation in Alexandria.
Metrorail in Alexandria
The Washington Metro's Metrorail is the primary train service operating in Washington, DC, Maryland, and Virginia. It runs six color-coded lines that can transport Alexandria residents to virtually any other city in the D.C. Metro area, with only two stops in most cases. The Metrorail Yellow Line runs from Alexandria in the south, up through D.C. and to the Fort Totten/Michigan Park suburbs to the north of the city. New to the Metrorail? Each rail station entrance is marked by a tall, brown column with an "M" plus colored stripes to identify which lines serve that station. There is a fee to park a vehicle for the day when riding the Metrorail. The parking fee varies from city to city but generally ranges from $2.50 to $6.00 per day. Riders can purchase a rechargeable SmarTrip card at any Metrorail station.
Metrorail Ticket Costs
Peak Fares: $2.25 to $6.00
Non-Peak Fares: $2.00 to $3.85
Weekend One-Way Fare: $2.00
Fairfax Connector in Alexandria
The Fairfax Connector is one of the largest local bus providers in all of Northern Virginia. It operates 91 routes daily. The Fairfax Connector runs in Alexandria and the city of Arlington, Mount Vernon, the town of Herndon, Springfield, the Reston community, and Tysons. Most of the routes that provide transportation to Washington, DC, can be accessed along I-395 or on the Jefferson Davis Highway. Routes can also transport Alexandria residents south to the town of Mount Vernon and the Fort Belvoir area or west to Franconia-Springfield. Riders can even take the Fairfax Connector from Alexandria to Washington Dulles International Airport. The Fairfax Connector is primarily a Northern Virginia bus line; although some routes terminate in Washington, DC, there is no service into Maryland with this transit service.
Fairfax Connector Ticket Costs
Base Fare (all regular routes): $2.00
Express Routes: $4.25
480 Wolf Trap Express: $5.00
599 Route: $7.00
All Senior & Disabled fares are half-price
Amtrak Trains in Alexandria
Amtrak trains depart from Alexandria every day, with the rail line heading north into Washington, D.C., or west to almost every state in the continental U.S. The historic station opened in 1905 on 110 Callahan Drive and runs both Amtrak and VRE commuter trains. Commuters have access to Quik-Trak kiosks, a ticket sales office, and baggage services. Five major Amtrak routes make stops in Alexandria: Chicago to New York City, Boston to Newport News, New York City to Charlotte, New Orleans to New York City, and Miami to New York City. Although there are eight trips into Union Station in Washington, D.C., from Alexandria every day, Amtrak is not as practical or affordable as other public transportation options for commuting. It is a more suitable option for those looking to travel outside of Alexandria for trips around the region or cross-country.
Amtrak Alexandria to Washington, DC Fares, One-Way Ticket Costs
Coach: $18 to $32
Business: $34 to $48
VRE in Alexandria
The Virginia Railway Express or VRE runs two commuter lines to Union Station in Washington, D.C. It only operates during "non-rush hour" times of the day. The VRE offers commuter rail service from Alexandria and the Crystal City neighborhood in Arlington and the downtown district of Washington, D.C. Commuters have access to free parking at most of the VRE stations. The west line of the rail service runs from Manassas to Alexandria and then into Washington, D.C. (or vice versa). The eastern line runs from Spotsylvania and Fredericksburg in the south up to Alexandria and Union Station.
Both lines meet at the main rail terminal on Callahan Street in Alexandria. Although the VRE is a viable option for a morning commute into D.C., the return service to Alexandria is almost non-existent. One train departs from Union Station at 1:30 in the afternoon, but the next one does not leave until nearly 9 p.m. Also, note that the VRE only runs Monday through Friday and does not offer weekend service.
VRE Ticket Costs
Single Ride: $11.40
Day Pass: $22.80
Ten Trips: $104.90
Seven-Day Pass: $91.20
31-Day Pass: $316.00
Metrobus in Alexandria
The Metrobus is operated by the Washington Metropolitan Area Transit Authority (WMATA). In addition to stops throughout Alexandria, the Metrobus stops in the city of Fairfax and the Falls Church community, Washington D.C., and the Maryland counties of Anne Arundel, Montgomery, and Prince George. The main bus stop in Alexandria is at the Mark Center Transit Center at the corner of N. Beauregard St. and Seminary Rd. Metrobus routes 7A, 7F, and 7M connect to the Mark Center Transit Center. Route 7A runs between Landmark and North Fairlington. Route 7M connects the Mark Center and the Pentagon. Airport Express routes on the Metrobus are available daily but typically require at least one transfer to a Metrorail line to complete the trip.
Metrobus Ticket Costs
Regular Routes: $2.00
Express Routes: $4.25
Airport Express Routes: $7.50
DASH Bus in Alexandria
The DASH Bus is the main public bus service operated by the city of Alexandria. Due to Metrobus' limited operation within Alexandria, the city decided to launch its service in the 1980s — and DASH was the result. The DASH Bus System moves throughout Alexandria, connecting riders to the Metrobus, Metrorail, VRE (Virginia Railway Express), and other local bus systems. For commuters, the DASH may be a choice when connecting to any of the Metrorail stations and the Pentagon Metrorail.
There are 11 bus routes that DASH traverses all through Alexandria, from the Old Town Alexandria neighborhood in the east to the Landmark Mall in the western part of the city. There are also regular stops at Metrorail stations for those who need a longer connecting commute outside Alexandria. Most bus lines run seven days a week, although the 102, 102X, 103, and 104 Lines (connecting to Mark Center Transit Center and the Pentagon) only run Monday through Friday. The DASH system operates limited routes on holidays but is typically open 365 days per year.
As of September 2021, DASH no longer charges fares for service. All bus routes are completely free -- hop on a bus and ride it to the intended destination!
Need-to-know about DASH:
Takes Metro SmarTrip cards
DASH Tracker available for updated route planning and information
Accessible to people with disabilities
Racks available for bicycle storage during the ride
Bus operation hours vary by route
Bikeshare and Bike Rentals in Alexandria
Alexandria is only seven miles from downtown Washington, D.C., so commuting to work via bicycle is possible if one is motivated enough to do it. The Mount Vernon Trail between Washington, D.C., and George Washington's estate is an 18-mile loop that is enjoyable to bike. Alexandria also has bike lines on three major roads: Cameron Street, Prince Street, and Pendleton Street. Capital Bikeshare is the D.C. Metro bike-share program, a rental outlet on King Street in Alexandria. Unlimited Biking offers bikes and tandem bikes, rollerblades, tag-along bike extensions, kids' bikes, and wheelchairs. Pedego Electric Bikes rents bicycles that riders can choose to pedal or not in Old Town.
Bikeshare and Bike Rentals Costs
Capital Bikeshare: $1 for a single trip, $8 per day
Unlimited Biking: Varies based on equipment rented
Pedego Electric Bikes: $40 for 2 hours, $70 for 4 hours
Rideshare and Taxis in Alexandria
Both Uber and Lyft rideshare services operate in Alexandria, which can be accessed through their respective mobile apps. Zipcar also operates in Alexandria and has several parking spaces located in Old Town. In addition, there are five separate taxi cab companies that service residents in Alexandria and the surrounding area. The cab companies are Go Green Cab, King Cab, VIP Cab, Yellow Cab, and the White Top Cab Company. White Top does not have a website, but its cabs can be reserved at (703) 683-4004. Rideshare services have had a significant impact on cab companies in Alexandria over the past few years, so the city is in the process of making some regulatory changes to the system. As a result, cab fares may change at some point in the future.
Rideshare and Taxis Costs
Zipcar: $11 per hour or $91.50 per day
Cab Initial Meter Charge: $3.00
Each Additional 1/6-mile: $0.36
Each Additional Cab Passenger: $1.25
Cab Animal Fee: $2.00
Cab Snow Surcharge: $5.00
Water Taxis in Alexandria
City Cruises by Hornblower offers a "water taxi" service that includes Old Town Alexandria as one of its arrival and departure stops. This is not a service that is intended for one's daily commute to work. It's more of a chance for tourists and locals to view the sights along the Potomac River without having to battle traffic. Multiple 30-minute trips from Alexandria to National Harbor across the river depart every day, starting in the early afternoon. Riders can travel to National Harbor and then catch a separate water taxi back to Alexandria a few hours later. Service also runs from National Harbor up to the District Wharf in D.C. (near the Jefferson Memorial) and Georgetown. It's a relaxing and enjoyable way to view the Alexandria and D.C. area throughout the afternoon.
Water Taxi Costs
Round Trip (Adult): $32
Round Trip Military: $30
Round Trip (Child, 2-11): $25
Round Trip Kids Under 2: Free
The King Street Trolley in Alexandria
The King Street Trolley is a free trolley service between the Metrorail station and Old Town Alexandria near City Hall. The trolley runs every 15 minutes between 11:00 a.m. and 11:00 p.m., offering service 365 days a year. Hopping on and off the trolley is a great way to see everything that Old Town Alexandria offers, with more than 200 shops and restaurants within a short distance of regular trolley stops. Riders can also pick up free maps and visitor guides on the trolley. The DASH system (listed above) operates the King Street Trolley, making it a second public transportation option for riders in Alexandria that is free to the public.
Metroway in Alexandria
Alexandria residents have access to the Metroway, another premium transit service operated by the WMATA. It cruises along dedicated bus-only lanes and features:
Consolidated bus stops
Daily service (including weekends)
Limited stops for faster transit
Coach-like style buses
Direct route to Potomac Yard shopping district
Alexandria Public Transit Options Are Plentiful
There are many public transportation options for commuters and travelers in Alexandria. The truly lovely thing about the city is that it is constantly innovating its public transit options to make them more user-friendly, more accessible, and more cost-effective for daily commutes. This is just one of the reasons those who work in the Washington, DC Metro area are moving to Alexandria.