A Simple Guide for Successful Real Estate Auctions
Posted by Sallie McBrien on Wednesday, August 10, 2022 at 11:38 AM
By Sallie McBrien / August 10, 2022
Comment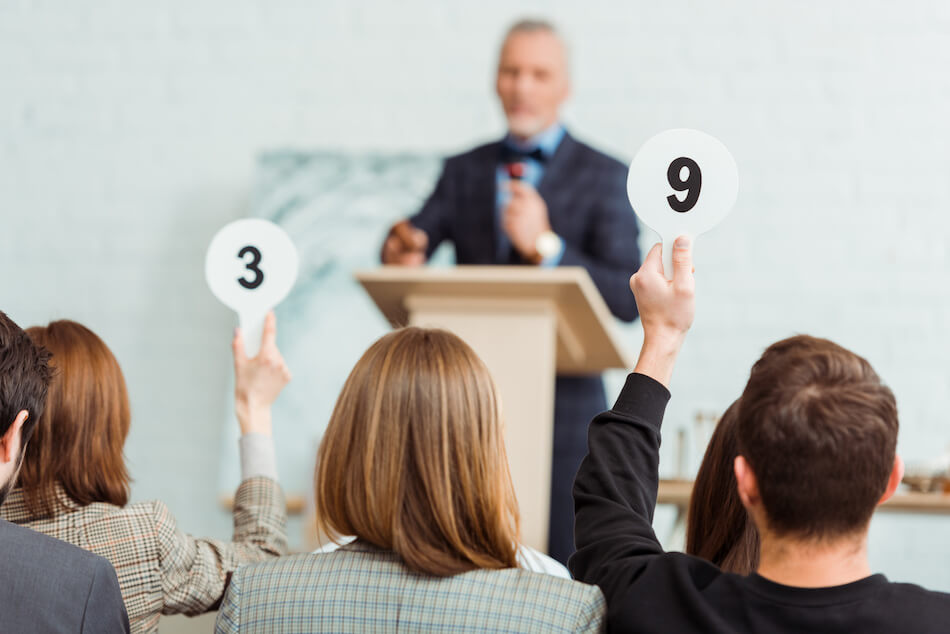 In some situations, it doesn't make sense for a seller or lien-holder to sell their home using traditional methods. Alternately, some buyers find that buying a home using routine procedures isn't the best route for them to take. In such cases, looking into real estate auctions could be a good solution for all interested parties.
Many homes are auctioned due to foreclosure; others might be fast attempts by sellers eager to get out and move on. Either way, auctions for homes are similar—yet different—from estate auctions and those held in auction brokerage arrangements. Check out this short guide to home auctions for more insight into navigating the home auction process.
For informational purposes only. Always consult with a licensed real estate professional before proceeding with any real estate transaction.
Understanding the Different Types of Auctions
Before sellers put up a home for auction or home shoppers make a bid, both should understand what type of auction they're participating in. In general, there are three different types of auctions:
Absolute auctions are considered traditional auctions where the highest bidder wins the title to the home. This type of sale is most common in the realm of foreclosures.
Minimum bid auctions are those where the home is sold only when the bids meet a pre-determined minimum bid, aka the reserve amount.
Reserve auctions involve the winning bid being provided to the seller in the form of an offer. From there, sellers can decide if they want to sell or pass on the offer and keep their property.
The type of auction is likely to change how buyers strategize their bidding methods, so buyers and sellers being familiar with them ahead of time can be a huge asset.
Setting a Selling Price or Budget
Should the property be in foreclosure or part of a home short sale situation, the bottom line price may be at least what is owed on the mortgage. However, this isn't always the case. Some sellers may have a lot of equity in the home and owe a minimal balance, and these homes can often sell for a nice profit. In either situation, a minimum sale price—called a reserve price—should be defined within the documentation concerning the auction.
Buyers may be investing to flip the home, moving in themselves, or using it as a rental property. Knowing a budget ahead of time can prevent rash bids from coming to fruition during a live auction's excitement. Leaving with a successful purchase is far better than dealing with buyer's remorse by the time you return to your vehicle.
List the Home for an Auction or Register to Bid
Individual sellers must find a reliable auction company to facilitate everything from vetting bidders, navigating the proper paperwork, and handling the auction and closing process. Shoppers will need to check the rules and guidelines for the auction to see what paperwork they'll need to place legitimate bids. This typically includes cash for the purchase, in-place financing, identification, and other necessary documentation.
Get Pre-Approved for a Loan
Buyers will need pre-approval for a mortgage before bidding on a property sale at auction unless they have enough cash upfront before the show begins. Bidders can only call bids up to that cash amount, plus any financing in place. With this in mind, it's a good idea to have both cash and a loan pre-approval for high-dollar property auctions. Sellers will want to ensure that the auctioning broker requires this before approving would-be buyers for the bidding floor.
Considering Home Auctions?
Whether buying or selling, it is paramount that you do the proper research. Auctions for properties have quite a few rules that differ from traditional sales. However, home auctions can be an excellent solution for buyers and sellers looking to move a property quickly and with less hassle.
For informational purposes only. Always consult with a licensed real estate professional before proceeding with any real estate transaction.