6 Tips for Removing a Popcorn Ceiling
Posted by David Rainey and Sallie McBrien on Thursday, March 17, 2022 at 8:06 AM
By David Rainey and Sallie McBrien / March 17, 2022
Comment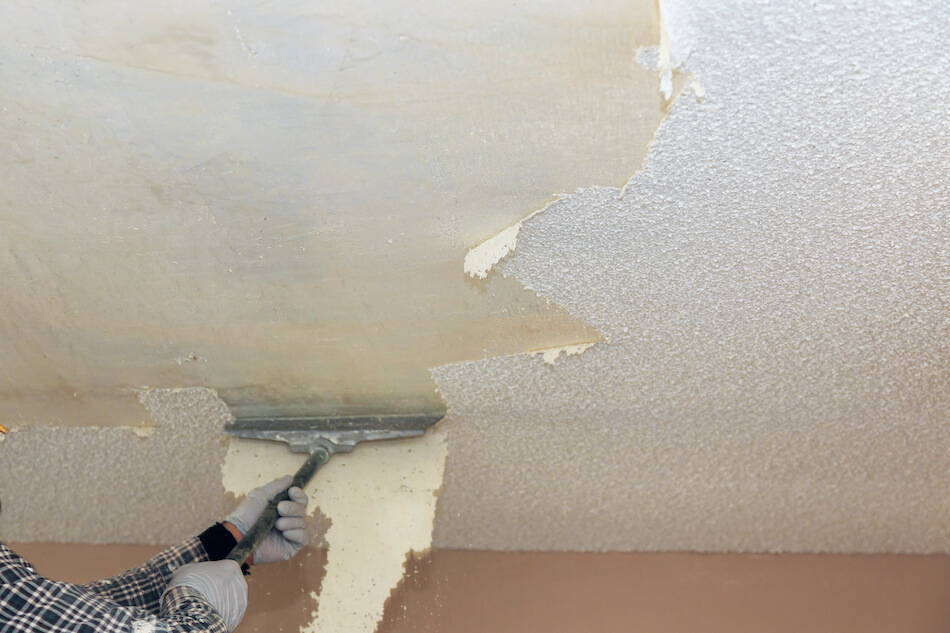 In the 1960s and 1970s, popcorn ceilings were a popular trend. They hid imperfections in the ceiling, and they fit with the era's fashions. Like many trends, they didn't stand the test of time. Today, many homeowners look at them, groan, and wish they were gone. The good news is that people buying a fixer-upper home can get rid of them with ease. Removing a popcorn ceiling has the potential to be a high-ROI home improvement because it makes the home more appealing to modern buyers. Ready to get your ceilings up-to-date? Keep reading to learn valuable tips for getting rid of a popcorn ceiling.
Why Get Rid of a Popcorn Ceiling
The main reason to get rid of popcorn ceilings is that they aren't in style anymore. Buying a home is the biggest investment most people make, so it's worth taking the time to make it your own. Plus, most potential homebuyers see them as outdated. There are practical disadvantages too. The rough texture attracts dust and cobwebs, and it's hard to make patch repairs in a way that matches the texture. Also, the ceiling will eventually need painting, which is difficult and tedious on such a rough surface.
How To Get Rid of a Popcorn Ceiling
While there are alternatives, scraping is the most common tactic for getting rid of popcorn ceilings.
Popcorn applied before about 1980 may contain asbestos. If your home was built in the late 70s or earlier, you should be aware that there may be asbestos hidden in your home. Your local health department can tell you how. If asbestos is present, it needs to be professionally remediated. Alternatively, use one of the other methods to encapsulate the asbestos.
Also, ceilings painted before 1980 may contain lead paint. There are home test kits for lead in paint.
Scraping is a tedious task. It can take up to 20 hours to scrape 500 square feet, even for someone with experience. However, it's inexpensive, and one person can accomplish it alone. Here are a few tips for getting the job done:
Use a 4-inch utility knife or a drywall knife. If you round the corners with a sander or grinder, it will help prevent gouging.
Protect the floor with a dropcloth just as for painting. If you're going to use water on the ceiling, use plastic rather than canvas to prevent water from seeping through.
To mist or not to mist? Experts differ. Some recommend misting the ceiling with a garden pump sprayer and letting it sit for 15 minutes. It keeps down dust. Others say that water will absorb into the ceiling, make it heavy and risk cracking. If you do mist, keep it light. And work a small section at a time so the ceiling doesn't dry out before you can get your knife on it.
Keep the area ventilated with fans or open windows.
Try scraping a small section before committing to the overall task. If the substrate underneath is in poor shape, the job may need a professional.
There will probably be a few cuts and gouges when the job is done. The ceiling may require patching with joint compound and sanding before being painted.
Alternatives To Scraping Popcorn Ceiling
Sometimes painted popcorn will be hard or almost impossible to scrape. If there's asbestos in the ceiling, scraping is unsafe, and drywalling becomes a better option.
The job calls for a ceiling-grade board lighter than standard wallboard. It needs to be attached with drywall screws then taped and mudded as with any drywall. It takes care and skill, but it leaves the smoothest possible surface if the work is done well.
It's a more expensive option, as it includes the cost of ceiling-grade gypsum. In addition, it's a good idea to rent a drywall lift. It will probably have to be removed and replaced if there's crown molding.
Another option is to skim a new coat of drywall with a different design right over the popcorn. Prep the existing ceiling with quick-setting drywall mud, apply a bonding agent, and then trowel a new texture with a finishing compound. You can make swirls, circles, or any other pattern that fits the theme of your room.
This isn't for everyone. Some people don't want texture on the ceiling, period, not even a new and fresh one. However, it's an easier DIY than drywalling. Textured ceilings can be a refreshing surprise, and the look may match the ambiance, particularly in an older home.
Leave Popcorn Ceilings in the Past
Faced with unwanted popcorn, many homeowners choose to hire a trusted contractor, and sometimes this is the wisest choice. However, there are several methods available for those willing to tackle the job themselves. While scraping can be tedious and alternatives are often expensive, finding a way to remove popcorn texture from the ceiling is a great way to make a home feel brand new.