5 Tips for Selling Your Home During the Spring
Posted by David Rainey and Sallie McBrien on Monday, January 24, 2022 at 9:01 AM
By David Rainey and Sallie McBrien / January 24, 2022
Comment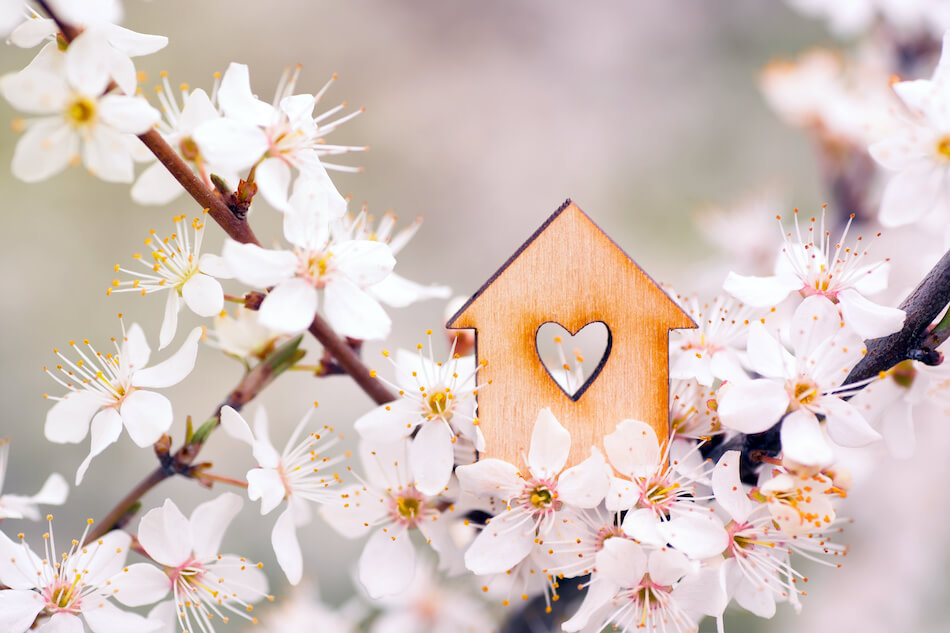 Spring is a popular time for listing a home on the market, and sellers will typically find plenty of competition for buyers. Every season has different rules when it comes to home selling. Selling your home in winter, for example, requires people to be mindful of snow and other cold-weather details. To present a property in the best light to appeal to buyers, sellers should start sooner than later by prepping their homes for a spring listing. Keep reading to learn five tips for preparing your home for sale in the spring.
For informational purposes only. Always consult with a licensed real estate professional before proceeding with any real estate transaction.
Start with the Basics
The first thing sellers should do is eliminate clutter and depersonalize their homes. Buyers need to visualize themselves living in the house and creating their own spaces in each room. Clutter is a turnoff, and photos, knick-knacks, and other personalized items make it challenging to envision spaces as theirs.
After removing excess belongings, clean the home thoroughly, eliminate odors, and apply fresh coats of paint to rooms that look a little tired or have marks on the walls. Remember to wash windows, polish mirrors, and clean curtains.
Focus on Curb Appeal
A home's curb appeal matters since it's the first thing buyers see when they arrive to tour a home. Significant improvements can be made where necessary. However, sometimes it's the more minor things that are noticed first. Here are three ways to increase your home's curb appeal.
Spruce Up Landscaping
Spring is a time of year when most yards are full of green as winter sheds its gray colors and warmer weather brings grass and plants back to life. Spend time pruning back bushes, mowing the lawn, trimming dead branches from trees, spreading mulch, pulling weeds, and planting some low-maintenance colorful plants.
Replace or Paint the Front Door
The front door is a highly-visible feature and, if it's in poor condition, buyers will notice. A clean and elegant door invites buyers and signals to them that the house is well-cared for. While updating, be sure house numbers are in good shape as well. A high-quality front door is one of the best high-ROI home upgrades since it's the clear first impression of any home.
Tidy Outdoor Spaces
Aside from the yard, buyers tend to notice clutter on patios and decks. Be sure the furniture is in good condition and arranged in an inviting and comfortable layout. Tuck any toys, tools, or other items away. Add a few potted plants or solar lights along the walkway.
Essentially, any way to boost the appearance of a home's exterior can help. Even sweeping the driveway before visitors come can make a huge difference.
Perform Pre-Inspection Repairs
Before inviting buyers to visit their homes, homeowners should do a careful walk-through to make a note of necessary repairs. It might even be worthwhile to hire a handyperson to look over, as people tend to get used to flaws and may not notice them—but buyers certainly will! Look for leaky faucets, chipped cabinets, faulty light switches, stains on carpets (or anywhere), broken windows, and any other problematic areas, then fix them.
Open the Home Up
Spring is the perfect time to open windows and allow natural light. Swap out incandescent bulbs for LED ones and trim branches getting too close to windows. In addition to adding appealing light, it'll give a fresh, breezy feel when people enter to view the home. Add subtly-scented candles, wax melts, or air fresheners to create a fresh-smelling home.
Perform Updates or Invest in Staging
If a home is filled with furniture, fixtures, carpets, or other features from earlier decades, updating them before putting the house on the market is a good idea. Don't want to invest in new furniture? Hire a home stager who will organize each room to maximize its potential.
Ready to Sell Your Home This Spring?
The spring is the busiest real estate season of the year, and homeowners often find plenty of competition, a steady stream of buyers, and constant tidying to get the home ready for the show. However, knocking out a few of the most significant areas buyers will be paying attention to can go a long way towards standing out amongst other sellers and nabbing the sale. With prep-work, a home will be easier to sell and more likely to get a better price.
For informational purposes only. Always consult with a licensed real estate professional before proceeding with any real estate transaction.