5 Signs Your Kitchen Needs a New Range Hood
Posted by David Rainey and Sallie McBrien on Saturday, March 5, 2022 at 9:26 AM
By David Rainey and Sallie McBrien / March 5, 2022
Comment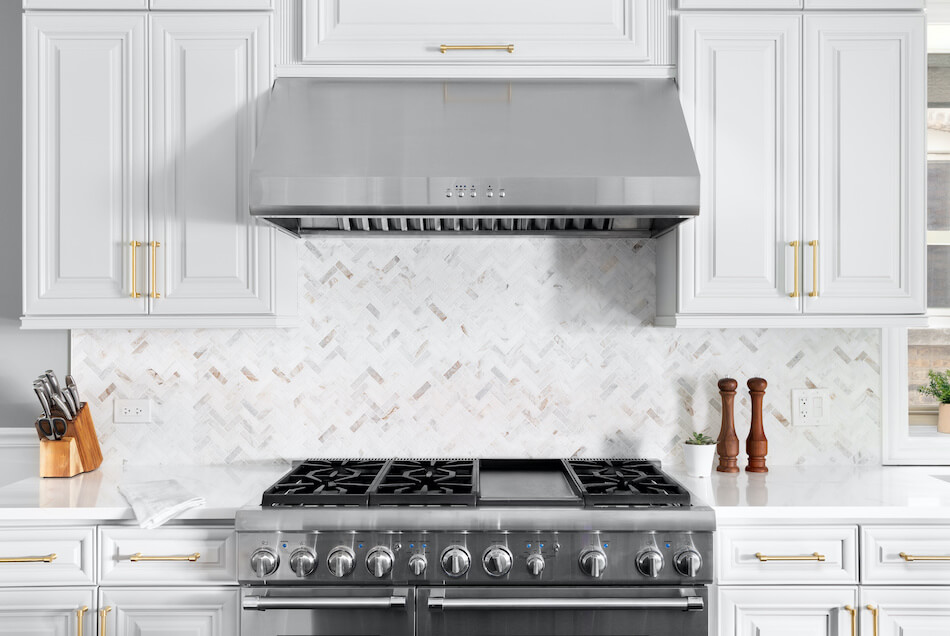 Are you looking for high-ROI kitchen investments? Investing in a quality professional range hood is a great place to start. Range hoods are a valuable long-term investment that can impress guests, entice future buyers, and make your kitchen more functional.
Range hoods are pretty versatile too. You can install them on your wall, over an island, under cabinets, or inside custom cabinetry. They're not limited to indoor use either—consider an outdoor range hood to up your outdoor cooking game.
Keep reading to learn five signs that your kitchen needs a new range hood.
Your Kitchen Gets Smoky
If you enjoy high-heat cooking, frying, or baking, smoke and grease can fill your kitchen in no time. With a powerful vent hood, you can vent it all out in minutes. Depending on what you're cooking, you can cycle through the fan speeds and find one that works best for you.
You'll also keep grease off your kitchen cabinets and overhangs, reducing the need to replace or repair your cabinets. Many homeowners replace their over-the-range microwave with an under-cabinet range hood. The fans are typically much more powerful, and a hood also lasts longer.
Your Kitchen Smells Like Last Night's Dinner
A range hood will also keep pesky cooking odors out of your kitchen. A powerful range hood can help keep the odors at bay.
If you don't just cook for yourself, you must also consider your guests. They won't enjoy lingering cooking smells, and sometimes, simply opening a window or two isn't enough.​
Your Kitchen Heats Up When You Cook
Whether boiling water, using your oven, or anything in between, your kitchen can heat up pretty quickly. A vent hood removes heavy smoke and grease and vents out all the hot air. It's a worthwhile investment to help you feel comfortable in your kitchen.
Also, if you have an outdoor bar or guest area in your kitchen, you can make a cool and comfortable space for your guests. Quality hoods aren't too noisy, so you can converse with your guests while the hood is running.
Your Kitchen Has Poor Air Quality
When cooking with a gas range, you must be aware of its impact on your health. Gas ranges produce harmful contaminants such as formaldehyde and carbon monoxide. They can be dangerous to inhale in large quantities. Luckily, all you need is ventilation, and a range hood can solve that problem.
Keep in mind that the more you cook, the more important it is to have adequate ventilation. Also, young kids and pets are especially vulnerable to these airborne contaminants.
Your Kitchen Needs Better Task Lighting
One underrated aspect of vent hoods is the lighting. Most range hoods feature bright LED or halogen lights that help you see clearly while cooking. If you like to enjoy the occasional midnight snack, great lighting is crucial.
If you have a backyard kitchen, a vent hood for your outdoor patio will help you grill with accuracy on summer nights.
Enhance Your Cooking Space With a Range Hood
A vent hood can give you several years of excellent ventilation, keeping you and your family safe from harmful airborne toxins. You'll cook comfortably, enjoy fresher air, and maybe even increase your home's resale value.