5 Things To Do With Kids in Alexandria VA
Posted by Sallie McBrien on Wednesday, December 8, 2021 at 12:18 PM
By Sallie McBrien / December 8, 2021
Comment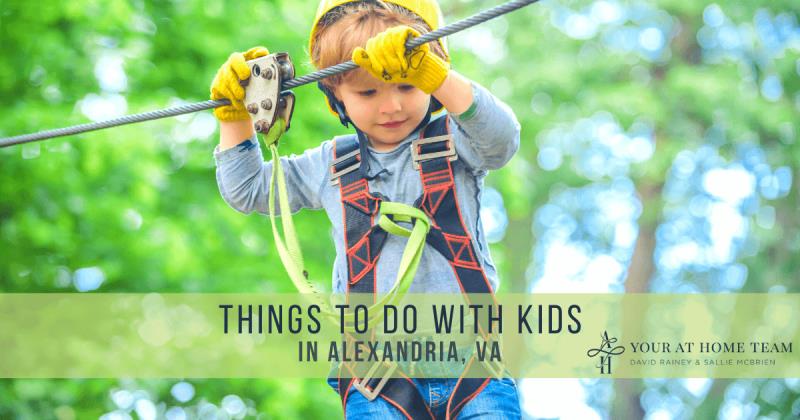 When looking for fun things to do in Alexandria, people tasked with entertaining kids will be pleased to find an array of exciting kid-friendly activities. The city of Alexandria is recognized for its rich history, amazing parks, and fascinating museums. It's only natural that kids can find plenty to do in this waterfront city. Keep reading to learn about the five most fun things to do with kids in Alexandria.
Go Ape Zipline & Treetop Adventures
Go Ape Zipline & Treetop Adventures Activities
Ziplines
Obstacles
Climbing to platforms
Freefall
For those who want an adventure and a heart-pounding experience, the Go Ape! Zipline and Treetop Adventure is an ideal choice. Several activities are present here, including the Treetop Adventure, which includes a 50-foot high tree-to-tree crossing on a long zipline. It takes about 2 to 3 hours to complete with a 320-foot zipline. There are also 70 obstacles along the path. Other options include the Treetop Journey, Treetop Discovery, and Monkey Drop experience. Each activity has weight, height, and age limitations for safety.
In Monkey Drop, a person climbs 40 feet to a wooden platform. Then, with a deep breath in, they can jump and zipline. There is a 10-foot freefall as a part of this experience. Treetop Discovery is a 90-minute experience in which climbers follow the same overall path as the Treetop Adventure but with fewer obstacles. They climb to a 30-foot platform and zipline for 320 feet. Treetop Journey is another option ideal for those that love the challenge of suspended bridges and obstacles. It offers a 75-foot zipline and 30 blocks overall. The highest platform here is 27 feet.
The fun happens at the South Run Rec Center in the nearby Springfield community. Group packages and private rentals are also available.
Alexandria Historical Scavenger Hunts and Tours
Alexandria Tours & Scavenger Hunts
Ghost tours
History-specific tours
Private tours of specific areas of interest
Group tours of the area
Ghost and graveyard tours may also be available
Alexandria Historical Scavenger Hunt
As noted, Alexandria has a storied history, and with that comes an opportunity for exploration and learning. There are a few ways to do that, of course, including through Alexandria Colonial Tours.
These tours are meant to be educational and exciting, with speakers who have ample experience in the region's history and can discuss it at length. Ticket prices depend on the event but start at $15 per person.
Another experience to consider is the Alexandria Historical Scavenger Hunt. For those who want to make history a bit more of a fun adventure, this can prove to be the ideal choice. It takes about two to three hours to complete. Those on the hunt will work through a 20-block area through the Old Town Alexandria neighborhood, looking for clues and various specific areas. There are several stops along the way, including in area museums, though those on the hunt do not have to enter with a fee. Several hunts through area spots, including Alexandria Archaeology, Torpedo Factory Art Center, and Ramsay House, among others. There is much to do and see, from beautifully restored Alexandria townhomes to historic taverns on this tour. There's no cost to the experience.
Classes and Workshops at the Torpedo Factory Art Center
Torpedo Factory Art Center Programs
Children & adult classes and workshops
Children's summer camp
The Torpedo Factory Art Center is a fun space for kids and adults alike. One of the ways to spend time here is through the various classes and workshops sponsored by the center. These change throughout the year but tend to be an excellent way to have some fun with the kids while also teaching them a bit about art and life in general. The Art League, a nonprofit tenant that manages the classroom space at the Art Center, puts the courses on.
There are children's classes on things like clay animation, introduction to art, and cartooning. If a child enjoys ceramics and pottery, they can learn and create here. In addition to this, the classes, which are for those ages five and up, also teach skills with working in numerous mediums and with various textures.
There is also an entire summer art camp offered. During the summer months, it is a week-long experience that introduces children to a range of art methods, including drawing and painting, printmaking, and the start of sculpture. They may learn jewelry making and ceramics, too. Don't overlook the classes and workshops here for adults, too. Costs for all events are based on the event itself and not published online.
Gadsby's Tavern Museum
Gadsby's Tavern Museum Attractions
Tours
Special events
Renting possibilities
Another fun experience is at Gadsby's Tavern Museum. This location comprises two taverns dating back to the 18th century. The museum has captured the history of these two buildings and the history of the early U.S. The buildings were built in 1785 and 1792, with the second serving as a City Tavern and Hotel. During that time, much of the country's development as an independent entity began, and there is no doubt that some of those discussions happened in this area.
The Tavern businesses themselves were an important location for the ports here, providing a place for people to talk, dine, and even spend the night. Patrons of the tavern included Thomas Jefferson, George and Martha Washington, and Marquis de Lafayette, among many others.
There are tours available for those who want to explore the museum (which is by far the best way to examine the location's history thoroughly.) There are also special events held at various times and programs of different types. The museum itself is open for tours at various times. Other events include period dancing events, educational excursions, and renting out the location. Ticket prices differ based on events, as do hours of operation and availability.
International Spy Museum
International Spy Museum Exhibits
Go Undercover!
Briefing Center
Stealing Secrets
Making Sense of Secrets
Covert Action
Spying that Shaped History
An Uncertain World
Debriefing Center
The International Spy Museum allows visitors to go undercover in Washington, D.C. It's an experience available most days from 10 am to 6 pm. For those that want to test their skills, one option for exploring the area is to go undercover and use skills across 17 different interactives spread throughout the museum. It challenges players to remember details and codes while working through the process.
For others, it is possible to tour the museum and explore all that the area has to offer. General admission costs about $25 for adults and $17 for children over the age of 7. Those who visit can go on a self-guided tour of the area's numerous exhibits to learn more about the region. While it offers a good amount of educational information, much of what is explored here is about improving a person's skills at gathering and interpreting data.
Kids Find Fun With Ease in Alexandria
People who buy houses and condominiums in Alexandria are sure to find themselves surrounded by Alexandria daycares, public schools, and plenty of other amenities that enrich the lives of children. Explore the places on this list and so much more in Alexandria!