4 Things to Know About BAH Benefits for Military Couples
Posted by Sallie McBrien on Tuesday, October 4, 2022 at 9:09 AM
By Sallie McBrien / October 4, 2022
Comment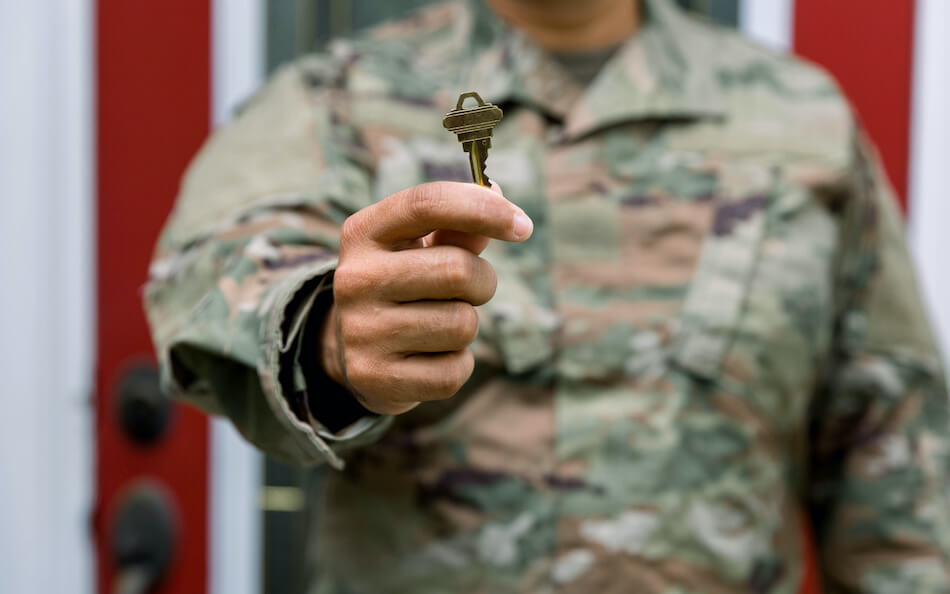 Service members in a dual military marriage should know that they're eligible for unique benefits when it comes to Basic Allowance for Housing. Dual military BAH can make homebuying easier, but there are some unique rules that they must learn about to get the most out of their benefits. Keep reading to learn the most important things to consider about BAH for military marriages.
For informational purposes only. Always consult with a licensed real estate professional before proceeding with any real estate transaction.
What Dual-Military Couples Should Know About the Basic Allowance for Housing
When two military members are married, their status for benefits from the Basic Allowance for Housing has different rules. If only one servicemember is on active duty, BAH rules state that a servicemember's spouse is considered a dependent, entitling them to the higher with-dependent rate. In mil-to-mil couples, however, neither service member can be considered a dependent, and each person will receive an individual rate.
If children or other dependents are claimed, the rules of BAH will change. If a military couple has dependents, one will have to sacrifice their BAH with dependent status. This party's status will revert to a without-dependent BAH, and the other person will receive the with-dependent rate.
Military Couple Living On-Base vs. Living Off-Base
Government-owned properties occupied by a married military couple don't receive BAH qualifications save for a special situation. Such circumstances could include cases when a child or dependent family member cannot reside with the family due to military needs prohibiting the availability of the dependent person's care needs. However, lower-ranking mil-to-mil married individuals may have more options when it comes to on-base housing.
Living off base entitles each service member to a single BAH. Mil-to-mil couples who qualify for a VA loan have alternatives that civilians don't, including low-interest, zero down payment home loans. The most straightforward option is to mutually apply for a VA loan and each pay half of the entitlement. They can also each apply for a VA loan, and jumpstart their real estate investing portfolio by using one of the homes as a rental. Later on, they can also qualify for military rebate programs for home selling.
BAH When Married Servicepersons Live Apart
It's not uncommon for married military personnel to be stationed in different cities or countries. There are also instances in which a dual military couple may decide to separate short or long-term. Hence, they may have separate domiciles.
In these circumstances, those without dependents will be considered "single" for BAH purposes if they live off base. If the couple has dependents, an additional with-dependent rate is available for the assigned member. Should dependents reside at each location, both servicemembers will qualify for a BAH authorization at the with-dependent rate.
If the servicemembers are deployed to different locations, they may be eligible for a family separation allowance (FSA). This monthly payment helps married servicemembers ease the financial burden of a PCS move.
When Dual-Military Couples Live Together But Are Not Married
Those with BAH dependents on children from a previous marriage or parent will retain their qualification status regardless of current relationship status. This means that two military members who aren't married and live together can still qualify for individual BAH benefits, with one person taking the additional benefit for dependents. Should they marry, one will have to revert to a without dependent BAH.
Learn More About BAH Benefits for Dual-Military Married Couples
The Office of Veterans Affairs offers complete, free information and counseling for current and former service personnel about their benefits for housing, medical, and much more. Reach out to one of their representatives today to learn what you may qualify for. When it comes to buying a home as a military member, dual BAH can significantly bolster the existing perks.
For informational purposes only. Always consult with a licensed real estate professional before proceeding with any real estate transaction.