6 Reasons to Love Living in Cameron Station: Master-Planned Perfection in Alexandria
Posted by David Rainey and Sallie McBrien on Tuesday, October 25, 2022 at 2:49:15 PM
By David Rainey and Sallie McBrien / October 25, 2022
Comment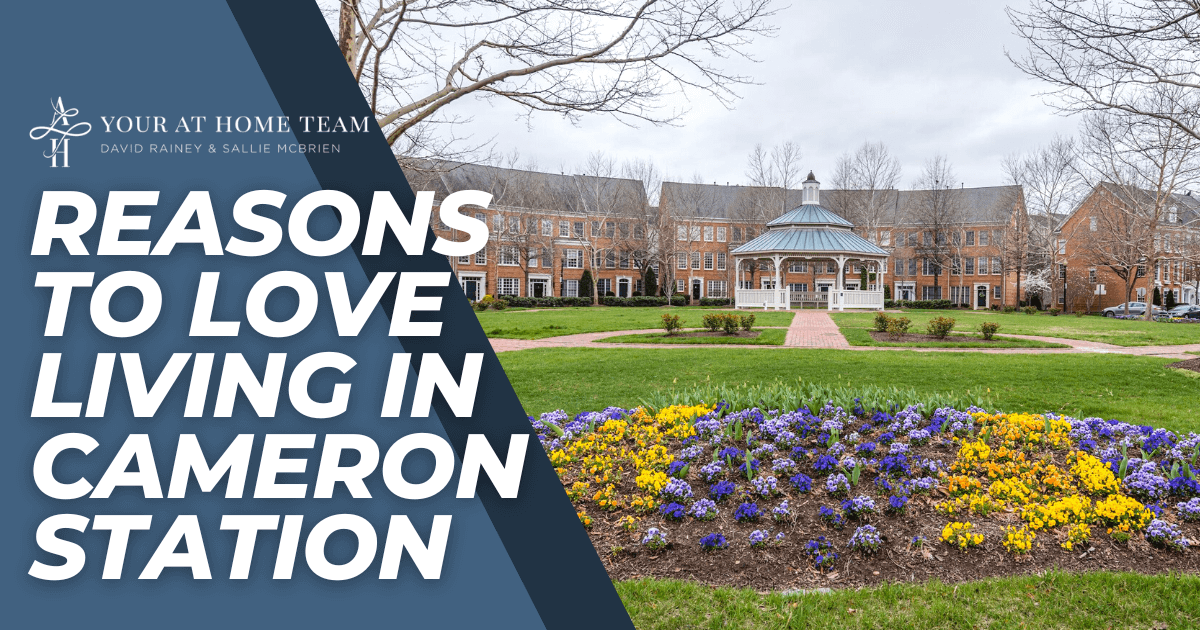 Once an old Army post, Cameron Station is now one of Alexandria's best neighborhoods. The 101-acre master-planned community captures the feel of an old-fashioned American small town while offering many of the conveniences of modern life. There's so much to love about the homes for sale in Cameron Station. Luxurious on-site amenities make it easy to have your dream lifestyle, and development by Alexandria's best builders provides diverse property types to suit any buyer. Are you dreaming about what your life would be like in Alexandria's premier planned community? Here are the top five reasons you'd love living in Cameron Station.
Old Town Charm With Modern Comfort
Homes in Cameron Station blend 18th and 19th-century architecture with modern construction techniques and amenities like gas fireplaces and built-in garages. Construction began in 1999 and continued in several phases, with the neighborhood now hosting about 2,000 homes.
Most Cameron Station homes are three- or four-story townhomes, and there are over 20 styles to choose from. Buyers will also find single-family homes and condos for sale in Cameron Station. Most homes in the neighborhood feature elegant brickwork reminiscent of Georgian and colonial revival-style homes—meanwhile, models like the Georgetown and Mount Vernon pair colonial-style wooden siding with eye-catching masonry.
Numerous builders worked on homes in Cameron Station, including The Cambridge Company, Craftstar Homes, Drees Homes, Miller, Smith Homes, NV Homes, Ryan Homes, and Van Metre Homes. Various luxury floor plans from many builders help Cameron Station feel more organic than most planned communities. Still, the neighborhood's designs draw from similar enough architectural styles to maintain a cohesive old-town feel.
Cameron Station's charm extends far beyond its homes, which sell for anywhere between $500,000 to $970,000. The cozy neighborhood's brick sidewalks and colonial street lamps make its streets walkable, fostering a sense of small-town community. Greenery lines the streets of Cameron Station, including numerous trees offering shade and privacy. The neighborhood has several pocket parks, playgrounds, benches, and barbecues.
Cameron Club: On-Site Fitness Center & Pool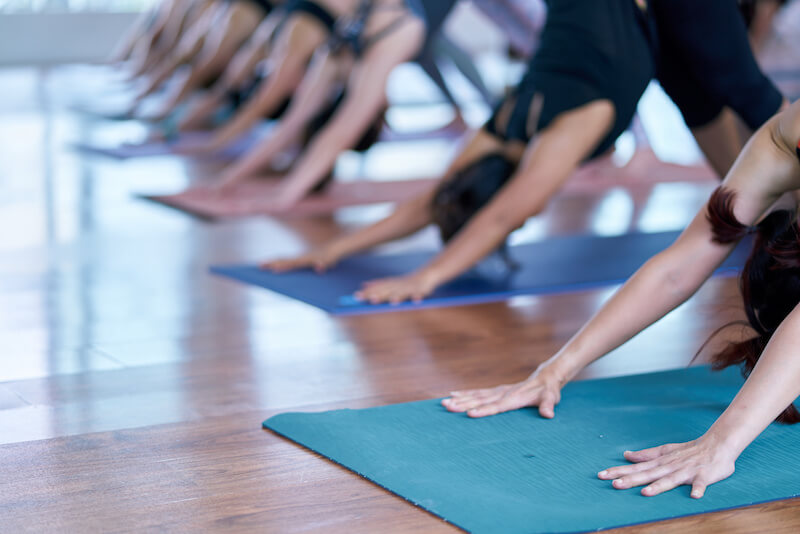 At the Cameron Club, Cameron Station residents can exercise and engage with the fitness center and pool community. All Cameron Station Community Association members and residents of their homes are eligible for a Facilities Pass granting access to the clubhouse, and there are also guest passes, and nanny passes available.
The Cameron Station Fitness Center is open from 4:45 am to 11:00 pm on Monday through Friday. On the weekend, its hours are from 7:00 am to 8:00 pm, although it stays open an extra 30 minutes during the pool season. Take advantage of the workout equipment, or join one of the many free classes. Some classes include Total Body Weights, Zumba and Zumba Tone, Gentle Yoga, Stretch and Core, Vinyasa Flow Yoga, Boot Camp, and more.
The Cameron Club announces hours for the community pool each year before the pool season begins. After Labor Day, the pool typically has extended hours. Cameron Station's pool season typically lasts from late May to late September. During the season, members can swim laps, join the Aqua Zumba class, or lounge poolside on the sunny deck.
Reservable rooms at the Cameron Club provide excellent venues for social gatherings and meetings. Residents can use an on-site kitchen or rent AV equipment for their event. Reservations start at $25. The Residences condos are closest to the club, but all residents can get there with a short walk or a quick drive.
Easy Access to Ben Brenham Park & Cameron Run
Cameron Station is just a short walk away from incredible outdoor entertainment at Ben Brenham Park and Cameron Run Regional Park. These impressive parks provide excellent opportunities for outdoor exercise, social gatherings, and sightseeing.
The 59-acre Ben Brenham Park is only five minutes from the Cameron Club. This beautiful preserve features lots of green space, a pond, and plenty of bridges for sightseeing and fishing. Turtles, geese, and other wild birds are familiar sights in the park. The city stocks the pond with fish in the summer, making it a popular fishing spot.
A playground, baseball field, and soccer field with synthetic turf offer various play opportunities. Meanwhile, furry friends can enjoy the lighted and fenced dog park.
Ben Brenham Park also hosts the West End Farmers Market, where local farmers, artisans, and other vendors showcase their wares each Sunday.
Walking a little over a mile through Ben Brenham Park and Holmes Run Trail leads to Cameron Run Regional Park. Cameron Run Regional Park is a 26-acre outdoor adventure area that offers a wide variety of activities for people who want to enjoy the best outdoor activities in Alexandria. The star attraction is the Great Waves Waterpark. Visitors can splash in the wave pool, race down five towering water slides, or relax poolside in a shady private cabana. Cameron Run also offers a dry playground area, an 18-hole mini-golf course, and nine batting cages for slowpitch and fastpitch practice.
The Cameron Regional Park also offers picnic areas and pavilions that can be used to entertain family and friends. These areas feature grills and tables to make your favorite summer meals and are located right by the entrance to the water park, so you can cool off after having a bite. Cameron Run becomes a winter wonderland of lights and ice during the colder months. Visitors can take a pleasant stroll through the colorful and enchanting Winter Village or test their ice-skating skills at the rink.
Convenient Location Near Alexandria & More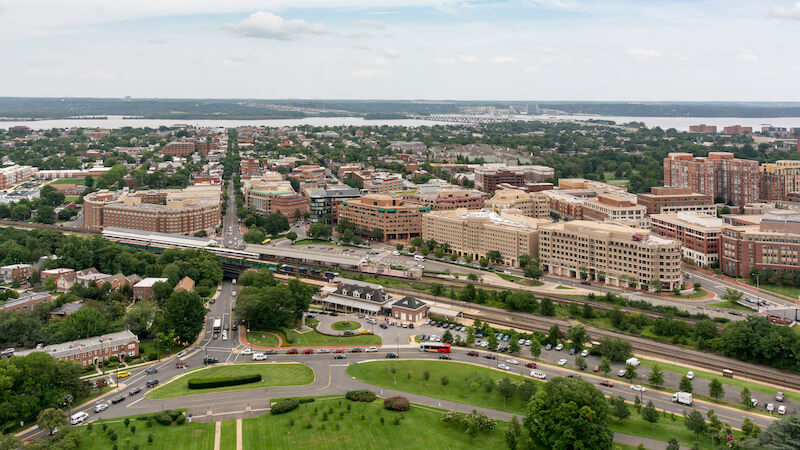 Located on the west end of Alexandria, Cameron Station is uniquely situated to offer easy access to Old Town Alexandria, the city of Arlington, and Washington, DC. Major roads, bike paths, and bus routes connect the neighborhood to the area's best attractions.
With the historic Old Town just four miles away, it's easy to get from Cameron Station to downtown Alexandria. Duke Street passes just north of the neighborhood and leads directly to downtown. Driving only takes about 15 minutes while riding Alexandria public transportation takes about 30 minutes.
Alexandria also offers an extensive cycling network combining off-road trails, bike lanes, and other routes. Holmes Run Trail and Eisenhower Avenue Trail allow cyclists to travel most of the way to Old Town without biking on the road. From Old Town, several off-road paths lead to Arlington and Washington, DC.
Living in Cameron Station also promises shorter commute times to Washington, DC. In addition to its proximity to numerous bike routes, the neighborhood is very close to I-395 and the Van Dorn Street Metro Station.
Walkable Shops and Restaurants
With shaded sidewalks and great retailers right in the neighborhood, it's easy to complete many daily errands without leaving Cameron Station. Several shops and restaurants surround the entrance to Ben Brenham Park, making essential goods and services just a short walk from home. People living in Cameron Station's Main Street condos enjoy especially convenient access to these neighborhood amenities.
Cameron Station Dental Care provides routine dental care, cosmetic dental services, and dental implants in the neighborhood. Nestled alongside the Main Street condos, Cameron Station Valet Dry Cleaners and Pawsh Dog Wash handle many of the neighborhood's cleaning needs. While its name might suggest otherwise, Pawsh also offers grooming services for cats.
When hunger strikes, Cameron Cafe is the go-to breakfast and lunch spot. The cozy coffee shop features a full espresso bar alongside bagels, pastries, and sandwiches. As for dinner, Indochen serves Indo-Chinese comfort food like dumplings, chop suey, and chow mein. Although not open late, the restaurant's bar offers numerous flavored liquors, wine varietals, and draft beers.
Several grocery stores near Cameron Station, including ALDI, Safeway, and various specialty food markets.
Cameron Pool
Residents with a Facilities Pass, including infants and small children, enjoy the Cameron Pool. Known as one of the best Alexandria pools, this great amenity is available yearly during the pool season, with extended hours in the summer after Labor Day. The pool season typically lasts from May to September, but the community will post hours and specific dates before opening and closing. Enjoy swimming laps, playing with your kids, or lounging on the pool deck all summer long.
The Cameron Pool also offers an Aqua Zumba Class each Saturday during the pool season to help you stay fit. It's important to note that children under 12 cannot go to the pool unaccompanied, and children between the ages of 12-15 must pass a swim test before they are allowed to swim. Other rules include no parties, loud noises, smoking, breakable objects, or gum near the pool area. Excessive play and diving are also prohibited for the safety and enjoyment of all pool goers. The facility also offers a wading pool for children under six years of age to be monitored closely by their families.
Living in Cameron Station, Alexandria, VA
With charming homes, numerous attractions within walking distance, and quick access to several major cities, Cameron Station is one of the best neighborhoods in Alexandria. Visit today and discover the perfect balance between old and new, a plethora of amazing amenities, and one of the best locations in Northern Virginia.