Amenities Your Waterfont Home Needs: Boat Accessories, Waterfront Furniture & More
Posted by Sallie McBrien on Tuesday, July 12, 2022 at 11:18 AM
By Sallie McBrien / July 12, 2022
Comment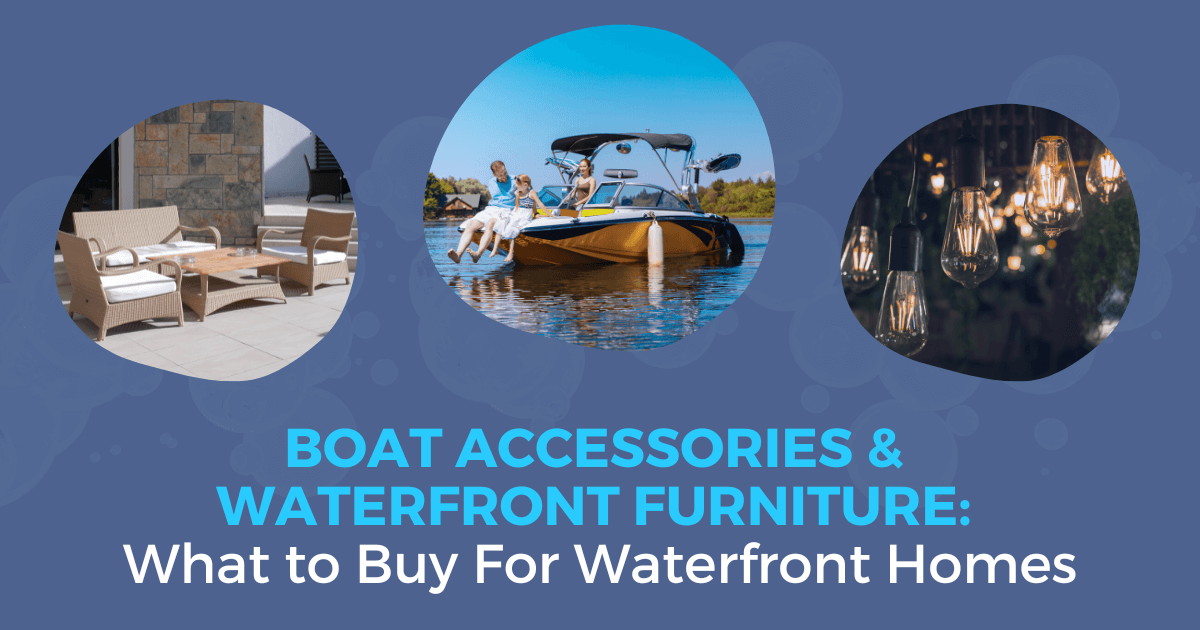 Buyers who have recently landed a remarkable waterfront home can enjoy a vacation-like lifestyle almost any time of the year. Many buyers want to make the most of the views and water, whether the property sits along a coastal shoreline, river, or lake. With that in mind, we'll dive into some essential purchases for waterfront homes.
Go Offshore With Key Boating Accessories
Who doesn't dream of racing across the water or catching the perfect breeze? Motorboats and sailboats are some of the first purchases to come to mind when you have a body of water right outside your door. In addition to being a ton of fun in and of itself, having a boat also enables a score of other activities, such as water-skiing and off-shore fishing.
However, there are a few things to keep in mind before parking a boat by your waterfront home. Having a few floatation devices, skis, fishing poles, and a loaded ice chest are amazing boating accessories, but it's also essential to know the rules of the water before taking a boat out. The first thing owners need to know is what boats are permitted on the water. Some communities may allow both motorized and non-motorized watercraft, while others may have some restrictions.
Other regulations may include the size of vessels that are permitted. Regardless of the boat's size and type, it's essential to understand the National Maritime Rules and enforced boating regulations. Just like knowing the rules of the road while driving, knowing what to do when approaching another boat prevents accidents—and unlike roads, open water doesn't come with clearly marked lanes and traffic flow. Wake rules and no-wake zones are like speed limits or speed bumps, except they also protect other boats from straining at their moorings and other boaters from experiencing turbulence in confined spaces.
Essentials to have on board include:
Life jackets or personal flotation devices
First-aid kit
Fire extinguisher
Floating VHF handheld radio
Telescopic boat anchor
Inflatable Furniture for Lounging on the Water
Imagine relaxing in the water without a care in the world while soaking up the sunshine. Having a few inflatables ready to go makes that an option whenever the urge surfaces. Some of the most popular types of inflatables include rafts, inner tubes, floating hammocks, game tables, and novelty sit-ins.
Another clever option that is relatively new on the waterfront marketplace is inflatable docks. These are perfect for owners without a dock or who reside in a waterfront community forbidding docks. Some models inflate and deflate on demand and are strong enough to hold several people simultaneously. However, options with solid surfaces with floats on the perimeter for stability also exist. These are a bit more costly, but they are ideal for those who want to put chairs out or fish from their dock.
Comfortable Furniture for the Porch
Most waterfront properties will have one or more decks, patios, or a gazebo. These spaces should be comfortable, inviting, perfect for entertaining, taking in meals, or simply soaking in the magnificent views. A few cozy pieces of outdoor furniture and accessories are sure to create a unique space for guests and occupants.
Rockers, high-back chairs, loungers, and porch swings are solid choices for any waterfront home. Be sure to invest in waterproof cushions. Tables for dining and resting beverages are essential, and a few throw rugs are a nice touch to complement the decor. Should there be a lack of shade in the area, a rollback cover, umbrellas, or extending the roof from the home will cover the patio or deck.
Indispensable Fishing Gear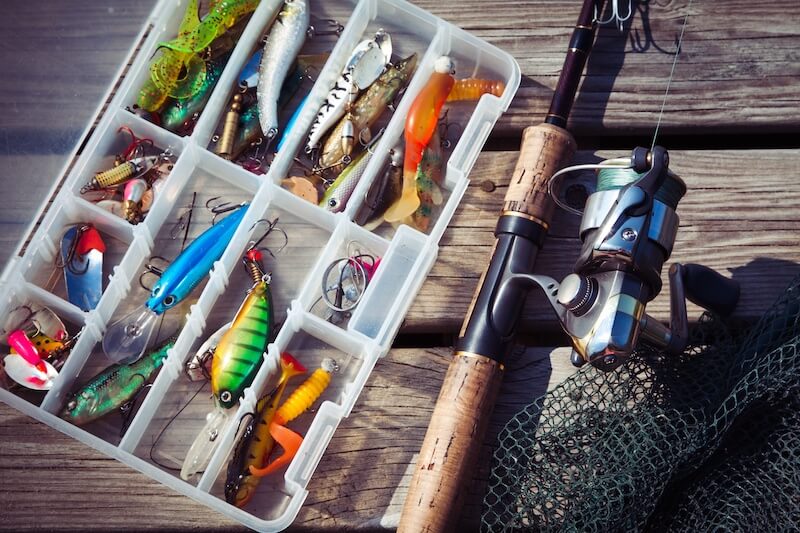 Fishing gear is a no-brainer for enthusiasts, but even those who aren't anglers might want to have some equipment on hand for guests. Some must-have fishing gear includes:
Fishing poles or rods
Waterproof tackle box
Weights and sinkers
Hooks of various sizes
Floaters and bobbers
Bait
Ice chest, keep line, or bucket
Before dropping a line, know all the water's rules. There may be required permits, catch limits, and other community, local, state, and national fishing regulations that anglers must follow in certain bodies of water.
Optimal Outdoor Lighting for Waterfront Homes
When the sun goes down, the good times can roll on as long as the property has adequate lighting. Many owners only consider using bright floodlights to illuminate decks, gazebos, and pathways to the waterfront. Yet, those bright lights can take away from the ambiance in certain areas.
Most landscape design professionals recommend using various types of lighting to create a truly stunning effect. Use a few spotlights to showcase sprawling areas of the lawn, pool areas, and the boathouse (if one is present).
Next, light up the pathways so people can safely move about the property without accidentally stepping on surrounding landscaping. Consider using solar stakes to line these areas. Those with pivoting heads can also be directed toward plant beds worth showcasing.
Strings of LED lights are excellent for outlining deck railings and stairways. Waterproof string lights are also a good choice for many areas around the outdoors. Fuel-fired torches or electrical-powered hanging lanterns can add a touch of elegance and help guide the way throughout the property.
Ignite the Night with a Fabulous Fire Pit
Outdoor fire pits come in many shapes and sizes, and they can have a variety of uses ranging from becoming a centerpiece for evening chats or even cooking food. A fire pit should complement the primary theme of the current outdoor decor so it will be attractive during daylight hours, too.
There are dozens of models in stores that range from low-rounded bowls to tall and narrow. The majority of pre-fabricated fire pits are made of metal or cast iron. However, those who want a stand-out piece may want to look at these incredible DIY fire pit projects that use resilient bricks. Brick and cement pits are easy to clean and last for decades, while iron and metal tend to rust and require more maintenance.
Maximize the Possibilities at Your Waterfront Home
While these ideas are geared towards all types of waterfront homes, the purchases may vary slightly depending on the type of shoreline that fronts the property. With a few essentials, entertaining guests will be easy as the onshore breeze!