Fort Belvoir's 24th Annual Oktoberfest Is Back!

Dust off your stein, loosen your lederhosen... It's Oktoberfest!
Enjoy one of the most anticipated events of the year, Fort Belvoir's 24th Annual Oktoberfest at Fremont Field! Oktoberfest is a four-day festival, highlighting authentic German food, beverages, music, and dancing! Enjoy an exciting carnival, the Volksmarch 10K/5K, the keg tapping ceremony, a vendor market, prize raffles, and more! A fun-filled weekend for the whole family! Sunday is Military Appreciation Day.
The event is open to the public, 100% ID Check, with free entry to Fremont Field. Animals are not permitted on Fremont Field.
Please check Fort Belvoir's FaceBook page for event updates.
2022 marks Your At Home Team's 16th year as a sponsor of this locally beloved event in Fort Belvoir.
---

Oktoberfest Fort Belvoir 2022 Location, Hours & Pricing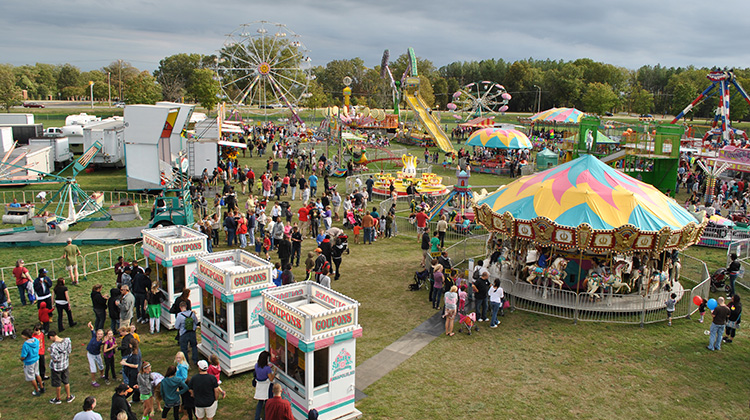 Fort Belvoir's 24th Annual Oktoberfest is back and has a little something for everyone.
The 2022 Fort Belvoir Oktoberfest celebration will take place from September 29th to October 2. 100% ID checks are required for all guests, and non-military attendees must request a visitor's pass to access Fort Belvoir.
Click here for an entrance map via Tulley Gate.
Access to the celebration is free, but there are additional charges for carnival rides, food, and drinks. Sunday, October 2, is Military Appreciation Day; all service members and their dependents can purchase discounted carnival wristbands with presentation of a valid active duty military ID card. Event hours and prices for carnival wristbands vary daily.
Unlimited Rides Daily Pass
Thursday, September 29 2022 | 6pm - 10pm | Price Per Wristband: $25
Friday, September 30 2022 | 4pm - 11pm | Price Per Wristband: $30
Saturday, October 1 2022 | 12pm - 11pm | Price Per Wristband: $30
Sunday, October 2 2022 | 12pm - 8pm | Price Per Wristband: $30 (Public)/$25 (Active Duty Military & Dependents)
Daily Tickets
Single tickets: $1.75 each
30 tickets: $40
50 tickets: $60
Wristbands provide unlimited access to carnival rides on the day of purchase. Attendees can also buy single tickets for use on carnival rides. Each ride displays cost-per-ride.
Brand new for 2022, visitors can also purchase reservations for Big Bounce. This custom-made 10,000 square-foot inflatable playscape promises tons of fun for kids and adults alike.
Oktoberfest Food, Beer & Wine Pricing
Enjoy a collection of Oktoberfest lagers, from the world's original Oktoberfest Beer to a soft and spicy flavor from Munich's oldest family-owned brewery. If driving, please make sure to use a designated driver. You must be 21 years or older to purchase and redeem these non-refundable tickets. Beer and wine tickets cost $8 each. All guests must be 21 or older to purchase beer and wine tickets. Prices per drink are listed below.
Beer: 1 ticket ($8)
Non-alcoholic beer: 1 ticket ($8)
Pitcher of beer: 3 tickets ($24)
Wine: 1 ticket ($8)
Bottle of wine: 4 tickets ($32)
Commemorative mug (new logo): ($15)
Oktoberfest Stein: ($25)
No mugs or steins will be filled directly from the tap. Patrons are permitted to bring any mug or stein to Oktoberfest, but the mug cannot be filled from the tap.
Bring your appetite because there will be a wide variety of food vendors serving German classics like soft pretzels and much more.

2022 Oktoberfest 5K/10K Volksmarch
The 5K/10K Volksmarch takes place on Saturday, October 1, 2022. Participants can depart on their leisurely 3- or 6-mile trek from the Volksmarch Tent (just outside the fenced festival area) anytime between 9 am and 1 pm. All Volksmarch participants must complete the route by 3 pm.
The trail route planned for this event takes you along sidewalks and post roads on Fort Belvoir's North Post and past a cemetery. The 2B-rated course is mostly flat with gentle hills.
2022 Music & Entertainment Schedule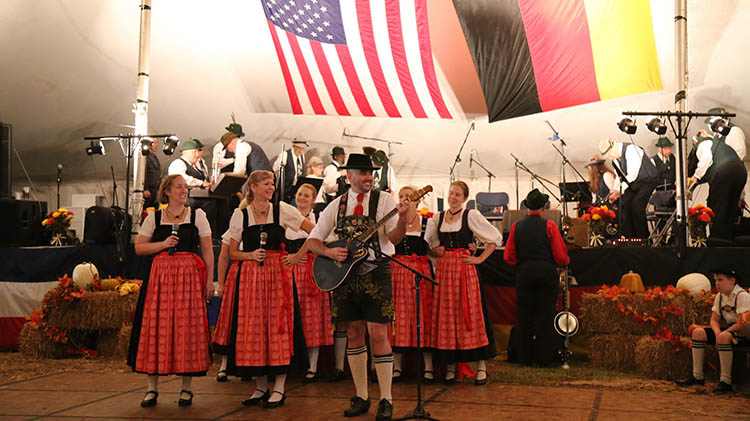 New this year will be the BIG BOUNCE. Purchase your tickets in advance to avoid lines.
Sept 29 - OCT 2, 2022
Thursday, September 29th
6pm - 8 pm: Alt-Washingtonia (Dance Group) Schuhplattler Verein & Alte Kameraden
Friday, September 30th
4pm - 6pm: Alte Kameraden
6pm - 8pm: Alt-Washingtonia (Dance Group) Schuhplattler Verein
6pm - 8:30pm: Fritz Polka Band
9pm - 11pm: The LOW'n'BROWS
Saturday, October 1
12pm - 2pm: Fritz Polka Band
3pm - 5 pm: Lionel Ward
6pm - 8 pm: 44 Diesel
Sunday, October 2
12pm - 2:30 pm: Alt-Washingtonia (Dance Group) Schuhplattler Verein
3 - 5:30 pm: The LOW'n'BROWS
6 - 8 pm: The Band of Steele
---

Area Map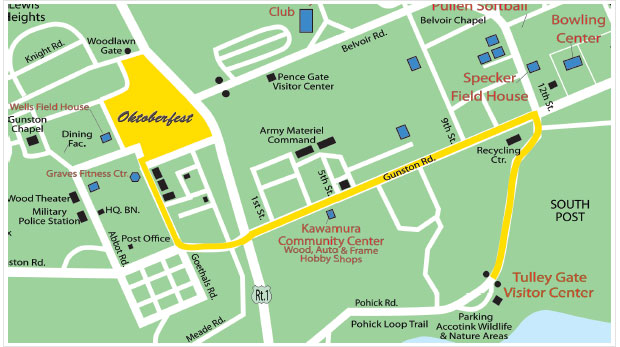 Directions To Fort Belvoir - 100% ID Check
Fort Belvoir is easily accessible from the city of Alexandria, Washington DC, and Richmond. Everyone in the area can come to enjoy the Oktoberfest fun! All non-military attendees must enter through the Tulley Gate. This is the main entrance to the post and is open 24 hours a day, 7 days a week.
Visitors without a valid Military/DoD ID card must obtain a visitor's pass by going to the visitors center. This process can take approximately 10-15 minutes. The pass is for the individual, not the vehicle. Documents required to obtain a pass are a valid state license (new VA license), registration, and automobile insurance. The Fort Belvoir Gate Access page will explain which IDs are accepted.
Getting to Fort Belvoir From Washington DC (1-95 South)
If you are traveling south on 1-95, take the Fairfax Parkway/Backlick Road (7100) exit 166 A. Take the Fairfax County Parkway to its end at U.S. Rt. 1 (Richmond Highway) and turn left. At the first light, on the right, is the entrance for Tulley Gate to Fort Belvoir.
Getting to Fort Belvoir From Richmond (1-95 North)
If you are traveling north on 1-95 North, take the Fort Belvoir Exit 161 B. (U.S. Rt 1 — Richmond Highway)
You will travel five miles to Fort Belvoir.
Continue through the light at the Fairfax County Parkway (VA 286), get in the right lane. At the next stoplight, you will see the entrance for Tulley Gate, turn right.
**Sponsorship does not imply DOD, the U.S. Army, Federal Government, or Fort Belvoir endorsement.