Selling Your Alexandria Home
Selling your home can be stressful, but it's the job of Your At Home Team to make the process as painless as possible. Below we've answered some of the typical questions we get asked by people thinking of selling their home, but feel free to contact Your At Home Team with any specific questions!
Why use an Alexandria REALTOR®?
If you're like most people, your home is your biggest investment and when it comes to selling it, you need to be sure you get the best value possible. Working with a licensed Virginia REALTOR® means:
You'll get expert advice from someone who has an in-depth knowledge of the market.
You benefit from a full marketing program. A REALTOR® can list your home on the MLS and has access to all the latest online marketing tools that will ensure your home is seen by the most people possible.
You ensure your home is priced correctly and is put on the market at the best possible moment.
At offer stage, a REALTOR®'s expert knowledge means they can negotiate with confidence.
Why David and Sallie?
Knowledge, experience, and results! Those three words sum it up. David Rainey and Sallie McBrien are long-time Alexandria residents and the two have been helping people buy and sell homes in the area since 1996.
They believe their role is to ensure the clients' interests are at the forefront throughout the selling process and to ensure the transaction runs smoothly.
For them, nothing is more gratifying than helping a family achieve their real estate goals.
And if you are a military family, David and Sallie can understand your needs better than most, as David served in the military and his wife Sallie, who comes from a Navy family, knows the challenges of being a military spouse.
What's My Home Worth?
One of the key reasons for using a REALTOR® is their expert knowledge in determining the value of your house. REALTORS® have access to extensive information about sold prices for comparable homes in the area, as well as a thorough understanding of how to appraise the features that make your home unique.
What should I do to prepare my home for sale?
When you're ready to sell, you need to begin to see your home with the eyes of a potential buyer. They need to be able to see themselves living in the house. A home that is move-in ready appeals to a wider range of buyers, so you should consider making minor repairs and cosmetic improvements prior to putting your home on the market. Things to consider:
Curb Appeal: What can you do to improve first impressions? New paint, some flowering plants in pots?
Home Staging: You want your home to look neutral and tidy to prospective buyers so they can see its full potential and aren't distracted by clutter and overly personalized touches.
Major Improvements: As your REALTORS®, we can advise you on what sorts of improvements will give you value for money, and which won't. Just ask!
Your At Home Team are Alexandria real estate experts. Get in touch with us today to find out how we can help you sell your home quickly and for the best possible price. Call (703) 286-1333 or send us an email, now.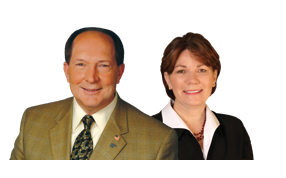 David Rainey and Sallie McBrien
David and Sallie are an experienced and results-oriented team that are dedicated to meeting the needs of their clients. Whether you are buying or selling your home, Your At Home Team is committed to your real estate success. 703.286.1333 | Contact Us Today